Search for your ideal Cruise
Why cruise on this ship?
We are absolutely thrilled to announce that our highly successful Douro cruise on Portugal's most spectacular waterway will now be operated on a brand new state of the art vessel, the magnificent five-star MS Douro Elegance. Painstaking research over many months with our highly regarded Portuguese shipping partners, the first luxury ship operator on the Douro, who have been involved in river cruise ship building for over a quarter of a century, has resulted in the creation of a worldclass vessel which is without doubt one of the most exceptional ships afloat on any European river.
find your perfect cruise
Reviews for MS Douro Elegance
Dining
The restaurant rivals the finest on shore establishments, taking fine dining to another level complemented by delicate European porcelain, gleaming glassware and the intuitive service in which the Swiss excel.
Main Restaurant
Heading down to the Main Deck you will find the chic restaurant where your comfort is assured in high-backed chairs at impeccably laid tables with pristine linen cloths and fine cutlery. Tables seat just four to eight and in common with all their river cruises, they offer 'open dining' arrangements giving their clients the freedom to sit wherever and with whoever they wish. This is a dining experience of the highest order and one to be savoured!
Breakfast is a hot and cold buffet with a fine omelette station so your eggs are just how you like them – an early risers' breakfast is also available in the lounge. Lunch is another deliciously fine array but if you fancy a simple salad instead then that's available too or you may opt for a slightly more informal, lighter lunch either in the main lounge or up on the Sun Deck.
The culinary highlight of the day though is the superb four-course dinner, served at your table by the most highly trained, attentive yet discreet waiting staff who will attend to your every need without hesitation. Featuring the finest Portuguese, Mediterranean and International cuisine to delight your taste buds this will be a dining experience to remember as you enjoy a kaleidoscope of river views from the huge panoramic windows.
Features
Experience: Complimentary
Food type: Continental
Entertaining
Forward of the ship you will find the magnificent lounge and bar, the very heart of the ship, styled by a leading Portuguese designer and sumptuously furnished with elegant settees and comfortable armchairs; plump cushions in smart complementary fabric invite you to sink in and relax – your holiday starts here!
Enjoy a freshly made cup of tea whilst soaking up the refined ambience, complemented by high quality fittings, thoughtfully positioned lamps, a thick wool carpet, beautifully polished hardwoods and fabulous fresh-cut flowers. A well-stocked bar with friendly professional staff taking delight in attending to your every wish in sampling local wines or preparing whatever takes your fancy completes the convivial scene.
So just sit back and enjoy the stunning view from the magnificent panoramic windows as the ever-changing river scenery slips effortlessly by. When evening falls, the subdued lighting creates the most gentile ambience so unwind over a digestif or perhaps take a turn on the dance floor to the soothing tones of the resident musician. There really can be few holidays quite as relaxing as this! All three air-conditioned accommodation decks are connected by a lift for your convenience and an elegant wide staircase with gleaming handrail.
Health and fitness
Accessed by stairs from the Upper Deck, head on up to the magnificent and spacious Sun Deck from where you can enjoy the stunning 360 degree views as they glide past from the comfort of your sun lounger whilst sipping a long refreshing drink or chatting with your fellow companions. You might choose to enjoy a glimpse of the wizardry 'on the bridge' as the Captain skilfully negotiates the twisting river with reassuring ease.
When the temperature rises you will feel the benefit of the fantastic outdoor swimming pool – a rarity on a river cruiser. For many though, just to lean against the ship's rail and breathe in the invigorating river breeze whilst casting a relaxed eye over the fascinating scenes of life ashore or the wonderful river wildlife all around you, is what it's all about; this is surely the perfect antidote to the stresses of modern life so let us take you on the cruise of your dreams!
Kids and teens
Please note: there are no dedicated kids or teens facilities onboard.
Accommodation
As you are welcomed aboard the five-star pedigree is striking, with a remarkable feeling of spaciousness and harmonious design at every glance.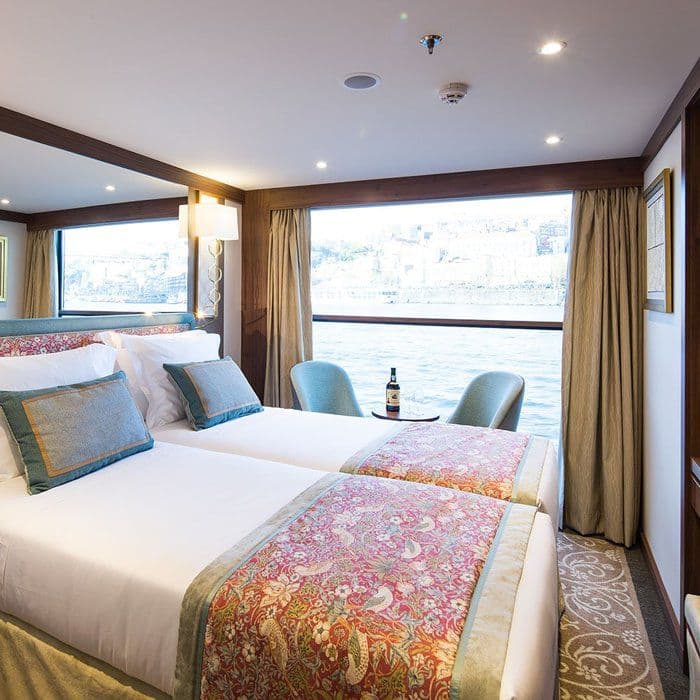 Standard Cabins
As the very name suggests, all the outside facing cabins on the MS Douro Elegance are finished to an exceptionally high standard with superior quality fittings in the most refined taste. Chic styling is evident throughout from the moment you open your beautifully polished hardwood door and step inside your luxury home for the next 7 nights; polished wooden furniture is complemented by fine fabrics, in warm, relaxing colours, uniquely designed and created for the Ms Douro Elegance whilst 'hotel style' beds will ensure a good night's sleep in the finest crisp linens. The sparkling marble bathrooms, beautifully designed, all feature shower with fully glazed screen, WC plus fluffy towels and bathroom cosmetics. The living area has two comfortable chairs and a table plus a small desk. All cabins enjoy the benefit of individually controlled air-conditioning, flat screen high-definition satellite TV, hairdryer, safe and telephone.
Best of all the Standard Cabins on the Upper Deck and Main (middle) Deck have from full floor to ceiling windows which slide down halfway so you can watch the stunning river scenery drifting past without leaving the comfort of your cabin!
Standard Cabins on the Lower Deck have smaller fixed windows and as a unique bonus, Stern Cabins on this deck are available for sole occupancy at no extra cost. Single supplements apply for other cabins and decks, all subject to availability.
Features
Queen or Twin Configuration
Shower
Toiletries Provided
Room Service Available
TV
Free Wi-Fi
Safe
Hair Dryer
Desk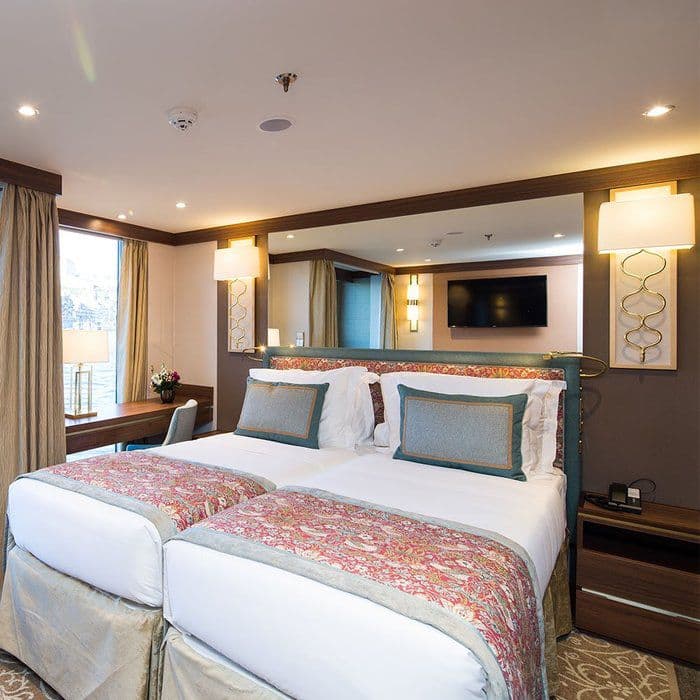 Superior Balcony Suites
For something a little special, you may choose to upgrade to one of the Superior Balcony Suites; there are 6 available on the Upper Deck. These suites measure a substantial 22 square metres for your additional comfort so you'll really feel completely relaxed in your stylish surroundings. There is a generous living area with two armchairs and a table, small desk and the addition of tea and coffee making facilities and cosy bathrobes. The Superior Balcony Suites feature the same high quality furnishings and fittings as the standard cabins and enjoy fantastic views from both a fixed floor to ceiling window and sliding glass doors allowing you to really bring the outside in! A private balcony with two chairs and a table enables you to enjoy an aperitif al fresco in the privacy of your own cabin whilst watching the delightful river-world go by.
Features
Queen or Twin Configuration
Lounge Area
Shower
Toiletries Provided
Room Service Available
TV
Free Wi-Fi
Safe
Hair Dryer
Desk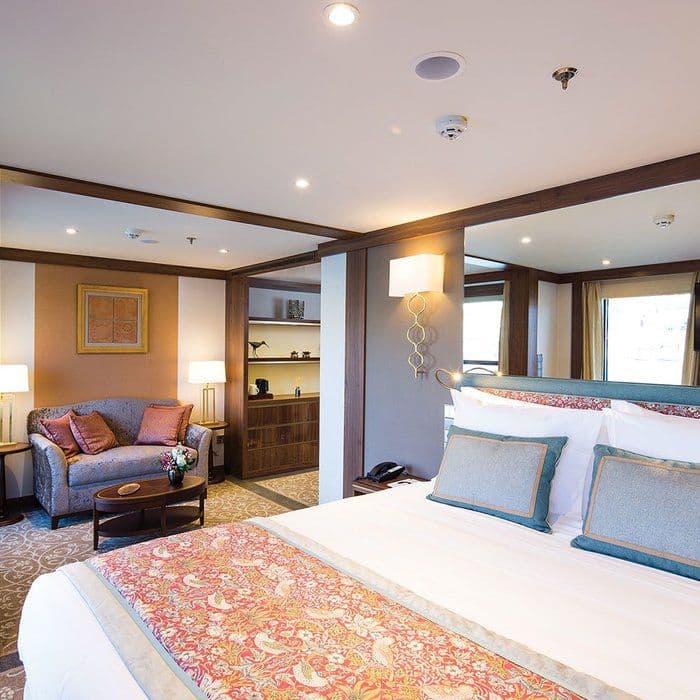 Deluxe Balcony Suites
If you really fancy treating yourself to a little more indulgence by taking your cruise to another level again, the MS Douro Elegance also boasts two Deluxe Balcony Suites on the Upper Deck. Tastefully furnished with the same high quality fittings as the standard cabins and Superior Balcony Suites with tea and coffee making facilities and bathrobes, most of the additional space is devoted to the living area where you will really notice the difference as you relax in comfort on the sofa or elegant armchair in the most sumptuous of settings. Plus a further treat - there is a walk-in wardrobe for that added sense of luxury! As well as the full floor to ceiling sliding doors which open out on to a private balcony with table and chairs, there are 2 additional floor to ceiling windows and a larger bathroom with twin wash basins. These really are the epitome of river cruise luxury and you will feel thoroughly spoilt!
Features
Queen or Twin Configuration
Lounge Area
Shower
Toiletries Provided
Room Service Available
Suite Benefits
TV
Free Wi-Fi
Safe
Hair Dryer
Desk
Deck plans
Sun Deck

Upper Deck
Main Lounge & Bar

Reception

Boutique
Deluxe Balcony Suites
Superior Balcony Suites
Standard Cabins

Middle Deck
Restaurant

Standard Cabins

Lower Deck
Fitness Centre

Standard Lower Cabins
Standard Lower Cabins Single Occupancy