Search for your ideal Cruise
Ocean Cruising in Warnemünde, Germany
It may not have quite the same wow-factor as the likes of fellow Baltic cities St Petersburg, Riga and Stockholm, but the German town of Warnemünde has still got plenty to offer as a port of call. The seaside resort, situated near Rostock, is known for its long beachfront and marina, where cruise ships dock. Warnemünde is also the gateway to Germany's historic and bustling capital, Berlin, and various cruise lines offer shore excursions to the city from Warnemünde.
Why cruise Warnemünde
Warnemünde is often overlooked as a cruise port on Baltic cruises, with the likes of Stockholm and St Peterburg taking precedence, but the German seaside resort offers many charming and worthwhile attractions. Warnemünde is also handily located 150 miles north of Germany's exciting and dynamic capital, Berlin, and cruise lines including Norwegian Cruise Line offer excursions to the city.
find your perfect cruise
What to see and do
Warnemünde Lighthouse
The town's historic beacon is situated on the estuary of the Warnow river. Built in 1897, the lighthouse rises nearly 100 feet and is located on the beach promenade. Today visitors can climb its spiral stairs and check out the beautiful views of the town's beach, harbour and village from the top.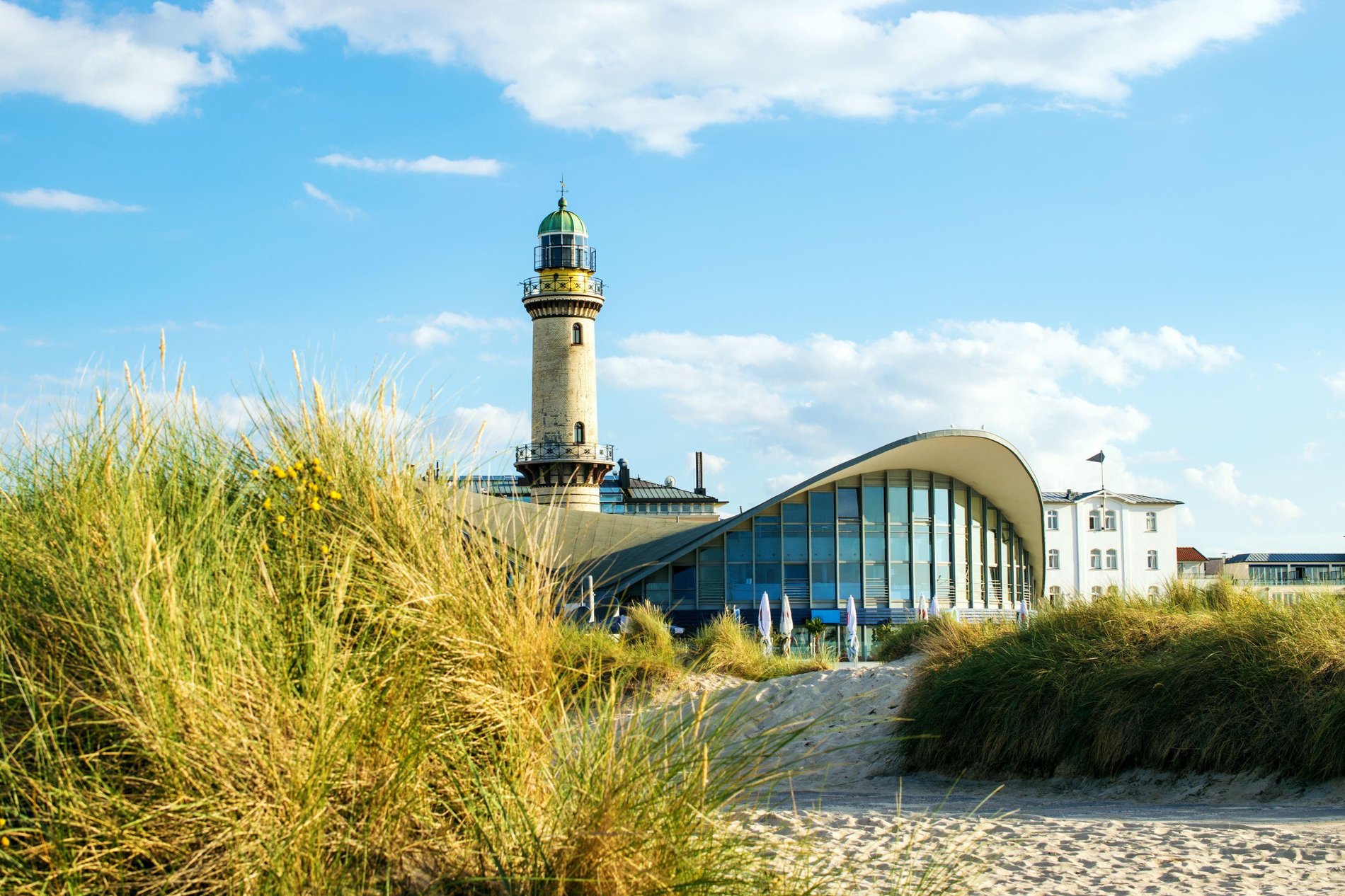 Warnemünde Church
The neogothic church of Warnemünde is a historic site, having stood in the centre of the town for more than 100 years. The construction of the new church which stands today (the old church was burnt down twice) began in 1866 and was completed in 1872. It was designed by architect, Krueger of Schwerin, and built by master builder Wachenhusen of Rostock.
Alter Strom
A short walk from the cruise port, Alter Strom was the only shipping route to the Rostock harbour until 1903. Today only yachts, passenger ships and fishing boats anchor here and catering to its seafaring visitors, you will find its moorings lined with charming fishing pubs, boutiques and cafes selling every kind of cooked, cured and smoked fish you could possibly imagine.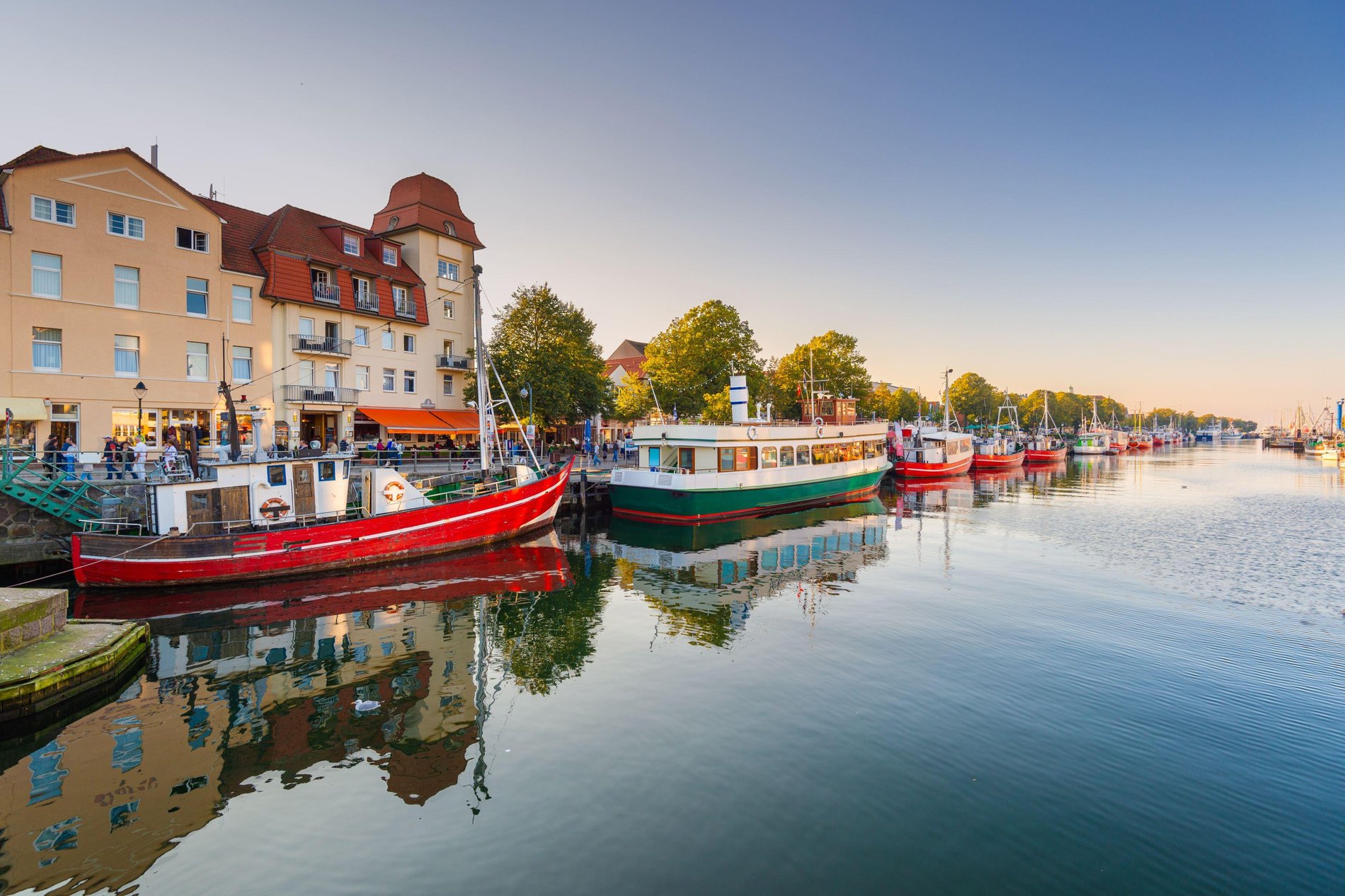 New Market Square
The picturesque New Market Square in Rostock is well-worth a visit. The open square looks onto a 13th-century Town Hall and across from here is a row of beautifully restored 15th- and 16th-century gabled houses, as well as a stylised sea-themed fountain.
Local Heritage Museum
Located near to the Alter Strom, Warnemünde's Local Heritage Museum offers an insight into the history and development of the old fishing village Warnemünde and how it has transformed into one of Germany's most popular Baltic Sea seaside resorts. Exhibits include fishing and seafaring history, regional handcraft and maritime culture, and coastal protection along the Baltic Sea, among others.
Shipbuilding and Maritime Museum
If you are fancy venturing further afield, the Shipbuilding and Maritime Museum in Rostock is worth a visit. Located on board the Traditionsschiff Typ Frieden, a traditional ship and former cargo ship belonging to German shipping company Dresden, the interesting exhibit focuses on shipbuilding in East Germany, as well as the manufacturing processes at a large wharf, from the construction to the handover of a ship.
What to expect when travelling to Warnemünde
Getting around in Warnemünde
Ships typically dock at cruise terminal piers nearby to the railway station. On busy days, however, ships may dock at the main commercial piers of Rostock at Seehafen (Seaport) on the other side of the river. If docked at Seehafen, shuttles may be provided, or a ferry service to Warnemünde. Public buses from the adjacent ferry terminal to Rostock are also available.
When to go to Warnemünde
The best time to go on a Baltic cruise (which stops over in Warnemünde) is during the summer months of July and August, when the weather is warm, although cruises now run from late-April until September for those who prefer to avoid the crowds.
Currency
The German port town uses the euro. Visitors can find a currency exchange in the train station or port, although there should also be one on the cruise ship for cruise passengers.
Visas
Cruise passengers do not require a visa to explore Warnemünde.