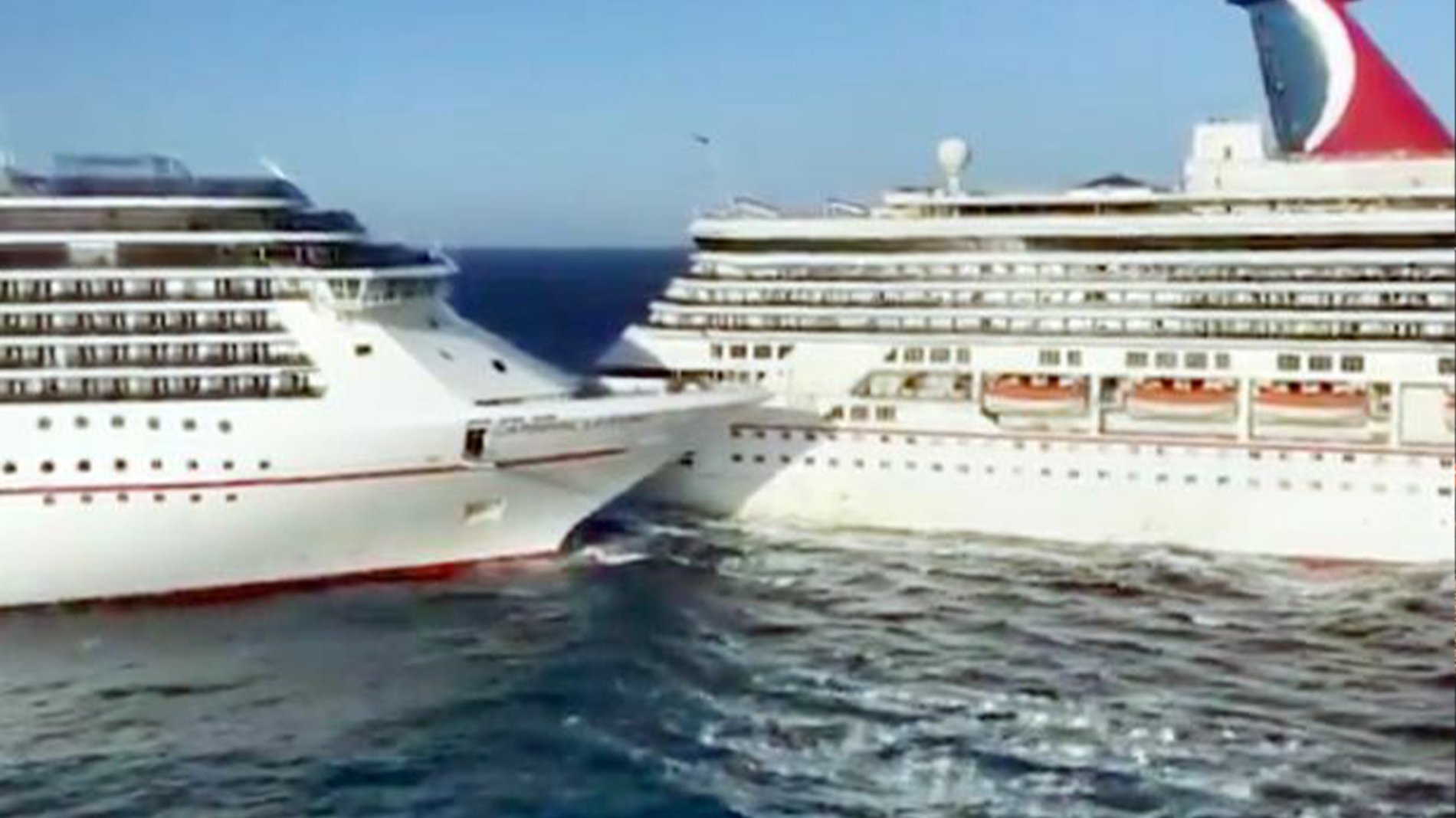 How often do cruise ships collide?
It's not just unforgiving concrete docks and nearby vessels that a cruise ship collision can hit, there's also the headlines. But how common are these accidents, and what should you be prepared for?
Ok, let's get one thing straight. Accidents involving cruise ships are few and far between, regardless of what you may find online.

If you engage with a YouTube search, it's oh-so-easy to believe that clashes between ocean-going titans are commonplace – but you would be misinformed.

There's a large collection of filmed footage depicting mangled bridges and decapitated davits, but these close-up confrontations between iron and steel come from the beaching process in various foreign breaker's yards.

Trying to squeeze mammoth cruise liners between each other, in a bid to maximise turnover for each square metre of dedicated coastline, will always create Hollywood-style collisions of the greatest magnitude.

Of course, there are exceptions – such as the David versus Goliath situation between MSC Opera and a small Venetian riverboat back in 2019. That incident led to a city-wide call to regulate and (dare we say) punish unmanageable visitors. It's not hard to see why, as the footage makes for alarming observation.

Rocks, reefs, mismanagement and unfortunate timing can also cause collisions that merit investigation (here's looking at you, Costa Concordia), but the safety protocols implemented across the cruise industry ensure such occasions remain rarer than an honest politician.

Should such an accident occur, the media outlets jump straight in. Last month was the turn of P&O's Britannia to claim worldwide headlines when a violent storm caused havoc, setting Britannia free from her moorings in Majorca's capital city of Palma before subsequently clipping an oil tanker.

Thankfully, no serious injuries or fatalities were suffered, and only minor damage to the ship was recorded. However, that wasn't the end of the saga, as those pesky maritime regulations dictated a return to port in Southampton; courtesy of damage to one of Britannia's lifeboats.

And, as the ship was one lifeboat short, the domino-effect left 230 passengers disembarking for overnight accommodation before a return flight to Great Britain.

Once again the industry has been subjected to various questions. So let's address the fresh search queries about cruise ship safety.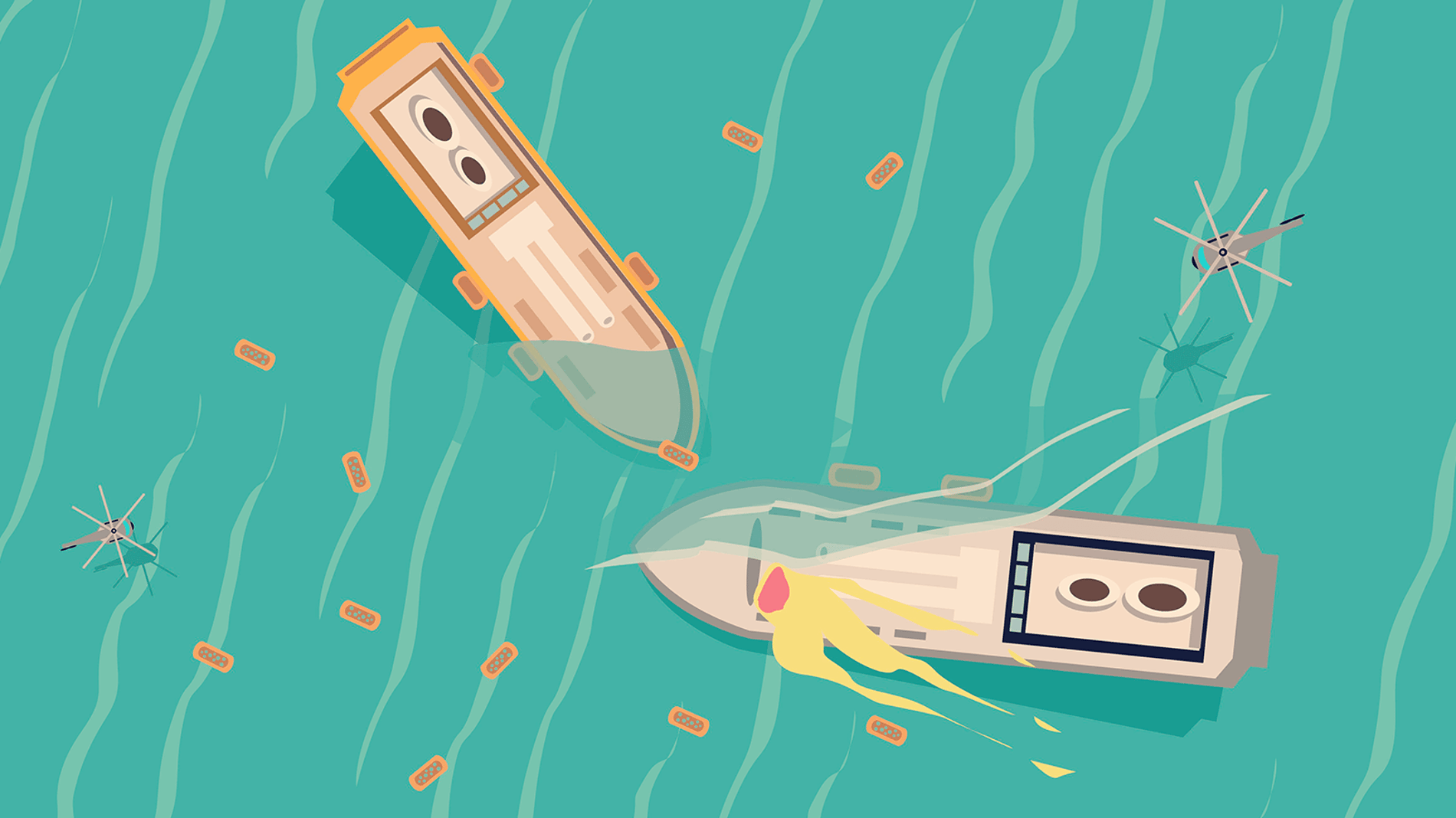 Collision statistics
One of the harshest aspects that cruise ships must face doesn't come from climate protestors or maintenance schedules but from adverse weather conditions. In particular, strong gales and unpredictable winds frequently cause headaches for cruise line operators; particularly when a ship is vulnerable during port manoeuvres.

As documented by The Telegraph, Cunard's gorgeously sturdy Queen Mary 2 (QM2) enjoyed a hit of adrenaline lately, after high winds set her free from ropes that moored her in the Italian port of Civitavecchia.

As the Cunard flagship drifted away from the dock, both the forward and aft gangways plunged into the water before the vessel made a beeline for a nearby super yacht. Tugboats came to the rescue and brought the Queen Mary 2 under control.

Delving behind the headlines showcases a trend regarding how often these incidents happen. CruiseMapper – a cruise information website – logs these events, and it doesn't take long to gain an answer about the frequency of accidents of this calibre.

So, how many collisions have taken place since January 2023? Five. Only five. And of those five, nobody suffered a serious injury. No liners sank, and nobody went missing. The total throughout 2022 hit a grand total of nine (including river ships), indicating a downward trend.

With so many cruise ships out there, that number shouldn't come as a surprise. Adverse conditions cause havoc for any maritime niche. It's not unique to the cruise industry.
Earlier this year, uncharacteristically strong winds pushed a super yacht over while docked in Leith, Edinburgh. Patrons ended up in hospital for treatment.

There's strength in size, and they don't come much bigger than a cruise ship – meaning that incidents are far less common than those registered for yachts, pleasure craft and sailboats.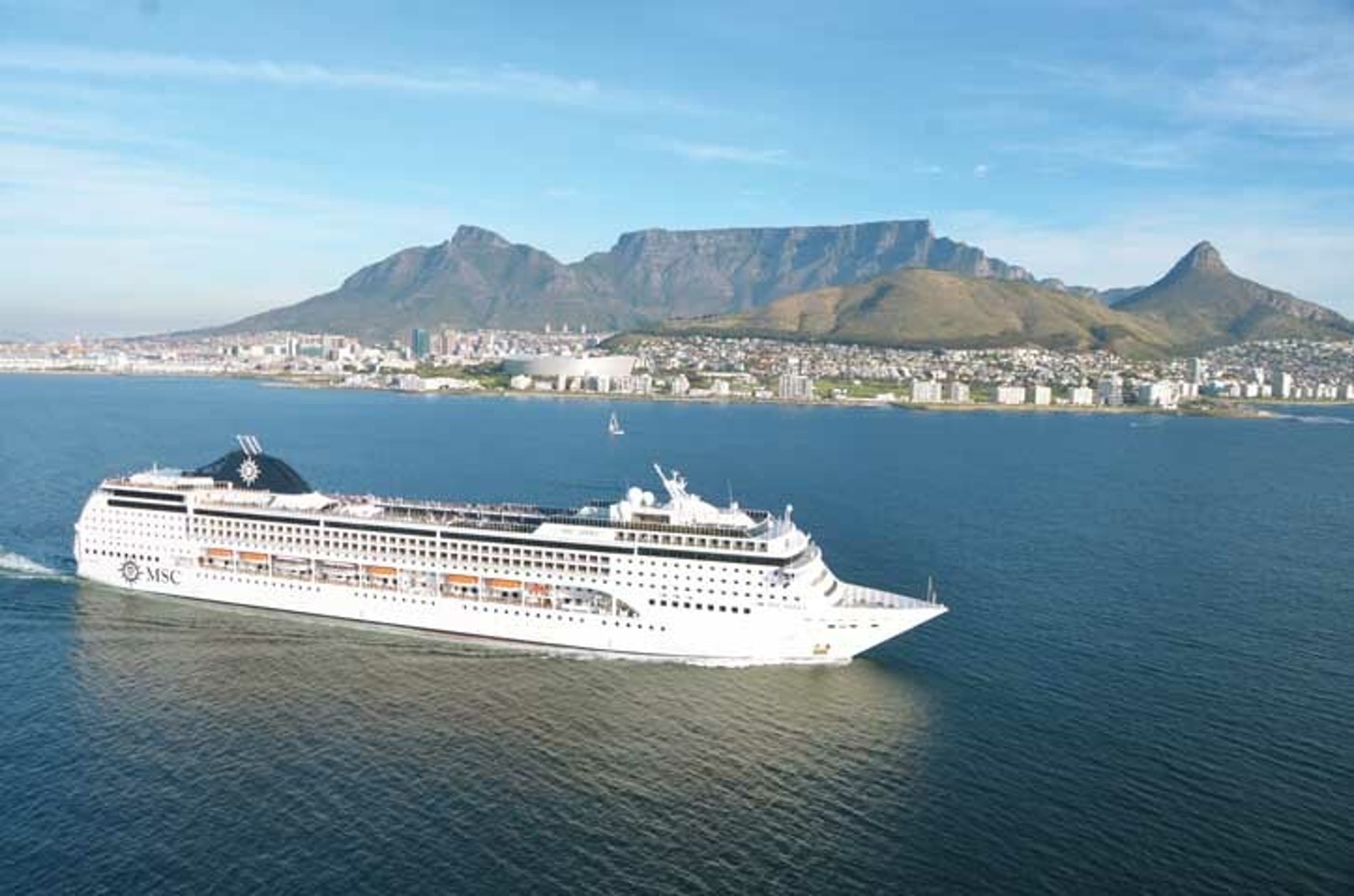 Improvements since 2019

If you take a look at the pre-Covid levels of incidents, the number is unquestionably higher. Strides are always being made in the way cruise ship safety progresses, alongside advances in weather monitoring.

For instance, 2019 witnessed a total of 15 recorded incidents involving 12 cruise ships, including four occasions where liners collided with one another. That includes the infamous incident between MSC Opera and Uniworld's River Countess.

The mobile phone footage of that particular collision went viral, showing the foreboding MSC cruise liner ramming the River Countess into the unforgiving dock – this resulted in five injured passengers. Media outlets had a field day, and the cruise industry came under fire for reckless behaviour.

The captain of MSC Opera, and the bridge crew, took the hit and were found to be at fault. Jail terms were issued following a trial, but these eventually boiled down to monetary fines.

The same year found two other MSC ships – Orchestra and Poesia – colliding in Buenos Aires, an incident between Nieuw Amsterdam and Oosterdam (both Holland America Line) in Vancouver, and a crash between Carnival Legend and Carnival Glory in Cozumel, Mexico. On all these occasions, fierce water currents and adverse winds were blamed.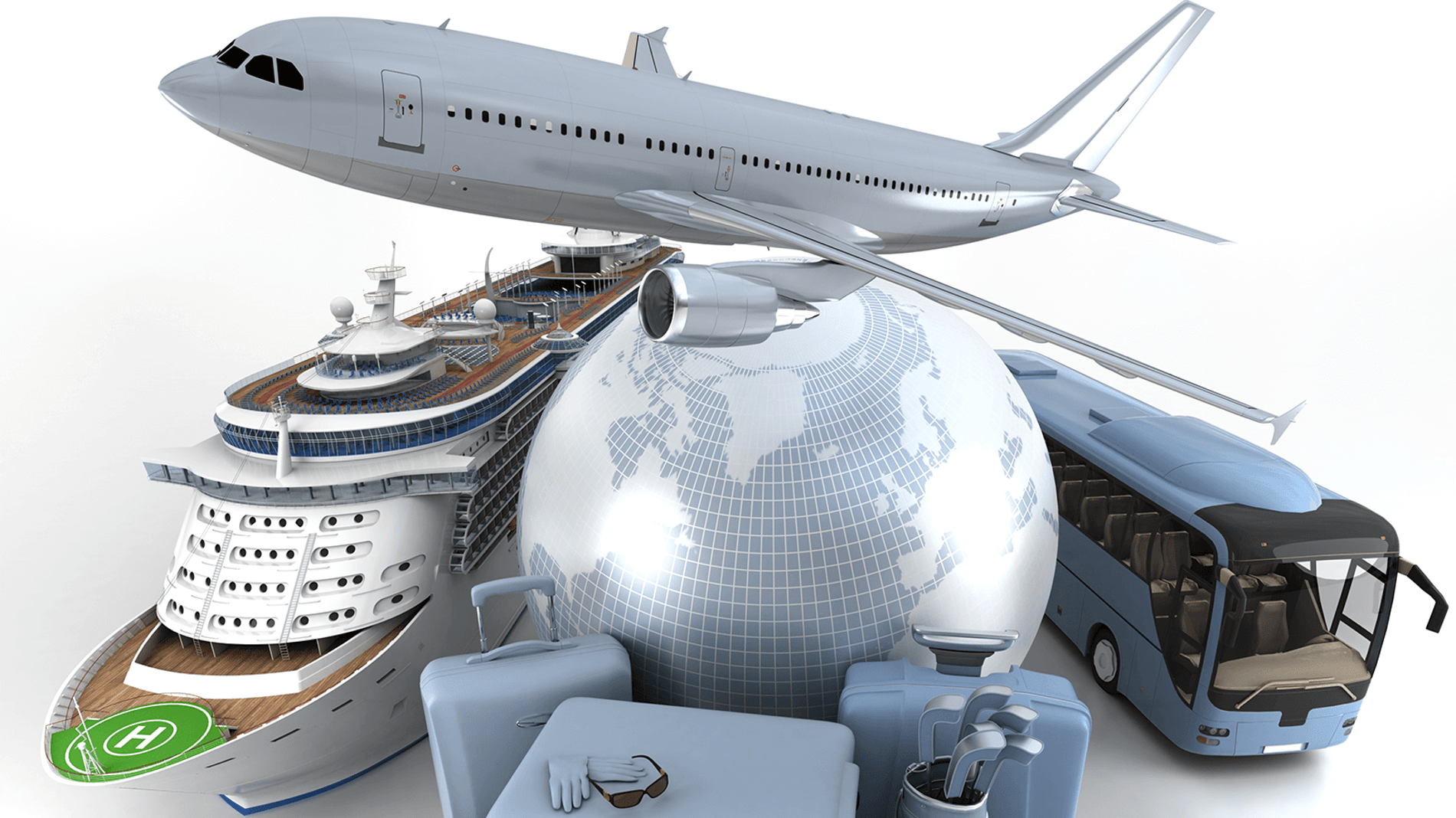 What happens after a collision?
Should a cruise ship suffer a collision, the captain then rapidly contacts the ship's flag state authority; typically Panama, Bermuda, Malta, or the Bahamas – although Great Britain remains the authority for a number of cruise lines.

A decision is then passed from that authority to the captain regarding the continuation of the voyage.

Each state authority leads an investigation into the collision under the regulations of that country, in direct accordance with recommended procedures from the International Maritime Organisation. If the vessel is UK flagged, jurisdiction then lands with Britain's Marine Accident Investigation Branch.

If the ship is damaged enough to warrant the cancellation of a voyage, passengers will be dispatched home at the cruise line's expense – this can often constitute a hotel stay followed by a subsequent flight.

Evacuating passengers comes down to the captain, who has the ability to decide on a case-by-case basis. That being said, sometimes damage incurred by safety equipment can dictate proceedings.

If, as was the case with P&O's Britannia, lifeboats are damaged, then the number of passengers asked to disembark is calculated by how many individuals would sail without access to a place in each damaged lifeboat.

For example, if 170 lifeboat places are no longer operational, 170 passengers would be asked to remain on land – as unfair as that may sound.

A full investigation typically takes 12 months, if the authorities feel this is required following an inspection of the ship, the weather and tidal conditions, and crew protocol.

Afterwards, each cruise ship requires a classification certificate to confirm that quality and safety requirements have been met. Without that certificate, the vessel cannot be registered and therefore marine insurance cannot be obtained.

You cannot procure these certificates from just anywhere, though. The cruise line has to verify through a classification society – such as Lloyd's Register or Registro Italiano Navale – before safe operations can be confirmed.

The classification society becomes notified and directly involved - alongside the flag state - in assessing the extent of safety implications, damage and the repair work necessary to maintain ocean-going worth.

Once everything is in place and certificates have been obtained, then operations return to normal. If affected passengers have been inconvenienced or their cruise has been cut short, compensation can arrive in the form of vouchers, a fresh booking, or a refund.

Of course, each option is reviewed by the cruise line, so make sure you stand your ground if you feel short changed.
Follow us on socials