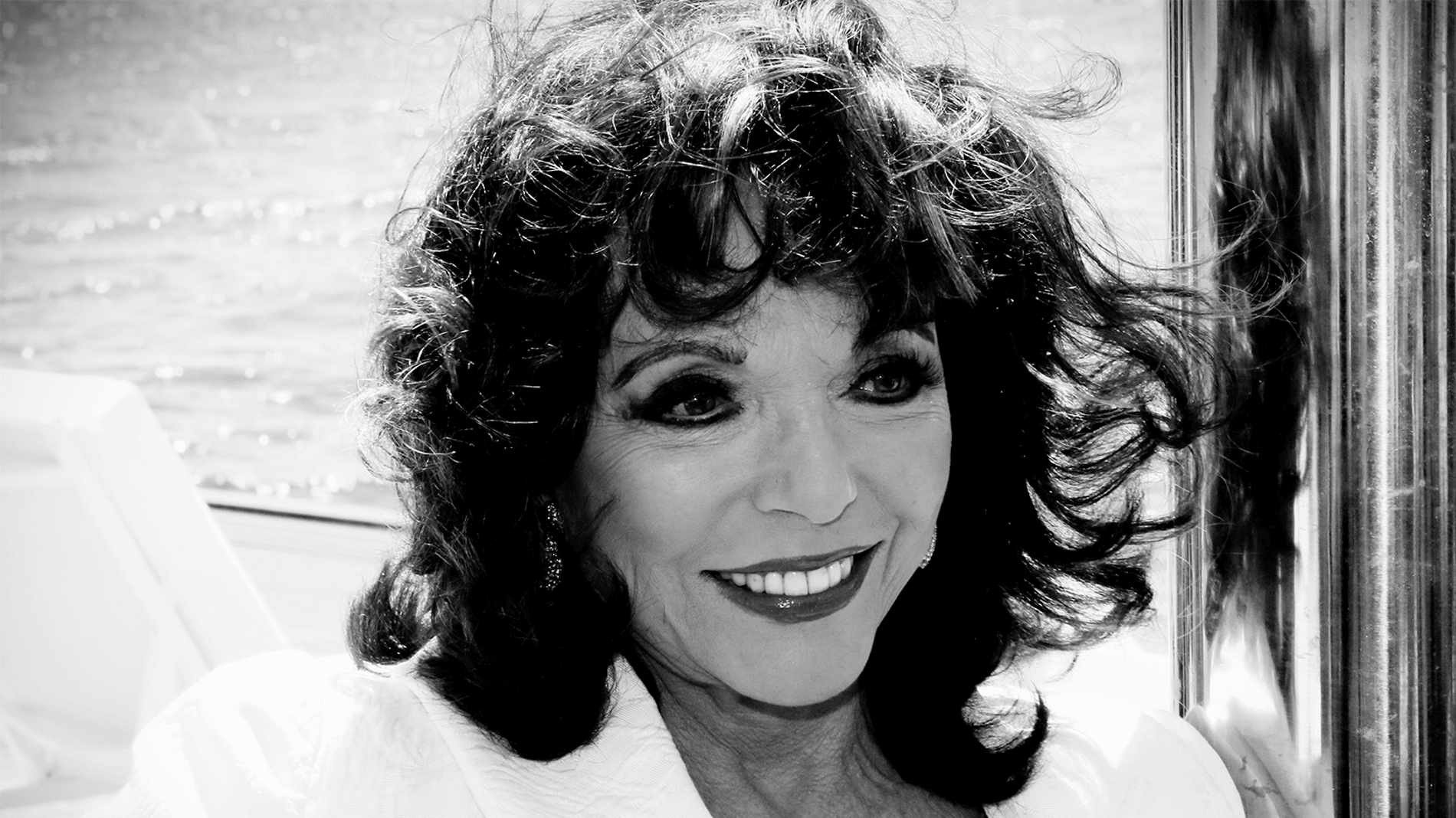 Godmother profile: Dame Joan Collins
Globally adored as a fashion legend and celebrated for her portrayal of Dynasty's über-sassy Alexis, Dame Joan Collins radiates class, bold elegance and glamour – making her the perfect godmother to S.S. Joie de Vivre
Christened upon the River Seine in the very heart of Paris – a city renowned for its unique character and style – Uniworld's river cruise ship S.S. Joie de Vivre required a Godmother.

However, it couldn't be just any Godmother. Uniworld required an icon that epitomised the very essence of confidence, decadence and inspiration. Which fearless lady, if any, could successfully fulfil such a critical ambassadorial role?
In the lead-up to the pending launch ceremony, perhaps a call had been put through to Denver, Colorado, and answered by the creak of bouffant hair and excessive shoulder pads.
North America's 'Mile High City' might seem an unlikely location to scour for a leading lady but, back in the 1980s, this is exactly where the Godmother of Joie de Vivre was to be found; signing lucrative business deals and scheming vengeful moves against her ex-husband – oil tycoon Blake Carrington.

We refer, of course, to the controversial and fictional television character Alexis Colby – from the hit TV series Dynasty – who was played by English actress, author and columnist Dame Joan Collins.
From the very moment Joan made her Dynasty debut – looking up elegantly from beneath a wide-brimmed, monochrome hat during a high-stakes court battle - trouble brewed on TV screens like never before. Audiences were hooked.
From marrying her ex-husband's top business rival to dropping false gossip that kickstarted manic chaos elsewhere, Alexis ran riot in Dynasty between 1981 and 1989. Alexis basically owned the decade.

Dame Joan, already well respected as a media influence, quickly became a global household name – offering refined and sophisticated fashion, wrapped in a brassy persona that propelled her up the rankings overnight.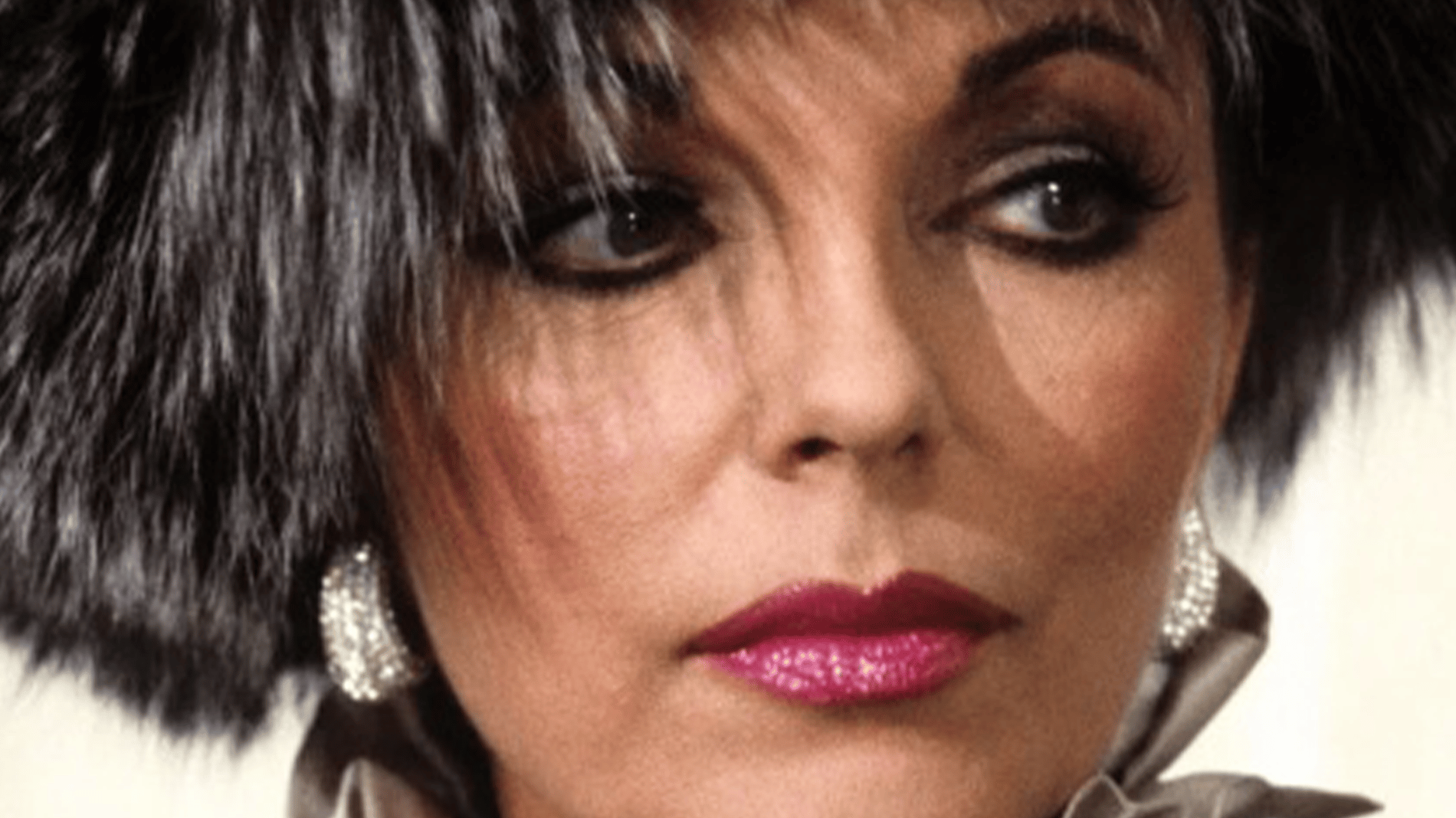 Alexis Colby: Joan Collin's finest hour
From seducing potential conspirators to colluding in other people's affairs, signing private aircraft leases and building a sordid business empire, Alexis was always busy and up to no good.
Perfectly aware of how her womanly charms, or the use of a softly vulnerable voice, could get her out of trouble, Alexis employed both tactics to great oh-no she didn't! effect.

She didn't always get her way, largely down to Blake's new wife - Krystal - over whom none of Alexis' charms worked. Consequently, the two brawled in numerous catfights for which Dynasty became particularly famous.
In fact, Alexis and Krystal fought almost everywhere – in the art studio, the forest, the mud bath, a fashion house full of sequins (as you do) and even the Carrington Koi pond.
Never before had a woman walked away from a pond fight – soaked, frozen and bedraggled – and still looked as gorgeously unflustered as Dame Joan.

Of course, the antics of Alexis may sound somewhat ridiculous by modern standards, but those scheming plotlines and Joan's graceful presence saved the show from cancellation. Dame Collins catapulted the floundering series into the cultural stratosphere, elevating her own status with it. And rightfully so.

A fashion icon

With each new outfit, Joan became a symbol of 1980s glamour and excess. Women admired the sheer audacity of Alexis, neatly packaged by Joan's strong personality.

It, therefore, seems entirely appropriate that a cruise company would want a Godmother with the confidence, distinction and daring as Dame Joan's Alexis. After all, the line is blurred as to where Joan Collins ends and Alexis begins.

So, in March 2017, Uniworld took the plunge and brought in Dame Joan Collins to launch their new river cruise ship to much aplomb.

Uniworld President & CEO, Ellen Bettridge, said at the time: "We are delighted to welcome Dame Joan Collins to the Uniworld family as Godmother of the S.S. Joie de Vivre.
She epitomises the 'joy of living' philosophy that is reflected in every bold detail and gentle touch of our newest Super Ship."

Dressed in a chic, white trouser suit accompanied with a wide-brimmed hat and bright red lipstick, Dame Joan was thrilled to launch S.S. Joie de Vivre.

Collins said: "I visit Paris as often as possible … It is without doubt the 'city of light' and I think it's wonderful that this beautiful ship is starting off here."

On her own interpretation of joie de vivre, Joan continued: "To have a good life, and a special life, is wonderful. I believe that a true joie de vivre comes from within, from a sense of satisfaction and fulfilment."
From Joan's glass, the champagne sparkled and flowed down the ship's bell, completing the glamorous launch of S.S. Joie de Vivre.
Dame Joan Collins: The stylish 'bad girl'

Dame Joan Collins remains one of the last shining stars from Hollywood's golden era, and an icon to women all over the world.

From her rise as an actress into international stardom, to her bold fashion sense and sensational beauty, not to mention her fiery wit, Joan has provided many young women with a hard yet aspirational act to follow.

Born in Paddington, London in 1933, it seemed almost inevitable that Joan would try her hand at entertainment. Her mother was a dancer while Joan's father was a theatrical agent, resulting in Collins mingling with big names from the start.

After training at the Royal Academy of Dramatic Art, Joan was snapped up by one of the UK's largest British film studios – The Rank Organisation.

In 1952, she played a juvenile delinquent in I Believe in You but, far from turning audiences off with her riotous on-screen behaviour, the role rewarded her with initial stardom as well as the nickname 'Britain's Bad Girl'. Joan wowed as Princess Nellifer two years later in Land of the Pharaohs.

Combined with an enviable figure, smoky eyeliner and a sultry glance that could make a man melt, 20th Century Fox rushed to net the rising star with a seven-year contract.

Joan starred in many Hollywood movies throughout the fifties, often top-billing renowned co-stars including Richard Burton and Jayne Mansfield.

To everyone's surprise, in 1960, Joan suddenly bailed from what had seemed an agreeable contract. Shortly before, she'd undergone extensive testing for the role of Cleopatra but was eventually, and controversially, rejected for the movie epic. Elizabeth Taylor stepped into the role instead.

The last-minute brush-off, combined with her own mounting cynicism towards Tinseltown itself, convinced Joan to hightail it back to the UK.

What could've served as a nosedive into obscurity in fact, slowly and subtly, became Joan's long-term saviour. As other illustrious Hollywood names saw their day come and go, Joan's brave decision to abandon ship would eventually morph into a highly enduring path.

This move was of course not without its challenges. Post-Hollywood, in a British job centre, Joan found herself being asked the rather insensitive question of "Weren't you Joan Collins once?" to which she promptly and rightfully retorted "I still am!"
The sixties and early seventies delivered mixed opportunities for Joan, from an eclectic series of humble British films to dabbling in what television could offer. Not all was to Joan's taste but having good-humoured japes with Roger Moore and Tony Curtis in an episode of The Persuaders! proved it wasn't all bad.

Strength and dignity

Between straddling questionable B-movies and trying to keep her career's momentum afloat, Joan held her nerve throughout.
In 1978, Joan rapidly left scathing comments from the dole office behind as Fontaine Khaled in The Stud, based on a book by her younger sister, Jackie Collins.

The disco-orientated, hedonistic movie revitalised Joan's career, showcasing her saucy side in a film she had actually raised the finance for.
Grossing in at over 20 million dollars, The Stud was such a hit that the 1979 sequel The Bitch was shot in a flash. Some simply couldn't handle the erotic content of the controversial flicks, with a Greater Manchester council banning showings of The Bitch! in their cinemas. Ooh er!
From Joan's perspective, this didn't cause concern as both roles caught the attention of a major American TV series. The call came as Joan was poolside in Marbella – the Dynasty TV series wanted her to play a character called Alexis, for around six weeks.
Little did Joan know it but it was a role that would become her best-known. Her character quickly drew a faithful audience who delighted in being shocked, surprised, inspired, delighted and amused.
Subsequently, Dynasty's ratings went through the roof and the original six-week contract eventually concluded after nine years.
A string of awards followed afterwards - a Golden Globe, a People's Choice Award, two Soap Opera Digest Awards and a Primetime Emmy Award. Yet, perhaps the most impressive step she took was in 1984.
During a year fraught with conflict regarding female equality and ageism, on the cusp of turning 50, Joan punched through the glass ceiling and posed for Playboy magazine. Although some criticised Collins for such an action, she has successfully challenged ageism against women and set foundations for a changed world.

Collins has published 16 books while also regularly contributing to The Spectator, Tatler, Harpers Bazaar, The Times, The Daily Mail and The Telegraph. For her charitable services, Joan was made a Dame by Queen Elizabeth II in 2015.

We are honestly surprised that Alexis didn't shine through on the day and try to wrestle her way onto the throne...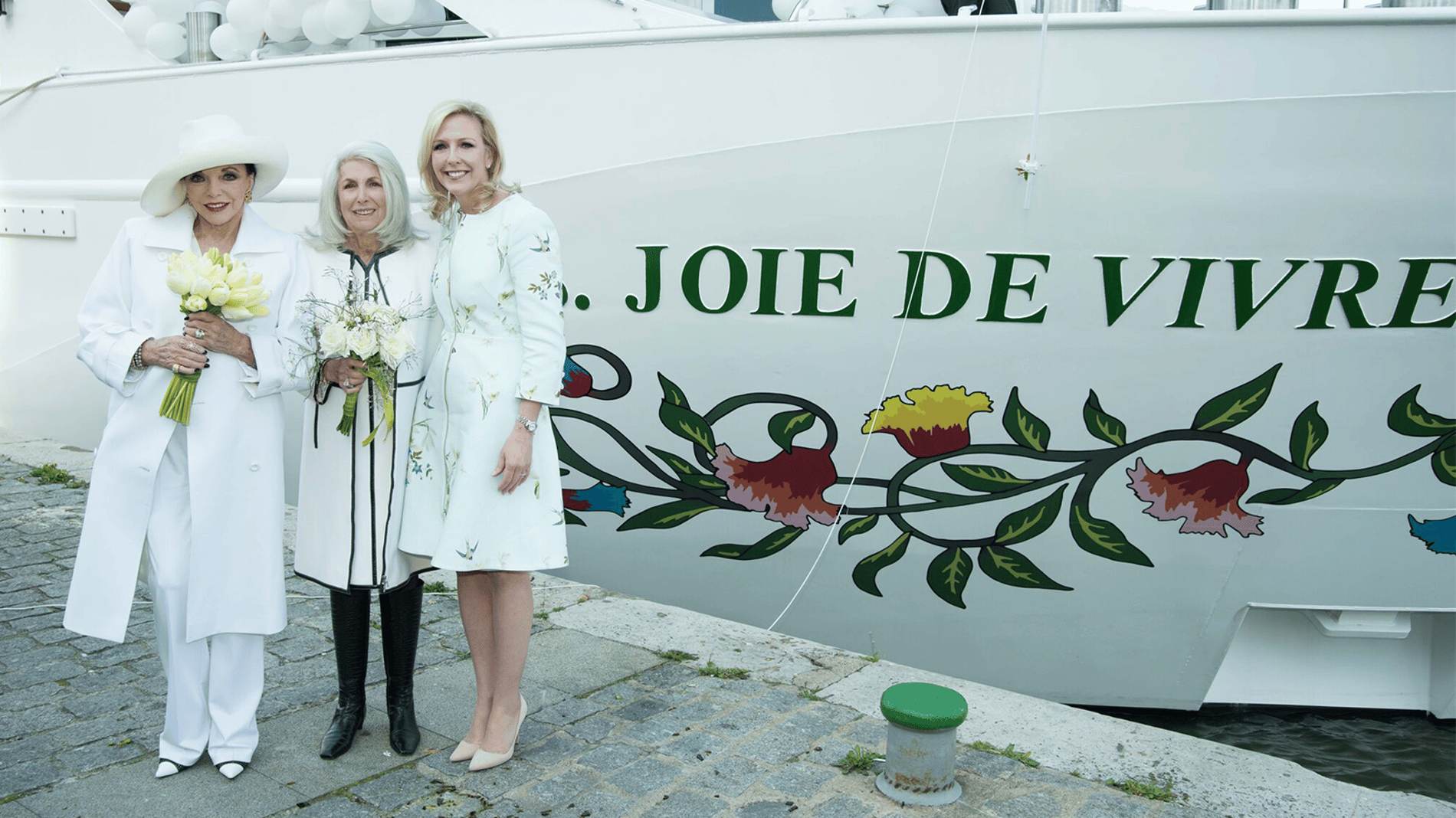 Dame Joan Collins and the S.S. Joie de Vivre – a dynastical duo
Pairing Dame Joan Collins and the S.S. Joie de Vivre represents, in itself, an Arc de Triomphe for the cruising world.
Both Uniworld's French cruising ship and her legendary Godmother can be described using exactly the same adjectives – glitzy, glamourous, luxurious, classy, elegant and timeless.
Both the S.S. Joie de Vivre and Collins possess undeniable beauty, grand aspirations and a keen appreciation for the finer things in life. No wonder Uniworld saw an ideal match in Collins and their svelte French river cruise ship.
While one works an itinerary between the grand, romantic cities of France, the other dots from notable movie role to cocktail party with an air of grace and pizzazz that refuses to falter.
If we ever needed to know what to wear onboard S.S. Joie de Vivre or any of the ship's many stops throughout France, our first port of call would be to speed-dial Joan to ask for her priceless fashion advice.
Didn't you know that it's all in the hat, darling?
While Paris is often hailed as the most beautiful and romantic city in the world, history will tell you that Paris is also a location that has witnessed significant turbulence and acts of revolution.
Similarly, Joan's movie career, with its meandering path of highs and lows (here's looking at you, Empire of the Ants), has eventually delivered global recognition and respect.
Dame Joan adores France and is proudly able to call the country home; residing in Provence. Upon concluding her christening duties on behalf of S.S. Joie de Vivre, Dame Joan then climbed aboard to accompany the ship on its inaugural sailing to Normandy. She wasn't likely to miss out on a party now, was she?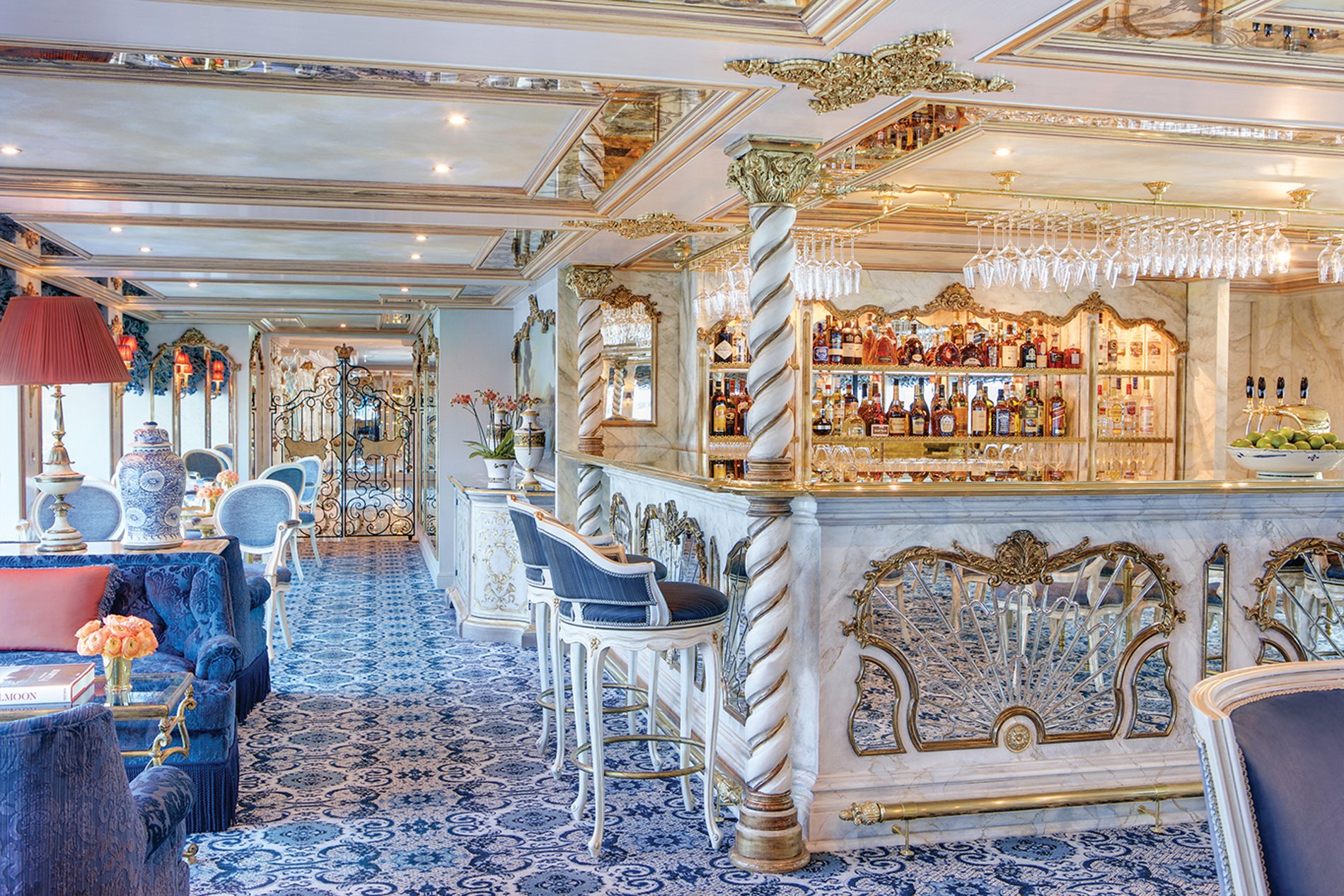 About Uniworld and the S.S. Joie de Vivre
Founded in 1976, Uniworld strive to bring unparalleled luxury, elegance, discovery and enchantment to river cruising the world over. If you seek extravagance whilst heading downstream, Uniworld will have your every need and desire taken care of along the way.
Based in Los Angeles, California and forming part of The Travel Corporation Group, Uniworld operate a 21-ship fleet along the rivers of Europe, Russia, Egypt, China and South America.
Renowned for their inviting onboard spaces, with each detail thoughtfully considered, Uniworld provide an intimate and relaxed river cruise experience wherever you go.
Borrowing culinary and styling cues from their nominated destinations, local inspiration filters down to influence what each individual ship has to offer. From oh-so-plush décor to a potent blend of exquisite antiques, custom fabrics and original works of art within, each Uniworld ship is truly unique.
Delivering impeccable and gracious service throughout their cruise itineraries, Uniworld is proud to invest in new ships that serve to elevate the luxury river cruise standard overall.
The S.S. Joie de Vivre is just one ship that aspires to bring the 'joy of living' to both the rivers of France and those who sail with her.
Festooned with handcrafted furniture, ultra-luxurious facilities and an interior inspired by 20th century Parisian design, the S.S. Joie de Vivre is the floating epitome of all things French.
It won't take long before you're sure to exclaim 'Ooh la la!'
Comprising of two Royal and eight Junior suites as well as 54 staterooms accompanied by made-to-order Savoir of England beds and marble-lined bathrooms, the S.S. Joie de Vivre can accommodate 128 Francophile passengers in both splendour and comfort.
Possessing slightly more petit dimensions than standard river cruise ships, the S.S. Joie de Vivre can neatly dock in the very heart of Paris in addition to facilitating visits to the city of Rouen, Normandy, the Palace of Versailles, Bordeaux, Burgundy and Provence.

Who knows, perhaps it may dock up near Dame Joan Collins' swish abode for a guest appearance?
Follow us on socials