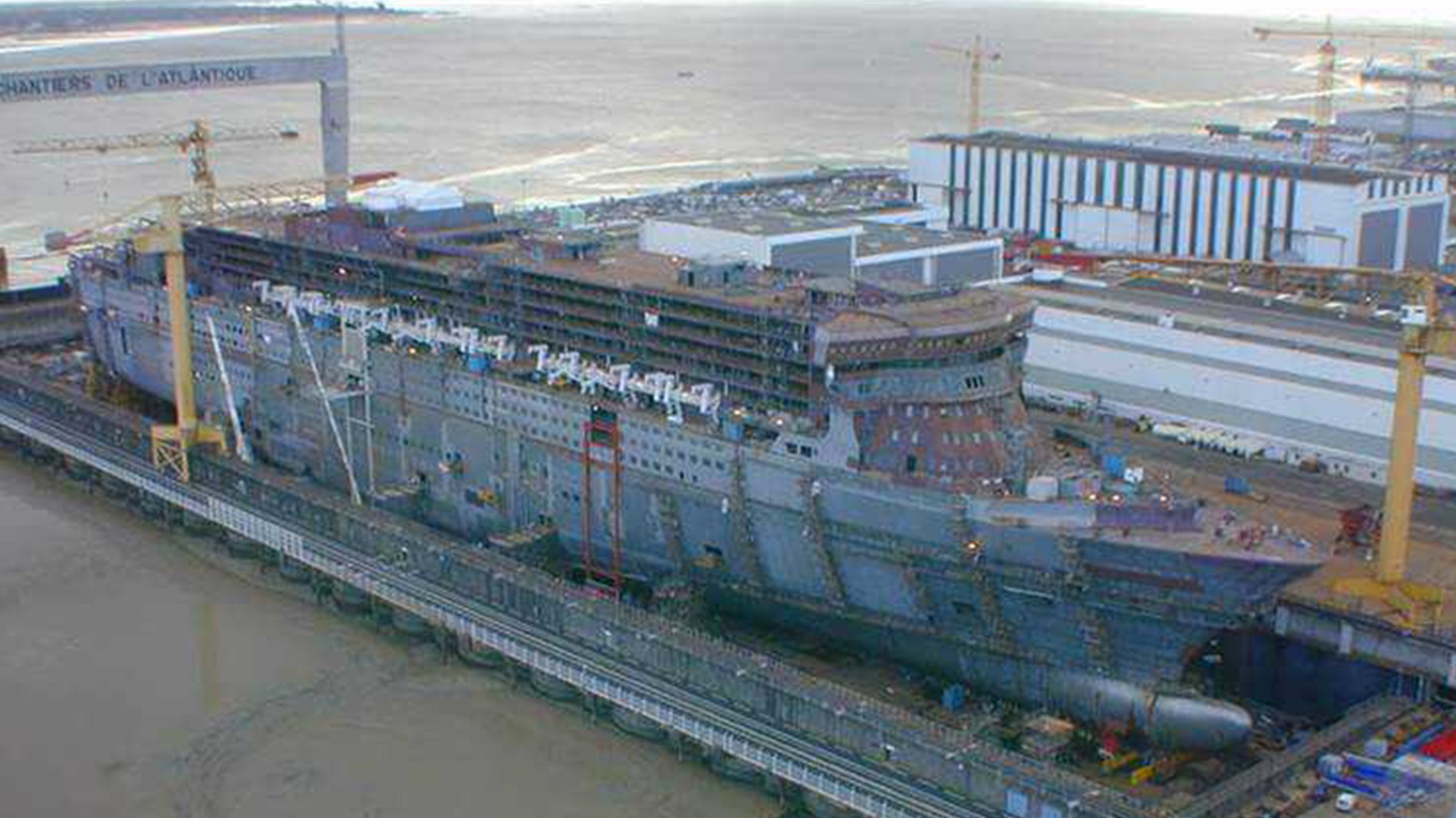 Behind the headlines: 2003 - Cunard's QM2 hits the water
This month back in 2003, as Queen Mary 2 thundered into the waters that fed Chantiers de l'Atlantique, the world embraced Cunard's long-awaiting renaissance. Yet, if you delve behind the headlines of the time, there was much more going on...

By the late 1990s, British culture had reclaimed the world for the Empire.

As Pierce Brosnan ushered new life into the 007 franchise and Brit-pop consciously channelled the spirit of angst-powered youth, Albion trends and British innovation reached every corner of the globe.

From Concorde to the Mini Cooper – British heritage commanded interest and high-profile investment. Except, there was one company lodged in the annuls of Great British history not benefitting from the fashionable resurgence of UK culture.

And that was Cunard.

Once the idiosyncratic mainstay of transatlantic travel, Cunard's fortunes were on life support. Although the cruise line remained recognised and respected, sceptics proclaimed that 1997 would witness an inevitable climacteric where Cunard crashed headlong into administration.

Executives of the ever-expanding Carnival Corporation met and, according to Carnival CEO Mickey Arison, "kicked around what [Carnival] would do with Cunard".

Cunard's impending troubles had been a well-kept industry secret following a documented $25-million loss in 1995. The grand icon of yesteryear had become a dying brand that would ultimately flounder unless some clever thinking emerged from the boardroom.
If a successful plan could be implemented, Cunard made for an especially juicy investment.
It was during this time that Carnival bigwigs developed the concept of Queen Mary 2, according to Arison's chat with Travel Weekly back in July 2003.

"There was no point in buying it if we couldn't return it to its former state."

Akin to any grand purchase, what had started out as justification for taking Cunard under their wing had evolved into a Carnival venture to create a new product.

"Remember, at the time Titanic [the movie] was a huge success, and there was this big nostalgia thing going on," Arison said. "The transatlantic voyage is an aspirational thing... like the Concorde."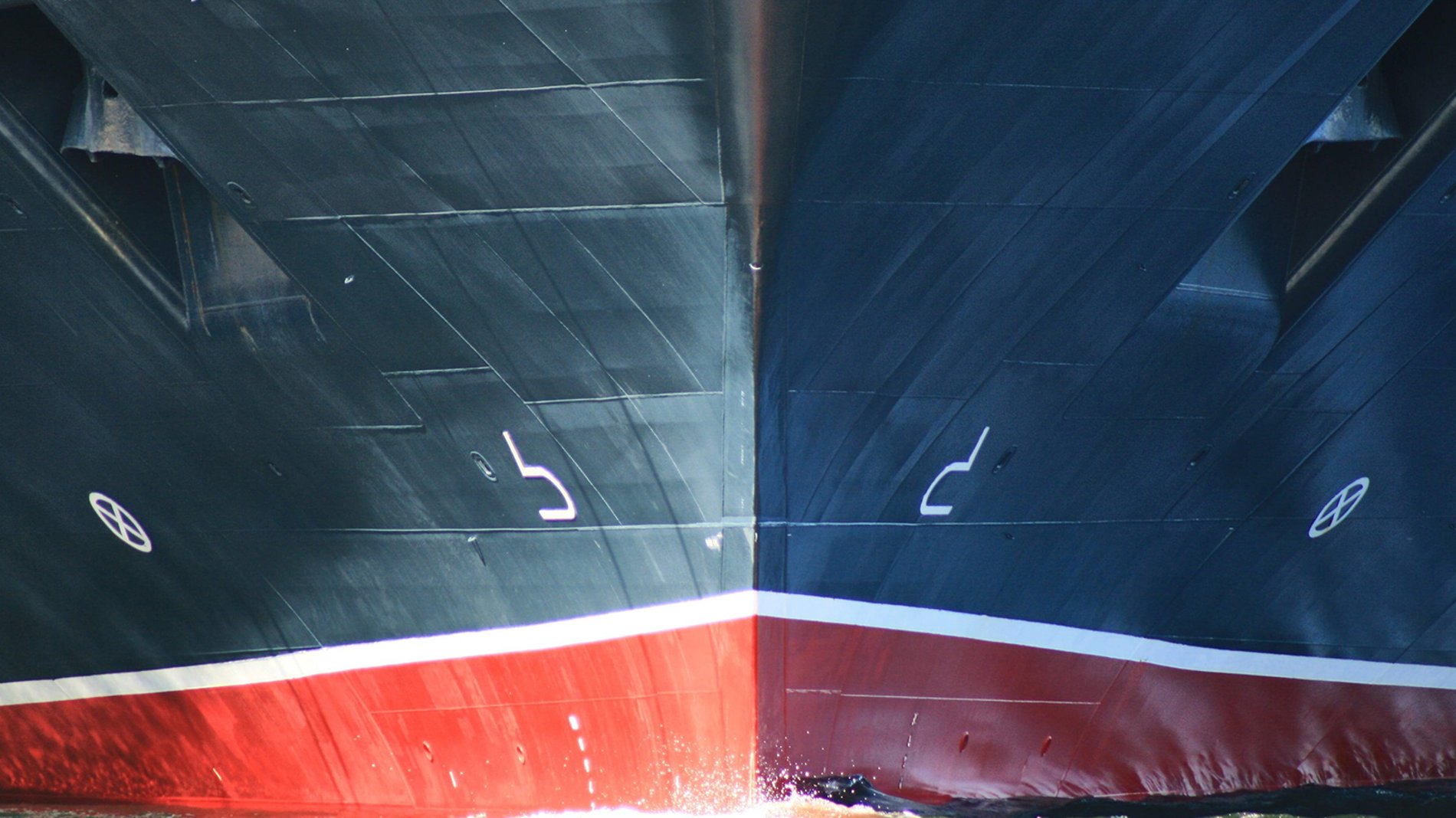 April 8, 1998: Saving Cunard

The concept of taking over Cunard was not for the faint of heart. Luckily, still afloat courtesy of a rich heritage, there remained a wealth of respected mantras from which to build.

Taking the plunge, the media reported favourably on Carnival's US$500 million deal to clinch a controlling interest in Britain's suffering cruise line. Although, there was an ever-growing rumble about the corporation's intentions to merge Cunard with Seabourn.

Expressing concern about the cruise industry's then-ongoing consolidation, the waters were muddied further by Carnival's statement which alluded to an agreement with a Kvaerner affiliate, Kvaerner Masa-Yards of Finland, to "develop a design for a new class of ships for Cunard."

Disgruntled voices emerged through the forum to decry such planning as unpatriotic. With UK shipyards in desperate need of a high-profile commission, and previous Cunarders built on the Tyne or the Clyde, instantly authorising a foreign entity caused anger and outrage.

When the deal hit headlines back on April 8, 1998, public speculation ultimately focused on what kind of innovation Cunard's new owners would bring to the party. Questions largely revolved around how grand those incoming commissions would be, alongside heritage-driven aspects such as the shipyard Cunard would ultimately employ for building new projects.

"These are things that have not been decided," a source at Carnival stated at the time. "We must await the SEC review period before we can announce all of the plans."

It didn't take long for these plans to materialise. The original completed design for – what would become – QM2 arrived in June 1998, before undergoing strict review and comparison with Carnival's contemporary fleet.

By December 1998, Cunard had released the details of Project Queen Mary to the press, announcing a new-age liner to complement their venerable yet ageing QE2. Not only would Project Queen Mary carry an eye-watering $800 million price tag, but the vessel would lay claim to being the largest ship ever crafted, by the time she was delivered.

The order went through on November 6, 2000, following invitations to bid on the project. All expectations led to the same conclusion – Harland and Wolff of Northern Ireland would seal the deal and build Cunard's new liner. History aligned for a modern age and Britain united to take on the world.

Yet, it didn't happen that way.

Much to the chagrin and shock of British business, the contract was instead signed with Chantiers de l'Atlantique, a subsidiary of Alstom.

Interestingly, this was the very same French yard responsible for Cunard's respected former rivals – the SS Normandie and the SS France, of the Compagnie Générale Transatlantique (1885-1977).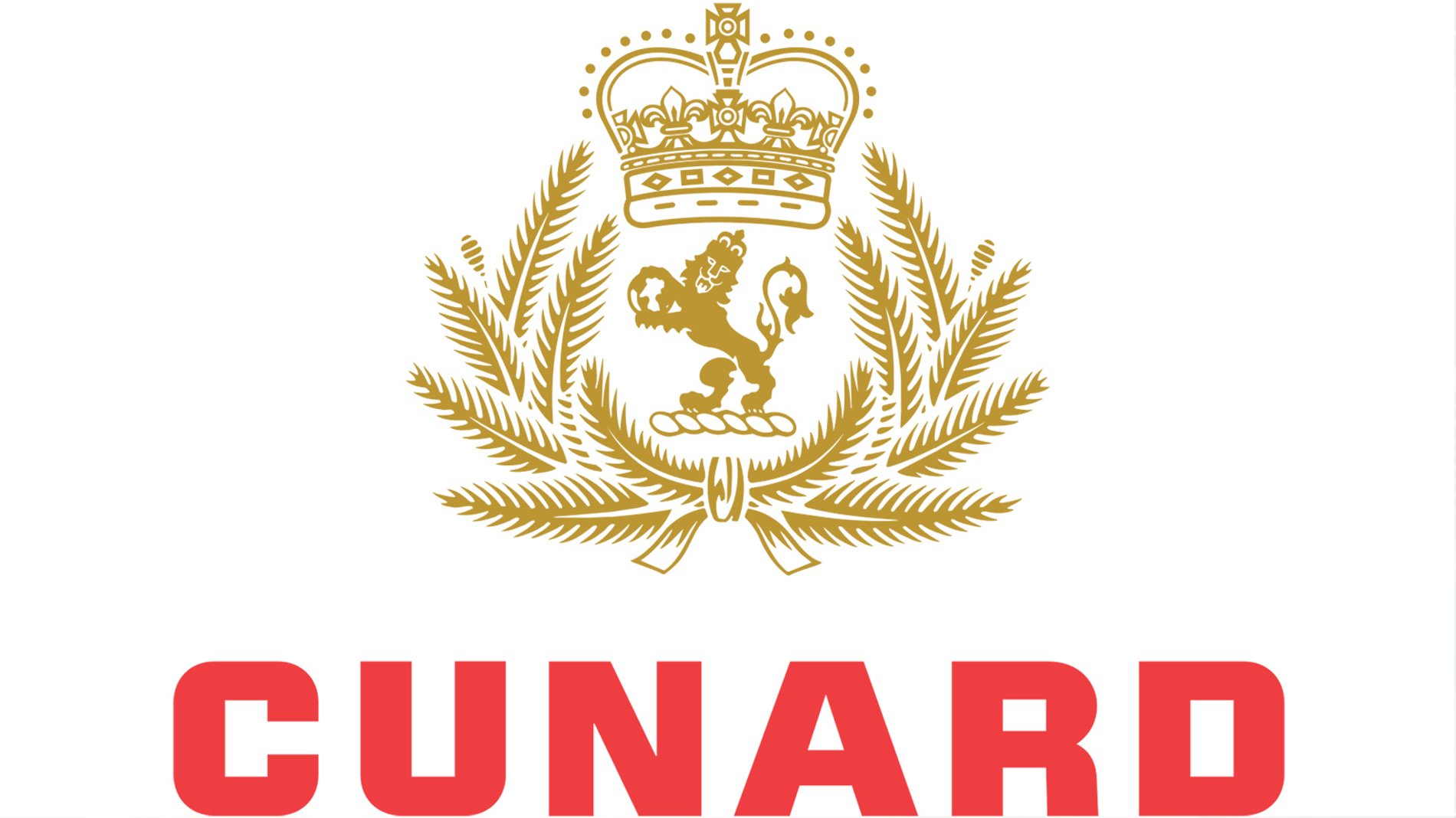 2001: Plans take shape
With plans already underway, company executives from all departments met in the middle of the Atlantic to discuss the future.

That may sound a tad sinister ala Max Zorin, but rather than utilizing a devious airship, Cunard heavyweights sat among nearly 1800 carefree holidaymakers onboard the flagship QE2.

It was here that project Queen Mary started to take shape.
"We all sat together and said, 'No barriers, no budget restraints. We're in the blue zone. If we could create the best product, what would it be?' " recalled Deborah Natansohn, Cunard's senior vice president of sales and marketing.

"We went through the [QE2] on a room-by-room basis. And we talked about what we wanted to see happen. We set out to do two things," Natansohn said of the QM2.

"One, to capitalise on the history and the traditions of Cunard, which are very strong and respected. At the same time, we had to create a ... product for baby boomers."

The agreed vision was to make the new ship a grand and gracious affair, while simultaneously injecting modern innovation into proceedings.

"And hot," Natansohn said. "Hot in terms of the thing to do."

As Cunard executives delved into their deepest fantasies during their time in the QE2's "Blue Zone", some riotous concepts emerged.

"For example, we wanted to have a big laser light show," Natansohn said. "But then we found out that would distract airplanes."

Of all the discussed possibilities, management settled on more 'down-to-earth' aspects tailored to attract cash-splashing baby boomers.

With budgetary caution apparently thrown to the wind, marketing dreams came true – branded goodies, a diverse range of menus, celebrity chefs, a Canyon Ranch spa, a Chanel boutique and a Veuve Clicquot champagne bar were all feasible.

The Cunard brand then took on new energy as Carnival injected the age-old company DNA with modern gusto.

By mid-2001, after signing with advertising agency TBWA/Chiat/Day of New York, Cunard had sun-setted the tagline of "Advancing Civilisations for 140 years" and switched to "The most famous ocean liners in the world".

"The previous administration focused on the history of the line," Natansohn said. "But our research showed that's not why people buy a vacation. We wanted people to say, 'Do you want to travel on the world's most famous ship?' "

The keel was laid on July 4, 2002. Cunard was off to the races.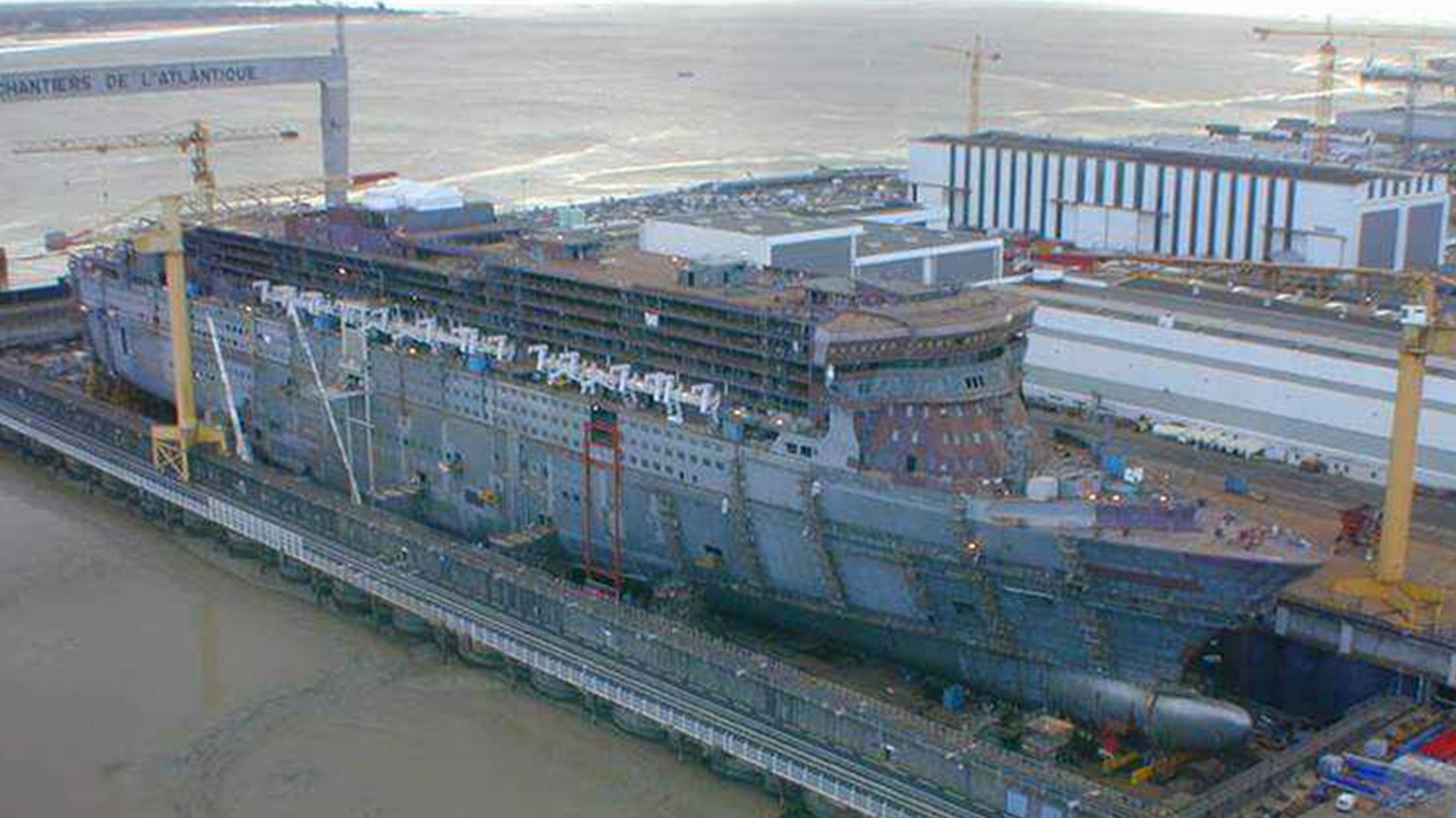 November 15, 2003: Disaster strikes
As progress on the QM2's build steamed towards competition, showing associates or friends and family around the headline-grabbing ship quickly became a badge of honour.

Except, in mid-November 2003, the project dominated headlines for all the wrong reasons.

At 2.22pm, while 48 visitors were making their way onto the ship via a 12-meter wide and crowded gangway, the platform violently collapsed. Visitors spiralled 50-feet towards the drydock's hard concrete floor, before a large segment of weight-bearing scaffolding slammed down upon the landing area.
Jason Schmitt, one of the shipyard's employees, was on the gangway as it plummeted. His mother, who had joined him for the family tour, managed to escape without major injury – as did Jason.
"I fell about 20 metres. There were a pile of injured and dead at the bottom. I don't know how many. But I found I was able to walk and move," he told French Television. 'There were shipyard workers and their families among the dead."

No less than 15 people reportedly perished, with another 32 individuals injured, 12 of which received life-changing lacerations. The youngest victim was 10 years old.

At least 150,000 people had, by this point, written to Chantiers de l'Atlantique asking permission to come aboard while the ship was in the final throws of production. Although largely unperturbed by the construction's controversy - largely fuelled by the decision to build the ship on foreign soil - the ship's public image had yet again been dragged through the media.

Cunard hoped that British tension would subside on March 21, 2003, as RMS QM2 was floated out from the Chantiers de l'Atlantique. Yet, reports from the time suggest the British public remained unconvinced of the ship's worth.

Geopolitical relations were not helped by the tabloids, who looked to capitalise on the company's decision to contract the ship out to Johnny Foreigner, continuing to highlight the state of UK industry at the time.

However, there was a saviour on the horizon to appease the dissension. And she was 5ft 4.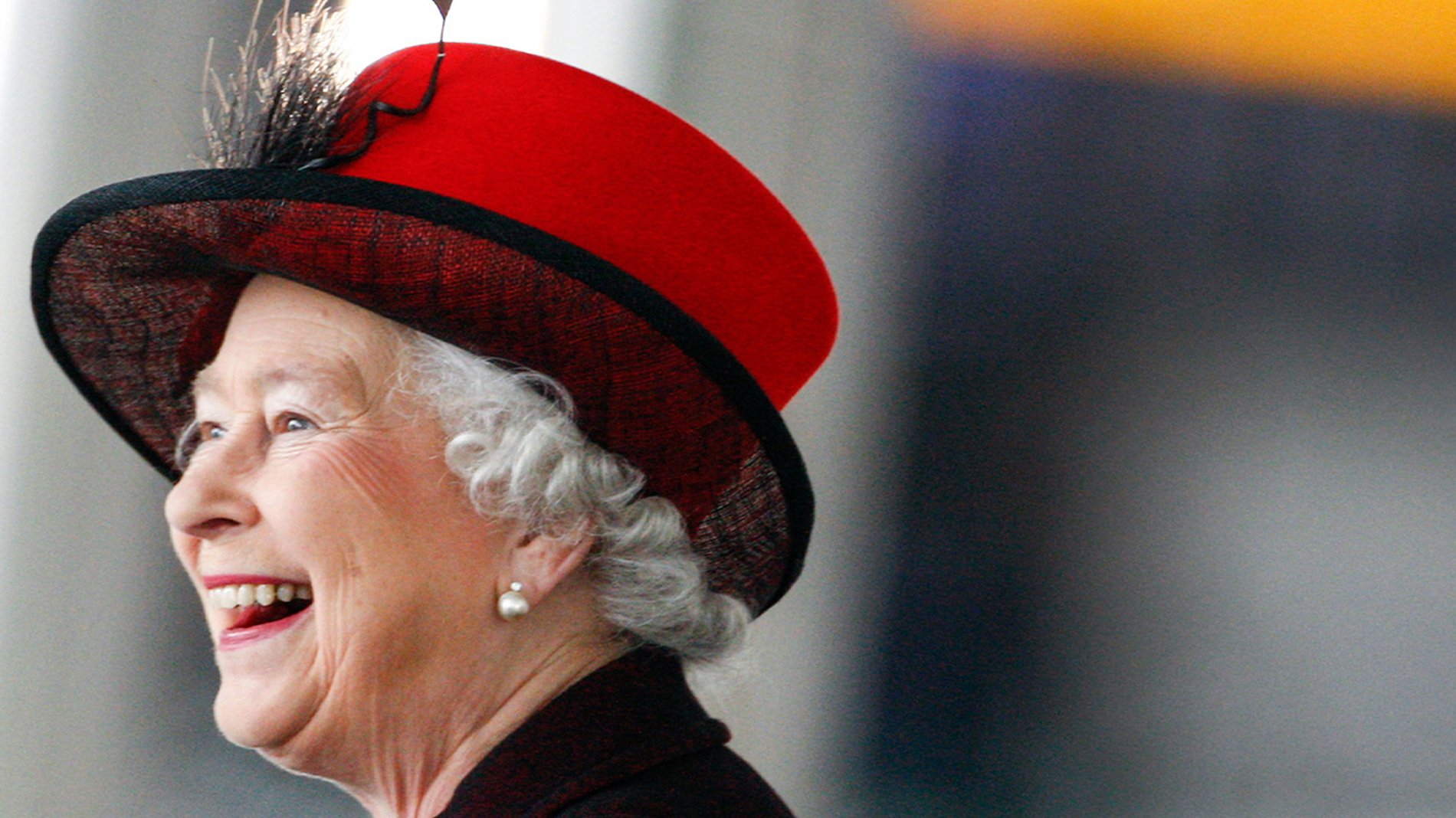 January 8, 2004: Enter Queen Elizabeth II
Construction of RMS QM2 was completed on schedule, with sea trials commencing throughout the later months of 2003. On December 22, 2003, RMS Queen Mary 2 left her birth port of Saint-Nazaire and arrived in Southampton for Boxing Day.

The official naming ceremony was set for January 8, 2004, and there was only one British icon capable of defusing the supposed tension between France and Great Britain; Her Majesty Queen Elizabeth II.

Not only was this the first time that Her Majesty had taken on official duty in January, but she also performed something never before witnessed during the launch of a Cunard ship. She smashed a bottle of Champagne across the bulbous bow.

Courtesy of decades worth of rivalry between Cunard and The French Line, Cunard had infamously refused to use French Champagne to christen their ships. The beverage used by preceding members of the Royal Family for ceremonial naming had instead been a bottle of Empire wine.

The journey to this point had been a long and arduous affair. Only five years previously, it had been speculated that Cunard was doomed to become an asterisk in history. Yet, despite the controversy and tragedy summoned by construction, Cunard had been reinvented for a modern era.

Since that moment in 2004, Pierce Brosnan has hung up his shoulder holster and moved away from the 007 franchise, while Britpop has transformed from commercialised expressionism into revenue-based slavery.

The mini cooper as we know it has gone, Concorde has dissolved from our skyline, and Her Majesty Queen Elizabeth II no longer reigns as monarch over the Nation.

Cunard's RMS Queen Mary 2 has presided over a complete rejuvenation of UK and global culture, offering constant and quintessential British calm for an ever-increasing turbulent society.

And we have Carnival to thank for that.