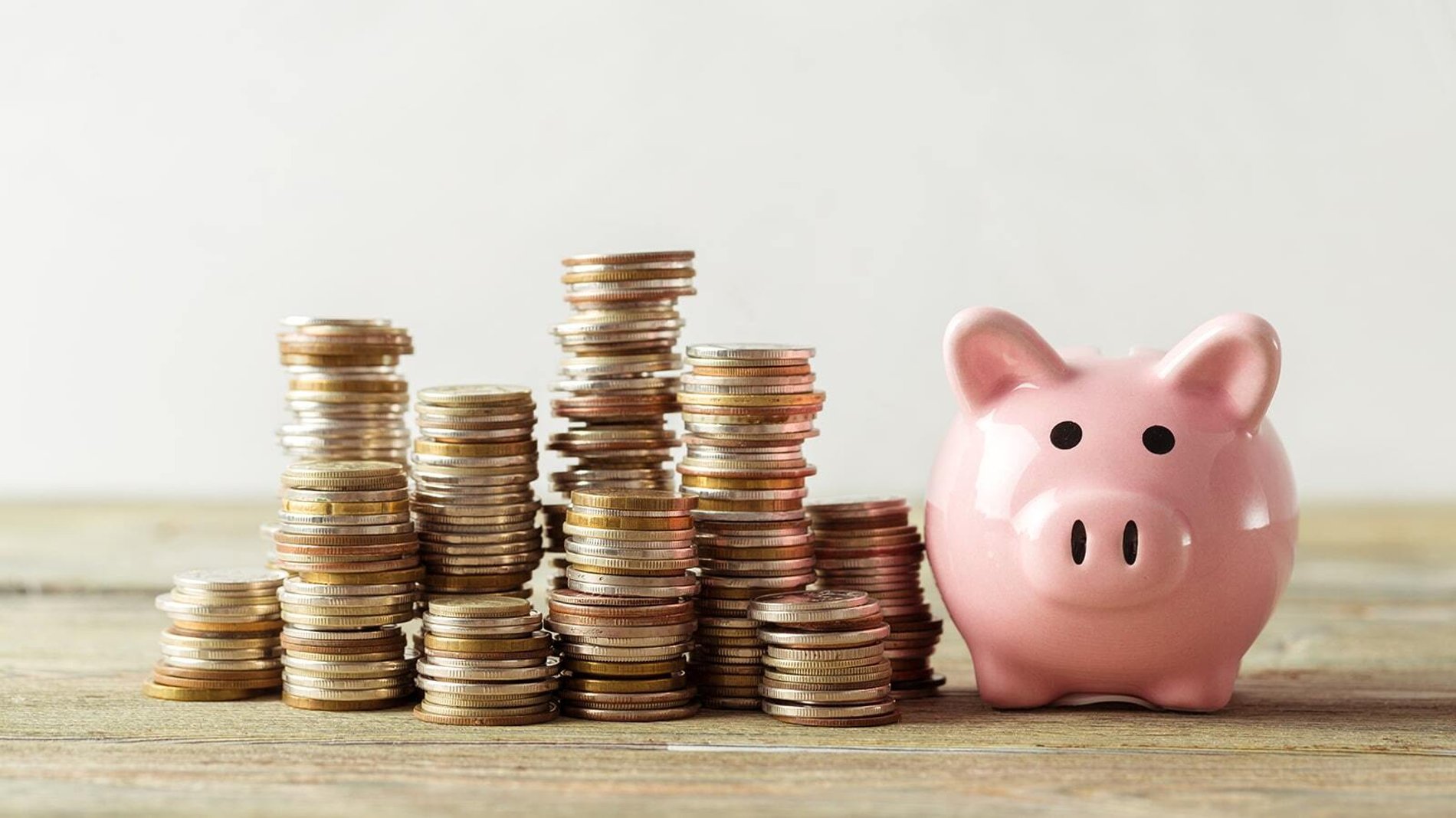 All-inclusive masterclass - the best cruise lines and what they offer
Budget-savvy travellers know that all-inclusive is the way to go – but which lines are best for you, and what do they offer?
Nothing bursts a feelgood bubble like seeing that final bill slipped under the cabin door.
Yet as their holidays come to an end, all too many cruisers are left counting the cost of that nightly round of drinks with new friends, or that speciality dinner to celebrate a big event. Fortunately, there is an alternative – and that's going all-inclusive.
Knowing in advance exactly how much your cruise will cost – not just your air fare, cabin and standard meals, but all the extras you enjoy along the way – is a huge help in these difficult economic times. Quite simply, it means you can set a budget and stick to it, with no nasty surprises at the end.
Choose carefully, and even last-minute cruises sometimes include a few welcome add-ons. But if you're booking a long time in advance – perhaps for a special celebration or a bucket-list adventure – there's a wide range of excellent all-inclusive deals to cover your drinks, a few nights in the speciality restaurants, and maybe even your excursions too.
Whichever deal you pick, make sure it also covers the gratuities charged per person per night, as these can seriously mount up. And you'll also want one that allows you plenty of time online so that you can keep in touch with the folks back home. All-inclusive has long been standard for top-end cruise lines but it's spreading throughout the market as more cruisers catch on to the peace of mind it brings.
So here's how to make the most of going all-in, whether you're on a tight budget, travelling with your family or just want to live the high life...
Best for luxury lovers
Small ships usually offer the best in luxury ocean cruising. There's an intimate atmosphere, and most staterooms have a sea view so you feel special from the moment you step on board.
High-end all-inclusive deals cover most drinks on the ship, as well as speciality dining and staff gratuities, but not all will include flights and transfers.
For UK cruisers, Saga is a great option because it offers complimentary chauffeur transfers from your home to the ship and back.
The line's two new vessels, Spirit of Adventure and Spirit of Discovery, each have three speciality restaurants, where all guests can dine for no extra charge. All drinks, wi-fi, onboard tips and some excursions are also free.
Moving still further upmarket, Oceania Cruises has always included free speciality restaurants, wi-fi, room service and barista coffee, but its OLife Choice offer adds air travel and either eight free excursions, a free drinks package or up to $800 shipboard credit.
Topping the lot is Regent Seven Seas Cruises, with air travel, transfers and unlimited excursions all covered by your upfront fare, as well as gratuities, an open bar, wi-fi and 24-hour room service.
Yes, the cruises are pricey, but you also get free laundry, so at least you can go home with clean clothes.
When it comes to river travel, several lines offer all-inclusive luxury but possibly the best is Uniworld, which sails in Europe, Egypt, southeast Asia, South America and India.
It includes all flights and transfers – international and domestic – along with gratuities, wi-fi and all drinks. You also get curated excursions, fitness classes and nice little extras such as free bicycle hire.
Best for families
Cruises make excellent family holidays and they're great for multi-generational breaks too –if you pick the right line and ship.
The bigger the ship the more there is to do for all ages, so you may find children's aqua parks as well as adult slides, for instance, or there could be mini-golf, sports courts and a range of children's clubs for two to 17-year-olds, run by trained staff.
These are usually free for all passengers but the big benefit of going all-inclusive is not having to pay gratuities for the whole family – children included.
One of the best family-fun cruise lines is Royal Caribbean, with free activities including climbing walls, FlowRider surf pools, laser tag, ice skating and more.
Guests can create their own all-inclusive deal by adding flights, transfers and drinks packages – with unlimited soft drinks for children – when they book.
Princess Cruises also offers children's clubs, mini-golf and sports courts.
Its Princess Plus option adds free drinks, gratuities and wi-fi for every guest, so children can use their own electronic devices, while Princess Premier gives free wi-fi for up to four devices per guest, as well as a range of other benefits including two speciality dinners.
Norwegian Cruise Line is equally family-friendly, with masses of onboard activities – even go-kart racing and ziplines on newer ships – and its Free At Sea and Free At Sea Plus deals are similar to those offered by Princess.
River cruise lines generally welcome families but few have children's facilities. One exception is A-Rosa, which provides kids' clubs and entertainment programmes for children aged four to 15 on special family cruises.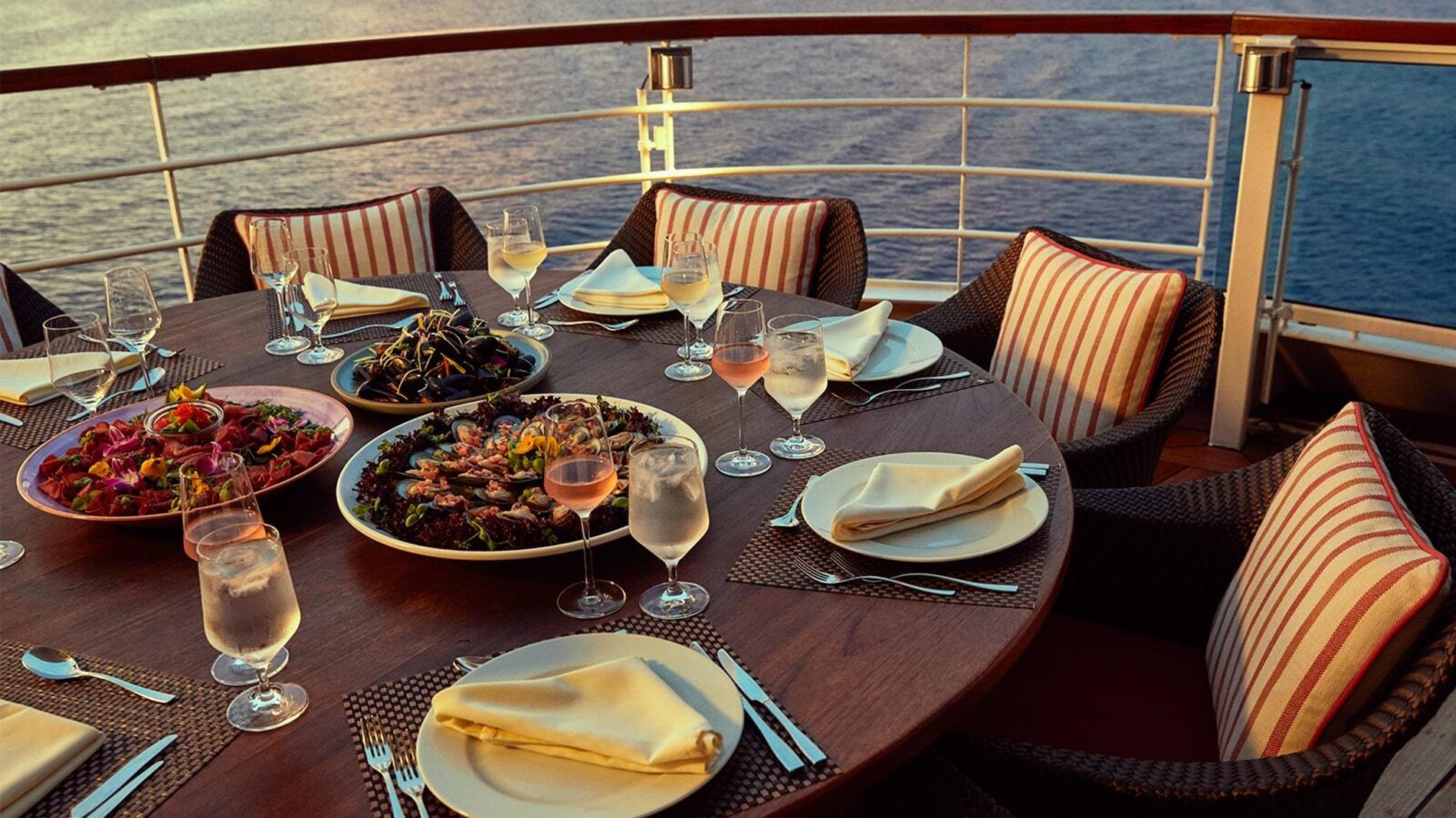 Best for foodies
Cruise lines pride themselves on their cuisine, with speciality restaurant menus often devised by Michelin- starred chefs.
Their signature dishes are sometimes served in the main dining rooms too – but if you're on an all-inclusive ship, or you've upgraded to an all-inclusive package, you can be certain that you'll be enjoying food of the highest quality.
Seabourn offers complimentary dining at all its restaurants, as well as including drinks, gratuities, onboard activities and some excursions with certain packages.
The Grill, on all Seabourn ships, has a menu devised by triple Michelin-starred Thomas Keller, and this too is complimentary – but it's so highly regarded that only one reservation is permitted per voyage.
Michelin-starred chef Cornelius Gallagher is vice president of food and beverage operations for Celebrity Cruises, where an upgrade to all-inclusive covers your tips, drinks and wi-fi.
You can also add a speciality dining package so celebratory meals are pre-paid at cheaper rates.
Oceania Cruises proudly offers 'the finest cuisine at sea', and all its restaurants are complimentary, including the acclaimed Asian eaterie Red Ginger.
Its latest ship, Vista, will set sail in May with new restaurants Ember – for American classics – and health-focused Aquamar Kitchen.
SeaDream Yacht Club is another high-end all-inclusive option, taking just 112 guests on each of its two small ships.
Those fortunate few can look forward to exceptional service, with an open bar serving Champagne, and complimentary beach barbecues on Caribbean cruises.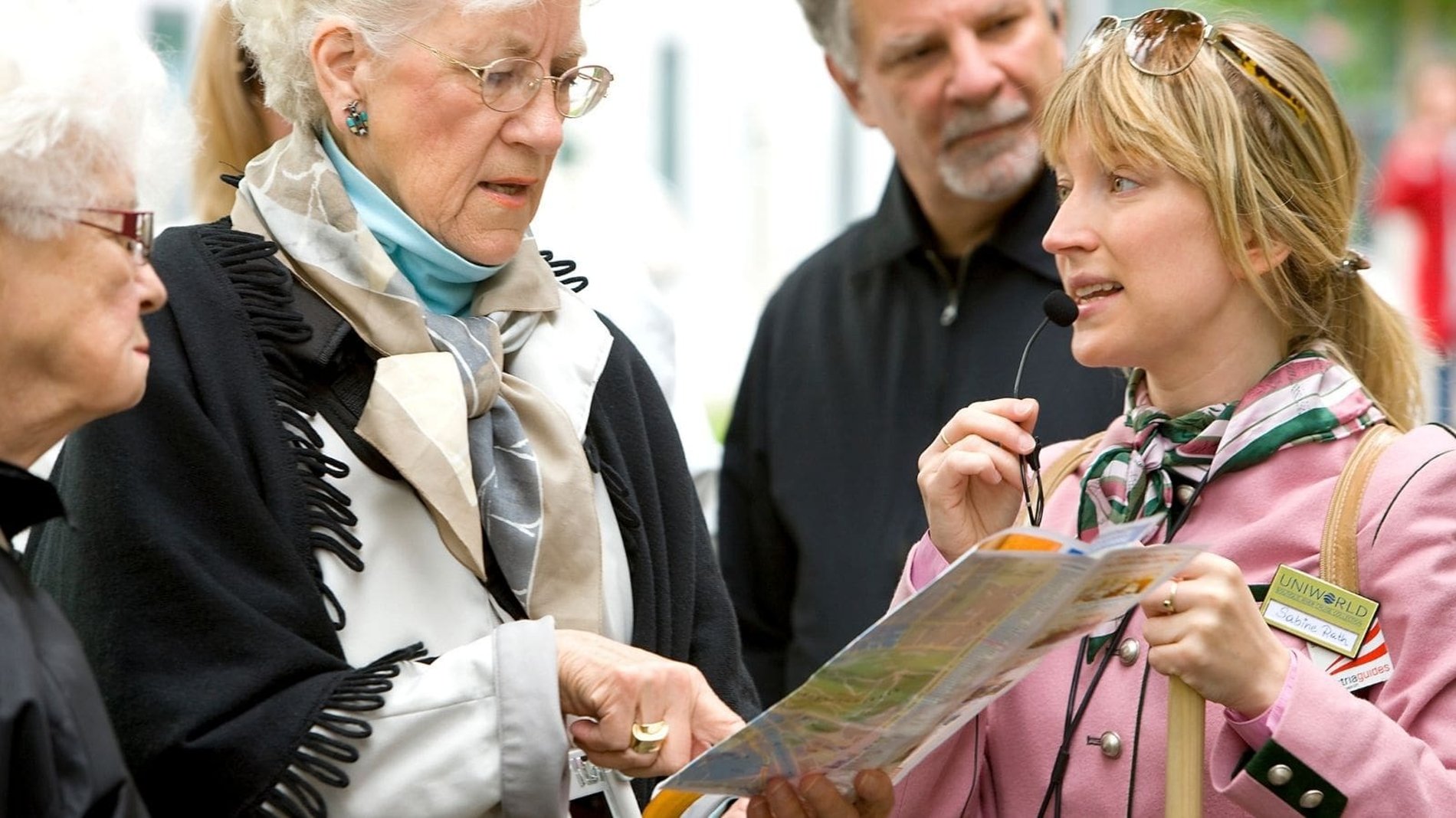 Best for culture vultures
Some people cruise to see wildlife, some to experience spectacular countryside. But almost all are interested in the culture of the countries they visit – so art galleries, museums, mosques and cathedrals are always high on the to-do list.
There's a lot to be said for simply walking into town with a tourist map and finding places that interest you, but often it's more time-efficient and rewarding to join a ship's excursion.
With an official trip, there's no queuing for tickets, no getting lost and no need to worry about missing the sail away (if a ship's excursion is late, the captain will wait).
But convenience comes at a price, so if your cruise includes complimentary guided excursions, you're quids in. Seabourn, Saga, Oceania Cruises, Emerald Yacht Cruises, Viking and Silversea all offer these, along with additional paid-for trips for maximum choice.
Many river lines offer daily guided walking tours, with some – such as Riviera – really pushing the boat out with included coach travel and tickets to see attractions.
On Riviera's all-inclusive Rhone cruises, for example, the daily tours include tickets to the Popes' Palace in Avignon, a coach tour of the Ardèche Gorges and a visit to the famous Roman Pont du Gard bridge and museum. You could organise all that for yourself but it would be costly, take a lot of research, and you'd still have to worry about getting back to the ship in time.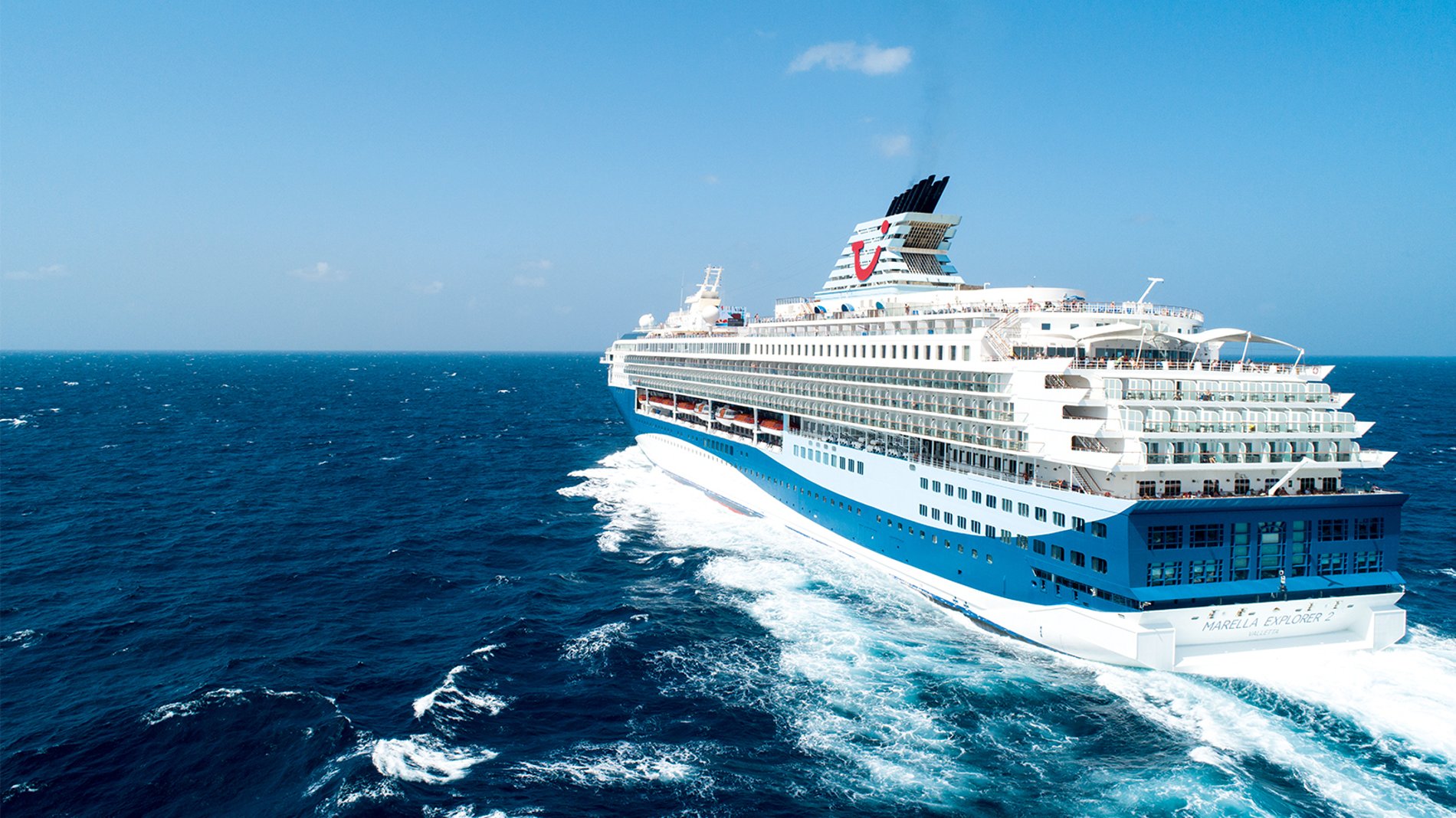 Best for value
You could say that all cruises are great value because they include accommodation, food, and travel from one exciting destination to another.
Going all-inclusive improves the deal even more, but real value for money depends on knowing exactly what you want from a cruise, and then finding the line that best provides it.
For example, if old-school luxury with a touch of glamour is your ideal, consider Azamara. If you're looking for a friendly British holiday vibe, try Marella – and if you prefer to stay closer to land, then perhaps TUI River Cruises is for you.
Boutique line Azamara includes gratuities and drinks on all cruises, with packages available for its speciality restaurants. Some itineraries include flights and transfers, while AzAmazing Evenings – often private cultural tours – are offered to all guests.
Marella is a popular provider of all-inclusive packages for the British market, with no gratuities to pay and complimentary non-premium drinks in its bars and restaurants.
Most fares also include flights – a big bonus on Marella Discovery's US itineraries, starting this year. And Marella's parent company, TUI, includes flights, transfers, tips and drinks with meals on its three adults- only European river ships.
Finally, Fred. Olsen Cruise Lines is offering free door-to-door transfers or an all-inclusive drinks package on selected cruises this year.
'Freedom Fare' offers apply to voyages of 16 days or fewer, between 6 September and 31 October, and include departures from Liverpool, Rosyth, Dover and Southampton