Search for your ideal Cruise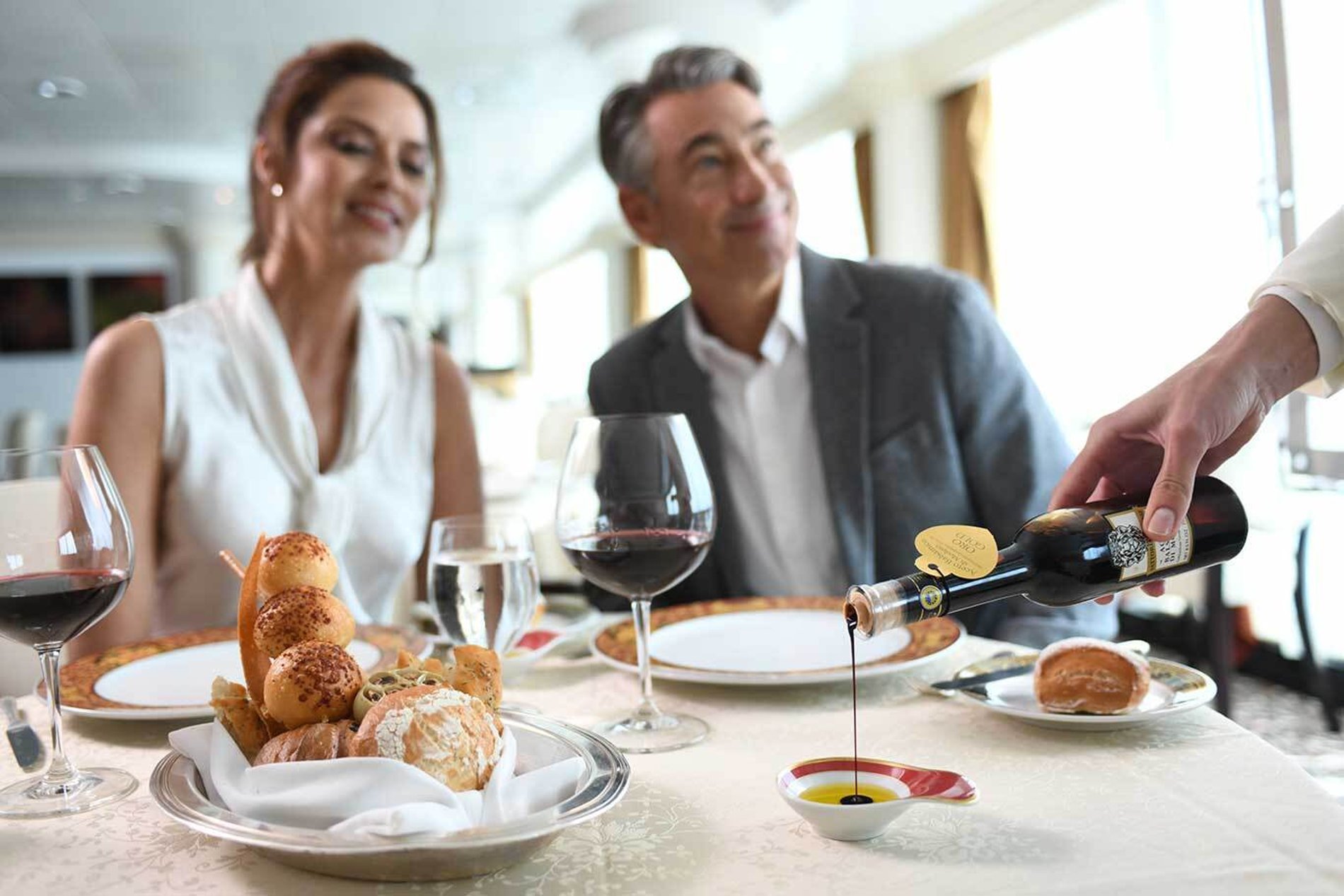 Oceania Cruises: Delve into the Real Italian Job at Tuscan Eatery Toscana
Tuck into authentic Tuscan cuisine just like Nonna makes and get ready to lap up limoncello in one of the finest restaurants at sea. Bellisimo
Toscana means Tuscan, and just as Italian cuisine evolved over centuries of rich family traditions, many of the exquisite recipes found in Oceania Cruises' popular restaurant came from the mothers and grandmothers of the cruise line's own Italian culinary staff, so you know you're getting the real deal.
Just as life unfolds slowly on the sun-kissed slopes of Tuscany's undulating hills, dining at Toscana is a leisurely affair, with guests free to take their time over finely-crafted dishes bestowed with a home-cooked vibe.
When you walk through the doors, low-lit lighting bathes the calming decor of mellow creams in a soft glow, creating a romantic atmosphere, where passion simmers between tables. Even the chinaware nods to Italy's ornate aesthetic, with custom-designed Versace china daubed with plump cherubs and Romanesque flourishes.
The meal begins with the exceptional olive oil cart presented tableside to transform your humble basket of freshly-baked bread into a symphony of flavours. You'll quickly learn that no two olive oils are the same as your waiter deftly decodes 10 virgin and extra-virgin olive oils, plus three balsamic vinegars, to match your preference of sweet or acidic. Generous Parmesan chunks, chipped from a giant wheel of cheese in front of you, are also served as a pre-dinner treat to whet your appetite. Try to resist begging the serving staff for more as the best is still to come.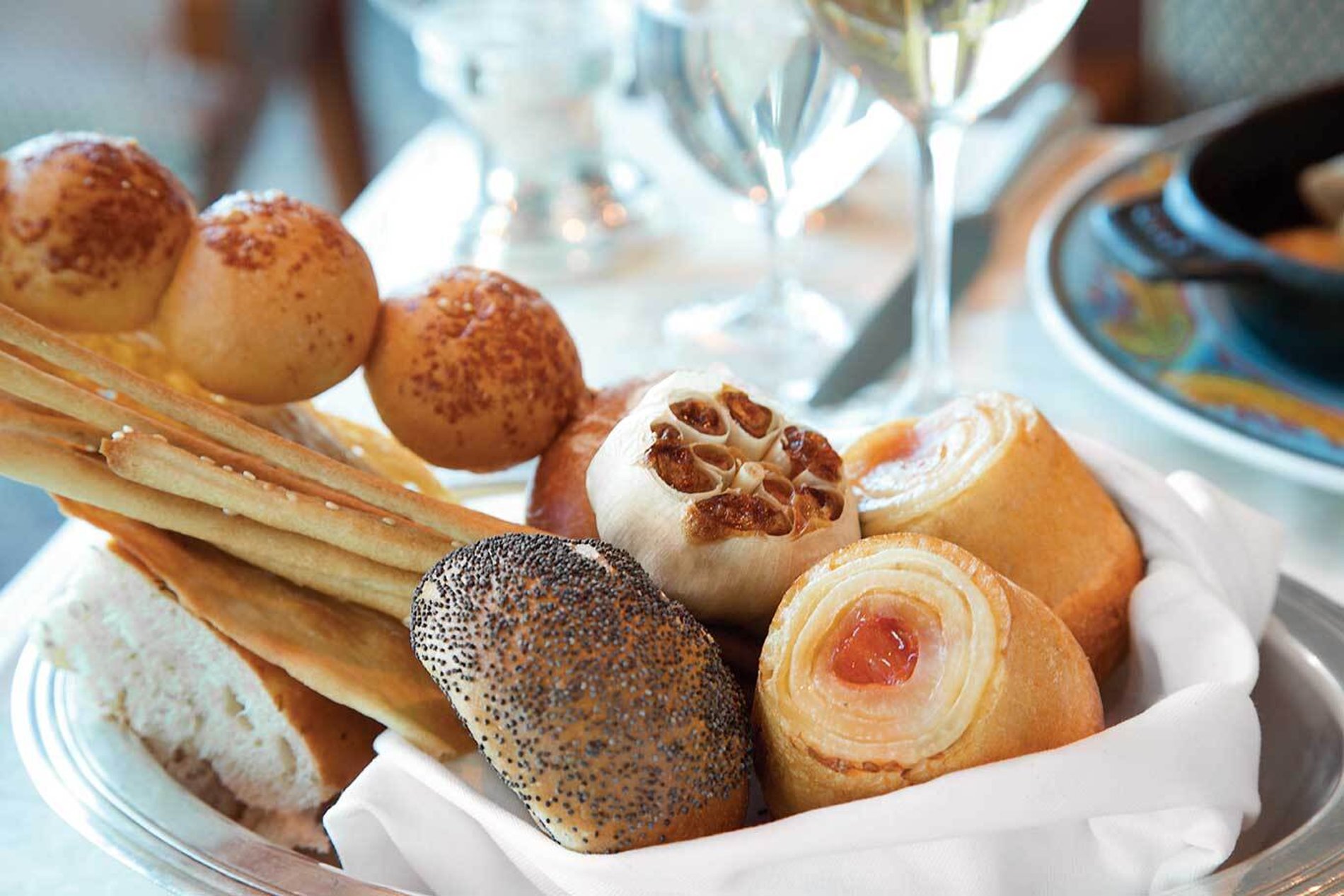 Be sure to order the paper-thin octopus carpaccio appetiser that sings with Champagne vinaigrette or a tower of creamy bufala mozzarella surrounded with vine-ripened tomatoes and scattered with fragrant, fresh basil. Or for something hot, dive into the sautéed jumbo shrimp wrapped in prosciutto.
When you've wiped your plate clean, it's not a case of whether you should try the pasta, but when. Pasta comes as a starter or main dish, and spans the spectrum from doughy gnocchi, thread-fine angel hair pasta and giant handmade tortellonis dripping with sage butter to springy penne studded with roasted porcini mushrooms. Toscana's chefs elevate a simple ravioli into something sublime with stuffed pockets laden with slow-roasted beef, tossed lightly in a veal jus flavoured with rosemary for extra depth.

Likewise, the seafood linguine is enough to give Neptune himself something to shout about with coils of handmade pasta hiding all kinds of deep-sea treasures including clams, black mussels, calamari, shrimp and beautifully flaky chunks of monkfish. This is the perfect dish to enjoy with a chilled glass of Italian Pinot Grigio to echo the light splash of the white wine used in its cherry tomato sauce.
Aside from pasta, classic dishes from Northern Italy light up the comprehensive menu, such as the osso buco alla Milanese, a wonderfully tender, oven-braised veal shank served with a saffron-infused risotto. Fancy fish? The pan-seared sea bass fillet topped with an emulsion of Sorrento lemons, capers and Chardonnay is hard to beat. Enjoy moreish sides of rustic, rosemary-roasted potatoes, sautéed garlic spinach and asparagus with shallots.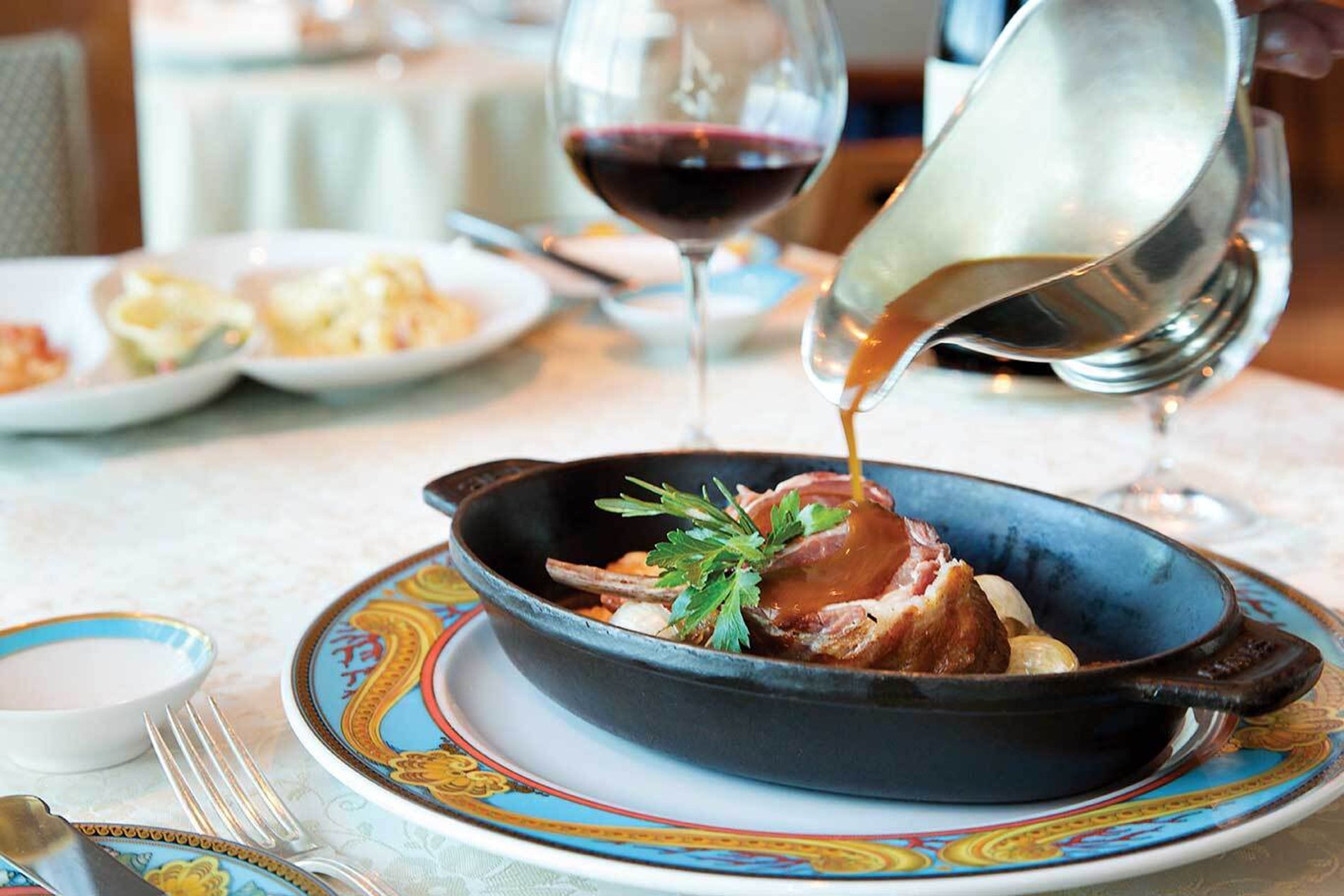 When the time comes for dolci or dessert, you won't be disappointed. The rich chocolate ganache, perfect for sharing, boasts a roasted pistachio sauce to make your fellow diners (ahem) green with envy. Hand-rolled cannoli oozing with citrus-infused ricotta cream is likely to fill your dreams for the rest of your life.
Can't choose between puddings? The brilliant 'Toscana Quintet' offers a selection of six mini dolcis including cannoli di Ricotta, crème brûlée, tiramisú, panna cotta and fruit minestrone in apricot-basil syrup topped with sherbet.

Toscana is one of Oceania Cruises' speciality restaurants, but luckily onboard its ships dining in these incredible venues is included in your cruise price, with all guests receiving at least one guaranteed reservation per cruise. Nonna would most definitely approve.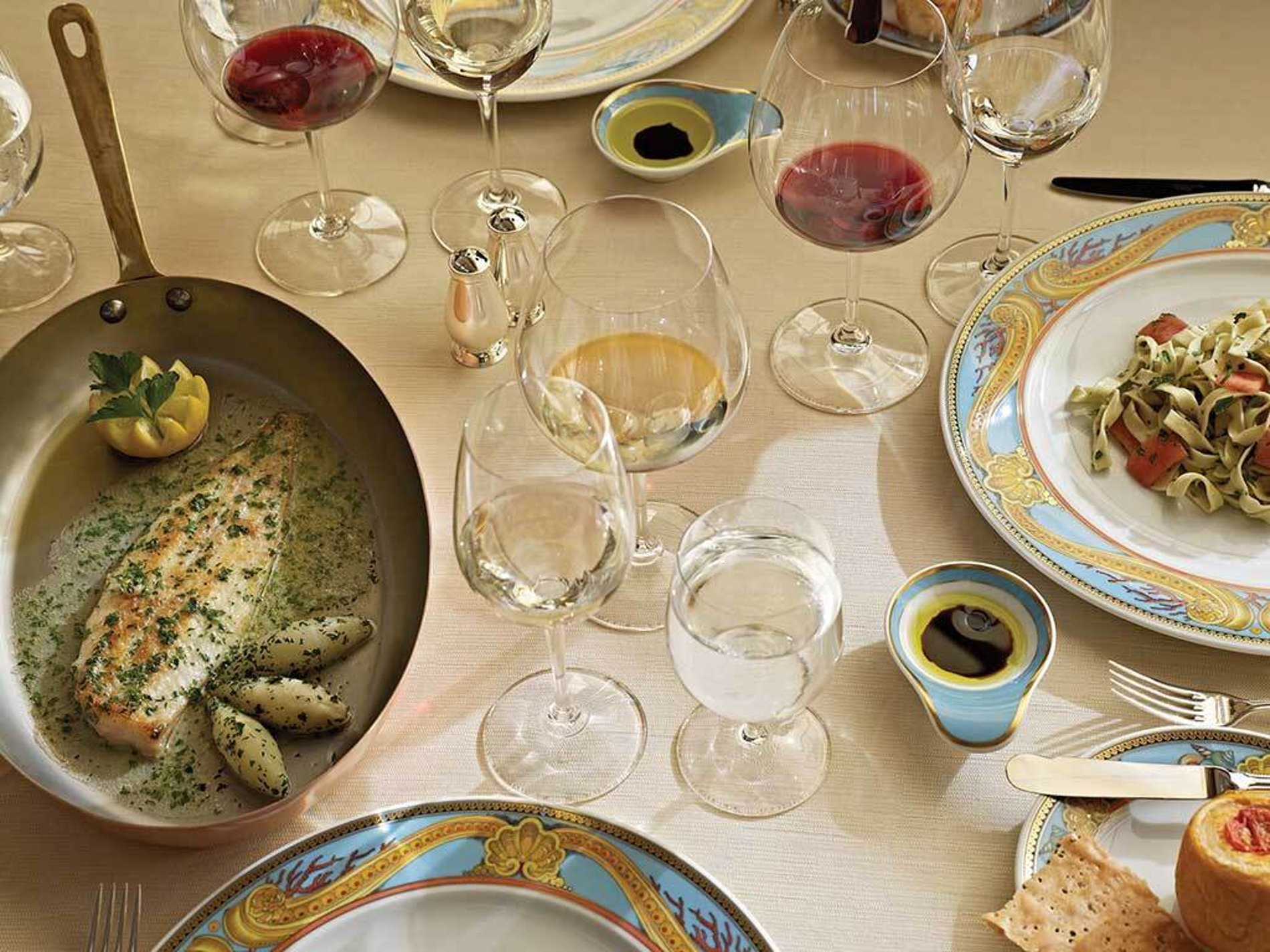 More culinary adventures to sink your teeth into
While the stylish aesthetic on board Oceania Cruises is all understated elegance, the brand's passion for serving The Finest Cuisine at Sea is anything but. From state-of the-art galleys to sourcing premium artisanal local ingredients, Oceania Cruises continually pushes the boat out when it comes to culinary excellence. A number of mouthwatering foodie experiences curated by master chef and executive culinary director, Jacques Pépin, are designed to help guests experience the world through the eyes of a true foodie.
Wonderfully immersive Culinary Discovery tours onshore reveal a homelier side to iconic Italian cities, beyond the church domes and painted frescoes. Join a 'Venetian Master Cooking Class' excursion, for instance, and you'll take a water taxi along the stunning canals of Venice to the centuries-old Rialto Market, where you'll browse countless stalls filled with blood oranges, baby octopus, and soft-shelled crab to absorb the sights and smells of the region's best produce.
From here, you'll head to a private villa belonging to a local Venetian chef to enjoy a cooking demonstration of dishes prepared using traditional ingredients. Afterwards, tuck into a sumptuous lunch before stopping off for fresh gelato on your stroll back to the ship.
With Oceania Cruises, you don't have to wait until you disembark for local flavour. Just head to its incredible Culinary Center for one of its unique classes on board Marina or Riviera.
Spend a day at sea discovering the secrets of Amalfi lemons during a Love and Lemons experience led by talented Chef Instructors who'll bring the local culture to life as you prepare delicious dishes incorporating the zest of the celebrated lemon that grows along Italy's Amalfi Coast of Italy. Have a blast preparing a Roman-inspired lemon chicken scaloppine and make limoncello and beautifully boozy limoncello cakes from scratch.
Alternatively, reserve your place on 'The Sicilian Kitchen' class for a joyful celebration of the pasta, fish and rice dishes that spring straight from the home kitchens of Oceania Cruises' Sicilian staff. Learn how Sicilian food has been influenced over the centuries by Greek, Arab, French and Spanish touches, and find out what makes Sicilian olive oil and wines some of the world's best.
You'll emerge with a deeper appreciation of the history and flavours behind the food you'll enjoy when your ship sails into Italian ports, or indeed when you cross the threshold of onboard restaurant Toscana. Now that's got to be something worth "mamma-mia-ing" about.
Visit oceaniacruises.com for more information.