Search for your ideal Cruise
Ocean cruising in the Eastern Mediterranean
There's no cruise destination quite like the Mediterranean. Nowhere else in the world allows you to easily sail through so many beautiful, completely unique and easily accessible countries, where you can lie on a Croatian beach one day and explore Greek ruins the next. The Mediterranean is split into the Western and Eastern Med regions, with the West having big hitters like Spain, Italy and France, but the East offering up-and-coming cruise destinations like Montenegro, Turkey and Cyprus. For cruisers who've seen what the West has to offer, an Eastern Mediterranean cruise offers the chance to explore enigmatic lands like Turkey and Montenegro, along with the sun-soaked Croatian coastline and the inimitable Greek Islands. The Western Med is the meeting point of three continents and has a fascinating history, shaped by Hellenistic civilisation, Persians, Byzantines and Ottomans. The Eastern Med stretches from Italy to the Middle East, with most cruise lines taking in Malta, Greece, Croatia, Montenegro, Turkey, Cyprus and Israel, while a select few stops in Slovenia and Albania.
Why choose Eastern Mediterranean cruises
An Eastern Mediterranean cruise gives travellers the chance to see a different side to the well-trodden Western Mediterranean, far from the French Riviera and Spanish coastline and islands. The Eastern Med offers a wider range of cultures and has an incredible history dating back to antiquity, from the myths and legends of the Greek Islands and Cyprus to Ottoman history in Turkey – a country straddling both Europe and Asia. An Eastern Mediterranean cruise is also fantastic for Mediterranean newbies, including Greece (with bucket-list Athens) and its islands and also the Croatian coastline – both idyllic cruise destinations. From spring to late autumn, weather in the Eastern Mediterranean is fantastic, with Turkey, Cyprus and far eastern countries experiencing great weather all year round. While Western Med ports can get crowded – think Barcelona, Rome and Nice – an Eastern Mediterranean cruise can promise fewer crowds in ports like Kotor in Montenegro and Koper in Slovenia. Eastern Med ports can also be cheaper, with a lower cost of living than their Western counterparts. From the beaches of the Greek islands and ruined castles of Croatia to the mosques and souks of Turkey, an Eastern Mediterranean cruise is a feast for the eyes and senses.
find your perfect cruise
Eastern Mediterranean cruises: Find your ideal cruise to the Eastern Mediterranean
Showing 10 of 3649 results
Eastern Mediterranean cruises: Top cruising countries in the Eastern Mediterranean
Croatia
If you're seeking azure waters, white sands and terracotta towns with panoramic citadels, then Croatia is the destination for you. Balanced between the Balkans and Central Europe, this country has been fought over by Ottomans, Venetians, Greeks and Romans, and most have left their mark with temples, amphitheatres and palaces. It's because of its history, beauty, and starring Game of Thrones role, that Croatia has become a top sun-seeking destination. Croatia's cruise destinations lie on the inlet-speckled Dalmatia coastline, and here you'll find port cities such as Dubrovnik, Hvar, Split and Zadar. The Dalmatia region is also famous for its olive oils and wine, so on your Eastern Mediterranean cruise head to Pelješac to sample wines famously aged under the sea for 700 days.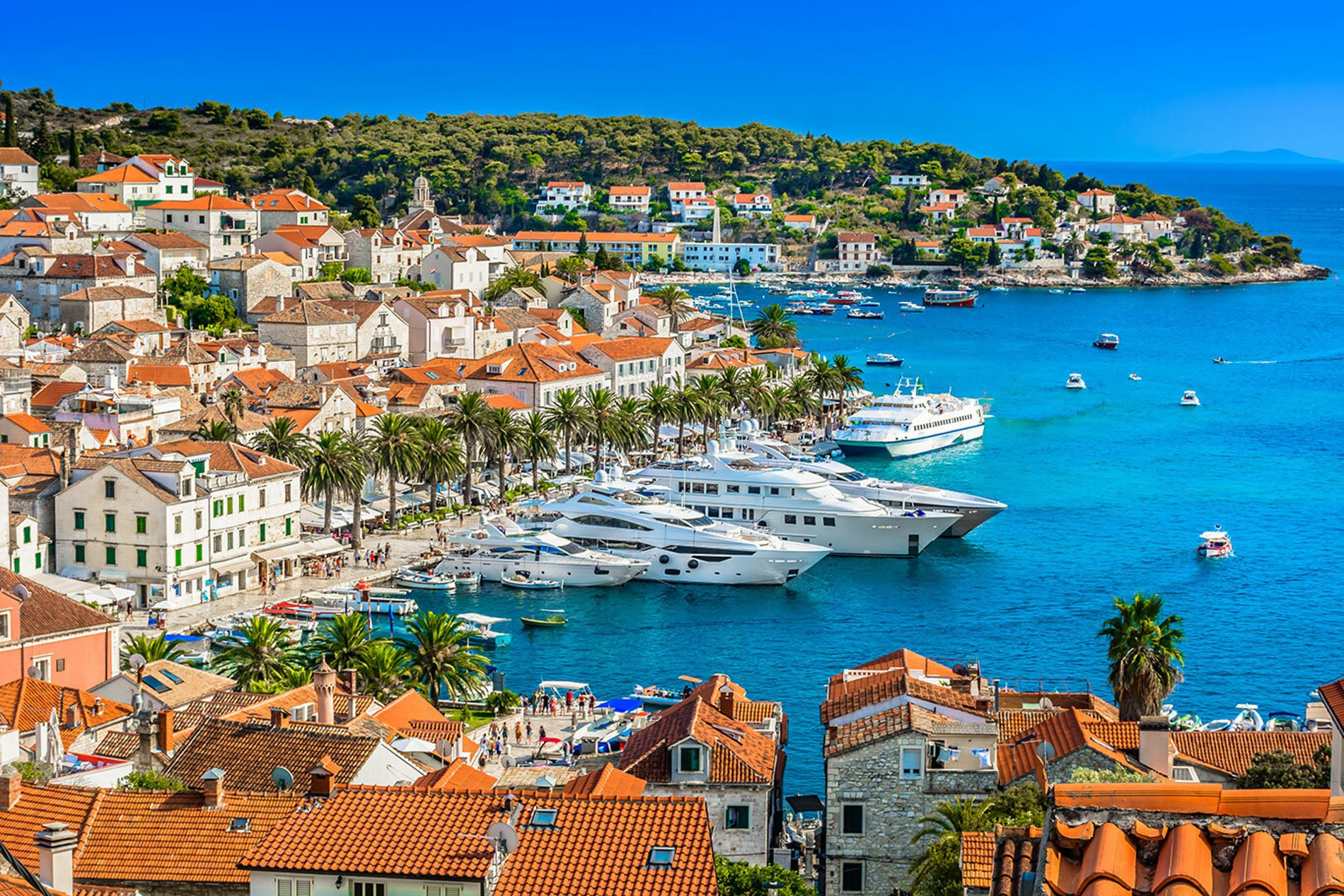 Greece
Greece is made for cruising, spread over the sparkling Aegean and Ionian seas and home to 6,000 islands. The country is all indigo waters, sun-bleached islands, ancient ruins and warm air scented with fresh oregano, and each one of its islands has a totally unique feel on an Eastern Mediterranean cruise. Head to the Cyclades – Mykonos and Santorini – for whitewashed villas and windmills, or the Dodecanese for medieval castles and the Rhodes acropolis. Don't forget the capital, Athens, the birthplace of civilisation and a major cultural hub, home to the great ruins of the Acropolis but also quirky galleries and speakeasy cocktail bars. Near Athens, the Attica peninsula offers the peace of the islands on the mainland, with the antiquities like Temple of Poseidon at Sounion and dozens of pine-fringed beaches.
Malta
Stepping onto the shores of the sun-drenched Maltese archipelago is like stepping onto an ancient film set. The island has actually been used as the backdrop for mega productions like Troy, Game of Thrones and Gladiator, thanks to its myriad of ruins, castles and fortified old towns left behind after Roman, Moorish, French and British rule. Malta's capital is honey-hued Valletta, a walled city established by the Knights of St John and a maze of twisty lanes, domes and spires set on a sparkling marina. Further afield during a stop on your Eastern Mediterranean cruise, you'll find coves hiding peaceful white beaches, fragrant hilltops with limestone clifftops and azure waters hiding shipwrecks like HMS Maori – now a popular dive site.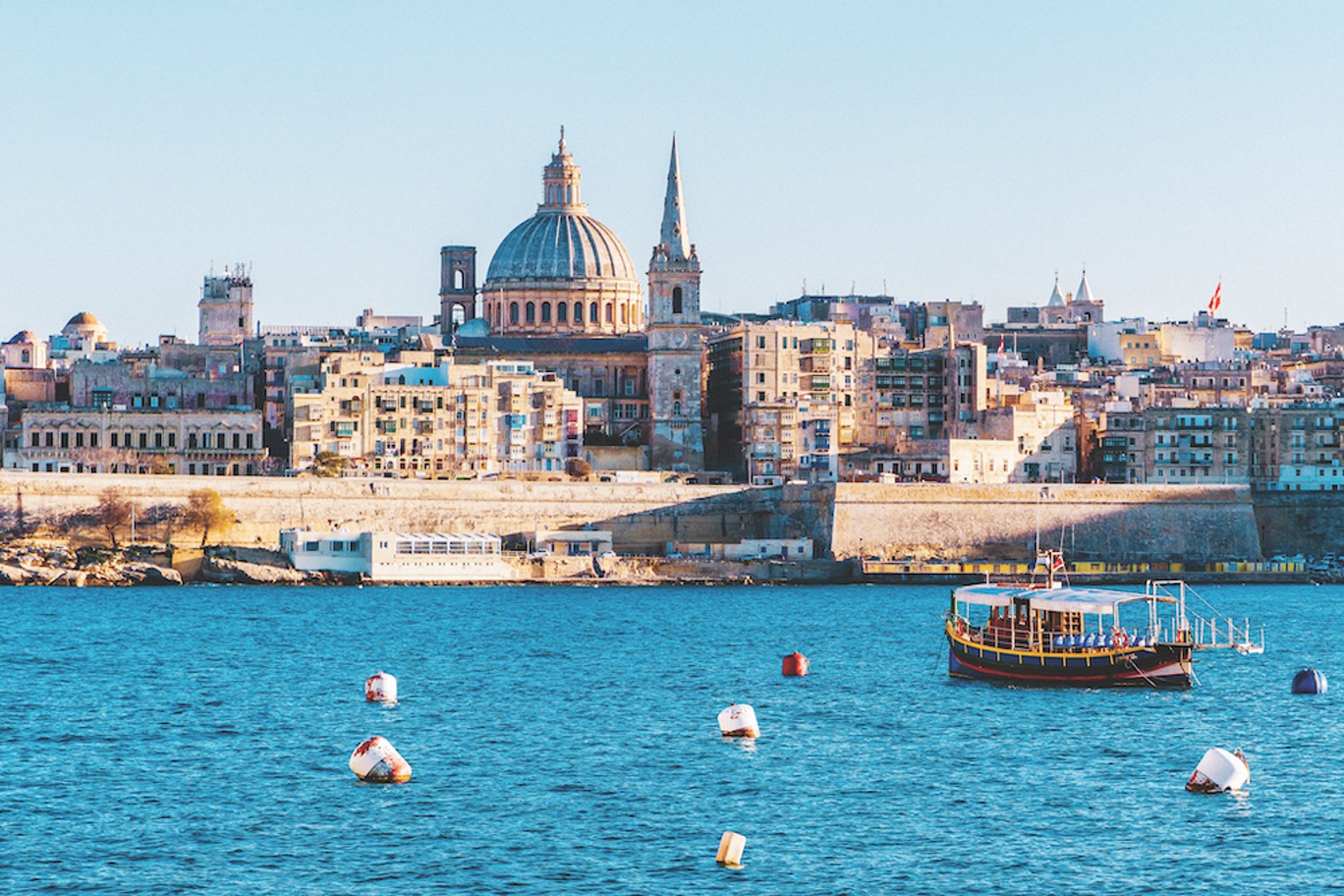 Montenegro
Montenegro today is a Balkan country on the Adriatic coast, remarkably still lying low on tourists' radars, making it a great spot to hit on an Eastern Mediterranean cruise. The pint-sized country is only 300km from top to toe, but manages to pack in rugged postcard scenery, plenty of sandy white beaches and the coastal city of Kotor, nestled in a brooding bay sheltered by towering cliffs. At the heart is the old town, a Unesco World Heritage Site straight out of a storybook, and just wondering the fortified old city walls will consume your senses. Out in the mountainous bay, you'd be forgiven for thinking you were in Italy's Lake Como, with deep indigo waters and handfuls of inlets like Our Lady of the Rocks, home to monasteries, conifers and fragrant wisteria. Make sure to check it out on your next Eastern Mediterranean cruise.
Turkey
Turkey is a clash of continents in one enigmatic country, rich in history and spread over Asia and Europe. The country is home to Ottoman palaces, ancient ruins from antiquity, and both humble and glitzy coastal resorts – not to mention one of the world's coolest cities – Istanbul, all of which make it a great destination for Eastern Mediterranean cruises. The epicentre of Turkish tourism, Istanbul lies on the Bosporus Strait and the gateway between the West and East, a city where you'll find Soho House next to a mosque, bustling souks but also cool cocktail bars. Elsewhere, you can cruise to coastal Kuşadası for the Greek ruins of Ephesus, or beachy Bodrum in the heart of the Turkish Riviera – just miles from the Greek islands.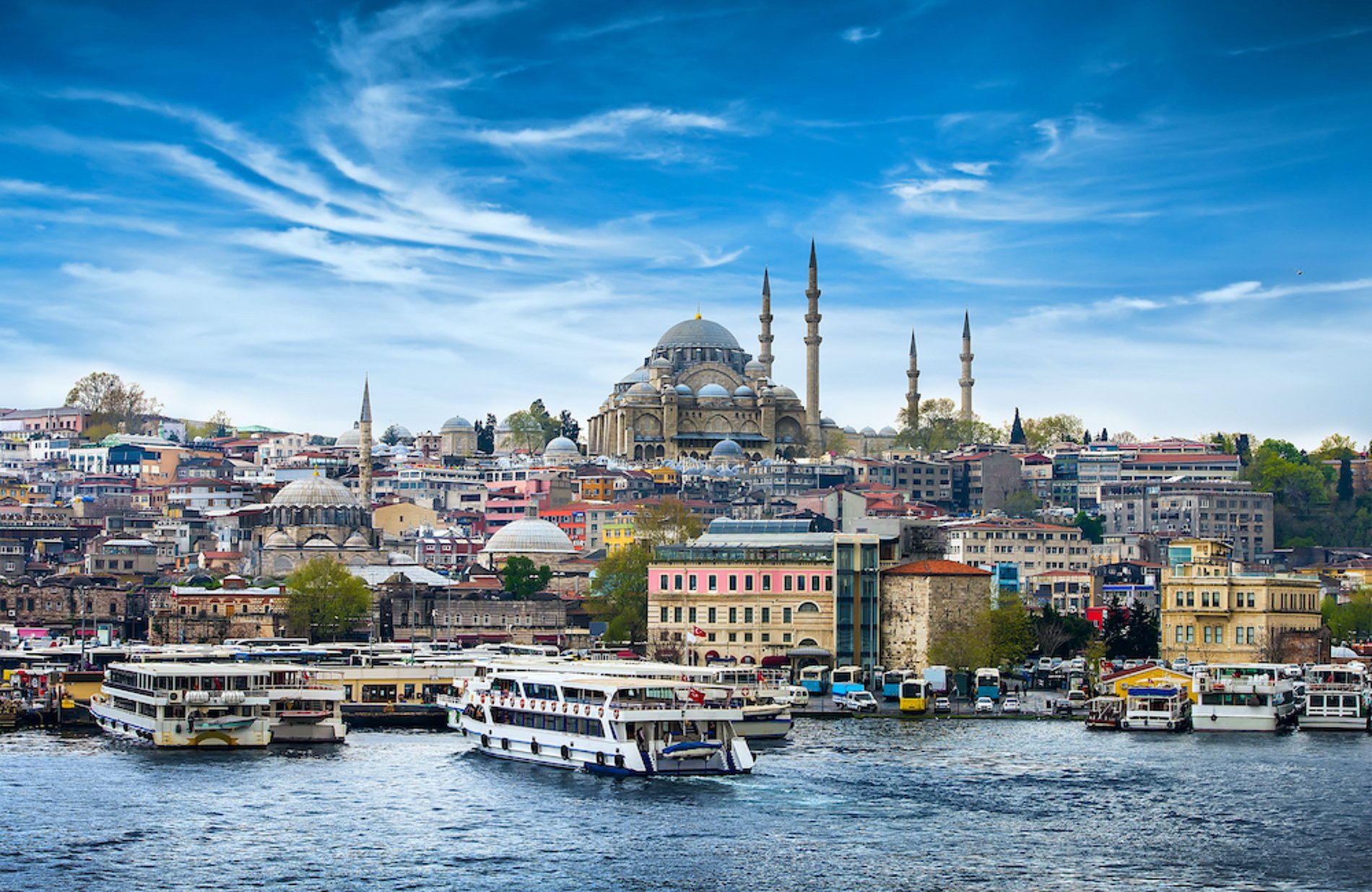 Cyprus
The picturesque island of Cyprus lies in the far eastern reaches of the Mediterranean, the crossroads between three continents and dominated by Greek and Turkish culture. People come to Cyprus for year-round sunshine, blood orange sunsets, vibrant coastal resorts and lush vegetation hiding vineyards and ancient ruins – the island being the mythical birthplace of Aphrodite. Cyprus has two major cruise ports – the beach city of Paphos and the cosmopolitan city of Limassol – and from each port it's easy to head into the mountains, filled with traditional villages, and white sand beaches. Cyprus is de facto split into a Turkish and Greek Cypriot area, with most tourist destinations in the southern, Greek part of the island. This is a must-see destination for any travellers on Eastern Mediterranean cruises.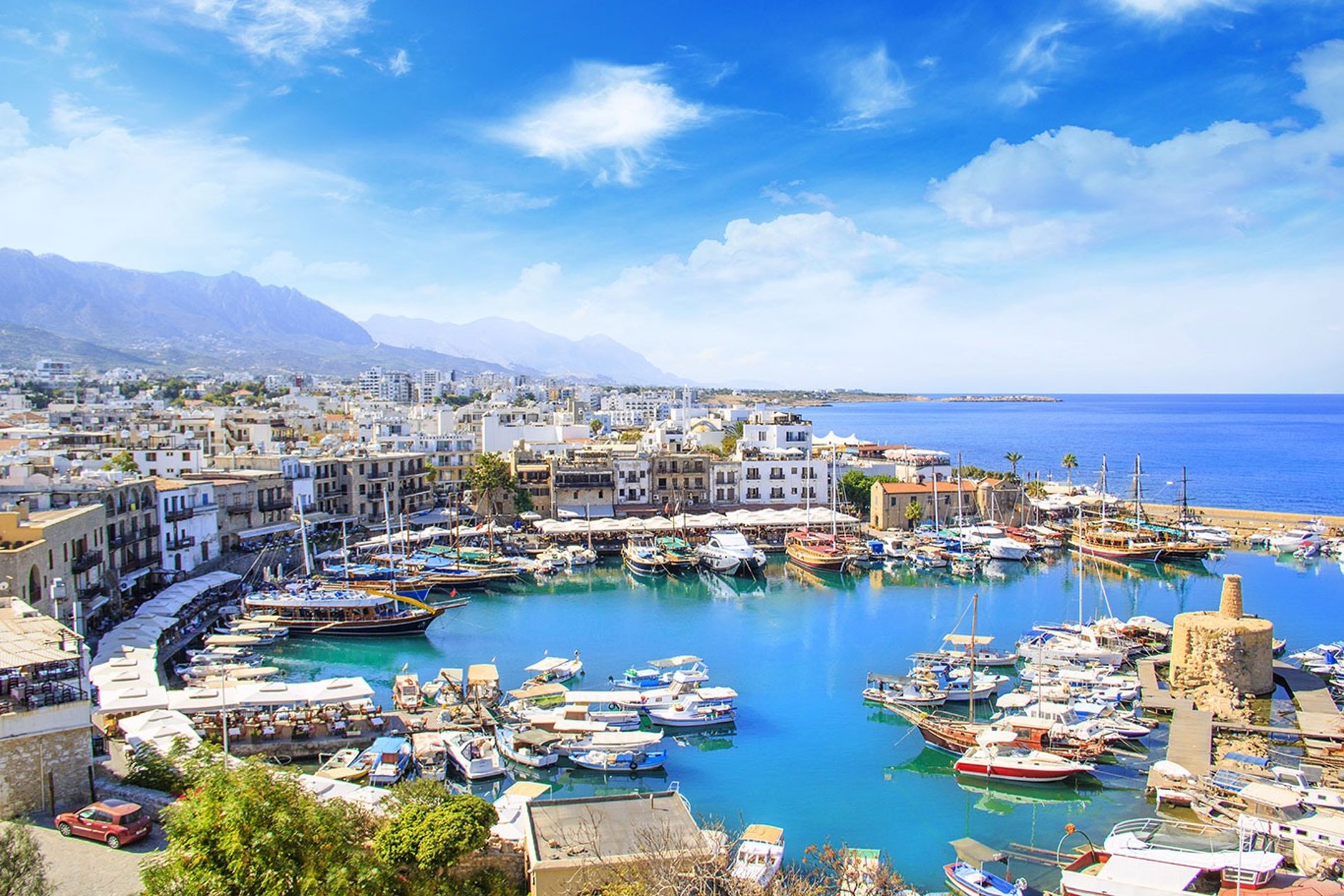 Slovenia
When you think of cruisable countries, Slovenia doesn't immediately spring to mind, as the country is mostly landlocked and famed for its mountains, ski resorts, lakes and capital Ljubljana. However, Slovenia has 47km of Adriatic coastline known as the Slovene Riviera, just miles from the Italian city of Trieste with sweeping bays, great sandy beaches and bustling ports like Koper and Portorož. Koper is a stop on a handful of Eastern Mediterranean cruise itineraries, a port city with a medieval old town and Venetian-influenced landmarks, like the Praetorian Palace, Gothic-style loggia and Da Ponte Fountain – a replica of Venice's Rialto Bridge.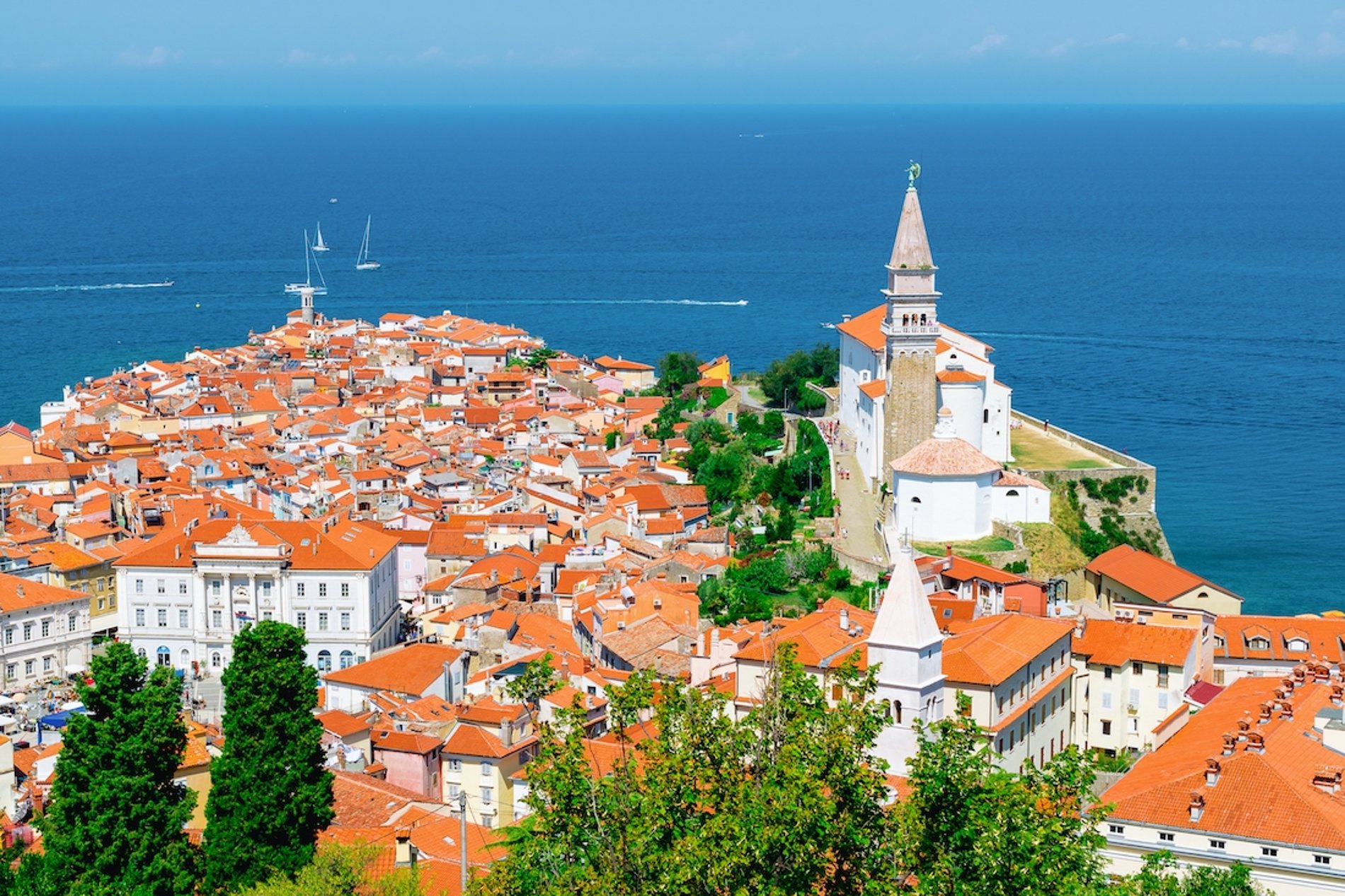 Israel
On an Eastern Mediterranean cruise visit Israel, a Middle Eastern country on the warm shores of the Mediterranean Sea, a country regarded by Jews, Christians and Muslims around the world as the Holy Land. Few places are as fabled as Israel, home to biblical locations like Bethlehem, Nazareth and Jericho and the holy capital of Jerusalem – a city dominated by calls to prayer and sacred sites like the Western Wall. While Jerusalem pulls for its history and Tel Aviv for its cosmopolitan beach scene, outside the cities you'll find the fertile region of Galilee, with its emerging wine industry, Judaean Desert home to King Herod's Fort and the stillness of the Dead Sea.
Eastern Mediterranean cruises: Iconic ports in the Eastern Mediterranean
Athens (Piraeus), Greece
The cradle of western civilisation, Athens is a bucket-list destination, an ancient city turned cultural capital embracing the old and the new. Wandering Athens' streets, you'll find quirky art galleries, cocktail bars and markets lying next to ancient ruined temples and Byzantine monuments. The city is lorded over the iconic Acropolis, seen from everywhere in the city, home to the Parthenon and offering incredible views of the Attica peninsula. On an Eastern Mediterranean cruise, wander through public parks of olive groves, live ancient history at the Acropolis Museum and shop for handicrafts in the bougainvillaea-lined streets of Plaka and Kolonaki.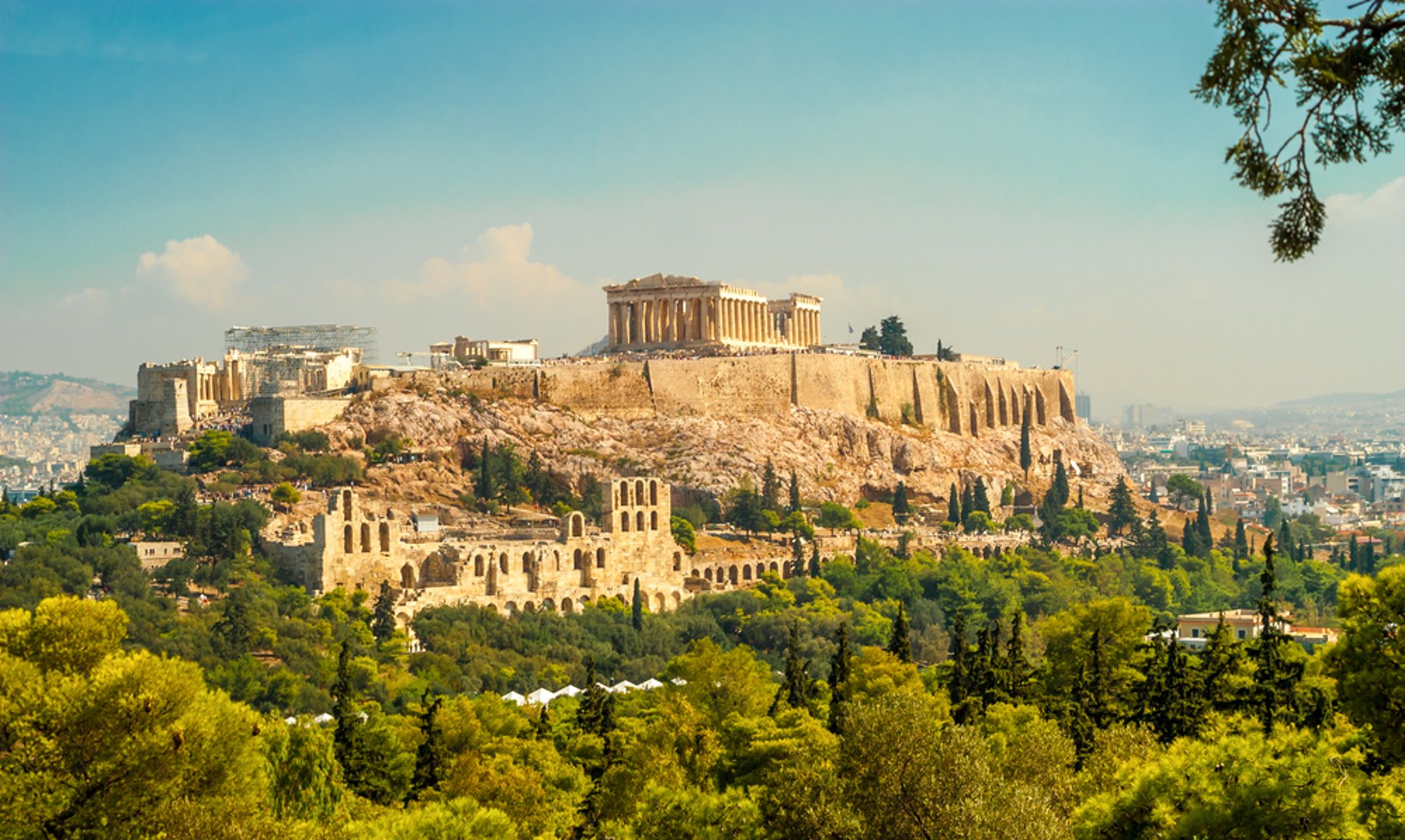 Mykonos, Greece
Located in the whitewashed Cyclades islands, Mykonos is a paradise island-cum party capital. The island is most famous for its party scene, where pristine white sands beaches pump with the sound of house music and world-class clubs attract famous DJs and performers. While it usually draws a party-seeking jet-set crowd, Mykonos is still a Cycladic island, and that means white villages with cobbled lanes spilling onto the ocean, charming tavernas and white windmills – like the iconic row of 16th-century windmills high above Mykonos town. For those on an Eastern Mediterranean cruise looking to see and be seen, shop in chichi boutiques, dine in ritzy restaurants and enjoy picture-perfect Greek island views, there's nowhere like Mykonos.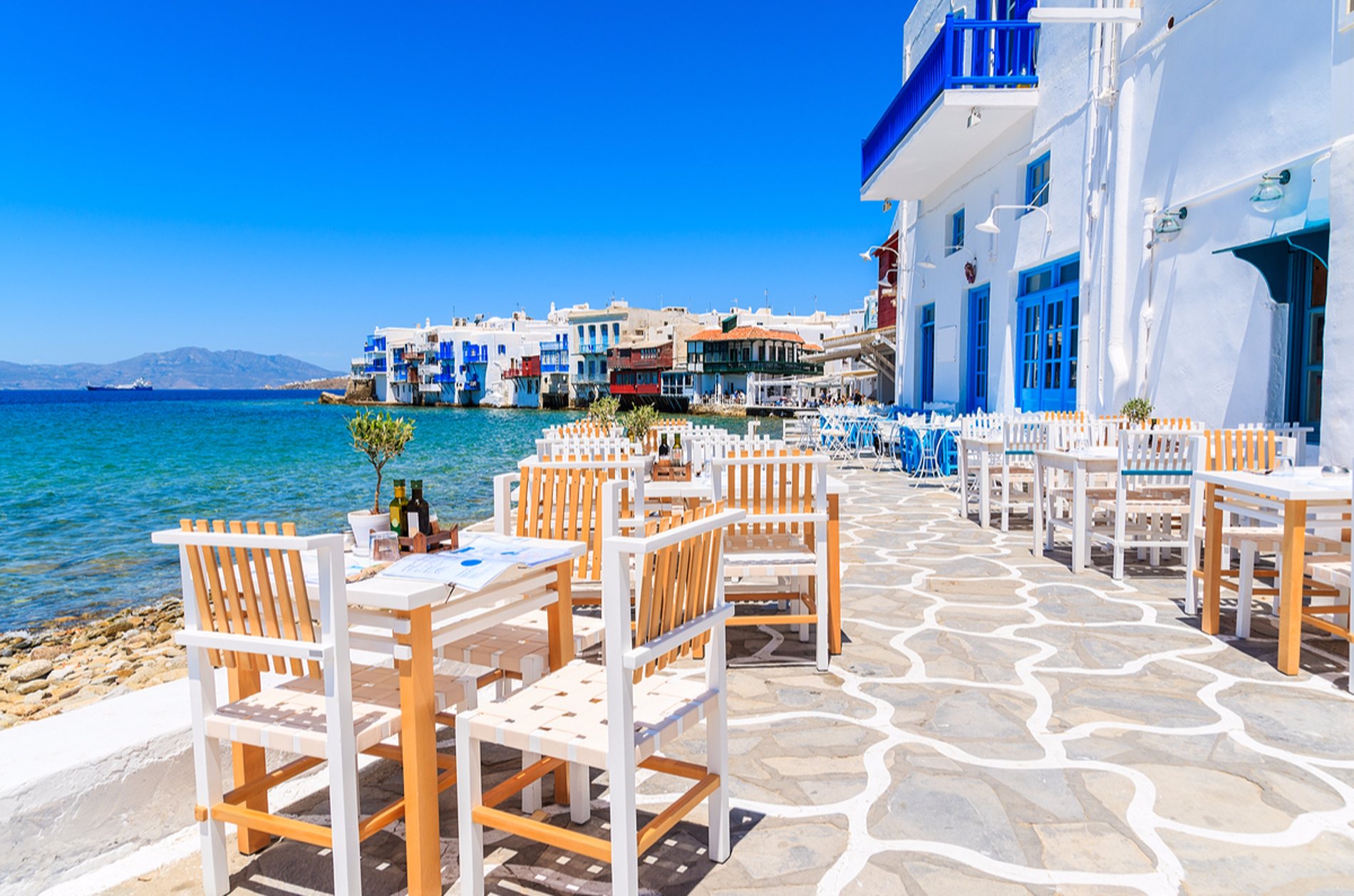 Santorini, Greece
Picture the perfect Greek island, and it probably looks a little like Santorini. The volcanic outcrop in the Cyclades is home to blue-domed hilltop churches, white windmills, and tumbling whitewashes villages like Fira and Oia, but also peaceful ancient ruins such as Akrotir and Therai. Travellers on Eastern Mediterranean cruises come to Santorini to loll on its black sand beaches, hike in its mountainous volcanic interior and splash out on meals in cliffside restaurants, which offer the best views of the famous Santorini sunset. The island also produces one of the best Greek wines there is – Assyrtiko – and it's worth a visit to a winery to see the vines bound to the floor combatting the strong Cycladic winds.
Heraklion, Greece
Heraklion is the vivacious capital of Crete, the largest of the Greek islands in the southernmost reaches of the Greek archipelago. The city is known for its fairtytale old town Heraklion Town, home of the Koules fortress, the beautiful Venetian port, Turkish and Venetian fountains, the Venetian Loggia and a host of fantastic museums, like the Archaeological Museum, the Historical Museum and the Museum of Natural History. Along with museums, the nearby Palace of Knossos provides a glimpse into Crete's ancient past, while its marine houses a thriving shopping and dining scene, a great area for passengers on an Eastern Mediterranean cruise.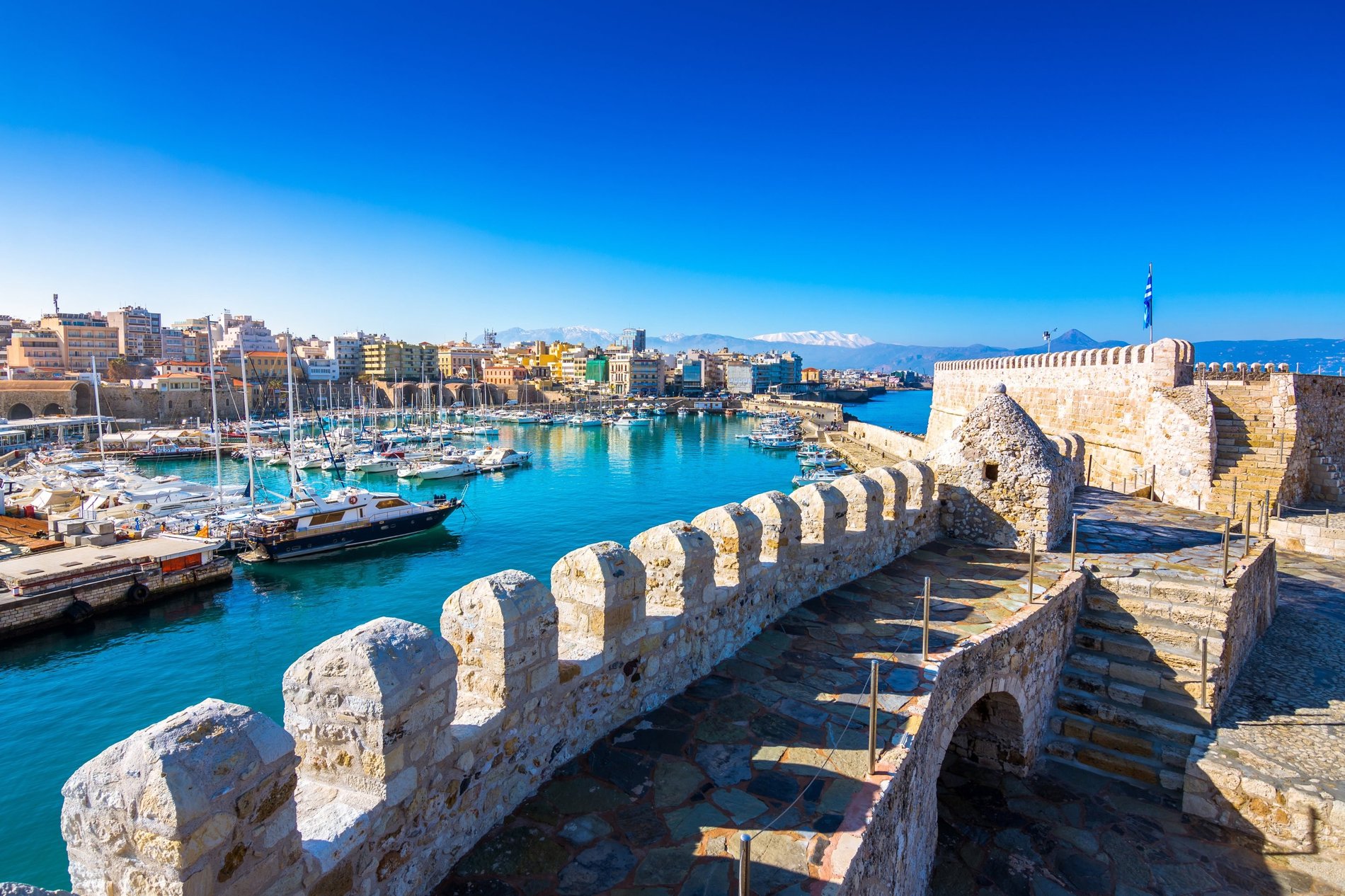 Valletta, Malta
Valletta is Malta's beautiful capital and main port, built by the Knights of St John and a cream-coloured maze of 16th-century mansions, domed buildings, golden-stoned fortresses and churches with twisted spires. Built on a tiny peninsula, the entire city is a Unesco World Heritage Site and easy to take in in a day on a stop during a cruise around the eastern Mediterranean. Old Valletta has the baroque St John's Co-Cathedral, home to a Caravaggio masterpiece, and Upper Barrakka Gardens with cinematic views, while new Valletta has the Renzo Piano–designed City Gate, Parliament Building and Opera House.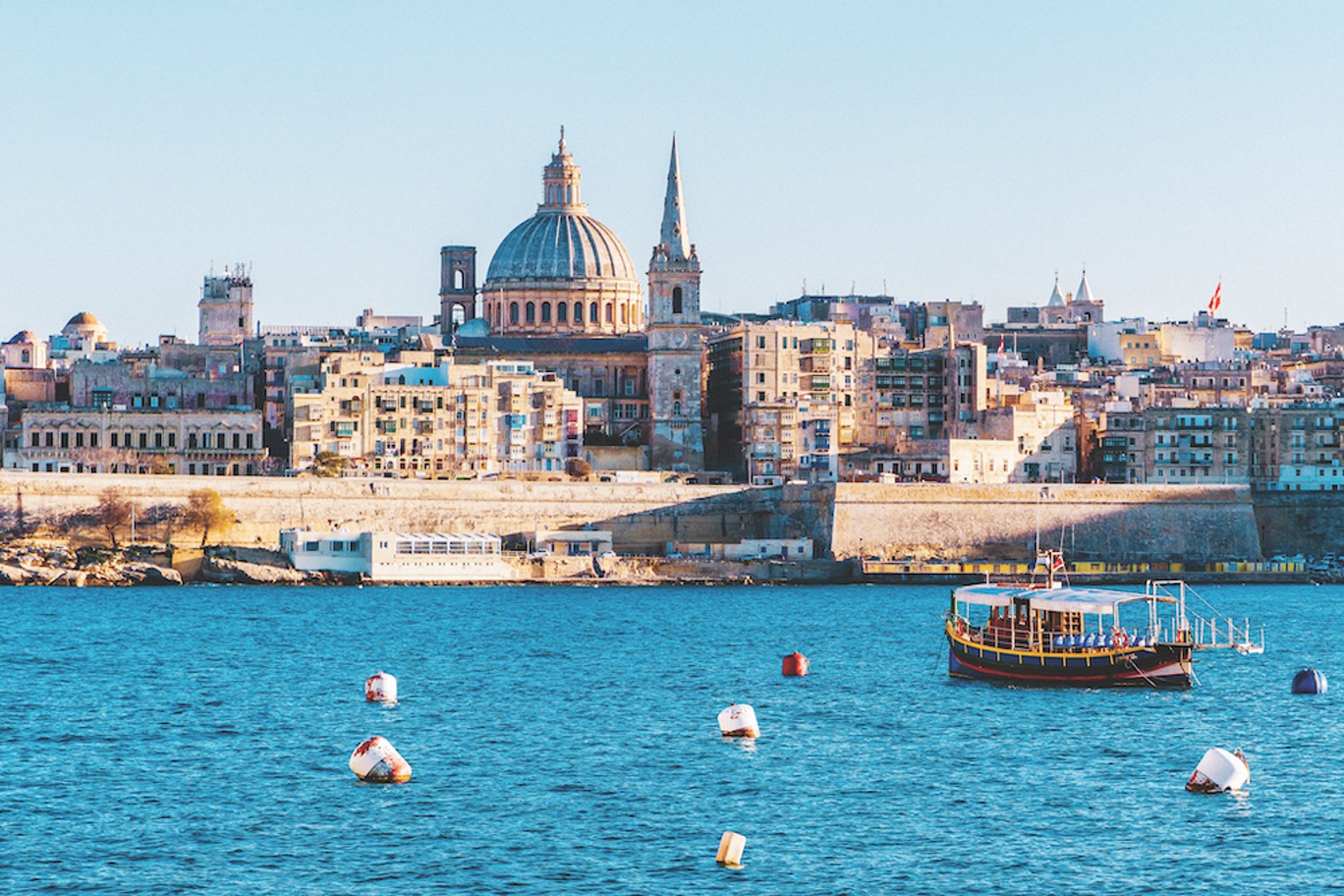 Dubrovnik, Croatia
Visiting Dubrovnik, the jewel of Croatia's Adriatic coast, is like stepping into a film set. Perched on a rocky outcrop and fringed by sparkling seas and huge medieval fortifications, you almost have to pinch yourself as you wall through the perfectly preserved city and its Unesco walled old town, hiding Baroque churches, elegant palazzi and squares bustling with cafés. Just three decades ago the city was almost destroyed during the Yugoslavia Wars, but today is a travellers' paradise. On an Eastern Mediterranean cruise wander terracotta and limestone cobbled streets, dip into a Croatian wine bar and visit the Renaissance Sponza Palace and Gothic Rector's Palace.
Kotor, Montenegro
Kotor, a fortified town on Montenegro's Adriatic coast, is one of the Mediterranean's hidden gems – for now. Sandwiched between sparkling seas and the towering limestone cliffs of Mt Lovćen, the town is sumptuously atmospheric, set in a brooding bay and a maze of terracotta-roofed buildings, cobbled lanes and Romanesque and Venetian architecture. At its heart is the old town, a Unesco World Heritage Site straight out of a storybook, where you can wander the fortified city walls and stroll through a maze of medieval streets and café-lined squares, packed with churches and museums (don't miss the small but fascinating Maritime Museum). In the bay, you'll find a couple of tiny islands with beaches and a centuries-old church. This is a must-see for any traveller on an Eastern Mediterranean cruise.
Istanbul, Turkey
Istanbul is Turkey's coolest city, the gateway between the east and west and a heady mix of cultures, architecture, food and tradition, making it a great place to stop on an Eastern Mediterranean cruise. The city straddles the Bosphorus Strait, linked by the Golden Gate like Bosphorus Bridge, a location which drew in Greeks, Romans, Venetians and Ottomans who all left their mark on the city. Immerse yourselves in all things eastern and Islamic as you wander the colourful Grand Bazaar, admire the beautiful Blue Mosque and Byzantine Aya Sofya and explore the Dolmabahçe Palace – the former epicentre of the Ottoman Empire. For a taste of Istanbul's western side, head to Soho House's uber-cool terrace for a cocktail or one of the city's many cocktail bars and concert venues.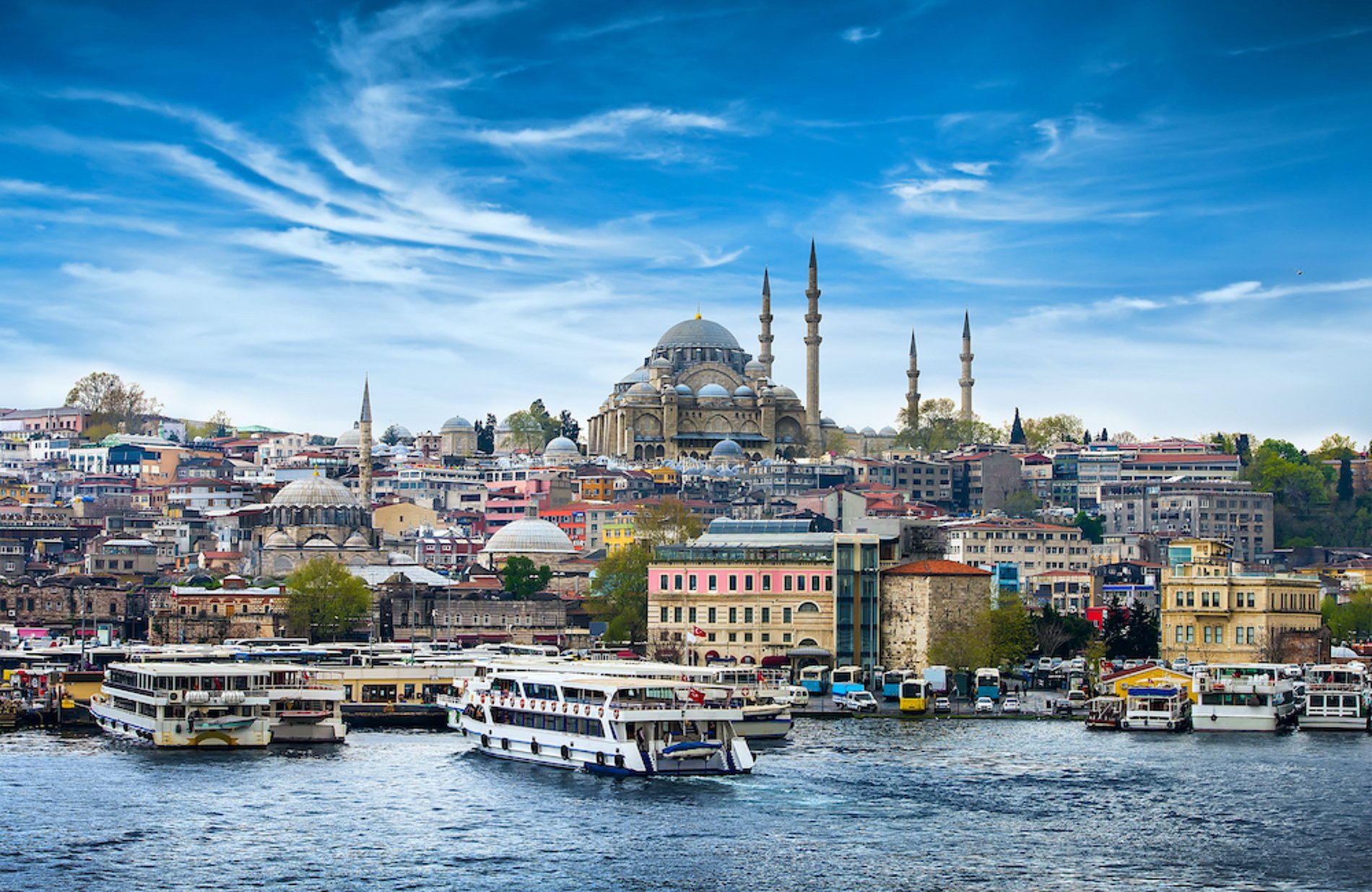 Kuşadası, Turkey
Kuşadası is one of Turkey's most popular cruise ports, a beach resort town and the gateway to the ancient Greek city of Ephesus – now a ruin and major archaeological site. The town itself is perfect for a day trip ashore from an Eastern Mediterranean cruise, with a seafront promenade, marine and trendy harbour, but the real reason to visit is to see nearby Ephesus. The now ruined city was once the most important Greek city in Ionian Asia Minor, built in the Hellenistic period and falling under the control of the Romans. Here you'll find the iconic facade of the Library of Celsus, the Great Theatre which once seated 25,000 people, and the remains of the Temple of Artemis – one of the Seven Wonders of the Ancient World.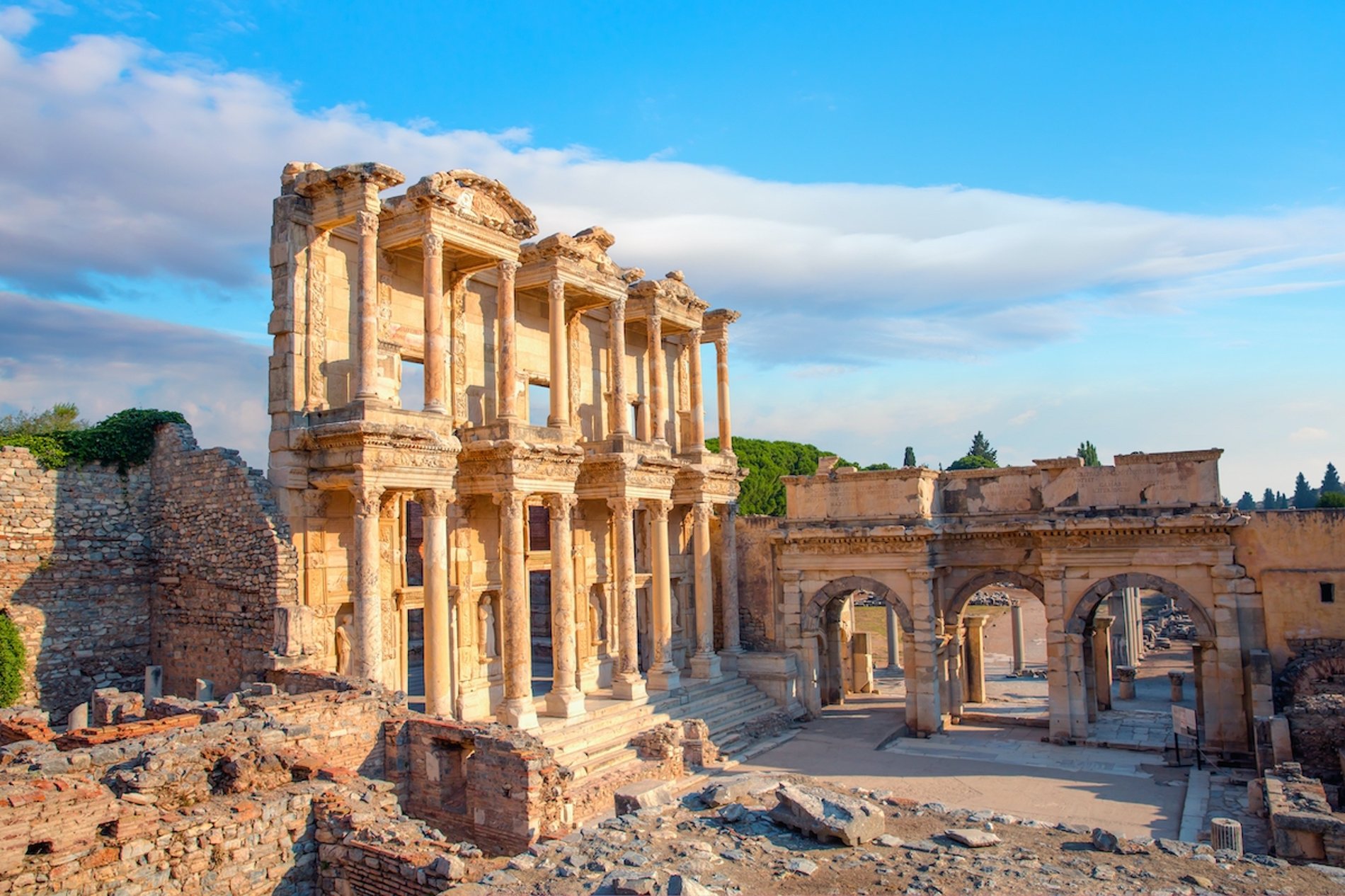 Jerusalem (Ashdod)
Shaped by the turbulent histories of Judaism, Christianity and Islam, Jerusalem tugs on the heartstrings of millions of people around the world. Few places on earth are more spiritually magnetic than its old town, where iconic religious sights lie within crumbling stone walls. In the Eastern Mediterranean cruise port of Jerusalem, you'll find the gilded Dome of the Rock, the mesmerising Western Wall and the emotive Via Dolorosa – the path walked by Christ as he carried the cross – intertwined with colourful Arab souks. Recover from the Israeli sun with some freshly squeezed pomegranate juice, before climbing the Mount of Olives for hauntingly beautiful views of this ancient and magical metropolis.
Iconic ports
Eastern Mediterranean cruises: Best cruising experiences in the Eastern Mediterranean
Explore ancient ruins
The Eastern Mediterranean has a firm place in the antiquity, not only home to Greece but also Cyprus – the mythical birthplace of Aphrodite – and Turkey, once under Greek and Roman rule and home to the ruins of Troy and Ephesus. The region is peppered with incredible ruins of temples, amphitheatres and burial sites, most notably in Greece with the Acropolis – home of the Parthenon and Temple of Athena – and Temple of Olympian Zeus (Athens), Rhodes Acropolis and the Archaeological Site of Delos – an entire protected island. In Cyprus there's the Roman ruins at Kourion and the Hellenistic Tombs of the Kings. Any traveller with an interest in history will have a field day on an Eastern Mediterranean cruise.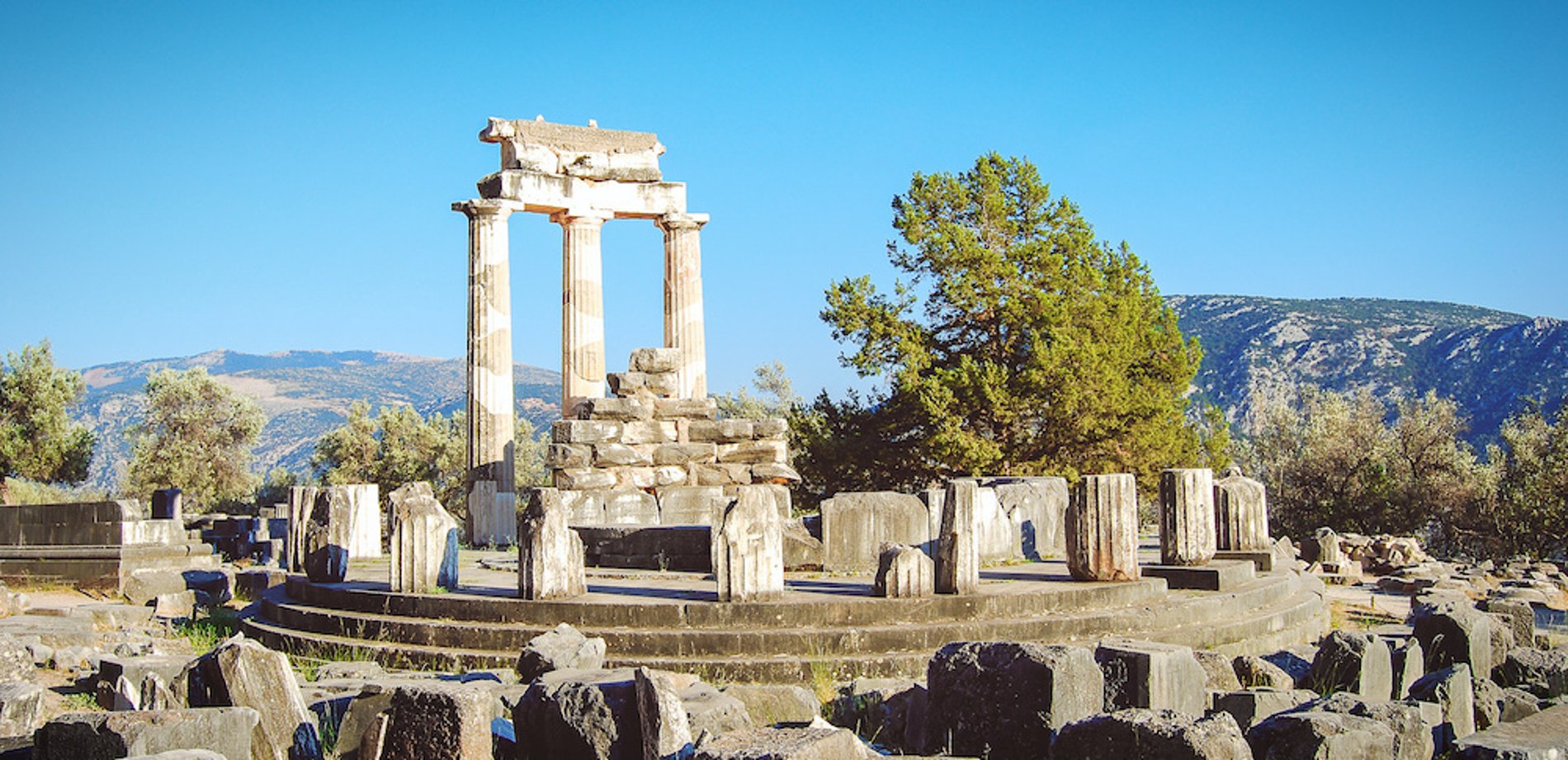 Go wine tasting
Forget the Western Med with its obvious wine countries like France, Italy and Spain – the Eastern Med is home to one of the most exciting and emerging wine scenes in the world. Greece, Croatia, Cyprus and Turkey all make great wine, which is growing in popularity and starting to gain worldwide acclaim. Greece's best islands for winemaking are Santorini and Crete, while Cyprus has the fantastic mountainous vineyards of Paphos. Turkish wine is also having a moment, with the Aegean Coast a dedicated wine zone, and Croatia has dozens of wineries that have spring up along the Dalmatian coastline. Head to the Adriatic island of Korčula on your Eastern Mediterranean cruise for some of the best Croatian white wines.
Try local cuisine
The Eastern Mediterranean is a dream come true for foodies, stretching from Italy all the way east to the Middle Eastern countries of Israel, Syria and Lebanon, also fringing North Africa. Cuisine in this region is fantastic, and each country has its own distinct cuisine. In Greece, dine on sizzling souvlaki, zingy tzatziki, saganaki and aromatic dishes like moussaka, a cuisine similar to the one found in Cyprus – a mix between Greek and Turkish. Turkish food is also splendid: think mezze, lamb kebabs, koftas and Asian influences, while Balkan countries of Montenegro, Slovenia and Croatia love their pork, sausage, goulash and charcuterie. Israel is also a dream, and on the menu are hummus, falafel, shakshuka and shawarma. An Eastern Mediterranean cruise will have no shortage of delicious food to try.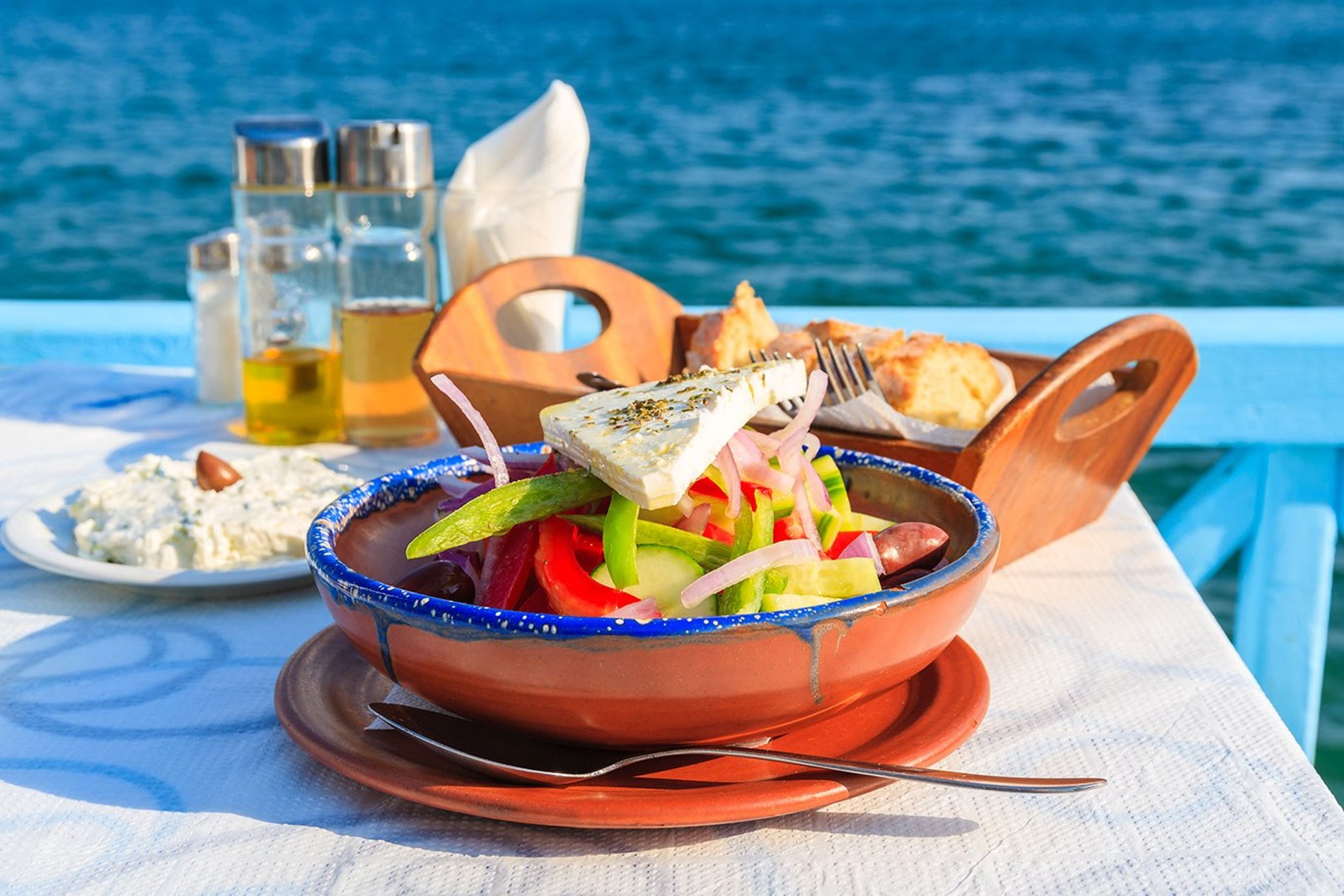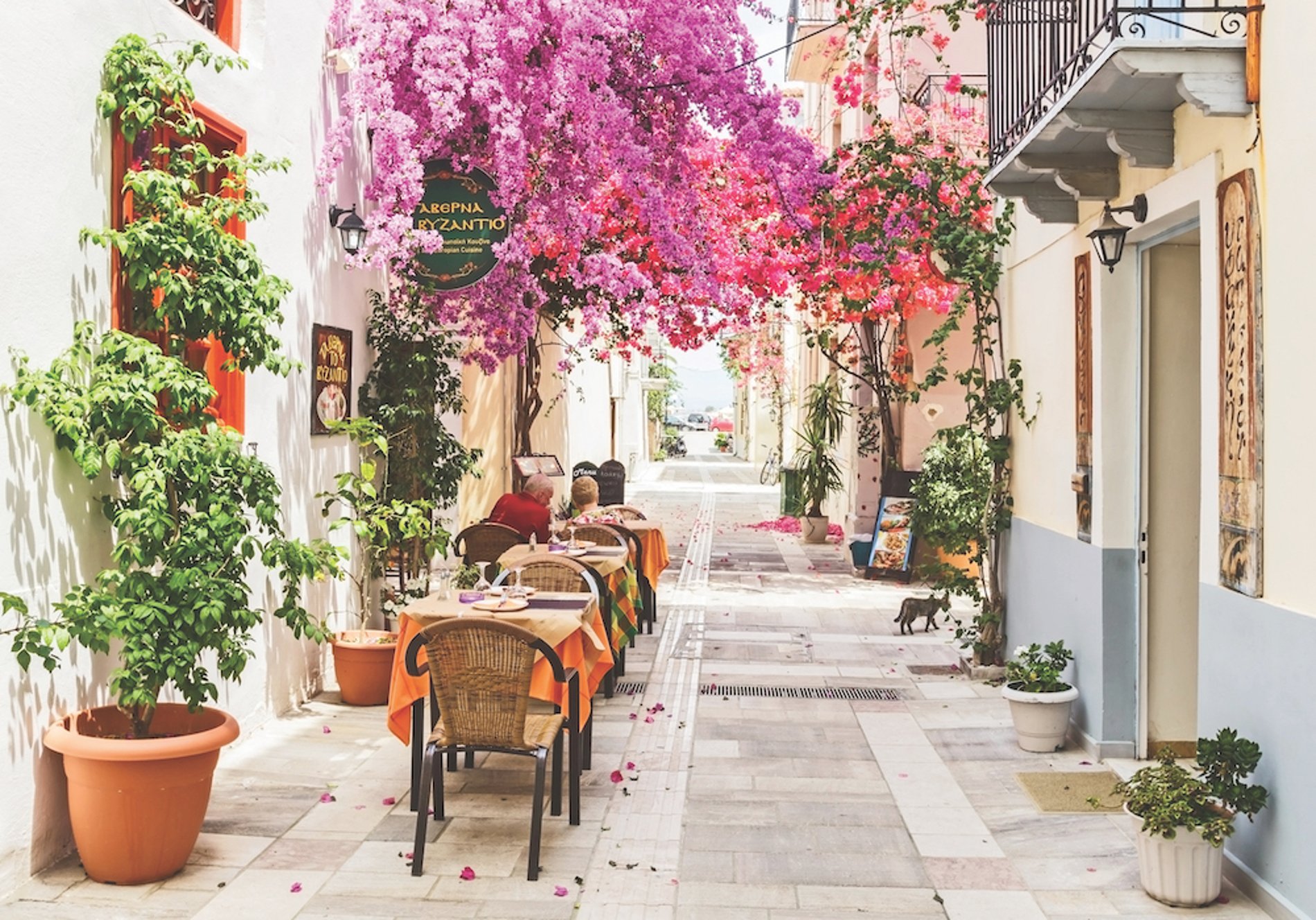 Nafplion, a beautiful town in the Peloponnese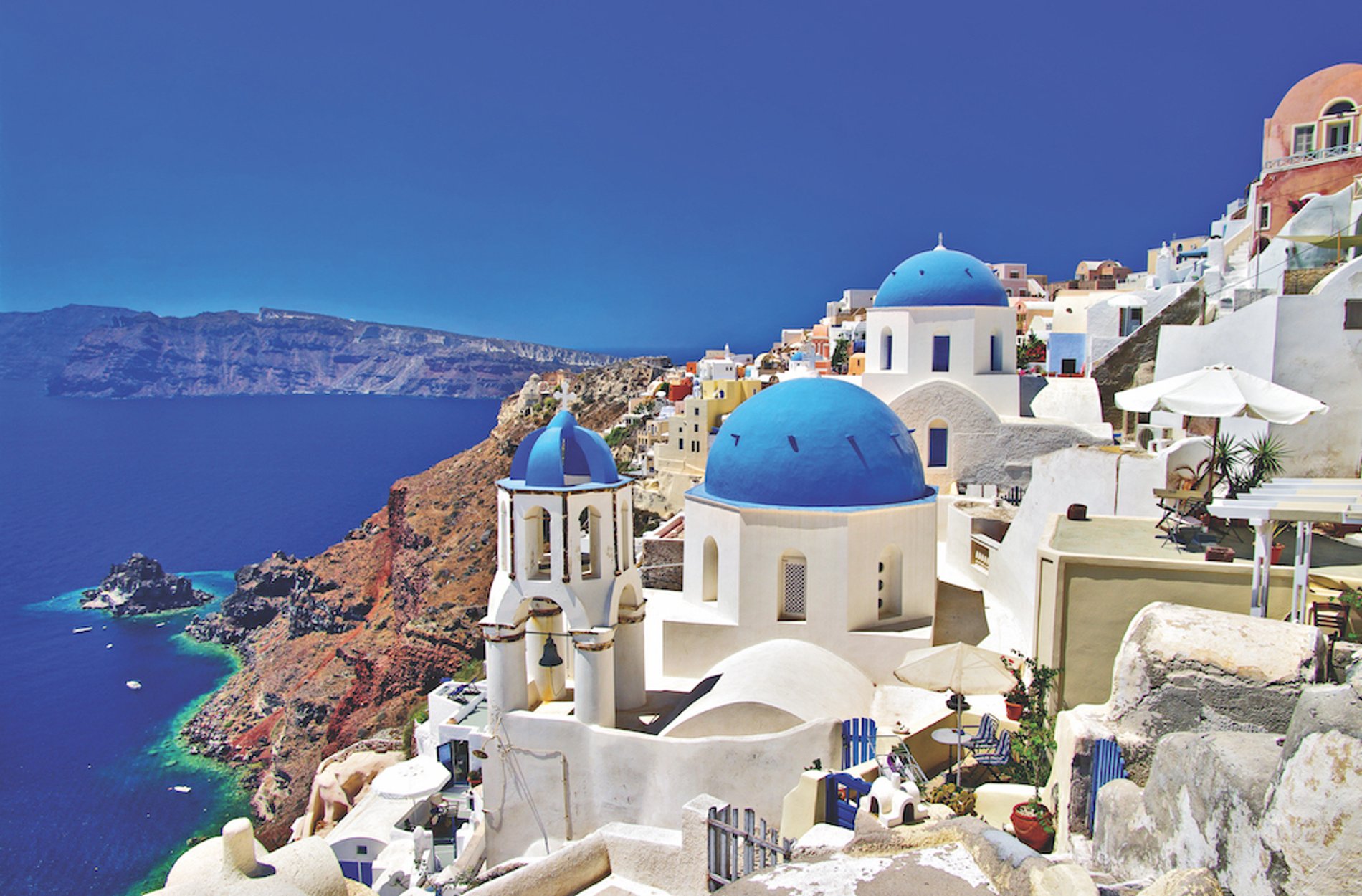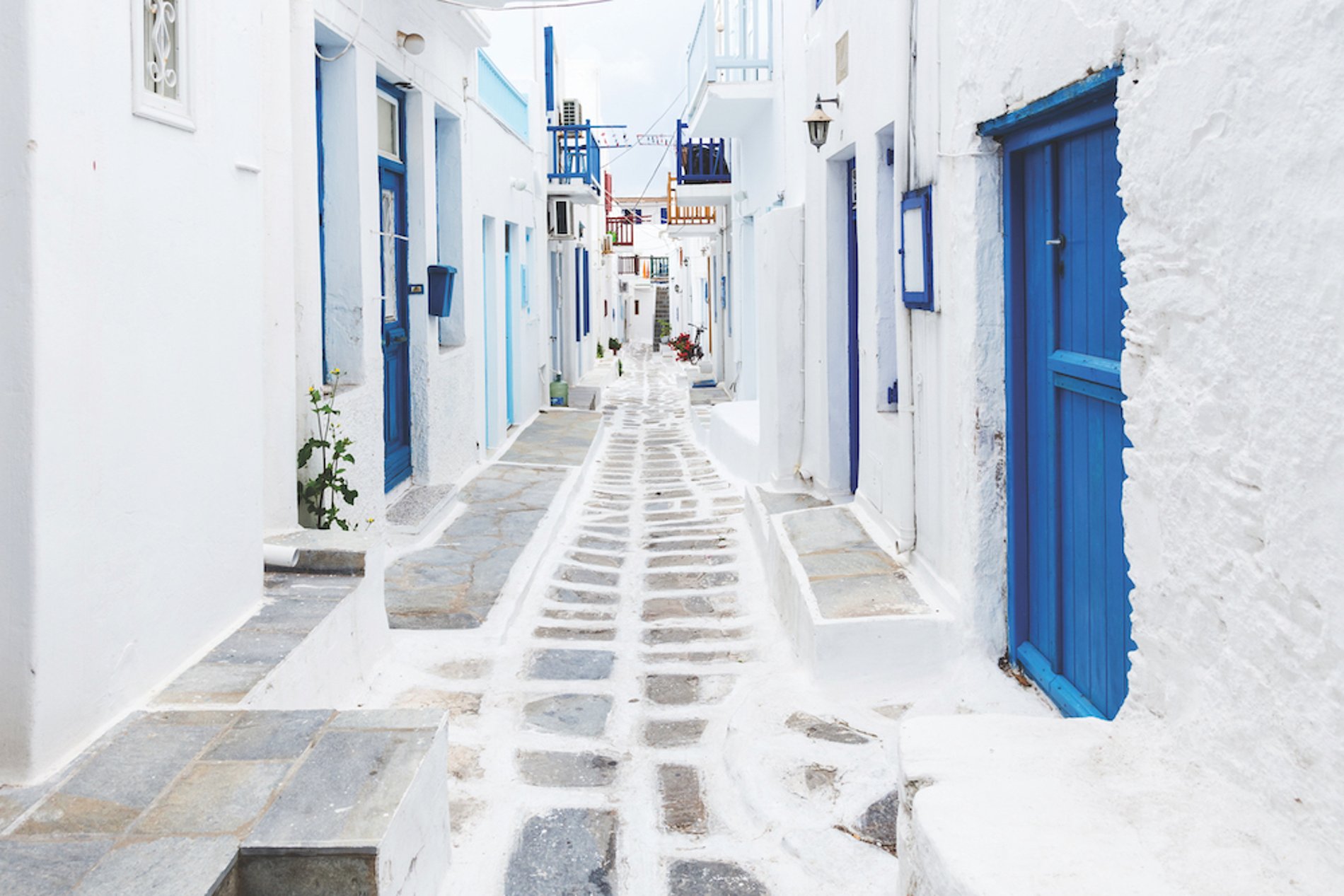 The beautiful streets of Mykonos