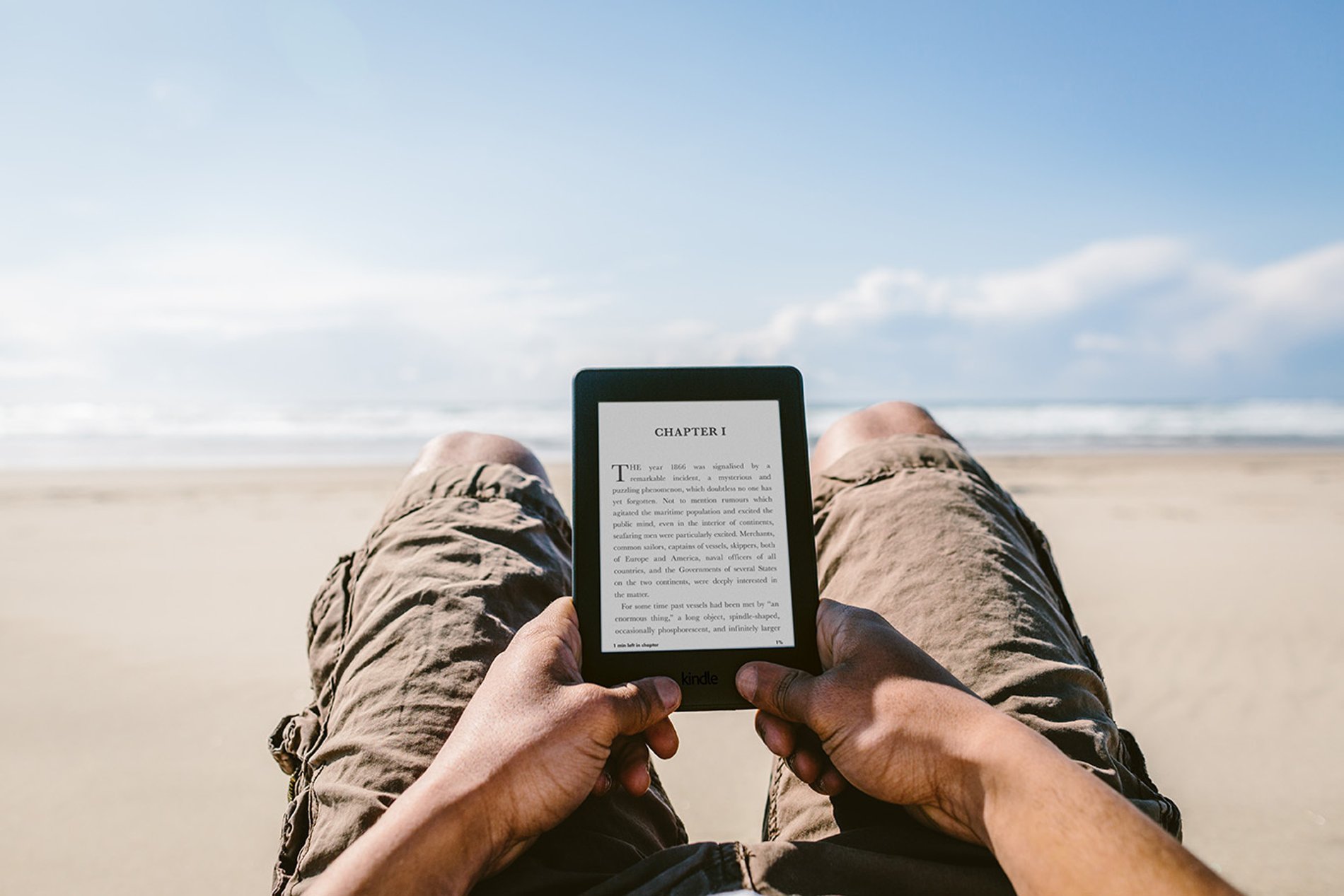 By The Book: Our top ten e-readers to take on your next cruise
Tired of toting that heavy bag to the beach? Maybe it's time to join the e-reader revolution
[vc_row][vc_column][vc_column_text]
Tired of toting that heavy bag to the beach? Maybe it's time to join the e-reader revolution
Whilst rumours of the demise of physical books were greatly exaggerated, there is still no doubt that e-readers have become many people's go-to way to enjoy a good book.
But when there are so many e-readers on the market, how do you choose the one that's right for you?
That's where we come in.
We've selected our top ten e-readers and highlighted the strengths and weaknesses of all them – ensuring you know a Kindle from a Kobo!
1) Kobo Aura H2o
Cost: £129.99
Features: Waterproof, 8GB storage, backlight
Strengths: A sturdy, well-built product that's perfect for throwing in a suitcase and reading by the pool
Weaknesses: A rare sight, so you'll have to explain what a Kobo is every time you bring it out in public
uk.kobobooks.com
2) Kindle Paperwhite
Cost: £109.99
Features: High-resolution screen, built-in backlight, 3G downloads
Strengths: Makes a big improvement on the standard Kindle without breaking the bank
Weaknesses: Standard 2GB storage capacity is not that great
amazon.co.uk
3) ASUS Zenpad 3S 10
Cost: £299.95
Features: Good screen, decent sound and long battery life
Strengths: As stylish as an iPad, with plenty of apps and games to keep the family entertained
Weaknesses: It's still not an iPad
johnlewis.com
4) Kindle Oasis
Cost: £229.99
Features: Up to 32GB storage, adaptive light sensor, 7in screen
Strengths: With its huge capacity, high spec and large size, it's the only e-reader you'll ever need
Weaknesses: Pricey, and too many bells and whistles for some users
amazon.co.uk
5) Amazon Fire 7 Tablet
Cost: £49.99
Features: You can surf the web, watch videos, listen to music and, oh, read the odd book
Strengths: It's packed with features for a very reasonable price
Weaknesses: The LCD screen means prolonged reading is quite tiring
amazon.co.uk
6) iPad Mini 4
Cost: £419
Features: You can talk to Siri, shoot movies and purchase books from the App Store
Strengths: It's got everything you'd expect from an iPad – only mini
Weaknesses: Very few – except that it costs £419 – wow
apple.com
7) Samsung Galaxy Tab
Cost: £229.95
Features: Easily customisable, with an HD screen plus access to the Google Play store
Strengths: It's a lot cheaper than the iPad Mini, with much of the same functionality
Weaknesses: Android devices haven't made the leap to tablet format as effectively as Apple
johnlewis.com
8) Kindle
Cost: £59.99
Features: 4GB storage, no-glare screen, wi-fi
Strengths: Holds thousands of books, and the print size can be adjusted to suit the user's eyesight
Weaknesses: No back-light makes night-time reading a hassle
amazon.co.uk
9) Lenovo Yoga Book
Cost: £449.9
Features: Featherweight design, with a pen stylus and a halo keyboard that appears when you need it
Strengths: If you want to write and draw on a tablet, this is as good as it gets
Weaknesses: More of a professional tool than a way to catch up with Jack Reacher in a deckchair
lenovo.com
10) The "Book"
Cost: Entry-level versions can be as little as £5
Features: Incredible battery life
Strengths: Smells nice, good for pressing flowers in, can be used as an emergency pillow
Weaknesses: Reading at night requires extra accessories
waterstones.co.uk[/vc_column_text][vc_gallery interval="0″ images="20120,20123,20125,20127,20128,20129,20130,20131,20132,20133″ img_size="medium"][/vc_column][/vc_row]