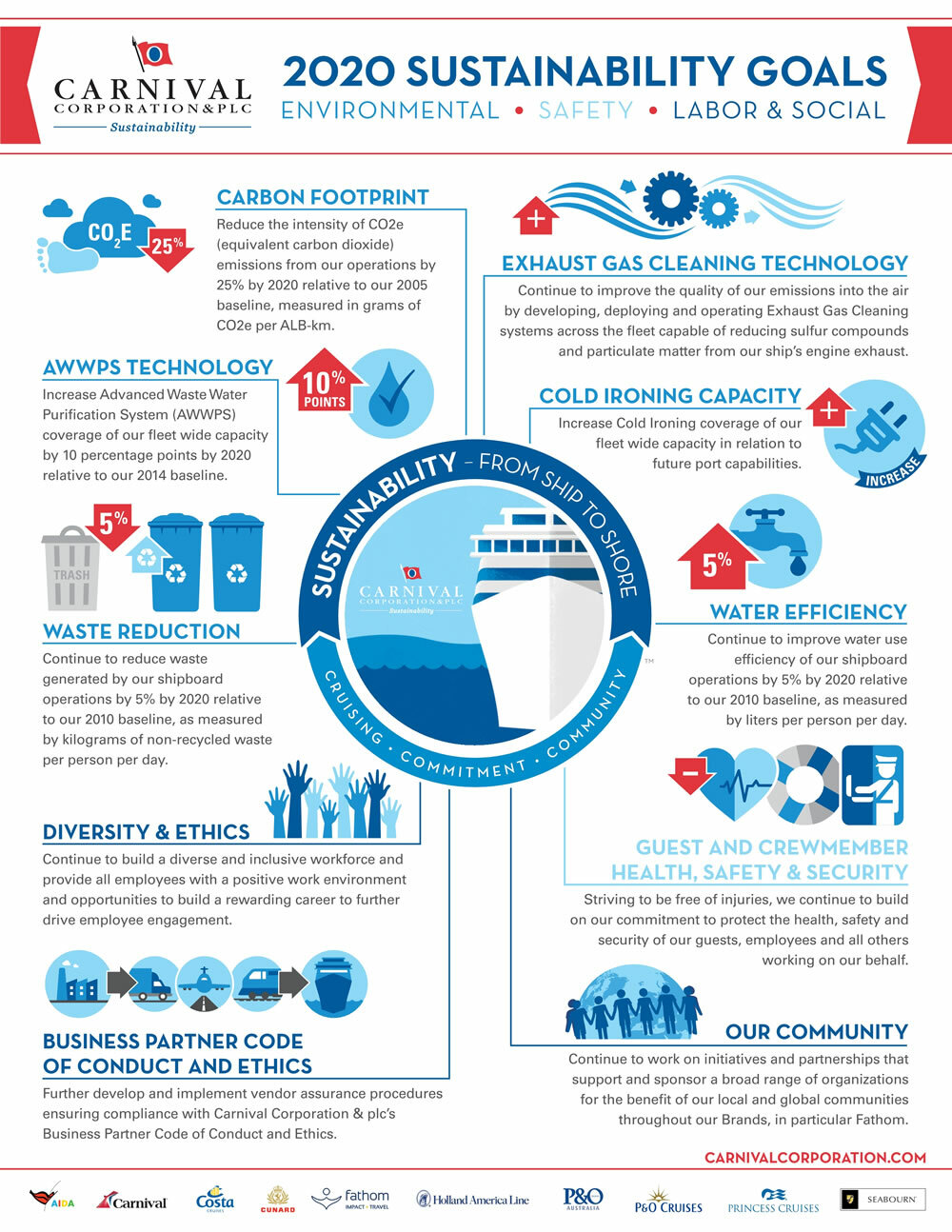 Carnival Corporation pledges to minimise waste by 2020
Carnival Corporation has announced its 2020 sustainability goals to reduce its environmental footprint over the next five years. The corporation has renewed its goal to continue reducing the rate of CO2e (Carbon dioxide equivalent) emissions. After meeting its initial goal a year ahead of schedule the company is now seeking a 25 percent reduction from
Carnival Corporation has announced its 2020 sustainability goals to reduce its environmental footprint over the next five years.
The corporation has renewed its goal to continue reducing the rate of CO2e (Carbon dioxide equivalent) emissions. After meeting its initial goal a year ahead of schedule the company is now seeking a 25 percent reduction from its 2005 baseline. It believes the new LNG-powered ships announced recently for the AIDA Cruises and Costa Cruises brands will help to significantly reduce exhaust emissions.
The corporation has made a $400 million investment to develop, install and operate exhaust gas cleaning systems that reduce sulphur compounds and particular matter from the ships' engine exhaust.
It plans to reduce the waste generated by its shipboard operations by five percent by 2020 relative to its 2010 baseline, as measured by kilograms of non-recycled waste per person per day. It will also continue to improve water use efficiency on its ships by five percent by 2020 relative to its 2010 baseline, as measured by litres per person per day. Depending upon the itineraries, Carnival Corporation ships typically produce 73 percent of the water they use on-board with the remaining stocks sourced from the ports and from water companies in the ports where the company's ships call. As part of its drive to conserve water the Corporation will continue to educate guests in environmental awareness and will ask them to participate in water efficiency initiatives such as reusing towels, reducing the frequency of bed linen changes or minimising water usage wherever possible. It also plans to increase the capacity of Advanced Waste Water Purification Systems (AWWPS) by 10 percent by 2020 compared to its 2014 baseline.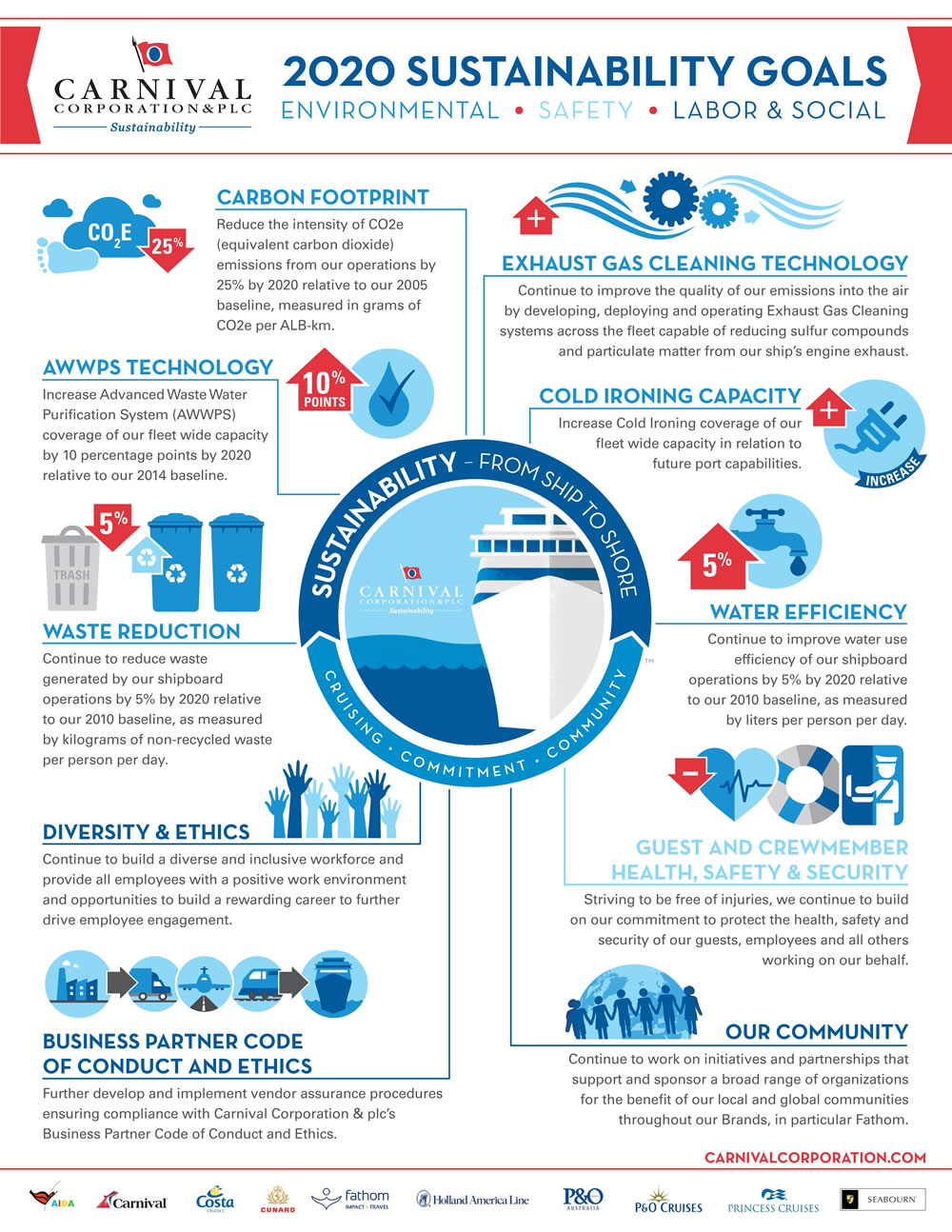 The company plans to increase the number of ships with cold ironing capability (which allows ships to connect to a port's electrical grid as the in-port power source allowing the ship's engines to be shut down). While the corporation acknowledges only six ports in the world currently have the infrastructure to allow cruise ships to do this it does maintain this practice reduces air emissions and thus improves air quality locally at the port.
In addition to environmental targets the plans also include a commitment to protect the health, safety and security of its guests and crew by identifying improvement areas across all brands and implementing occupational health and safety best practices, standards and processes.
Arnold Donald, CEO of Carnival Corporation, said "Across our 10 brands, we host millions of guests a year and visit 725 ports of call around the world, and the health and vitality of the oceans, seas and communities through which we travel is absolutely essential to our business. That makes protecting the environment one of our most critical areas of focus as a corporation, and it is why it is important for us to publicly communicate our sustainability goals."
Each of the company's 18 new ships entering service between 2015 and 2022 will be more efficient and sustainable than existing ships in the fleet and will include on-board Advanced Waste Water Purification Systems, exhaust gas cleaning technology and cold ironing capabilities as standard.
(Image credit to Carnival Corporation)