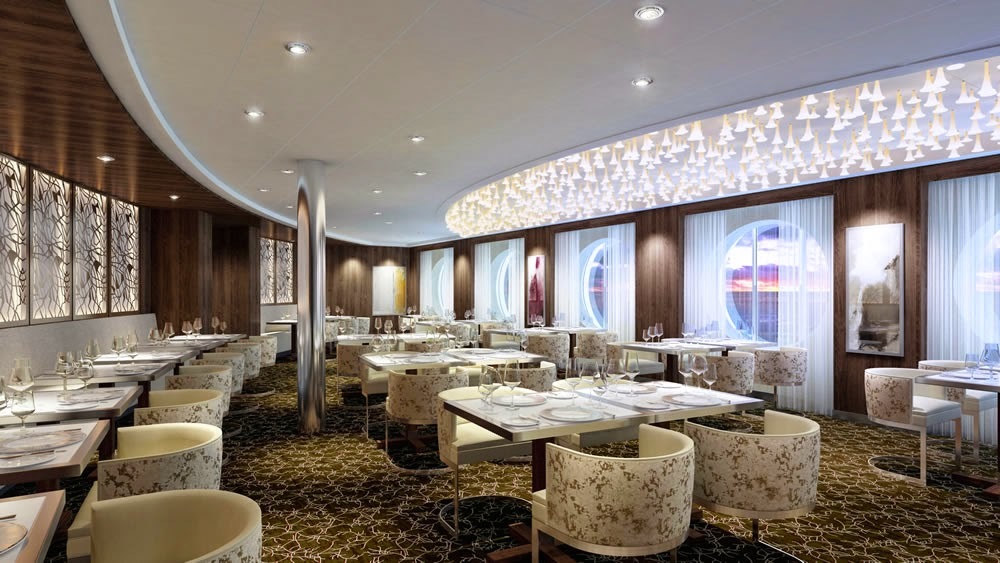 Celebrity Cruises unveils Luminae restaurant for suite guests
Celebrity Cruises will soon be adding a new restaurant on-board its cruise ships exclusively for Suite Class guests. The new dining venue will be rolled out across the fleet starting in April 2015. The new restaurant will be called Luminae and will have modern and contemporary décor. The restaurant will offer a unique menu and
Celebrity Cruises will soon be adding a new restaurant on-board its cruise ships exclusively for Suite Class guests. The new dining venue will be rolled out across the fleet starting in April 2015.
The new restaurant will be called Luminae and will have modern and contemporary décor. The restaurant will offer a unique menu and will be open for suite guests for complimentary breakfast, lunch and dinner.
Highlights from the sample menu include "Black And White" caviar with crème fraîche, creamy truffle risotto with a fricassé of wild mushrooms and Parmesan Reggiano, Maine lobster tagliatelle with roasted artichokes, tomato and lemon confit, and Chocolate Palet served with caramel ice cream and fleur de sel.
The menus will feature locally sourced regional and seasonal ingredients inspired by the destinations Celebrity Cruises sails to around the world.
"Everything about Luminae embodies an inspirational culinary journey for our guests. We want them to savour soulful, technique-driven cuisine, while enjoying warm and personalised service in a relaxed, stylish setting," said John Suley, James Beard-featured Executive Chef for Celebrity Cruises.
Special touches such as table-side preparation of signature dishes and the daily presentation of a new gourmet chocolates and desserts cart will add to the ambience. The menus will offer wine pairing suggestions made by the restaurant's dedicated head sommelier. The wine list, specially designed for Luminae guests, will feature more than 400 selections.