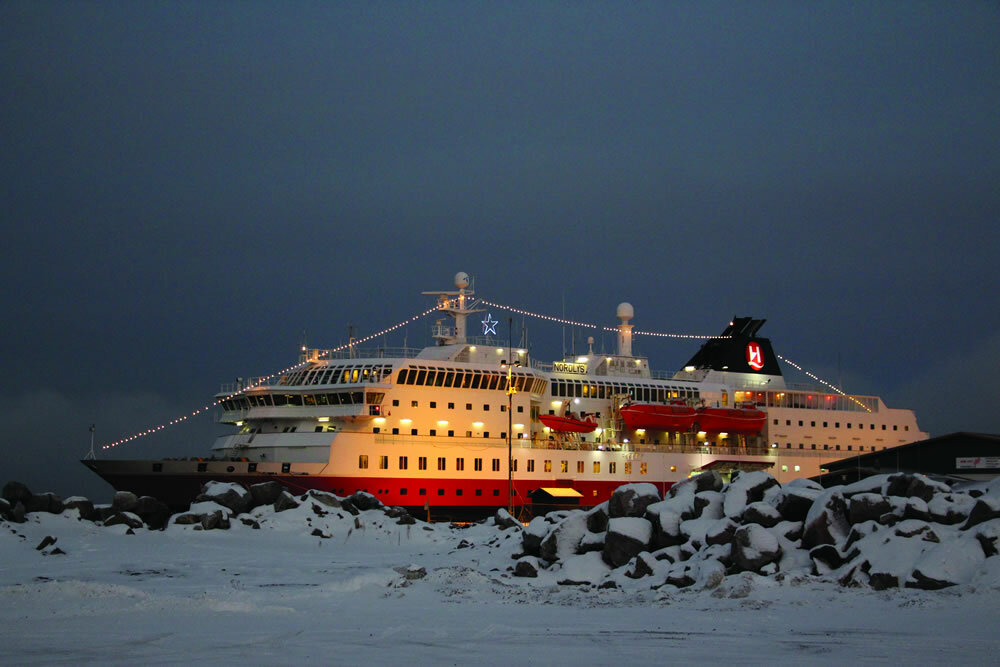 Cruising at Christmas
Why floating in a winter wonderland could be the best way to spend the holiday. By David Fiske Classic storybooks colourfully paint Christmas as a tale of the perfect family unwrapping gifts, feasting on a grand banquet and celebrating the birth of Christ. Sadly the reality can be somewhat different. Families get tangled in petty
Why floating in a winter wonderland could be the best way to spend the holiday. By David Fiske
Classic storybooks colourfully paint Christmas as a tale of the perfect family unwrapping gifts, feasting on a grand banquet and celebrating the birth of Christ.
Sadly the reality can be somewhat different. Families get tangled in petty arguments, children attempt to mask their disappointment at not receiving the gifts they had asked Santa for, and as for the fabled feast, this typically consists of inedible food that bears no resemblance to the idyllic spread that celebrity chefs would have us believe can be created effortlessly.
Even if a bearable day could be achieved it might be thwarted by the weather, bringing yet more misery and chaos to the country. With bookmakers offering odds of 4/1 of a white Christmas in London this year it is no surprise that thousands will flee from another potentially dreary Christmas at home and take to the high seas instead.
By mid-December most cruise ships will have been transformed into floating winter wonderlands, enthusing children and filling adults with a warm sense of nostalgia. Oversized Christmas trees adorn atriums, each dressed in twinkling lights; 60,000 baubles will be used across the MSC fleet alone! Elaborate garlands are draped across grand staircases while red Poinsettias set a festive undertone.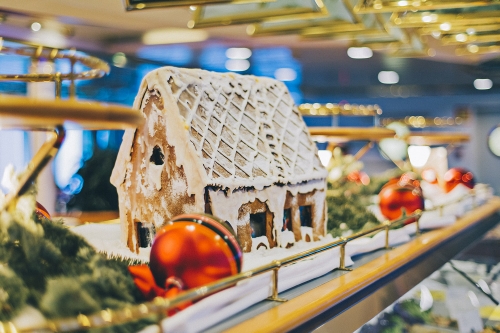 Festive music dominates the entertainment schedules inevitably resulting in passengers humming their favourite tunes to themselves on the walk back to their cabins. Seasonal production shows and pantomimes take centre stage alongside impromptu performances by choirs formed of children, passengers or crewmembers.
Wintry model villages appear, as do classic train sets. Small settlementsof gingerbread houses are carefully crafted and Disney takes this to the extreme as their chefs construct an edible, life-sized gingerbread house on each of their four ships. Disney Dream's house, the largest in the fleet, typically takes 320 hours to build and occupies 22 square metres. Consisting of 3,750 gingerbread bricks and 1,500 gingerbread roof tiles this creation is as much a feat of civil engineering as a culinary project.
Crewmembers chip in to help make guests feel more festive. Azamara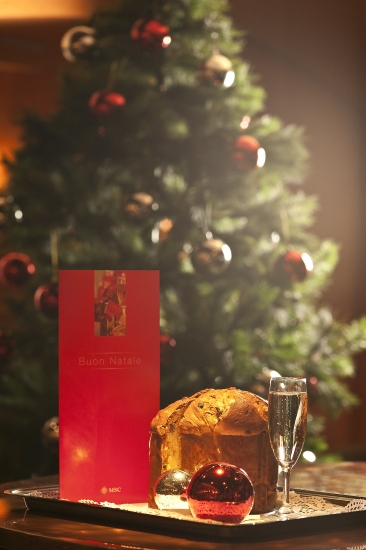 produces a video with each crewmember wishing passengers a merry Christmas in their native language and on Hurtigruten's ships crew and passengers work as one to create decorations for the Christmas trees on-board.
Father Christmas makes an appearance on most family-friendly cruise ships and may deliver small gifts to children – this year P&O Cruises will distribute 21,000 gifts to its guests. Children are also encouraged to write a letter to Santa and Carnival installs red mailboxes in its atriums for this very purpose.
Christmas Day celebrations revolve around the gluttonous consumption of fine foods. Most ships offer the traditional roast turkey with all the trimmings as the centrepiece. Seabourn opts for a duck main course instead and Princess and Crystal also offer goose as an option. Gourmet touches include Crystal's chestnut stuffing, Princess' gingerbread mousse, and Saga's addictive mince pie ice cream.
Behind the scenes military precision in the galleys is required to serve Christmas dinner to thousands of guests per sitting. P&O's chefs prepare 1,100 turkeys in a carefully choreographed operation that puts most amateur chefs – and some professionals – to shame. Meanwhile Silversea's chefs prepare up to 6,600 six-course gala dinners across its fleet.
Traditions and customs for each cruise line are deeply engrained and their menus allow for a creative fusion oftraditional dishes and regional delicacies. Costa injects Italian options into their proceedings by offering Cappelletti in Brodo (traditional pasta in broth). Silversea also looks to its Italian roots with its chefs producing 2,200 Panettone (sweet bread loaves). In line with its Norwegian heritage Hurtigruten serves 'Julekake', a sweet Christmas bread with raisins, candied lemon peel, nuts and cardamom. Some lines, such as Carnival and Regent Seven Seas, turn to America for inspiration and offer pumpkin pie as a dessert while British ships prefer Christmas pudding; Fred Olsen will dish up nearly 11,200 servings.
Christmas is a time for indulgence which may explains how Fred Olsen guests devour 89 tins of Quality Street and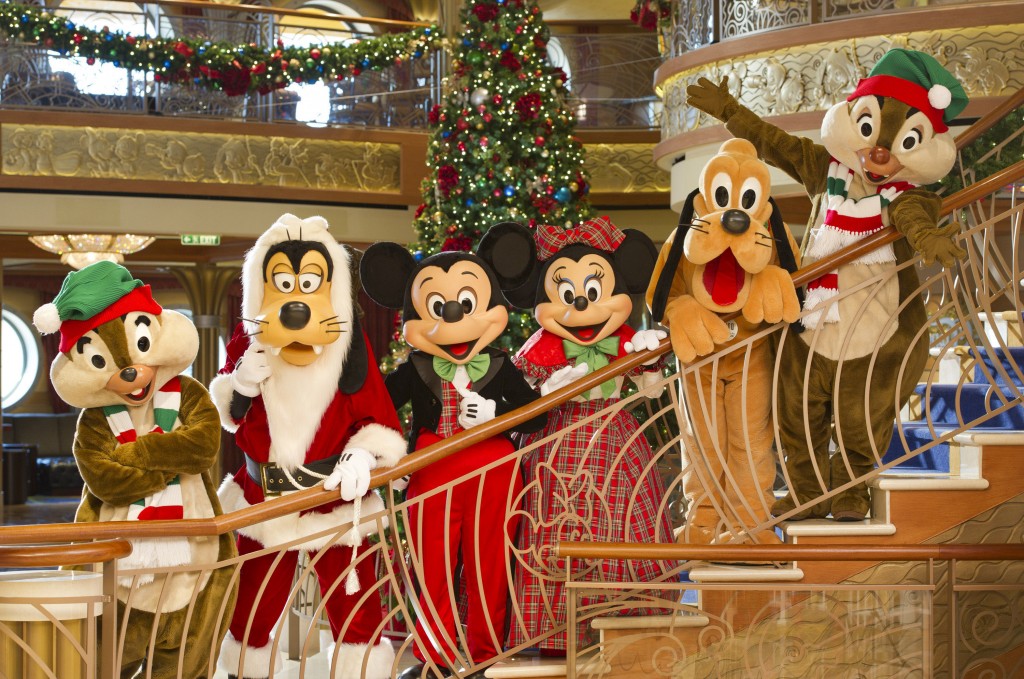 inexcess of 3,700 marzipan holly leaves during the festive period.
Gallons of Glögg, Glühwein and eggnog flow in abundance and many choose to celebrate with a glass of Champagne. During the festive period Silversea passengers work their way through 2,500 bottles of fizz in addition to 12,000 bottles of vintage wines.
Little escapes the festive treatment, least not High Tea, or Afternoon Tea, which sees cookies, mince pies, pastries, Stollen (a traditional German fruit cake, often filled with marzipan) and traditional Christmas cake added to the platters.
The true spirit and traditions of Christmas are never far away though. Some cruise lines, including Saga, use the annual occasion to raise money for good causes. Cruise lines are also aware that not everyone celebrates Christmas in the same way or even at all. The Jewish holiday Hanukkah is often celebrated on-board and interdenominational church services are normally held. P&O beams the Queen's speech live to its ships.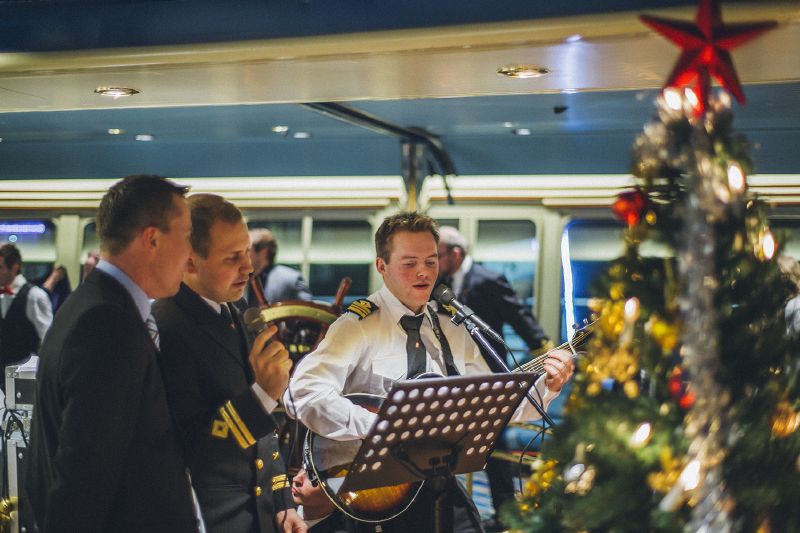 It is not just tourists who will be spending time away from home this Christmas though. Spare a thought for the veritable nation of crewmembers who will spend the day hard at work, as will the dockworkers, who will motor over 100 cruise ships across the world. Surprisingly, fewer than half of cruise ships sailing in December will spend Christmas Day out at sea.
By December all ships will be in prime locations across the globe designed to satisfy passenger thirst for perfect weather, picturesque destinations and immersive culture. This year the Bahamas will be one of the busiest regions, with the population of Nassau swelling by up to 20,000 people on Christmas Day. It is also where Norwegian Escape, launched this month, will spend her first Christmas. Royal Caribbean, NCL, and Disney will all be making full use of their own private islands in the region too.
Small and mid-sized ships retreat to quieter destinations. Azamara Quest will call at Komodo, home to the largest lizard on Earth and a rare pink sand beach. Instead of watching re-runs of the animated film Madagascar on the television at home MSC Sinfonia's passengers will experience the vast island for themselves, calling at Tôlanaro.
Celebrity Infinity will be cruising the Strait of Magellan while Holland America's Zaandam will be cruising the Chilean Fjords and Seabourn Quest will be cruising by the El Brujo Glacier providing guests with a welcomed distraction from the festivities.
Hurtigruten steals the award for the busiest cruise ships at Christmas though. Their fleet of working vessels call into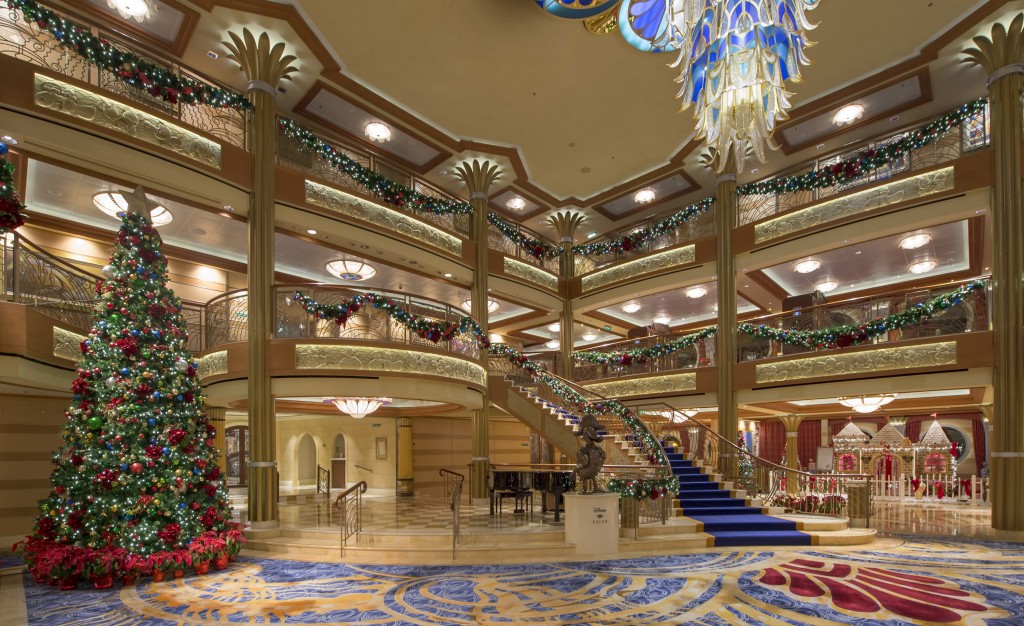 as many as eight ports along the Norwegian coast in a single day.
Ports of call allow guests the opportunity to explore a destination but for those wishing to attend a church service some cruise lines, including Carnival, will offer directions to local churches.
Sadly not all the port calls on Friday 25 December will be filled with the same levels of excitement. Bizarre scheduling decisions made by several cruise lines means that passengers of Carnival's Ecstasy and Inspiration, P&O's Azura and Royal Caribbean's Quantum of the Seas will be trading in their festive feasts and yuletide drinks for scant meals at airports as they await their flights home.
A cruise in December is a chance to escape the monotony of another depressing Christmas at home. It may not prevent the seasonal family quarrels and it may not mask the fact that the kids haven't received the gifts they were expecting but at least you can offload the stresses and strains work to an army of crew members who will ensure you have a holiday to remember.