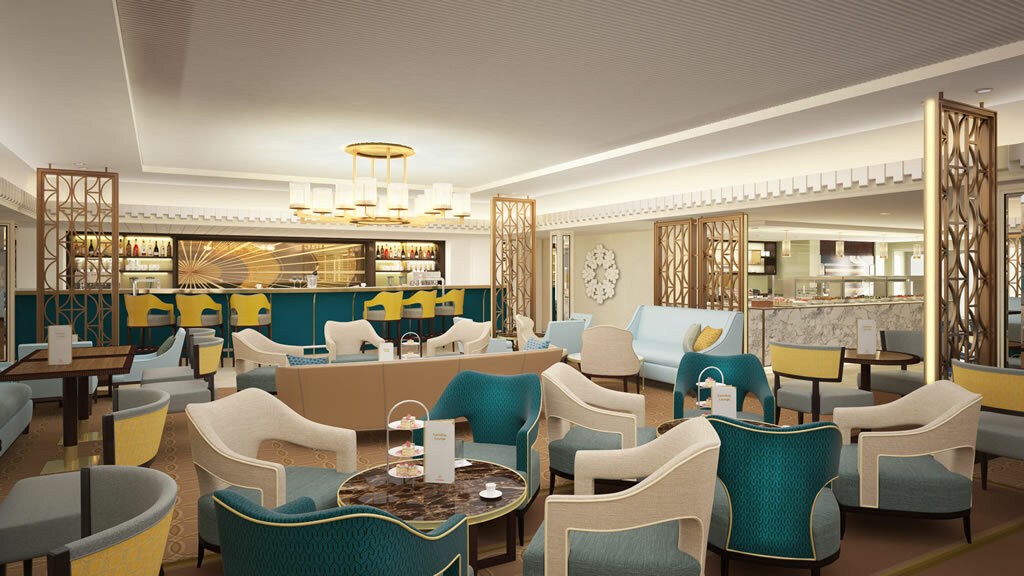 Cunard reveals Queen Mary 2's Carinthia Lounge
Cunard is to transform Queen Mary 2's Winter Garden into an elegant, airy and versatile new venue called the Carinthia Lounge. Named after Cunard's much loved Carinthia ships, the new Carinthia Lounge will be installed during Queen Mary 2's multimillion pound refit from 27 May to 21 June 2016. Designed to be one of the
Cunard is to transform Queen Mary 2's Winter Garden into an elegant, airy and versatile new venue called the Carinthia Lounge.
Named after Cunard's much loved Carinthia ships, the new Carinthia Lounge will be installed during Queen Mary 2's multimillion pound refit from 27 May to 21 June 2016.
Designed to be one of the most stylish spaces on the Cunard flagship, the Carinthia Lounge will transition seamlessly throughout the day, from a serene lounge serving light breakfast and lunch dishes, to an elegant evening venue.
The Carinthia Lounge will also feature a dedicated patisserie and an afternoon tea service, with the option of a special Veuve Cliquot Champagne Afternoon Tea experience.
In the new lounge guests will be able to sit and relax, catch up with friends or enjoy a good book. The Carinthia Lounge will feature a fresh colour palette of powder blue, cream and gold, and versatile seating layouts including dining chairs and tables near the new patisserie and chic curved lounge seating under decorative lighting. The spacious venue will also feature a wine wall, vertical metal Art Deco-inspired screens, and a dark walnut timber dance floor.
Angus Struthers, Cunard Director, said: "In the roaring twenties Carinthia embodied the spirit of travel which saw the rise in popularity of world cruises and winter voyages – a concept Cunard can proudly claim to have introduced among its many innovations and firsts over the last 175 years! It is only fitting to remember the legacy of Carinthia and bestow this name onto our new lounge set to launch following refit. We believe this space will truly elevate the Queen Mary 2 experience, adding new innovative culinary options, as well as another level of refined relaxation and entertainment for our guests."
Previously announced work to be undertaken during the dry-dock refit includes the introduction of single cabins and a makeover of suite cabins and restaurants.
(Image credit to Cunard Line)