Search for your ideal Cruise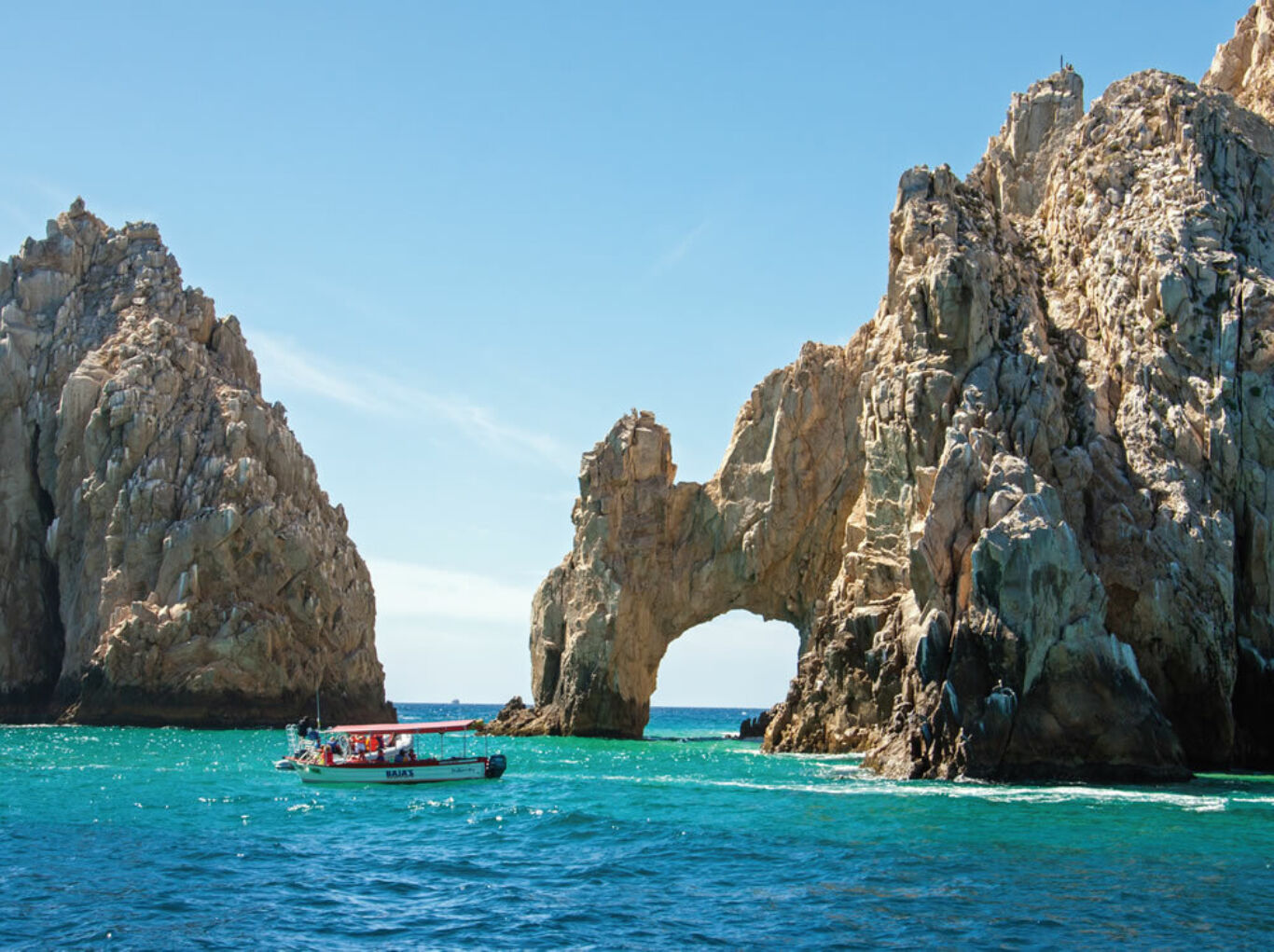 Cruising the Gulf of California on Azamara Quest
The Gulf of California was my bucket-list destination and the highlight of this cruise with Azamara was a marathon excursion by train to see the spectacular Copper Canyon. John Steinbeck wrote engagingly about the Gulf of California in his travel narrative, The Log From The Sea Of Cortez. Neil Young's Cortez The Killer is a
The Gulf of California was my bucket-list destination and the highlight of this cruise with Azamara was a marathon excursion by train to see the spectacular Copper Canyon.
John Steinbeck wrote engagingly about the Gulf of California in his travel narrative, The Log From The Sea Of Cortez. Neil Young's Cortez The Killer is a power-chord tour de force that has earned a place among the eight records I would take to a desert island.
Those two facts alone are enough to have made the Gulf of California a bucket list destination for me. You can add to them the aerial shots of mighty blue whales on David Attenborough TV documentaries, and spectacular images of flying manta rays leaping from the water to fly like Stealth bombers.
Not to mention a desire to emulate Steinbeck, and write my very own Blog From The Sea Of Cortez. I just had to go there.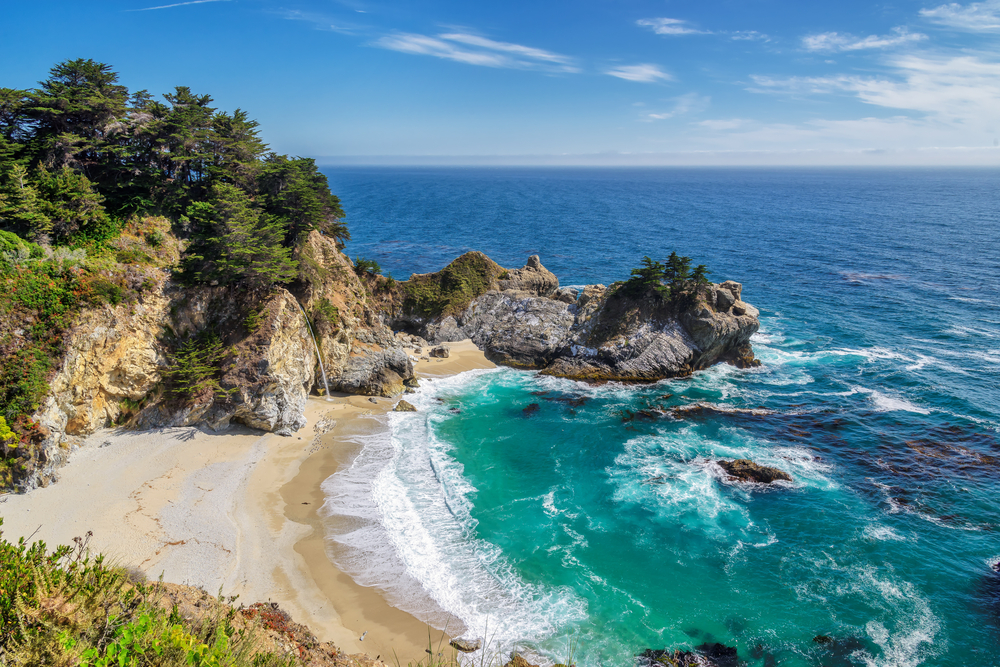 But was not until I had booked a cruise to the region that I discovered one of the highlights might not be the sea itself or any of its creatures but an all-day journey to inland Mexico, mostly by train, to a mighty complex of mountains and gorges that is bigger and deeper than America's Grand Canyon.
I had never heard of Copper Canyon before, and even when I discovered it was on the list of excursions from cruise ship Azamara Quest, I half expected it to be nothing more than a two-bit mining town with nothing more to show than a few rusting relics and possibly a rip-off rodeo.
How wrong could I be?
It might have been one of the longest one-day excursions I have ever taken from a ship, with possibly the highest-ever ratio of time spent travelling to time at the actual destination, but it was worth every minute and every cent – largely because the journey itself, or at least the daylight section, was a thrill in themselves.
It hardly seems right to refer to it simply as Copper Canyon – because this vast region of north-west Mexico is riven apart by green and red gorges cutting so far into the earth's crust that it's impossible to see the bottom in most cases.
There are realistically only two ways to get there; by horse or by train. As we had only a day rather than a fortnight, we chose the train.
The excursion cost $599 per person booked on the ship, and attracted almost 200 participants from the 700 passengers on board. Azamara Quest was berthed in Topolobampo and we were walking down the gangway at 5.00 in the morning for a two-hour drive by coach to the town of El Fuertes, where our chartered train in the livery of Chihuahua al Pacifico was waiting.
With all aboard by 7.15 am we began a six-hour climb into the mountains, the scenery growing more impressive as every mile sped by.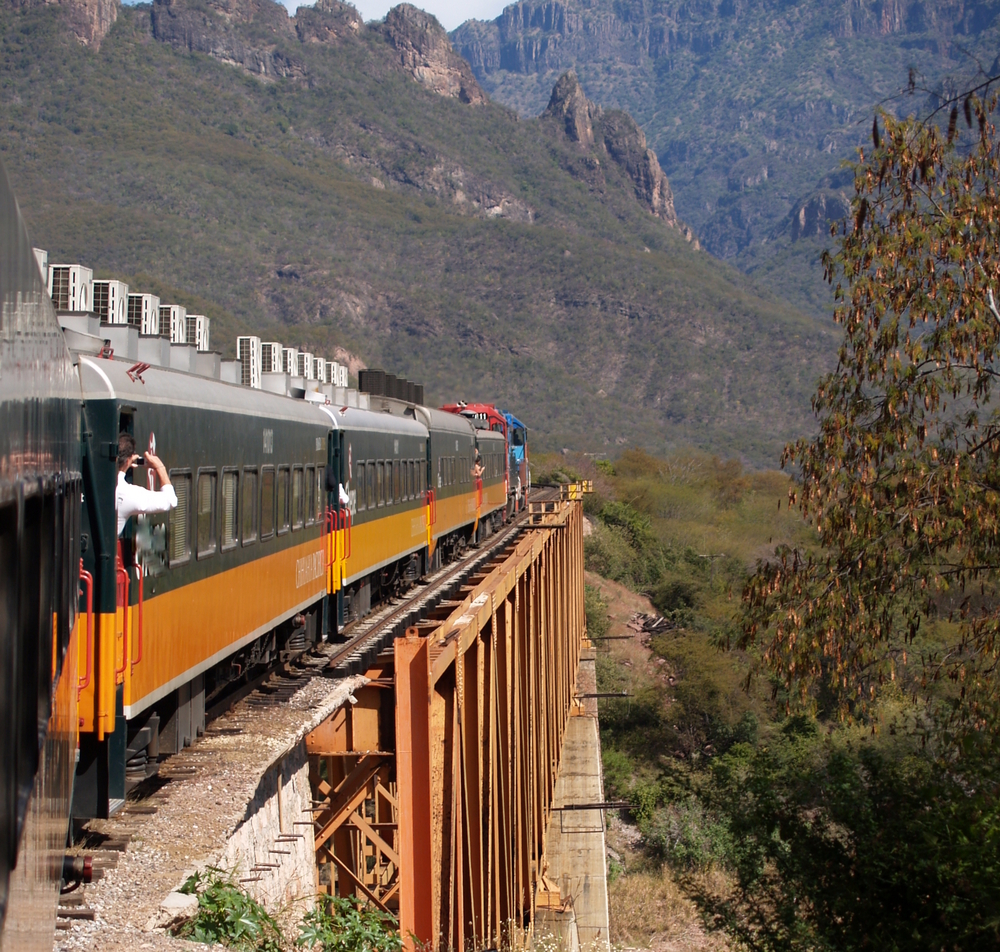 Through tunnel after tunnel, and over precarious bridges crossing arroyos, the track snaked its way alongside rushing rivers and past craggy cliffs. Carlos, our guide, did his best to keep us informed about the occasional villages and stations en route, and about what we could expect when we reached our destination.
A small army of train staff kept us fed and watered, and an assiduous carriage porter in double breasted jacket, bow tie and peaked cap walked up and down the carriage to collect our empties and keep everything tidy.
At Temoris, about halfway through the journey, the track took two horseshoe bends, one of them in a mile-long tunnel, to gain height from the valley floor, climbing about 3,000 feet to the plateau above.
Eventually we reached Posada Barrancas station. All change!
While most passengers headed straight for lunch at the Mirador Hotel, perched on the rim of the canyon, about 50 of us paid a further $45 to take an exhilarating trip by cable car to a stumpy outcrop further into the canyon and providing breathtaking views of not only Copper Canyon but also Urique and Trararecua Canyons.
At the cable car station there were girls from the indigenous Tarahumara Indian tribe – each with a baby carried on the hip – selling souvenirs; they were a refreshingly un-pushy bunch and did not even demand tips when they were photographed.
The views from the top were stupendous. If only more people knew about it, Copper Canyon would surely be in the running for inclusion in any list of the Top 10 natural wonders of the world.
Every chasm and cliff, peak and plateau is enormous and it's almost impossible to appreciate just how vast the canyon complex is. Four of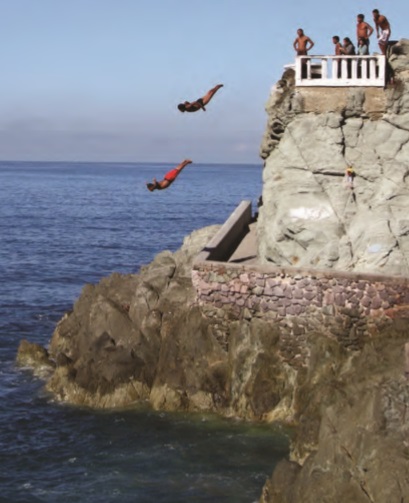 its arms are 1,000 feet deeper than anything in Colorado. From valley floor to mountain top there are three distinct climatic zones, each with its own vegetation; in total there are believed to be 23 species of pine, 200 of oak, plus alder and poplar trees. Wild flowers blossom everywhere and the pipe organ cacti of the lower levels are replaced higher up by star-shaped sotol and yucca which the Indians use to make everything from alcoholic drinks to baskets.
The colour palette of the rocks, rivers and sky contains a million shades, and erosion of the volcanic deposits laid down over a period of 15 million years exposes rocks of every hue. There are gold and silver mines, but little copper – the name is derived from the colour rather than deposits of the actual metal.
From our cable car eyrie, we re-joined our travelling companions at the Mirador Hotel. A quick lunch, more photo opportunities, more souvenirs, a display of traditional dancing and a brief example of the marathon running for which the Indians are famous, then it was time to return to the train.
The downhill journey was a little quicker, but the final two hours on the bus seemed to take for ever. Back at the quayside, Quest's crew were quick to provide a restorative cup of hot chocolate and rum, but even that could not instil enough energy for me to join the stay-at-home passengers dancing at an impromptu disco on the dock-side. It had been 17½ hours on the go – and all that travel can be exhausting.
Besides, I had to be ready for much more on this action-packed cruise. I had already been enthralled by daring cliff-divers in Mazatlán, and enchanted by amateur dancers on the Malecón, or seafront promenade, in La Paz.
In Loreto – once the haunt of Hollywood starlets – I took a boat trip with local fishermen to nearby islands. No whales to be seen, unfortunately, but there were dolphins by the score, sea lions basking on the rocks, and I was able to tick off blue footed boobies in my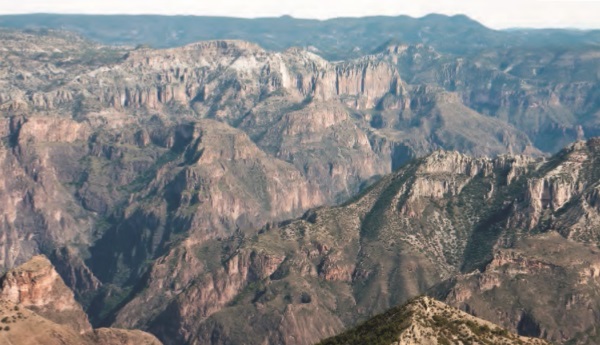 Smutty Guide to Birdwatching.
Today's Hollywood stars who come to Mexico for some away-from-it-all R&R now head to Cabo San Lucas, which has become an over-developed collection of condos and highend hotels, mixed in with an infinite number of bars knocking out tequila shots at bargain basement prices.
Away from its seedy streets, however, it has possibly the most dramatic Land's End scenery in the world. One beach almost at the tip of the promontory is washed by the Sea of Cortez on one side and the Pacific Ocean on the other. And there's a natural rock arch that completely dwarfs anything our own dear Lulworth Cove has to offer.
It was on an excursion from here that we finally saw the humpback whales we had been looking for all week. Our tour boat was escorted in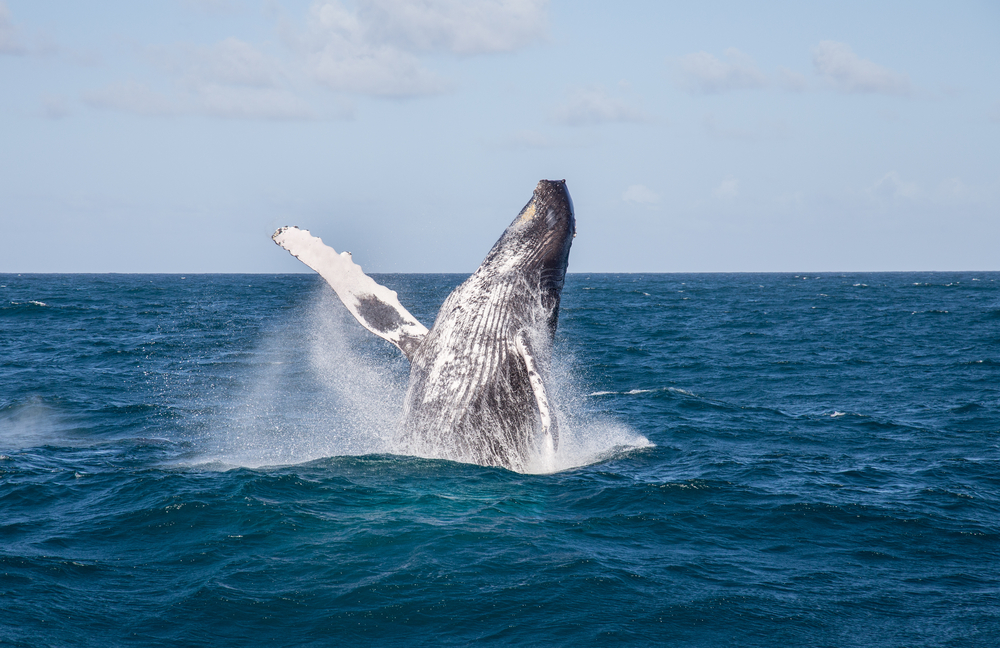 and out of the harbour by friendly sea lions, and we were fuelled with an unlimited supply of Margaritas so there was a moment when I thought I might be hallucinating.
But they were real enough. Mother and calf together with their dorsal fins breaking the water before the tail flukes appeared, signifying a deep dive. And then another specimen leaping spectacularly from the waves before crashing back in an avalanche of spray.
Back in the haven of our cabin on Azamara Quest, we had to shut the balcony doors to keep out the din from half a mile away as two club DJs competed to see whose party crowd could make the most noise.
That's the great thing about cruises. I saw the wildlife I had hoped for. I had my Copper Canyon surprise. And I could get peace when I wanted it.
QUEST FOR PERFECTION
Azamara Quest and sister ship Azamara Journey are boutique-sized vessels carrying 686 passengers each. They were built in 2007 for the now-defunct Renaissance Cruises.
They may be small, but they have big aspirations. Service is exceptional and the open-seating main dining room is supplemented by a buffet restaurant with ample choice, and (for an additional fee) a top-class steakhouse and an Italian restaurant.
Wine and beer are included with lunch and dinner, as are house spirits and cocktails. Bottled water, coffee and tea are all complimentary.
Both ships are receiving multi-million dollar makeovers this year. Journey's was completed in February in the Bahamas, and Quest will get the treatment in Singapore in April. Under veteran boss Larry Pimentel, Azamara has pioneered "destination immersion" cruising with longer stays in port and a spectacular 'Azamazing Evening' on every voyage. In Mexico, this was a blend of myth, mystery, ballet and fire-eating under the stars.