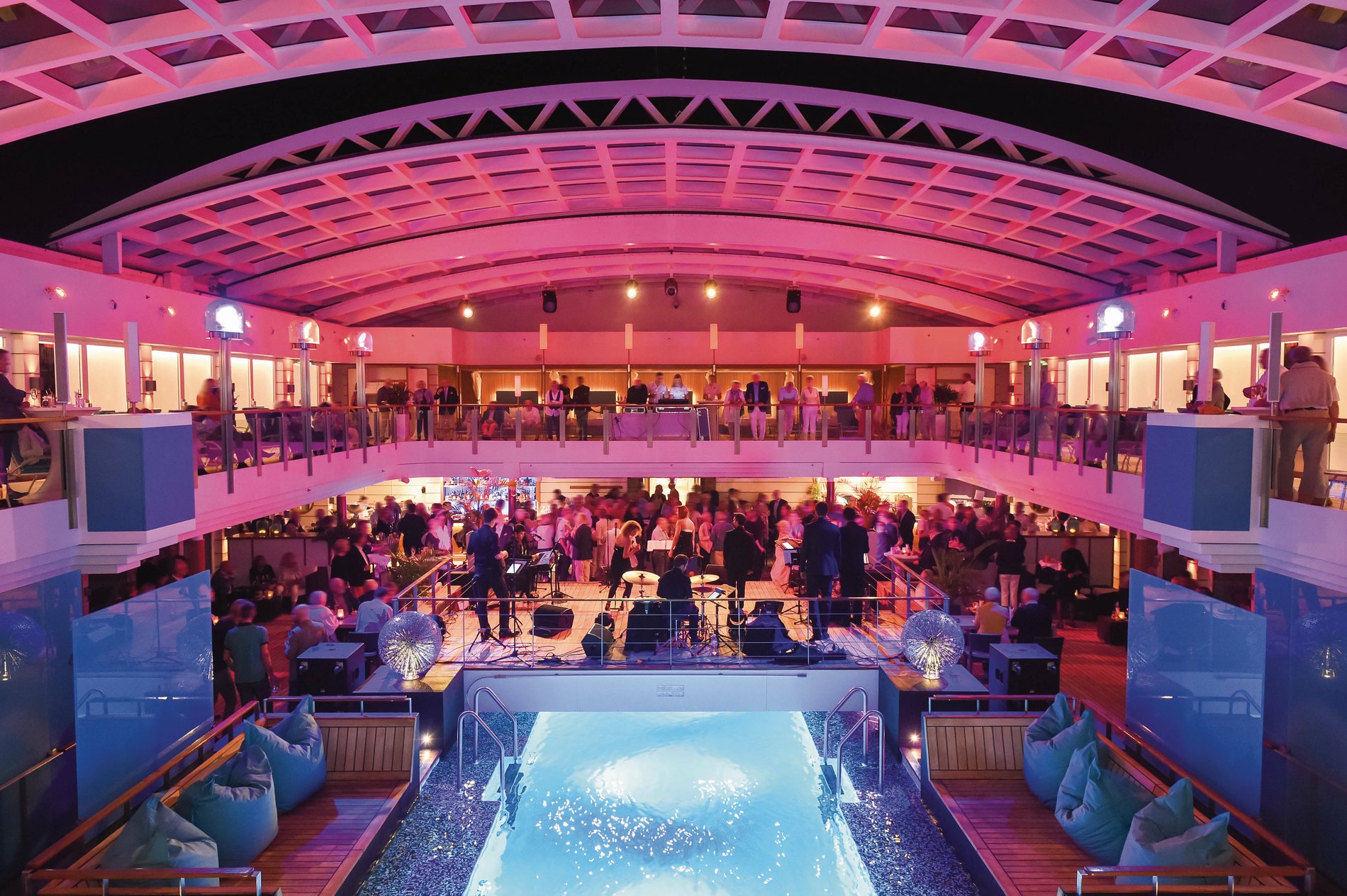 Hapag-Lloyd Cruises' Europa 2 continues to redefine luxury at sea
If you're looking for a cruise with the accent on excellence, you've got to hand it to Hapag-Lloyd Cruises, says Henry Macrory You meet all sorts on a cruise. Years ago I interviewed a bubbly New York widow who had taken a luxury cabin for three months. Actually it was two cabins: one for her
If you're looking for a cruise with the accent on excellence, you've got to hand it to Hapag-Lloyd Cruises, says Henry Macrory
You meet all sorts on a cruise. Years ago I interviewed a bubbly New York widow who had taken a luxury cabin for three months. Actually it was two cabins: one for her and one for her menagerie of soft toys – cats, dogs, rabbits, hedgehogs, bears and a hippo called Hector.
I thought of this eccentric lady as I crossed the Atlantic on Europa 2 last month. Had she chosen this flagship of Hamburg-based Hapag-Lloyd Cruises, she and her fluffy friends could have shared the same quarters with room to spare. At 375 square feet, the smallest suites on Europa 2 are the size of a studio at, with a large double bed, acres of wardrobe space and a sofa-strewn living area, not to mention an ocean-view private veranda with sunbeds, tables and chairs.
When I joined the ship at Lisbon, the tail-end of hurricane Ophelia was still whipping up a swell. Officially the sea was "rough" but you'd never have known. Thanks to state-of-the- art stabilisers (and perhaps to a welcoming complimentary bottle of Champagne) I slept so soundly that I nearly missed breakfast in the Weltmeere restaurant.
Not that the word "breakfast" remotely does justice to this prodigious feast. Never mind the choice of 14 egg dishes and more than 20 types of bread, who's for steak tenderloin or smoked trout fillet with salmon caviar, washed down with a chilled glass of sparkling wine?
While I was digesting the above – or as much of it as I could manage at nine in the morning – news came through that Europa 2 had won the highest distinction in Stern's Guide to the Cruise Vacation 2018. Six stars-plus will go nicely with her maximum 5 stars in every Berlitz Cruising & Cruise Ships Guide since her launch in 2013. I'll drink to that – how about a glass of that nice Villa Antinori? (I might mention here that the ship's cellar has 450 different wines and Champagnes.)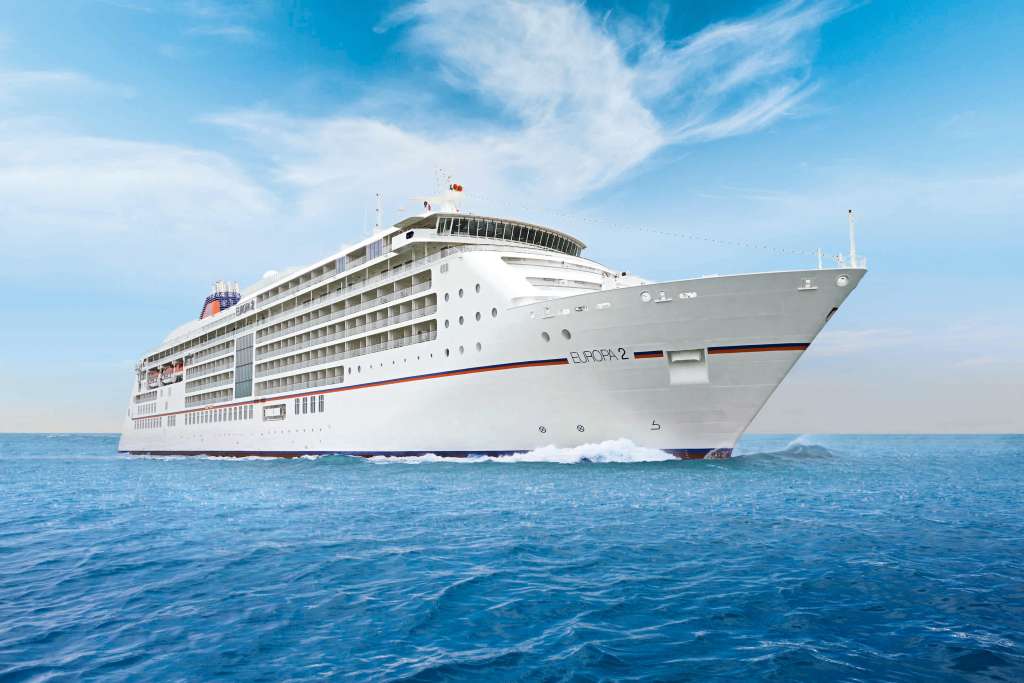 It's easy to see why Europa 2 keeps winning accolades, and why seasoned travellers will tell you there's nothing afloat to beat her. Three things stand out. First, there's the service. Hapag-Lloyd Cruises have been sailing since 1891 and they know a thing or two about customer care. Europa 2 is the jewel of their fleet, and on my cruise no fewer than 370 crew saw to the needs of 435 passengers (we also had a stowaway, but more of him later). The staff – mainly German, Austrian and Swiss – were enthusiastic, able and predominantly young. What's more, most spoke better English than the average Englishman (Hapag is keen to attract discerning British guests and everything is bi-lingual).
Nothing was too much trouble. A White Lady and a Raspberry Bramble by the pool? Coming right up. A Caprese salad and – oh, why not? – a slug of Grey Goose vodka while I chill out on my veranda? On their way. When I managed to cause a minor flood in my bathroom, Nina, my charming cabin steward, was on hand with a mop in seconds and assured me it was the ship's fault and not mine – a little white lie that made me feel a whole lot better about my clumsiness.
Then there is the sheer space – more per passenger, the directories will tell you, than any cruise ship afloat. And that's not just in the suites. You notice it in the wide staircases and the generous communal areas, bathed in natural light from every direction. You never feel crowded or hemmed in. You never have to fight for a deckchair or a seat at the bar.
Thirdly, there's the informality. Being a comparatively small ship (500 passengers maximum, encompassing all age groups), Europa 2 is more a floating village than a floating city. The dress code is smart casual – "21 knots without a tie", as the company likes to say – and a jacket and slacks at the smarter restaurants is as strict as it gets.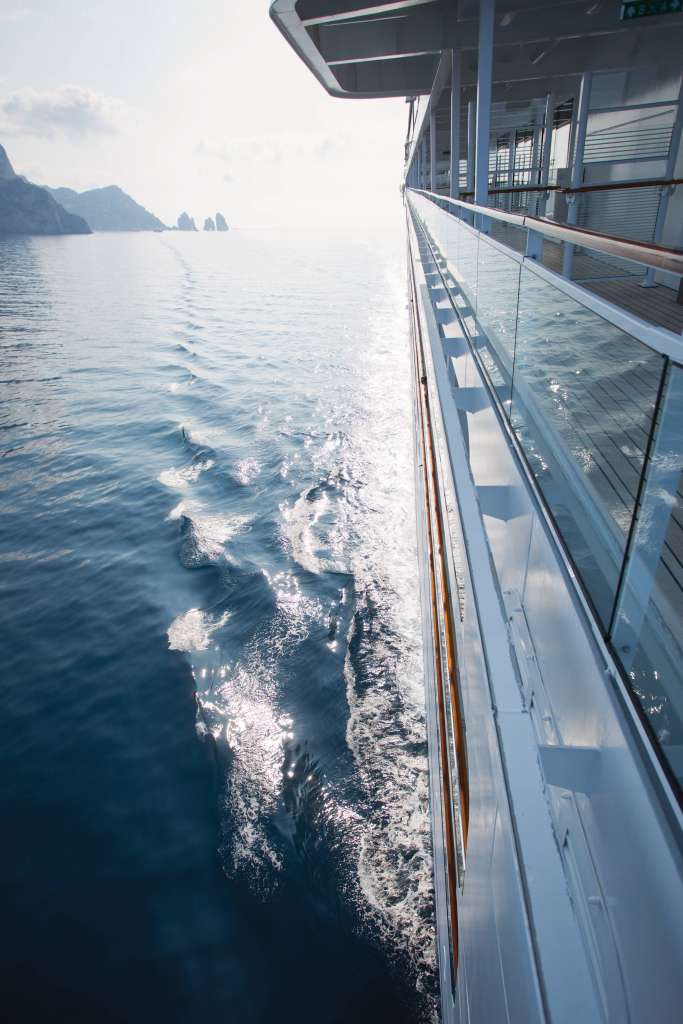 The atmosphere on board is free and easy, and the tone is set by the "can-do" spontaneity of the crew. Not long ago Captain Ulf Wolter spotted a fishing boat while sailing up the coast of Brazil. He stopped the ship and despatched the head chef in a tender to buy up the entire catch. The fisherman were delighted by their unexpected cash sale, the passengers cheered as a huge haul of red snapper was brought on board, and that night everyone dined on the freshest of fresh fish.
Then there was the time the captain dropped anchor near a tiny uninhabited island in the Caribbean so that everyone could have a dip. Soon, pretty well the entire ship was enjoying an impromptu beach party. Waiters came ashore to serve Champagne and cocktails, the chefs organised a barbecue, and the crew lit ares in the sand as the light faded. "Unplanned and unbelievably romantic," says a passenger who was there.
Even without unscheduled feasts and beach barbecues, there is plenty to occupy you. The ship's fitness centre has exemplary gym facilities – of course – but there is something else: golf. With two simulated driving ranges you can play on any of 15 world-class courses at the flick of a switch. Cameras and computers analyse your swing as you whack the ball at an elasticated screen and show you where you've landed. Hooked your drive? Roland Milich, the ship's PGA golf trainer, will put you right.
After a brisk 18 holes at Gleneagles you can pop into the spa next door, where you'll find three saunas ranging from 45 to 90°C, a mineral steam bath, a whirlpool and a lot of people wandering around starkers (this is a German ship, after all). Like the golf, it's free, but you can pay for extras such as a 90-minute full-body massage. Mind you, my Grand Ocean Suite on Deck 5 was a spa in itself, with a whirlpool tub, a mini-sauna in the shower room, underwater spotlights in the bath, you name it. For a bigger splash, there's a 15-metre pool on Deck 9 with a retractable roof that closes in bad weather like the Centre Court at Wimbledon.
Feeling peckish? That first breakfast in the Weltmeere was merely a taste of things to come. My favoured lunch spot quickly became the self-service Yacht Club on Deck 9, with a truly vast range of dishes and the option to enjoy them al fresco. The cold buffet alone served boiled half-lobster, king crab legs, shrimp cocktail, oysters and mussels. As for pudding, don't get me started on the ice creams. Or the truffles. Or the cappuccino mousse encased in a chocolate teacup.
Sensible people say you should breakfast like a king, lunch like a prince and dine like a pauper. Sensible people can get knotted. During my eight days on Europa 2 it was "emperor, emperor, emperor" (and that's not counting the teatime waffles with plum purée and whipped cream at the Pool Bar).
On an average evening, 56 chefs conjure up 120 different à la carte dinner dishes at seven restaurants. As well as the Yacht Club and Weltmeere (flexible hours, no need to book, numerous tables for two) there are several speciality restaurants, including French-based Tarragon (don't miss the pâté de foie gras and lobster tail and claw), Asian-themed Elements (do try the lamb curry), Italian Serenissima (excellent guinea fowl) and sushi-specialising Sakura (look out for the crunchy salmon and lemon tobiko roll).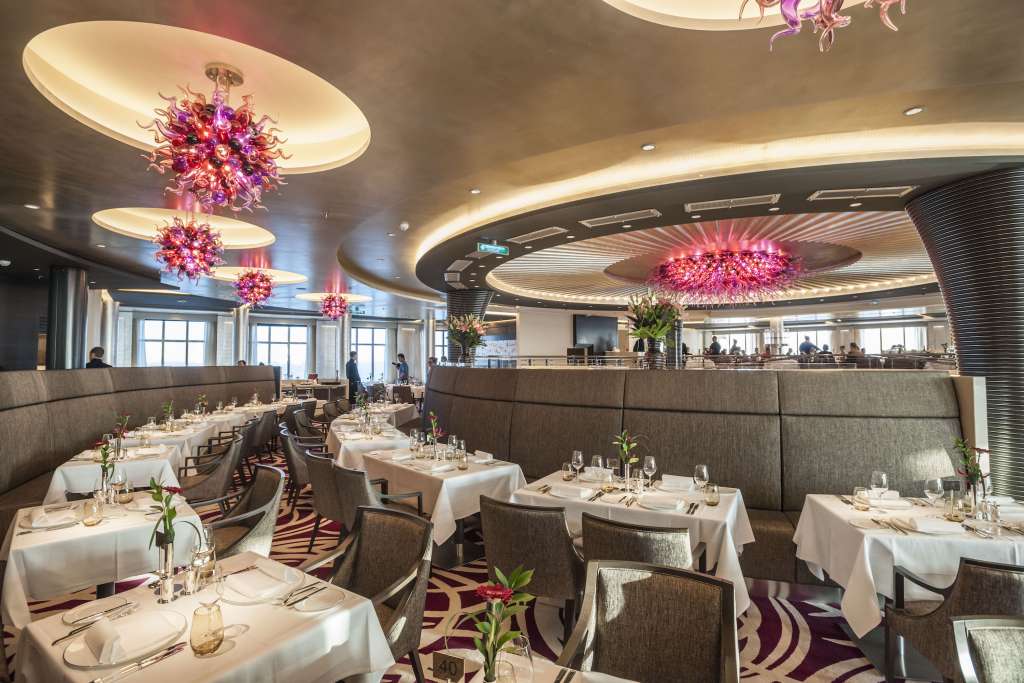 Between meals there's plenty to do in the way of yoga, pilates, tours of the bridge, complimentary caviar nights, cookery classes and lectures, not to mention Champagne tastings with head sommelier Tobias Lubasch (an exceptionally enjoyable if hazy 90 minutes). Speaking of which, among the six bars I particularly liked Collins, where barman Lyudmil Georgiev keeps the largest gin collection at sea – 46 varieties from ten countries. And if it's quiet time you're after, you can check your emails over a cuppa in your suite, catch the sun on your veranda, or simply watch a film (all rooms have internet access, Nespresso coffee machines and a flat-screen TV).
Europa 2's evening entertainment is more Radio 3 than Radio 2, taking place in a vast auditorium with swivel arm chairs and a bevy of waiters to bring you drinks. One night a group of brilliant young classical musicians earned a standing ovation for their renditions of Hollywood movie themes (including, mischievously, Titanic). On another night a ten-strong Spanish dancing group put on a breathtaking show of tango and flamenco.
What have I forgotten? Ah yes, the stowaway. He was a tiny sparrow who was hopping around on Deck 5 when the ship left Lisbon and decided to stay. Wise move. As he flitted from veranda to veranda, snacking on chopped-up berries, crispbread and seeds left out by doting passengers, this pampered bird enjoyed the last word in seaborne comfort. Just like the rest of us.
✪ The next Europa 2 transatlantic sailing is in March 2019. For further information on all Europa 2 cruise itineraries see hl-cruises.com or call 0800 0513 829