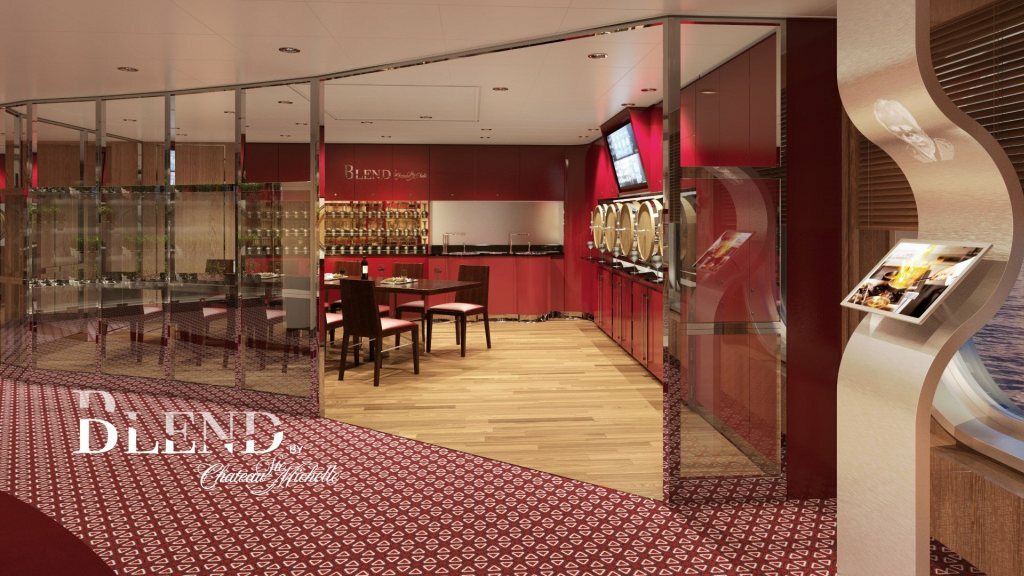 Holland America invites guests to blend their own wine on Koningsdam
Holland America Line has revealed a new venue aboard their latest cruise ship, ms Koningsdam, where wine connoisseurs and novices alike can blend their own wine. In collaboration with Chateau Ste. Michelle, Washington State's oldest and most acclaimed winery, the intimate venue will enable up to 10 guests at a time to blend their own
Holland America Line has revealed a new venue aboard their latest cruise ship, ms Koningsdam, where wine connoisseurs and novices alike can blend their own wine.
In collaboration with Chateau Ste. Michelle, Washington State's oldest and most acclaimed winery, the intimate venue will enable up to 10 guests at a time to blend their own wine and enjoy it at dinner or in the privacy of their stateroom.
Known as 'BLEND by Chateau Ste. Michelle', this concept is the first of its kind for the cruise line and will be the only purpose-built wine-blending venue at sea. Guests can create their own blend from a selection of five barrels of single-vineyard red wine. In addition to participating in the blending process, guests will also learn about wine from the ship's wine expert, who will lead the blending session.
After watching a welcome video by Bob Bertheau, Chateau Ste. Michelle's winemaker, guests will learn interesting information about the history of Washington wines and winemaking, examine soil samples, and see how different vineyard sites impact the flavours and style of the wine. The Cellar Master will also instruct guests on what characteristics, flavours and nuances to look for in the wine from each barrel.
Guests will then sample the five unique wines, including Cabernet Sauvignon, Cabernet Franc and Merlot from the winery's Cold Creek and Canoe Ridge Estate vineyards, and make tasting notes on what they like about each. The blending begins in a graduated cylinder, with guests determining how much of each wine to include in their personal bottle.
After the customised wine blend is put into the bottle with a stopper, guests then create their own personalised label. The wine will then be sent to The Dining Room or another restaurant, where it will be waiting for the guests to enjoy with their evening meal, or to their stateroom to enjoy at their leisure.
Orlando Ashford, president of Holland America Line, said, "At the core of every Holland America Line cruise is our desire to offer unique, immersive and innovative experiences, and BLEND by Chateau Ste. Michelle is all of those things and more. The BLEND experience on Koningsdam is designed to appeal to everyone, and it will be exciting for our guests to create an exclusive wine tailored to their personal taste that they can enjoy on-board with our exceptional cuisine."
The wine blending sessions will be held daily for a fee (to be announced), and reservations will be required.
Koningsdam is due to launch in April 2016.
(Image credit to Holland America Line)