Search for your ideal Cruise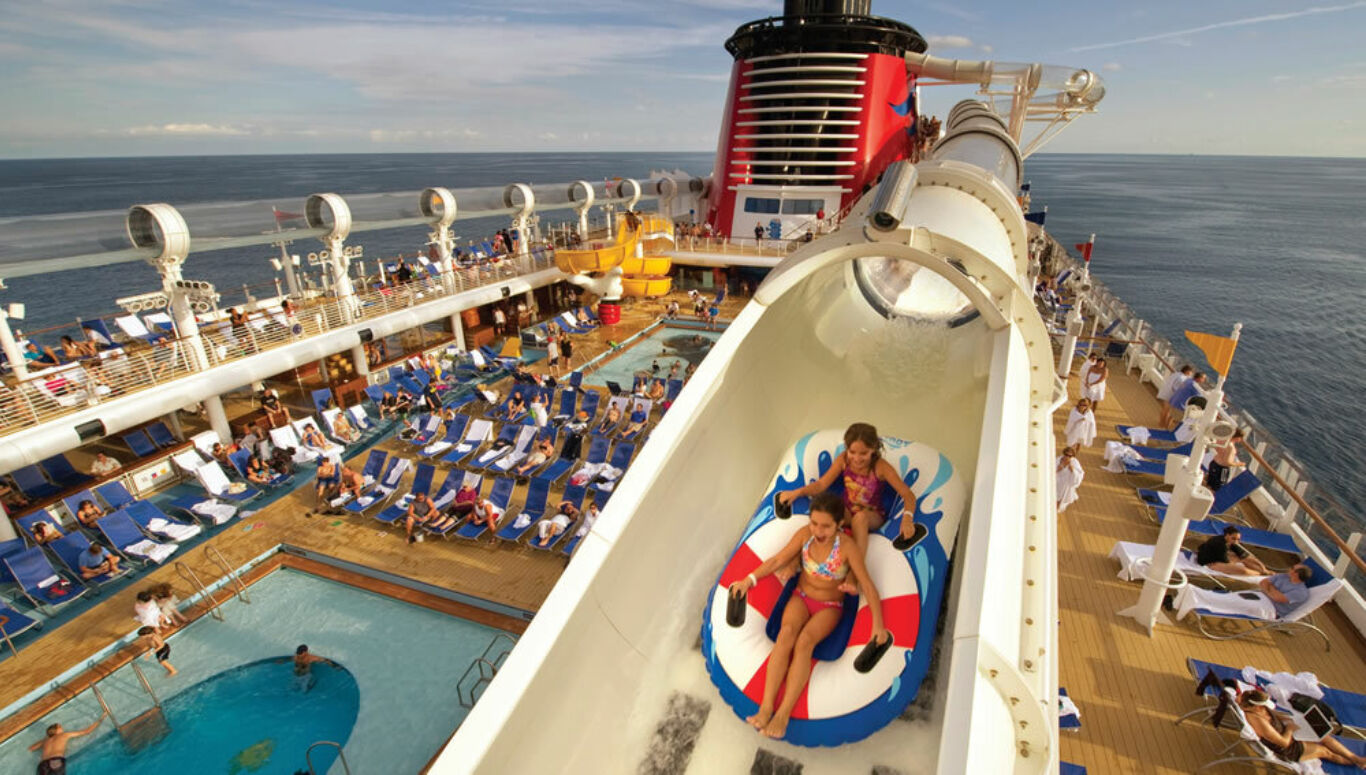 Living the Disney Dream
It's not all about Mickey Mouse and the kids – this cruise to the Bahamas has something for every member of the family. I'm standing on the deck of a cruise ship, watching the best part of 4,000 passengers dressed in swashbuckling finery, cavorting around the pool deck, cheering and shouting as Jack Sparrow thwarts
It's not all about Mickey Mouse and the kids – this cruise to the Bahamas has something for every member of the family.
I'm standing on the deck of a cruise ship, watching the best part of 4,000 passengers dressed in swashbuckling finery, cavorting around the pool deck, cheering and shouting as Jack Sparrow thwarts a gang of wayward pirates.
Suddenly, they are stunned into an awed hush as a spectacular fireworks display shoots through the warm breeze. As the last embers fall to the sea a pirate-attired DJ spins a Justin Bieber track, and everyone dances as if their life depends on it.
From tiny toddlers, pre-teens and moody teenagers, to exhausted mums and dads, even giddy grandparents – everyone is joining in, high on life (presumably), sugar (probably) but most definitely, indisputably high on Disney.
From what I can tell, perceptions of setting sail on a Disney cruise are largely split into two camps; either you expect it to be full-on, dialled-up Disney (The. Best. Thing. Ever.), or you expect it to be full-on, dialled-up Disney and therefore your idea of a living hell. In the interests of full disclosure, I'm definitely more in the former camp.
H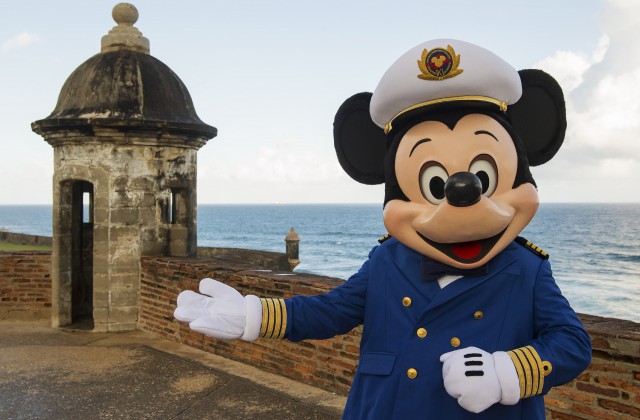 owever, I can appreciate that it's not everyone's cup of tea, so I was curious to see whether either of those perceptions lived up to the reality of being on a Disney cruise ship. A four-night cruise from Florida to the Bahamas on Disney Dream provided the perfect opportunity.
First, though, came a couple of nights in Orlando as part of a 'cruise and stay' package. Disney manages the logistics of this from the moment you step off the plane, so the process of going from airport to resort to ship and back to the airport is a completely smooth transition. All you have to do is remember to pack up your bags at the right time!
The time in DisneyWorld before getting on the ship was a fantastic way to ease into the Disney way of life on board. Even a small stay at the resort is enough to turn up the Disney dial gradually and actually, when compared to the hectic nature of the theme parks, the ship immediately feels more relaxed in comparison.
Once aboard, it becomes immediately clear that this is cruising but not as you know it.
From the greeting announcements made by the crew for every single family as they board the ship, to being waved off with Mickey hands as you disembark, it is clear that every crew member has one goal, and that is to make sure you have the best time possible.
Disney has developed a rotational dining system which assigns passengers to a different restaurant each night of your cruise, so that everyone can experience all three main dining rooms. Your service team follow you to each in turn; they get to know your likes and dislikes and you can build up an understanding. It didn't take long for Linval and Ora to know exactly what to recommend to me from the wine and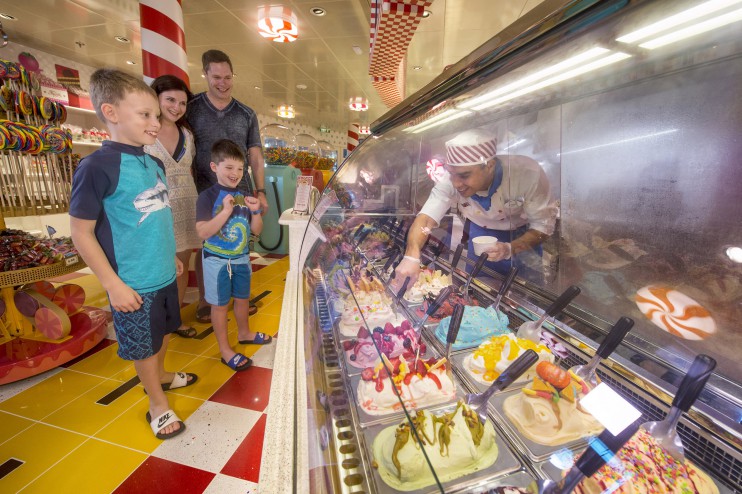 food options available based on what they had learnt of my taste, and I completely trusted their suggestions. This simple touch makes all the difference, not only for the guest experience, but also for the crew as they become more invested in looking after you as they get to know you.
Each of the main dining options included in the fare – all of an extremely high standard – has its own style, both in cuisine and in terms of themed concept. The surprise interactive elements delight adults more than the kids in some cases!
There are two additional adult-only dining options – Palo and Remy – which can be experienced for an extra cost. I'm a huge fan of Italian food, and I have to say Palo was amongst the best I have experienced outside Italy, together with wonderful service in an intimate restaurant setting.
As with everything else on board, Disney pays enormous attention to detail, and to the demographics of its passengers. I had assumed most, if not all, of the facilities would be squarely aimed at families. I don't have kids, so I was prepared to accept I might be left out. However, while the ship has several areas designed for families to spend time together – like the main pool deck – a lot of thought has been put into providing facilities to appeal to each age group separately.
There are four kids' clubs, each segregated by age group and tailored to that age group's needs. The Oceaneers club for 3-12 year olds comes complete with a full replica of the Millennium Falcon and Andy's room from Toy Story, the only oversight being not predicting the enthusiastic reactions that adults also have to these spaces. But I was firmly told they are strictly for kids only.
Over at the teens club, Vibe – with its own sun deck and pool – adults are locked out and have to knock to be allowed entry, something I could only have dreamed of during family holidays in the 90s! If desired, Your kids can spend all day and evening there as the clubs close between midnight and 2am, depending on the age group.
To compliment the kids' facilities, there are many adult-only spaces – an extremely relaxing spa area, adult-only sun decks, pools, bars and restaurants. In short, you have the option of dialling your Disney up and down as you wish. If it all gets a bit much, there are plenty of lovely areas to spend time in that won't grate, but still executed with Disney's attention to detail and service. And of course, if you do have kids, you feel you can trust Disney to look after and entertain your children so you can all spend as much (or as little!) time together as you like – giving everyone the chance to truly relax.
On our four-night cruise we visited two ports of call, Nassau and Disney's own private island, Castaway Cay. Both ports offer a wide choice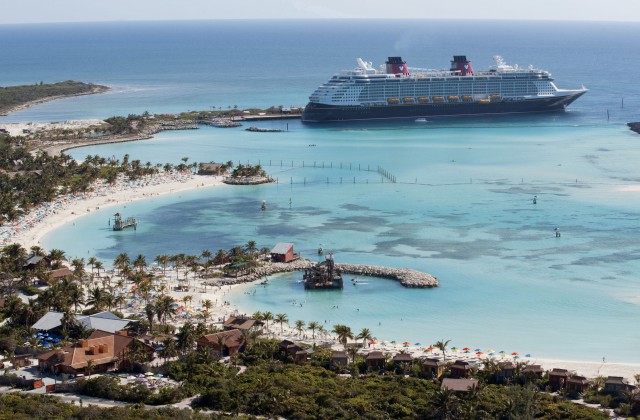 of Port Adventure excursions for an extra cost. At Nassau, many of these are based at the Atlantis Hotel, famed for its aquariums and waterpark. While this was a fun day, it just wasn't to the same standard I had become accustomed to with Disney.
It really paled in comparison to Castaway Cay, the real gem of the Disney Bahamas experience. The island resort is completely controlled by Disney, which brings the same attention to detail from the ship onto the island, replicating the thought behind family, kids and adult-only spaces. We spent most of the day at the adult-only beach, swimming in turquoise waters, sipping cocktails on hammocks and having a massage in a private cabana. When I was ready to wander back to the ship, I met Olaf the snowman on the way (I told him I liked warm hugs too)!
Disney has the ability to appeal to all ages, because every living generation remembers Disney as part of their childhood. There is an unparalleled body of work to draw on to take anyone back to being a kid. And Disney will leverage this whenever possible, particularly during the live Broadway-standard entertainment shows, using top-notch performances, special effects and their characters in a way designed to speak to the kid in everyone.
No nook or cranny is left bare of a Disney touch, no opportunity missed to provide moments of delight for every age at every turn. Even the most cynical become swept away with the magic in the end, as was evident as I watched from Deck 11, at the mass of Jack Sparrow wannabes. Young and old, cynics and believers alike, everyone had their Disney dialled up to infinity and beyond.
SHIP FACT
LENGTH 1,114 FT
TONNAGE 129,690
DECKS 14
PASSENGERS 2,500 (Lower beds only) 4,000 (maximum)
CREW 1,458
THE BASICS ON BOARD DISNEY CRUISE LINE
Cappuccino: $2.95
Speciality tea: $4.50
Draught beer
Budweiser $5.50, Stella Artois $6, Newcastle Brown Ale $6.50, Guinness $7.50
Wine
Californian Chardonnay $8.50, Californian Merlot, $8.25
Cocktail of the Day $8.50
Laundry: Shirt/blouse $3.
Dry cleaning: Evening dress $8
Spa treatments
Chocolate Indulgence body treatment (75 minutes) $141 24 karat gold facial (75 minutes) $325 men's grooming and shave (50 minutes) $125
Palo cover charge $30pp ($59 with wine pairing).
Remy cover charge $85 ($105 with wine pairing)
Internet access is charged by the megabyte. Pay-as-you go: $0.25 per mb; 100mb $19, 300mb $39, 1000mb $89