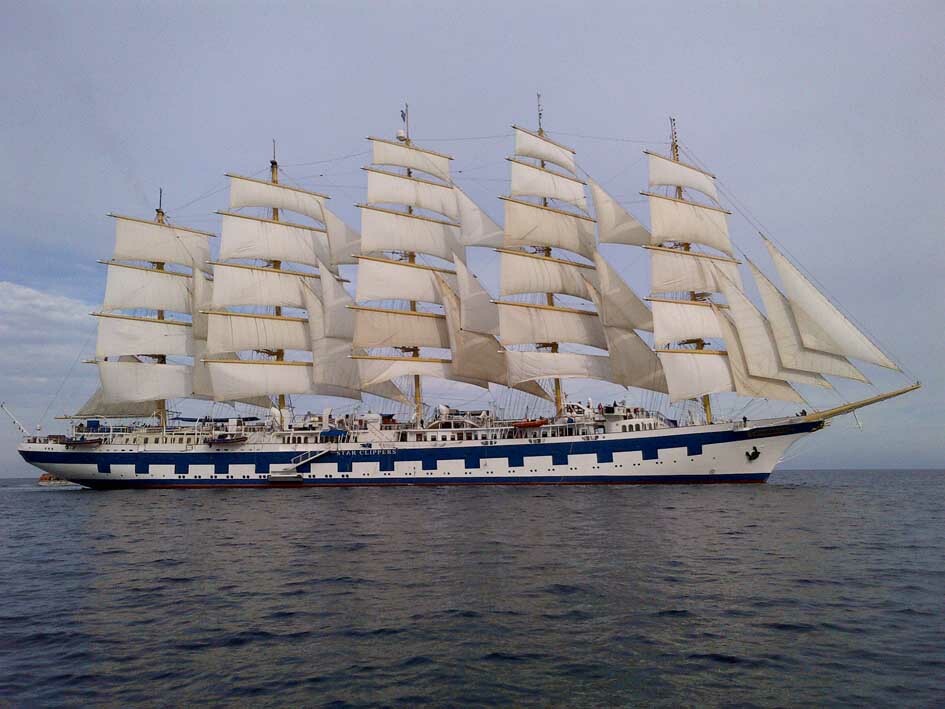 Sail away
Nothing captures the aura of days gone by adventure like cruising under sail, and it's a growth area. Steve Newman checks out the options Cruise companies have realised that more and more people want to be environmentally friendly when they take a cruise these days. Well you can't get much greener than a sailing ship
Nothing captures the aura of days gone by adventure like cruising under sail, and it's a growth area. Steve Newman checks out the options
Cruise companies have realised that more and more people want to be environmentally friendly when they take a cruise these days. Well you can't get much greener than a sailing ship especially one that has been built as or converted into a 5 star luxury cruise liner.
Adventure cruising under sail is becoming more and more popular. With only 150 to 300 guests on board, many of these sailing cruise ships have an almost private yacht feel about them. The teak decks and billowing white sails, luxurious amenities, gourmet cuisine and exceptional service complete the experience.
To be on the deck of a sailing ship at sunrise is always a memorable occasion. As the early sun paints the sails on the ship with a marvellous orange light, you may lean over the bow and watch dolphins riding the ship's wave. It is truly unforgettable.
With their small drafts these ships can also visit out of the way parts of the world and by maintaining a 5 star service level, they attract loyal cruisers back again and again.
Nervous passengers need not fear as modern sailing ships have stabilisers to ensure a smooth journey. They also have engines for manoeuvring in port and keeping on schedule when the wind drops and for other safety factors. Some ships use mechanical winches to control the sails whereas others use sailors specially employed to work the sails and rigging with some assistance from mechanical winches.
If you want to get even closer to the shoreline, there are a number of smaller boats that take no more than twenty people on board. The curious can sample destinations as far apart as the Nile and the Canadian Northern Pacific coast.
Here's a round-up of what's on offer. So just take your pick and shiver your timbers, splice the mainbrace and haul up the mainsail with the company of your choice. On the other hand you could just sit with a gin and tonic on the deck and watch the crew do it instead.
Star Clippers
Star Clippers has three ships in its fleet and all are modern, high-tech, recreations of the classic clipper sailing ships that dominated the oceans of the world in the 19th century. Star Flyer, Star Clipper and their sister, the five-masted Royal Clipper, sail on voyages in the Caribbean, South East Asia and Mediterranean and, more recently, the islands of French Polynesia. Passengers can learn how to tie knots, help the crew raise the sails or just lie back in the pool. Tenders take you to the beaches of deserted islands such as the Tobago Cays.
Sea Cloud
Sea Cloud Cruises Germany has two 5 star sailing ships in its fleet. The Sea Cloud and Sea Cloud II are both windjammers where the sails are still set by hand by trained riggers but with some mechanical winches involved. The elegance of times gone by has been faithfully restored on both ships be it on the bridge, the promenade decks or in the restaurants. Destinations include the Caribbean, Western Mediterranean and the Azores and Madeira. Both ships use Zodiacs to ferry passengers to the shore.
Windstar
Windstar also has three sailing ships in its fleet which take fewer than 150 guests on board. These ships are more of a luxury yacht style with sails. The ships are registered in the Bahamas and they cruise around Europe including the Baltic and the Med. In addition, the winter seasons are spent in the Caribbean, Costa Rica and Panama, and Tahiti. The yachts have tenders and Zodiacs on board.
Compagnie de Ponant
French cruise line Compagnie De Ponant is renowned for its high-end luxury cruise yachts but in fact Le Ponant was its first vessel. Usually it has three Zodiacs available that can embark up to 10 passengers, although the actual number can change depending on the commandant's decision. Two tenders can also be used if needed for transfers to shore. She is a three-masted yacht with capacity limited to 64 passengers to provide intimacy and a convivial atmosphere to the cruise.
Bales World Wide
If you prefer something a bit more sedate and up market than the modern day Nile cruise then Bales Worldwide has four Dahabiyyas – the Amber, Musk, Nesma and Zahra. These beautifully crafted 19th century style river sailboats revive the elegant days when aristocrats and sophisticated travellers cruised the Nile. The vessels are fitted out in colonial style with oriental and Egyptian touches and comprise six individually designed cabins, an elegantly furnished lounge and two sun decks to admire the fascinating scenery while relaxing to the sound of the soft billowing sails and ice chinking in the glass.
Saga
Gulets are two-mast wooden sailing boats, refined for modern holiday-makers' comfort by providing eight en suite cabins with air-conditioning. The former fishing or sponge diving boats each have a different character and décor to make the sailing experience totally unique. Saga offers a Gulet cruising as a signature Turkish experience featuring small-ship style with a real up-close-and-personal taste of the local culture and cuisine. Its holidays travel in a flotilla of up to three boats, where life on board is friendly and relaxing, with the captain and two crew taking care of guests.
Movenpick
If you want to cruise the Nile in style then Movenpick SB Feddya features a dedicated private butler for each suite 24-hours a day, a free hot tub and a sundeck. With only four suites on-board, this boutique sailboat is the closest experience to having your own private yacht. Each suite contains a private balcony overlooking the Nile and a seating area with a satellite flat-screen TV.
Alila Purnama
Alila Purnama provides ultra-modern and relaxing accommodation for up to 10 guests. The 46 metre long ship consists of three decks and has been built by hand in the traditional style of an Indonesian Phinisi boat. The company offers three sailing routes, including the Raja Ampat Voyage and Komodo Island Expedition. Onboard are five well-appointed cabins, all air-conditioned with queen-size beds, and en-suite bathrooms with showers.
Maple Leaf Adventures
For those seeking a boutique expedition cruise by sail, Maple Leaf operates cruises of one to two weeks in length aboard its restored, classic, wooden schooners. Trips feature an exceptional crew-to-guest ratio (8 or 9 guests and 4 or 5 crew). Trip dates are April through October every year. Trip locations include Alaska, Great Bear Rainforest, Gulf Islands National Park Reserve, Haida Gwaii, and Vancouver Island
Bluewater Adventures
Bluewater Adventures sails two two masted 68-foot ketches around the northern Pacific, in the Queen Charlotte Islands, the Great Bear Rainforest and the waters of the Inside Passage north of Vancouver. The Queen Charlotte Islands sailings gives an insight into the lives of the native peoples of the region and you should also see whales. The inside passage and Great Bear trips specialise in whales and bears.