The Pursuit of Perfection
Richard Chalu took a tour around the recently refurbished Azamara Pursuit ahead of her inaugural voyage with the cruise line
Richard Chalu took a tour around the recently refurbished Azamara Pursuit ahead of her inaugural voyage with the cruise line
Earlier this year, she was sailing around the world as Adonia – a member of the P&O Cruises fleet – and has since been completely re-imagined by Belfast-based shipyard, Harland and Wolff.
You wouldn't know through such a dramatic overhaul to walk around her now. But despite wholesale changes to 'azamaze' the ship, one of her original features remains: that beautiful grand stairway.
Its iron balustrades are reminiscent of the elegant cruise liners of the early 20th century and we were thrilled to see them remain in her new incarnation.
Everything about Azamara Pursuit screams elegance and its interiors are a luxurious mix of traditional and modern sophistication, which evoke the feeling you're in a sumptuous country hotel.
The Spirits Bar is found on deck 5 in an area called The Den – essentially a reimagined atrium – and is in a space formerly occupied by a casino.
Indeed, Azamara Club Cruises plans to remove the casinos from Pursuit's sister ships too. A bold move, perhaps, but we love it.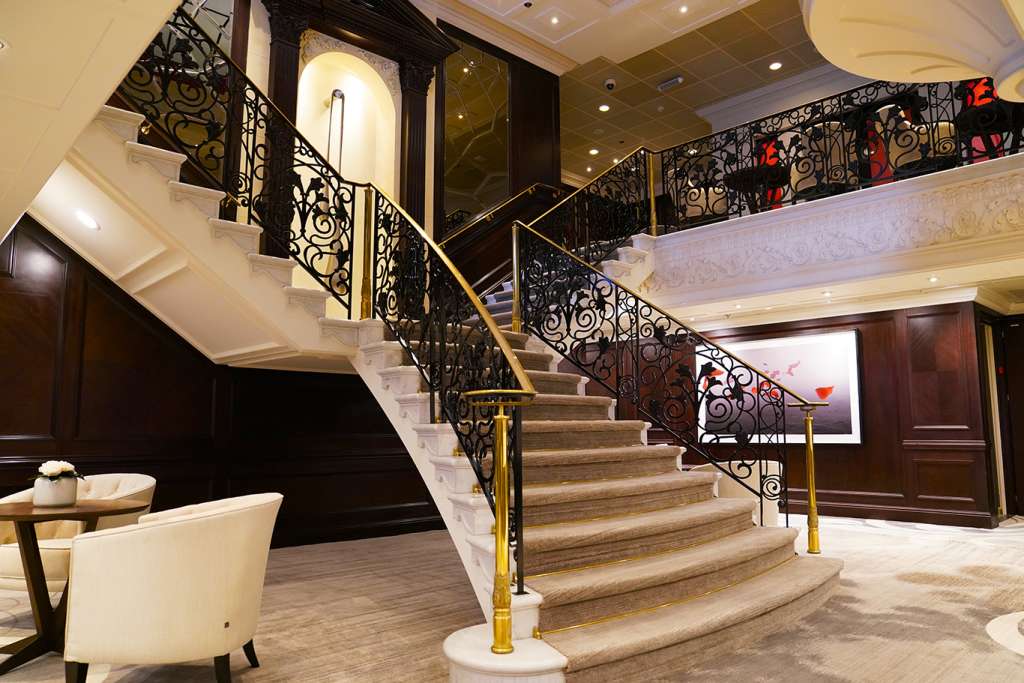 The Cabaret Lounge (also on deck 5) is the evening go-to for shows, live music and entertainment. There's a large bar at the back to grab a drink, sit back and let yourself be entertained!
Discoveries (again, deck 5) is the main dining venue and serves a variety of dishes inspired by the destinations you are sailing to. It's open dining, so you can either choose to sit in a party of two or join a larger table and make new friends.
Want a more laid-back dinner? Make your way to the buffet-style restaurant Windows Café – housed towards the rear of deck 9.
Then there's The Patio on deck 9 which is a pool grill during the day before turning into a romantic candlelit dining venue in the evening for those al fresco dinner dates by the pool.
Need to get your hair and nails done before the famous Azamara White Night party? The Sanctum Spa is the place to be for a quick pamper before that special evening ­– but not before a relaxing massage and a dip in the Thalassotherapy pool (that's a posh word for 'mineral-rich seawater' to you and me).
Wellness seems to be a buzzword in the cruise industry these days and the Fitness Centre onboard Azamara Pursuit has to be applauded for its size. It's a large, uncrowded area full of the latest cardio and resistance equipment. Bravo to Azamara for giving us gym rats a generous facility!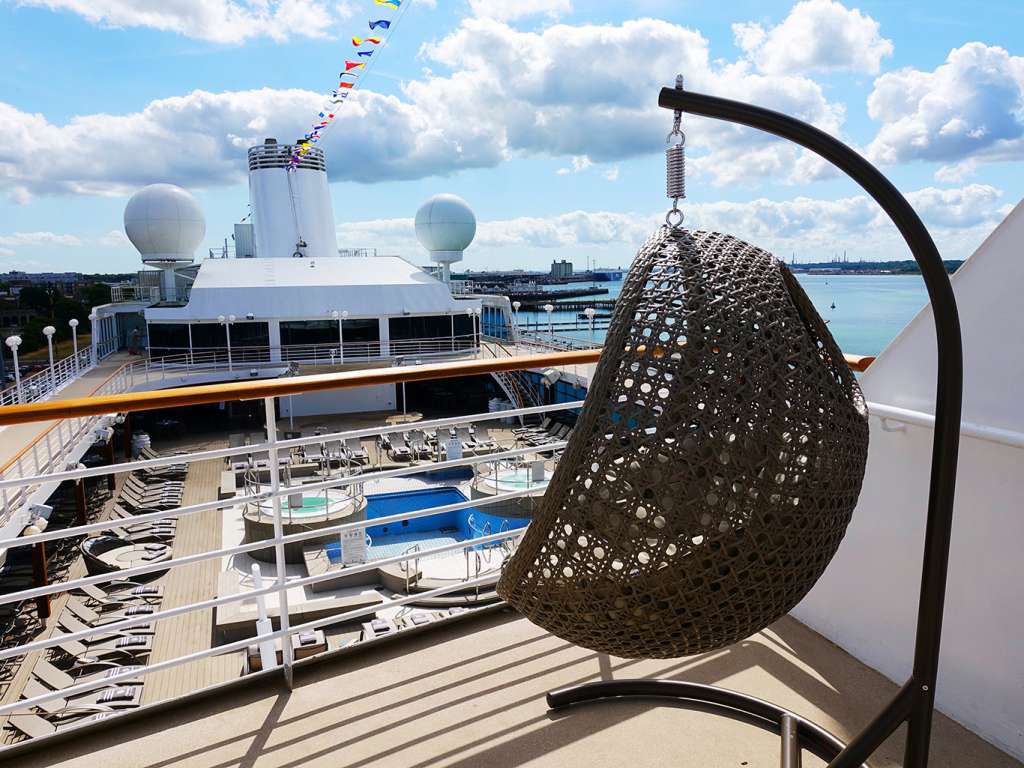 The speciality restaurants on deck 10 are subject to a charge – unless you're a suite guest when they are complimentary – but you are advised to get in quick as these two restaurants get booked up very quickly.
What's on offer? Well, Aqualina has an Italian-inspired menu and the decor has the clean elegance of a high-end restaurant, whereas Prime C is a steak and seafood restaurant of the highest order – the filet mignon and chateaubriand are two universal favourites.
Plus, we love that every restaurant has its own dedicated bar area meaning there's plenty of venue choices for pre- and post-dinner drinks.
Granting a panoramic view over the front of the ship on deck 10 is the Living Room. There's a bar here that serves teas, coffee, wines and spirits where you can linger on a variety of comfy seating and irresistible loungers for hours on end.
The Club World Owners Suites and Club Ocean Suites occupy the rear and the very front of the ship respectively and are the largest suites on the ship.
Their decor is modern and subtle with furnishings in natural, earthy colours and restful creams.
There is no bath in these suites, but the double-size shower tiled with chevrons of natural stone looks a lovely place to linger under a cascade of water from the giant shower head.
And the large balconies are the perfect place for privacy for those afternoon naps on the sun lounger.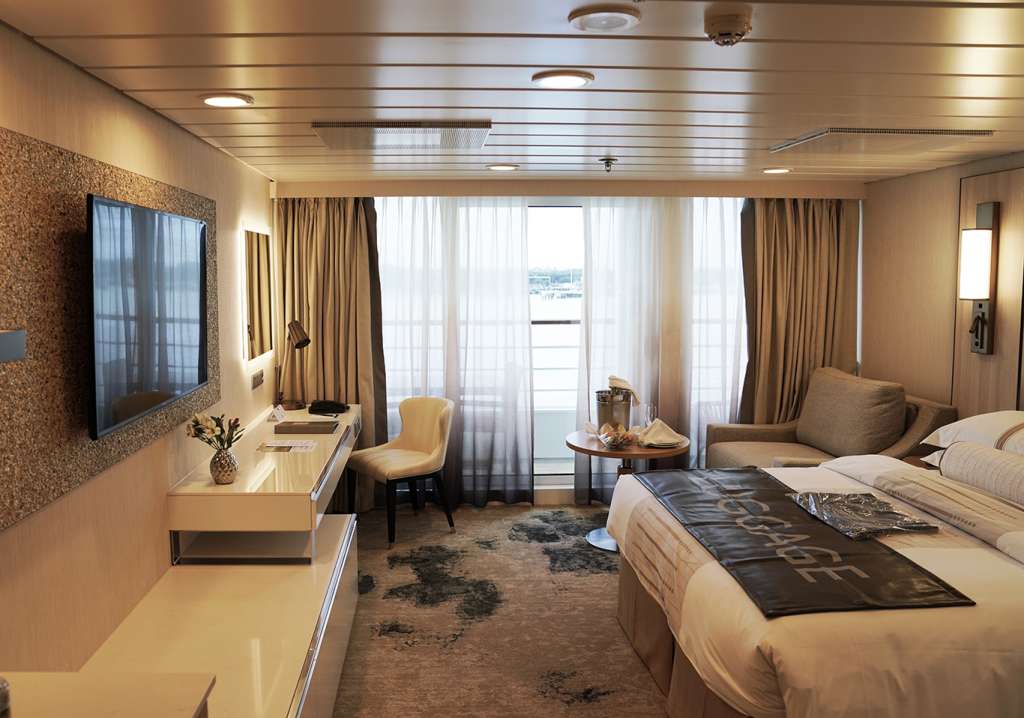 The Club Continent Suites differ quite considerably in style to the aforementioned suites. They have a funky, bright, Scandinavian look about them with part-textured quilted wall panelling and Swedish-style modern wall units with soft closing drawers.
The club veranda staterooms are the ones most of us will stay in. They're a bit on the snug side, but Azamara have put the same effort and little touches to make them feel like the grand suites' little siblings. Think of them as luxury on a smaller scale.
Being brutally honest, the balconies are a touch small for a luxury ship, but admittedly Azamara do have to work with the constraints of an 'R-Class' ship layout. Plus, the addition of a table and chairs makes them very useable despite their size.
Finally, the Club Spa Suites are our favourites of them all. Just two on the ship, situated right next door to The Sanctum, they are brilliantly designed with textured walls, exotic mood lighting and the most fantastic bathroom area you're likely to see on ANY ship.
It really does feel like you're in a six-star health resort and features a perfectly round bath surrounded by huge double aspect picture windows.
Overall, Azamara have brought into their portfolio an 'azamazing' luxury cruise ship that is beautifully designed, thoughtfully furnished and full of those little details to remind you that you're not on any ordinary mass market ship – but something a little bit special.
We can't wait to sail on her and with Azamara being specialists at boutique itineraries that take you to destinations that are guaranteed to delight and indulge your sense of adventure, it won't be long before we do.
Richard can mostly be found hiding behind his camera while pointing it at cruise ships for his YouTube channel Visit With Us