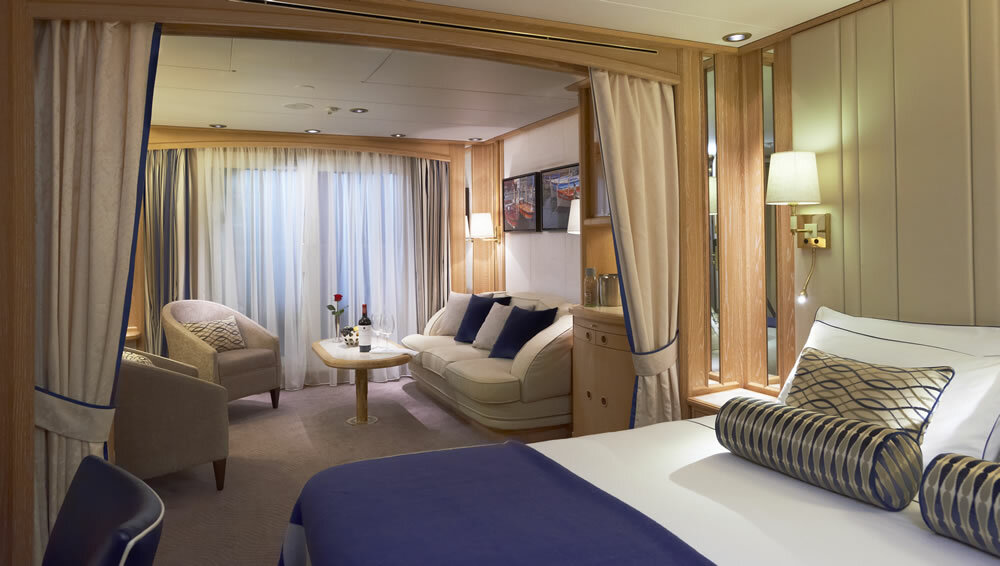 Windstar Star Pride review
How will Seabourn's former ships fare now they have been bought by Windstar? Yvonne Horn turned back the clock to find out during a cruise from Istanbul to Athens aboard Star Pride. When I stepped aboard Windstar's Wind Spirit for the first time 16 years ago, it was the start of an itinerary that remains
How will Seabourn's former ships fare now they have been bought by Windstar? Yvonne Horn turned back the clock to find out during a cruise from Istanbul to Athens aboard Star Pride.
When I stepped aboard Windstar's Wind Spirit for the first time 16 years ago, it was the start of an itinerary that remains one of the most memorable of my cruising life, from Istanbul to Athens. When the winds were right, under sail in the ageless way of the Aegean, we followed routes known to the gods and goddesses of mythology, described in the Bible, fought over through the centuries.
Even before that, I undertook equally memorable cruise. It was 1989 and I was sailing down the coast of South America on the inaugural itinerary of Seabourn Cruise Line's then one and only ship, the Seabourn Pride. She was a cruise ship like no other – sleek and snazzy, elegantly small with a long bow and swept back decks – deserving of the admiring gasps that followed us as we ducked into ports on our way to the iceberg- dotted, glacier-swept waters of the Straits of Magellan.
Those two experiences joined together in October when I once again stepped aboard the small-ship Pride. There was one notable difference: Newly christened Star Pride, she now proudly carried Windstar Cruises' flag. Our itinerary: Istanbul to Athens once again.
The cruise would be a test of sorts. Through the years, I had embarked on numerous other Windstar voyages, finding delight in the line's nautical ambiance, born of burnished teak, polished brass and, most especially, gloriously billowing sails. How would the Windstar style survive on a ship without the sails?
First some background. Seabourn and Windstar share an enviable history as leaders in small-ship, luxury cruising. In 2009, Seabourn, looking to enlarge its per-ship passenger base, launched the 450-passenger Seabourn Odyssey. Two sister ships Sojourn and Quest, followed. Remaining in Seabourn's fleet inventory were three smaller ships, the 212-passengers each Pride, Breeze and Legend.
Meanwhile, Windstar was exploring ways to enlarge its geographical footprint beyond trade breezes and billowing sails. In a win-win deal, when Seabourn's original three power yachts were announced for sale, Windstar snapped them up. The deal gave Seabourn the wherewithal to order an even larger fourth vessel, this one sized to replace the total passenger capacity of the three sold. For Windstar, the addition of three motorised yachts introduced a host of new global itineraries. In a quick turnover, Star Pride was launched in May 2014 with Star Breeze and Star Legend slated for spring this year.
Many cruise ships furrow the seas between Istanbul and Athens. In 1988 I chose the masted ship Wind Sprit as fitting for the voyage, and expected no less of Windstar in 2014, albeit exchanging sails for Star Pride's motorized power.
Both are sleek yachts, able to tie up or anchor where vessels have found refuge since antiquity and where larger cruise ships dare not manoeuvre. Our itinerary listed ports of call at Cesme, Kusadasi and Bodrum on the Turkish coast, followed by stops on the Greek islands of Rhodes, Santorini, the Gibraltar-like island of Monemvasia, then on to Athens.
A bevy of shore excursions was provided at each port. For me, those not to be missed were walking the marble streets of Ephesus, once a grand city of 250,000 souls; Akrotiri – settled as early as 3000 BC, frozen in time by layers of pumice – while anchored beneath the steep cliffs of Santorini; and Knossos Palace on Crete, thrillingly connected to mythological legends. But first a blissful day at sea, sailing the Dardanelles on the skirts of the Gallipoli Peninsula. Time to watch the sea froth by; take a snooze, and most importantly, explore the ship.
Restful shades of blue and tan greeted me throughout the vessel, reminiscent of sea and sand. The colour scheme was part of an extensive stem-to-stern redo to create a decorative approach consistent with Windstar's masted vessels. No area was left untouched, from fabrics and furniture, to artwork and tableware.
The "bones" of the yacht remained intact, its deck plan devoted to public rooms and 106 suites. A brass-banistered circular staircase rising throughout the center of the ship dramatically ties the decks together between the deck-three restaurant AmphorA, at water level, to the deck-eight Yacht Club lounge, with its view-encompassing floor-to-ceiling windows.
Except for providing new furnishings and fabrics, suites, too, remained unchanged – all identical, 277-square-feet outside rooms, with bed areas opening into a sitting room. Five-foot-wide windows offer views of the passing sea. Baths, marble clad with ample mirroring, contain double sinks and full-sized shower/tubs. Walk-in closets provide hanging spaces, shelves and drawers.
"Windstarisation" of the yacht extended beyond mere refurbishment. Equally important was to provide guests with the same casually elegant, personalised service as on the masted ships. Officers with extensive Windstar experience were enlisted to staff Wind Spirit, headed by Captain Alan MacArty,entering his 16th year with the company. Crewmembers, too, were largely chosen from existing ranks.
Talking with first-time Windstar guests one evening, I asked if they had ever been greeted by name from day one on any other cruise line. They expressed amazement over being so greeted not only by their suite steward but also by those seating and serving in the dining rooms and lounges. With nearcapacity guests on board and with an equal number of passengers just departed, that seemed near impossible. I asked hotel manager, Nick Burger how it was accomplished. "Training," was his response and he added that more than 40 per cent of those on board were repeat guests who fully expected such personal acknowledgment.
With so many loyal passengers aboard, it was easy to overhear and initiate conversations comparing cruising with and without sails. All expressed delight over their suite's spaciousness, especially the generous baths. While all said they loved sail, many mentioned that they were enjoying the more enclosed atmosphere of the ship on this late-season cruise.
Without exception, all expressed pleasure that two favorite Windstar traditions had found their way to the power yacht: The mid-itinerary evening barbecue on deck, with the galley pulling out all the stops and the crew providing lively entertainment. And, particularly important to all, the Sail Away ceremony translated to the power yacht. On the masted yachts, white sails unfurl to the dramatic strains of Vangelis's stirring theme song from the Ridley Scott film "1492: Conquest of Paradise," (the story of how Columbus discovered the New World) as the ship leaves port. With no sails, Star Pride's uniformed crew slowly raise a large flag bearing the "W" logo as the same music soars.
My vote still goes to sails as the perfect way to cruise these timehonored, Aegean waters. In late October, however, with uneasy seas and days less than balmy, the more enclosed atmosphere of the power yacht and its ability to cover distances in turbulent seas gives it the edge as my yacht of choice on this particular journey.
I'm intrigued by the destinations opened to Windstar with the addition of the ex-Seabourn trio – southeast Asia, Arabia and Iceland – compelling itineraries most suitable for power cruising. The original yachts can now concentrate on those waters best suited for sails – including a return to the South Pacific after a 10 years away, on year-round explorations of the Society and Tuamotu islands of Tahiti aboard the 74-stateroom Wind Spirit. Another Windstar cruise, and aboard that very yacht, that remains one of the most memorable of my cruising life. But that's another story, for another day.
Fact file
| | | | | | |
| --- | --- | --- | --- | --- | --- |
| Built | Length (feet) | Passenger decks | Passengers | Crew | Cabins |
| 1988 | 439 | 6 | 212 | 160 | 106 |