Why cruise on this ship?
With cosy, well-appointed standard cabins and elegant suites, the Victoria Sophia has been redesigned with private balconies for all cabins to allow intimate, private viewing of the scenery of the Three Gorges.

Dining
China has one of the world's great culinary traditions. Passengers will experience the joys of Chinese cuisine, expertly prepared with the highest quality fresh ingredients. Victoria's award-winning dining experience is reflective of China's evolving culinary landscape, with a fusion of western dishes.
Meals are served in a single-seating Dynasty Dining Room. Sumptuous western and Chinese buffets are offered at breakfast, lunch and dinner. An elegant Captain's Farewell Banquet is served on the final night of the cruise.
In addition to the main Dynasty Dining Room, we have a separate dining room which offers buffet breakfast and lunch, and an a la carte menu at dinner. This separate dining room is available without additional charge to passengers pre-booking upgraded Executive Superior Cabins and Suites, or for a supplementary charge for passengers in Superior Cabins on other decks.
If you have special dietary requirements, please advise us of your needs at time of booking. Meal times will be posted in a daily events schedule distributed to each cabin. The legal drinking age on board Victoria Cruises vessels is 18 years old.
Entertainment
Onboard is a three-story atrium lobby, two lounges, three bars, a gym, lecture room, library, beauty salon, massage room, and gift shop.
Shopping
In the Victoria boutique is a wide variety of Chinese gifts and souvenirs for family, friends or personal collections, as well as useful sundries. You will find souvenirs from Yangtze destinations, oriental clothing, Victoria logo items, post cards and more.
Enrichment
Take part in the programs they offer to enhance your vacation and learn more about the Yangtze and Chinese culture.
Tai Chi Chuan
The term Chuan refers to a school or method of boxing or combat. Tai Chi Chuan is a sophisticated method of fighting based on the reconciliation of dynamically interacting forces. Daily practice of Tai Chi promotes mental clarity and a healthy body, assists with balance and helps the circulation of the blood. Tai Chi is also a vehicle for the realisation of surpassing beauty. We offer Tai Chi early mornings to begin the day.
Lectures
They offer lectures on Chinese history and culture which add insight and depth to the cruise experience. Topics may include the evolution of the dam project and its importance to China, Chinese medicine, poetry by many of the famous Chinese sages, Chinese language, Chinese traditional brush painting, dumpling wrapping, etc.
Fashion Shows
Bring your cameras and your smiles, as our crew presents some of China's most elaborate fashions dating back to the Han Dynasty (206BC-220AD). A variety of traditional costumes from all regions of China will reflect China's cultural diversity.
Cabaret Shows
Their crew puts on a performance not to be missed! Singing, dancing, music! The cabaret show is also an opportunity for passengers to display any special talents they may have, whether it be shaking a leg, or curling the tongue...anything! This is a wonderful opportunity to unwind and enjoy the experience while cruising on the Yangtze with Victoria.
Tea Time and Happy Hour
Complimentary tea and coffee is offered in the early morning before breakfast, and complimentary tea and cookies are offered in the afternoon except the day of the Captain's Welcome reception. During "Happy Hour," enjoy your favourite cocktail at a discounted price in the Yangtze Club, as you unwind from the day's activities.

Feature Films
If you prefer to simply relax in your cabin, feature films are presented on your cabin television.
Health and fitness
Passengers can enjoy a wide range of services from Internet access to personal massages.
Beauty Salon
For cut, wash, set and blow dry. Massage is also available by appointment.
Fitness Room
A variety of exercise equipment is available.
Health Clinic
Each Victoria vessel has a doctor and health clinic on board. Customary charges are in effect for medical care. They recommend that you bring enough of any prescribed medications for your entire trip throughout China. Do not pack your prescriptions in your checked baggage.
Laundry
They offer same-day laundry service, but not dry cleaning. Press-only service is also available. No laundry available first or last day.
Reading Room
Books and journals are available to read in quiet surroundings.
Kids and teens
Please be advised that there are no dedicated children's or teens facilities onboard.
Accommodation
With cosy, well-appointed standard cabins and elegant suites, the Victoria Sophia has been redesigned with private balconies for all cabins to allow intimate, private viewing of the scenery of the Three Gorges. The Victoria Sophia's hospitable, well-trained staff makes passengers feel comfortable and at home aboard this floating hotel.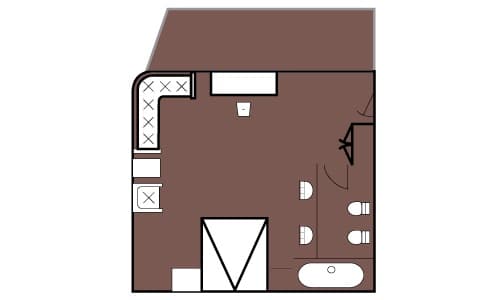 Shangri La Suites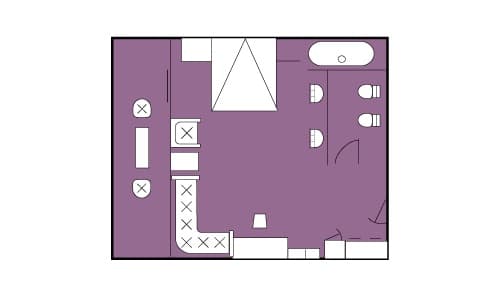 Deluxe Suites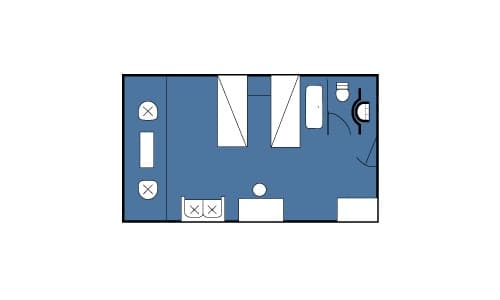 Executive Suites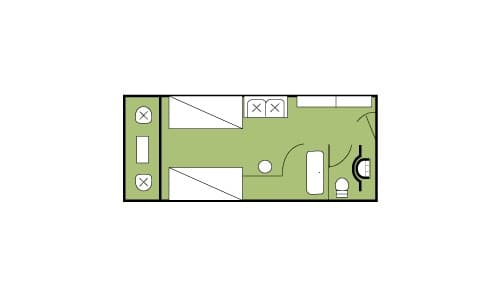 Superior Cabins
Deck plans

Pinnacle Deck

Observation Deck
Superior Cabins

Executive Suite
Observation Lounge & Dining Room
Bar
Yangtze Club
Beauty Salon
Function Room

Bridge Deck
Superior Cabins

Executive Suites

Clinic


Promenade Deck
Shangri La Suite

Deluxe Suite

Executive Suite

Superior Cabins

Main Deck
Superior Cabins

Main Lobby

Dynasty Dining Room

Business Centre

Gift Shop