Search for your ideal Cruise
Cruising Scotland's Highlands & Islands: The Perfect Post-Lockdown Escape
A cruise around Scotland's picturesque shores is the perfect antidote to months of lockdown
During the first lockdown, the British Isles and in particular, Scotland and its Islands, were singled out as being cruise destinations to watch following the pandemic.
And it looks like these predictions are turning out to be spot on as cruise lines and operators are announcing a whole host of domestic cruise itineraries this summer, many focusing on fair Scotland and its bonny islands, as travellers look to dip their toes back into cruising.
One such cruise line is Riviera Travel, which recently unveiled its brand new UK itineraries, departing this July on the elegant small ship, MS Seaventure.
The cruises – which mark the first time that Riviera has offered UK-based voyages – had previously been a combination of Scotland and Ireland voyages, but now comprise exclusively of an exciting 'Cruising Scotland's Highlands & Islands' itinerary. With two extra dates added for this itinerary, this gives customers looking to book even more choice.
The eight-day itinerary departs from either Edinburgh or Greenock and has a port stop and excursion included every day, taking in Aberdeen, Inverness, Orkney, Oban, the Outer Hebrides and Belfast. Tours on offer include trips to Loch Ness, Balmoral Castle, the Titanic Visitor Centre, the Callanish Standing Stones, and the Neolithic Ring of Brodgar henge and stone circle.
Riviera has even arranged for complimentary parking to be available for guests at Leith port, or if you need assistance with your travel arrangements, the company's friendly travel concierge team is always happy to help.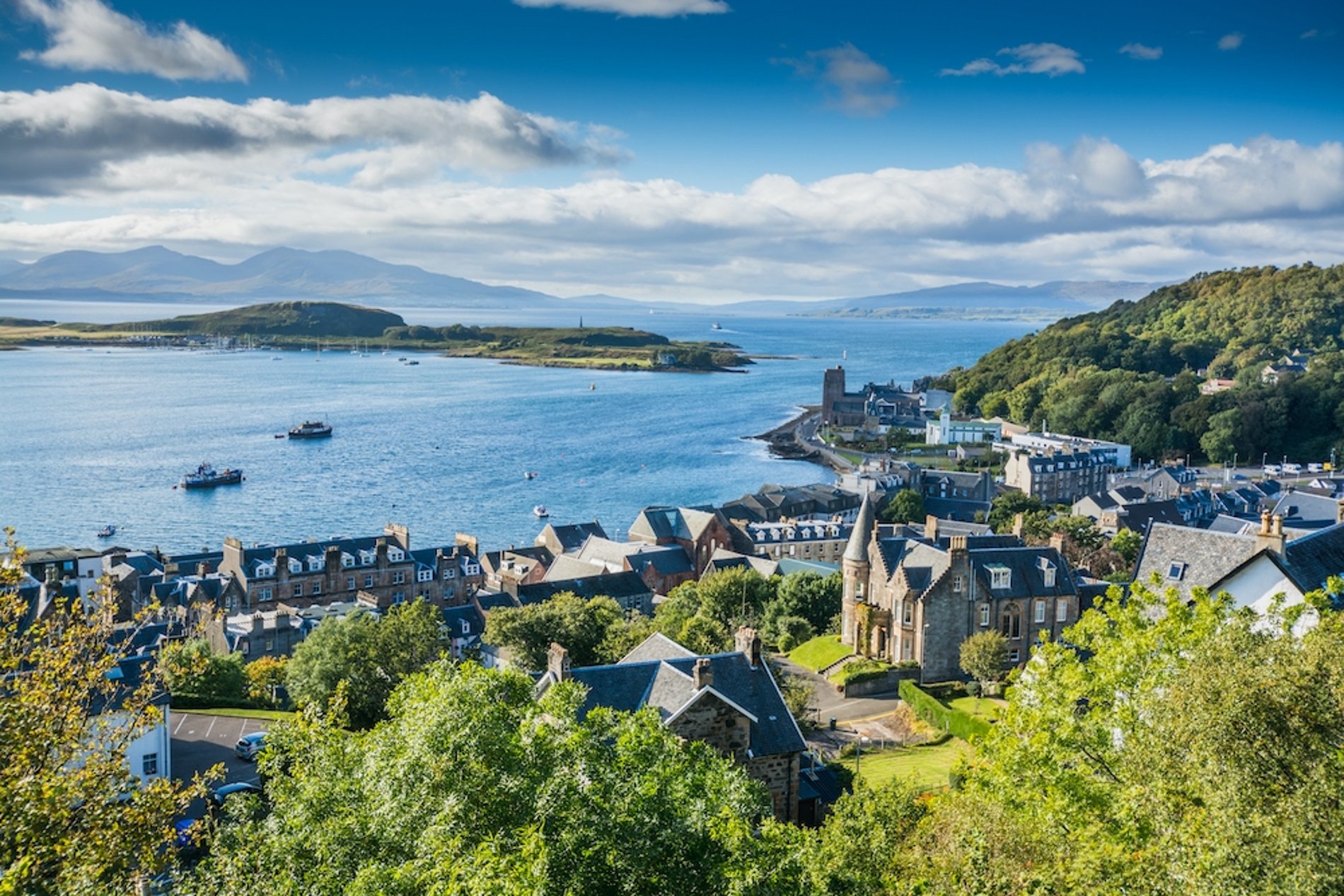 Cruising Scotland's Highlands & Islands
Guests will get to soak up Scotland's stunning landscapes on this action-packed eight-day itinerary, exploring Aberdeen, Inverness, Orkney, Oban and the fascinating Outer Hebrides, as well as Loch Ness, the Ring of Brodgar and Neolithic Orkney.
One of the many memorable ports of call on the itinerary is the historic port city of Aberdeen, home to Balmoral Castle, which is famously the Queen's Scottish residence. Guests will enjoy a scenic drive through Cairngorms National Park, a haven for spectacular British wildlife, before reaching Balmoral, where they will be given a tour of the iconic castle and its grounds.
After the tour, you will return to the ship for a delicious lunch on board, before embarking back out for a tour of Aberdeen that afternoon.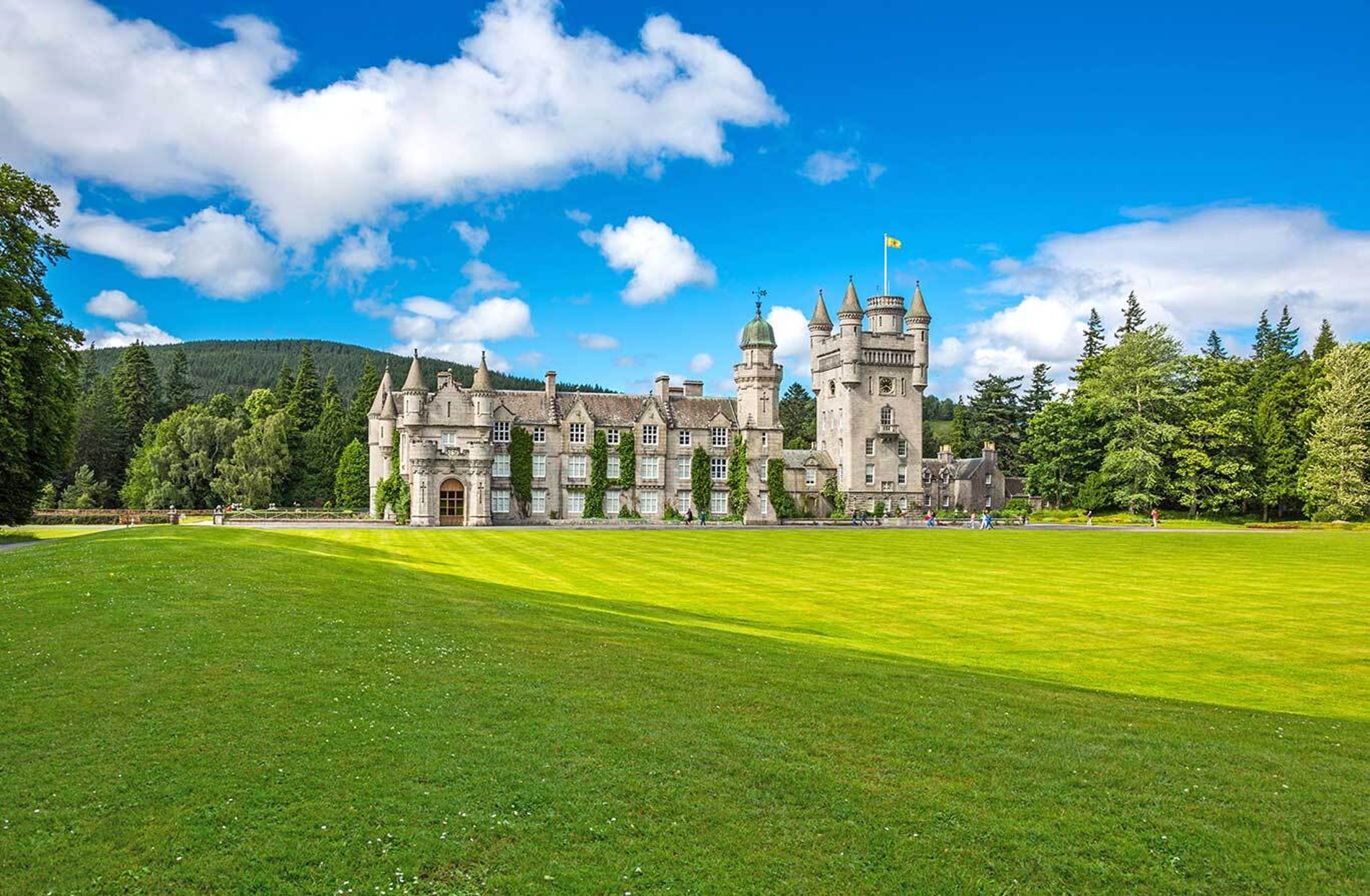 The benefit of sailing on a small ship means that guests will get to explore less-visited ports of Scotland on this itinerary, including Invergordon, which is the perfect stop to explore Inverness and the famous Loch Ness.
In Inverness, highlights include the Inverness Town House, a stunning baronial residence, Inverness Castle with its unrivalled views over the city, and the Victorian Market, full of quaint boutique shops. After a tour of the Scottish Highlands capital, you will next take a picturesque drive along the legendary Loch Ness, stopping to enjoy spectacular views with commentary from your knowledgeable guide.
The agile ship will also pay a visit Kirkwall, the largest town in the Orkney archipelago. Here guests will enjoy a scenic tour of the Unesco-listed Neolithic Orkney, including visits to Skara Brae and Skaill House. You will then head west and see the Standing Stones of Stennes, before visiting the Ring of Brodgar, the mystical stones which form one of the most fascinating prehistoric monuments in the British Isles.
In Stornoway, guests will discover the untamed scenery of the Outer Hebrides. During a half-day tour, guests will visit Lews Castle, a Victorian-era castle designed by Glaswegian architect Charles Wilson, and the Neolithic Callanish Standing Stones. There's natural beauty at every turn, from the wild landscape of Carloway Beach to the striking white sand of Bosta Beach.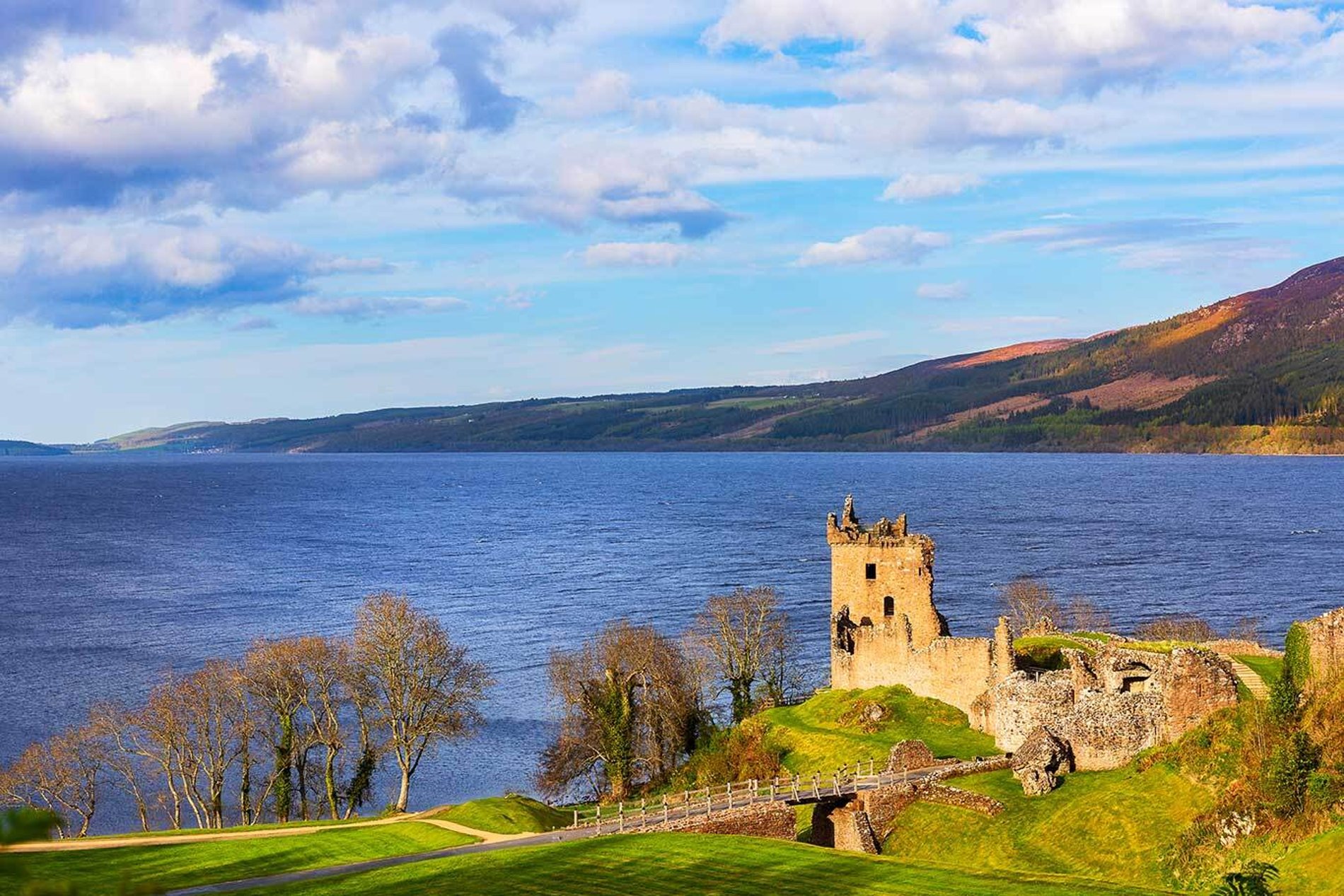 One of the big highlights of the itinerary is the day trip to Oban. Make sure to get up early to experience sailing through the dreamy Sound of Mull, with sloping shorelines, green meadows and fairy-tale castles straight out of classic romance novel lining the passage.
The port town of Oban, a popular fishing bay, is home to many interesting sights, including the North Pier and Esplanade, Oban War & Peace Museum, the War Memorial, Oban Lighthouse and Dunollie Castle.
While guests will sadly no longer get to experience the beauty of the Irish coast, they will still get a taste of Irish life and history with a visit to Belfast. Northern Ireland's bustling capital is famously home to Titanic Belfast, the world's biggest Titanic Museum. Other historic sites include Belfast City Hall, the 19th-century Albert Memorial Clock and St Anne's Cathedral in the Cathedral Quarter – all of which you will get the chance to see on a guided walking tour of the city.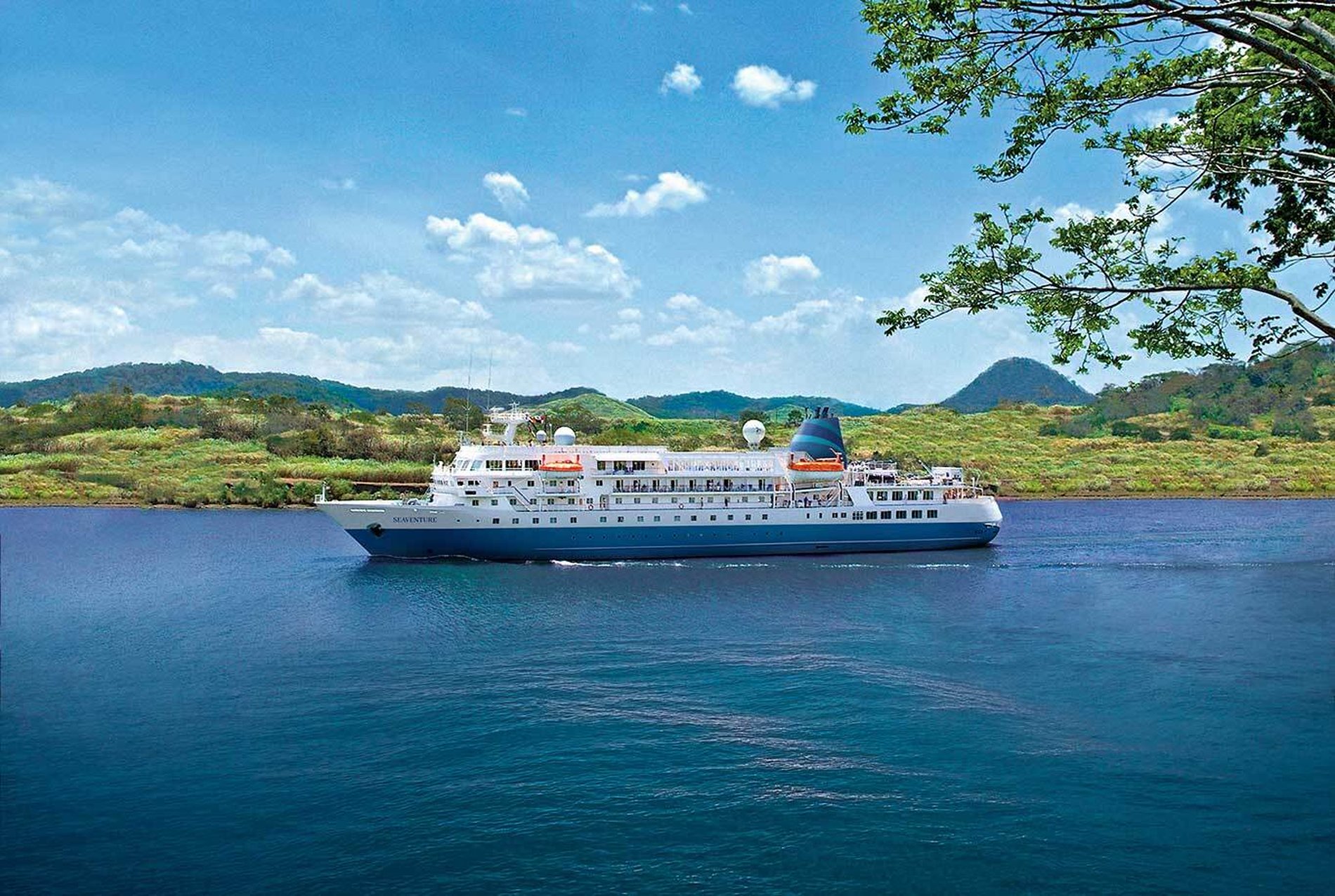 Small-ship sailing on MS Seaventure
As well as discovering the beauty of Scotland, guests will also get to experience the delights of sailing on small-ship MS Seaventure, which is the only ship of her size to cruise the waters of the British Isles.
The boutique vessel can accommodate 158 guests and 90 crew, and its intimate size lends itself to the region, being able to dock in smaller harbours that are off-limits for larger ships.
While small, MS Seaventure boasts many contemporary facilities that one would typically expect of a larger ship, having been recently refurbished in 2019. These include a fitness suite, sauna and heated saltwater pool, along with 82 well-appointed sea-view cabins with a choice of porthole, panoramic window or balcony.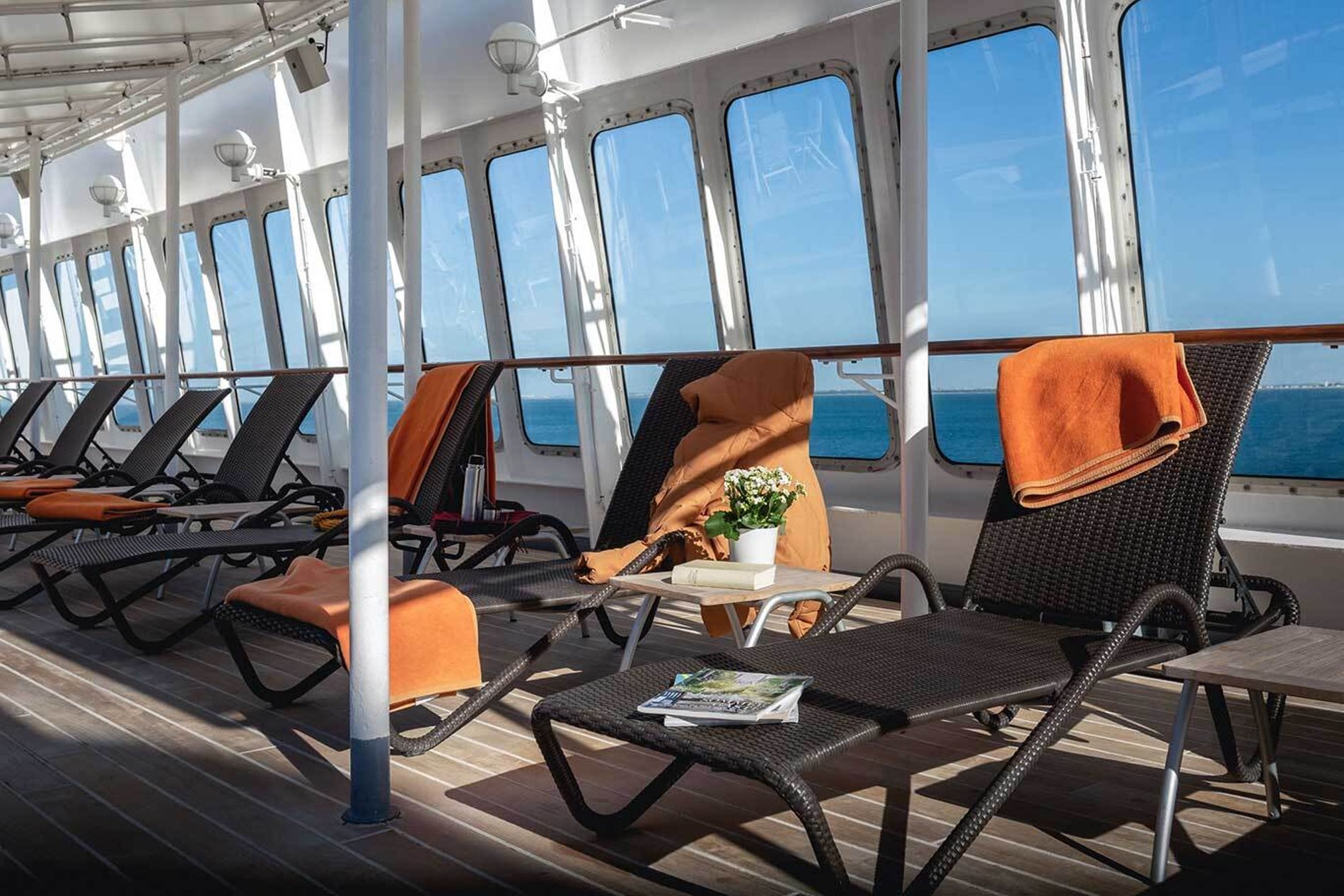 After a busy day of touring and sightseeing, guests should head to the stylish Seabreeze Lounge and Bar, which features an outdoor terrace area for al fresco dining, or to the more cosy library for some much-needed R&R.
Alternatively, if you wish to enjoy the sea views, then head up to Deck 7, home to the Sun Deck and Expedition Lounge. There's also a modern restaurant on board, which serves a buffet breakfast, lunch and à la carte dinner.
For guests who wish to go ashore and experience Scotland's beautiful nature and wildlife up close, the ship is also equipped with 14 Zodiac boats.