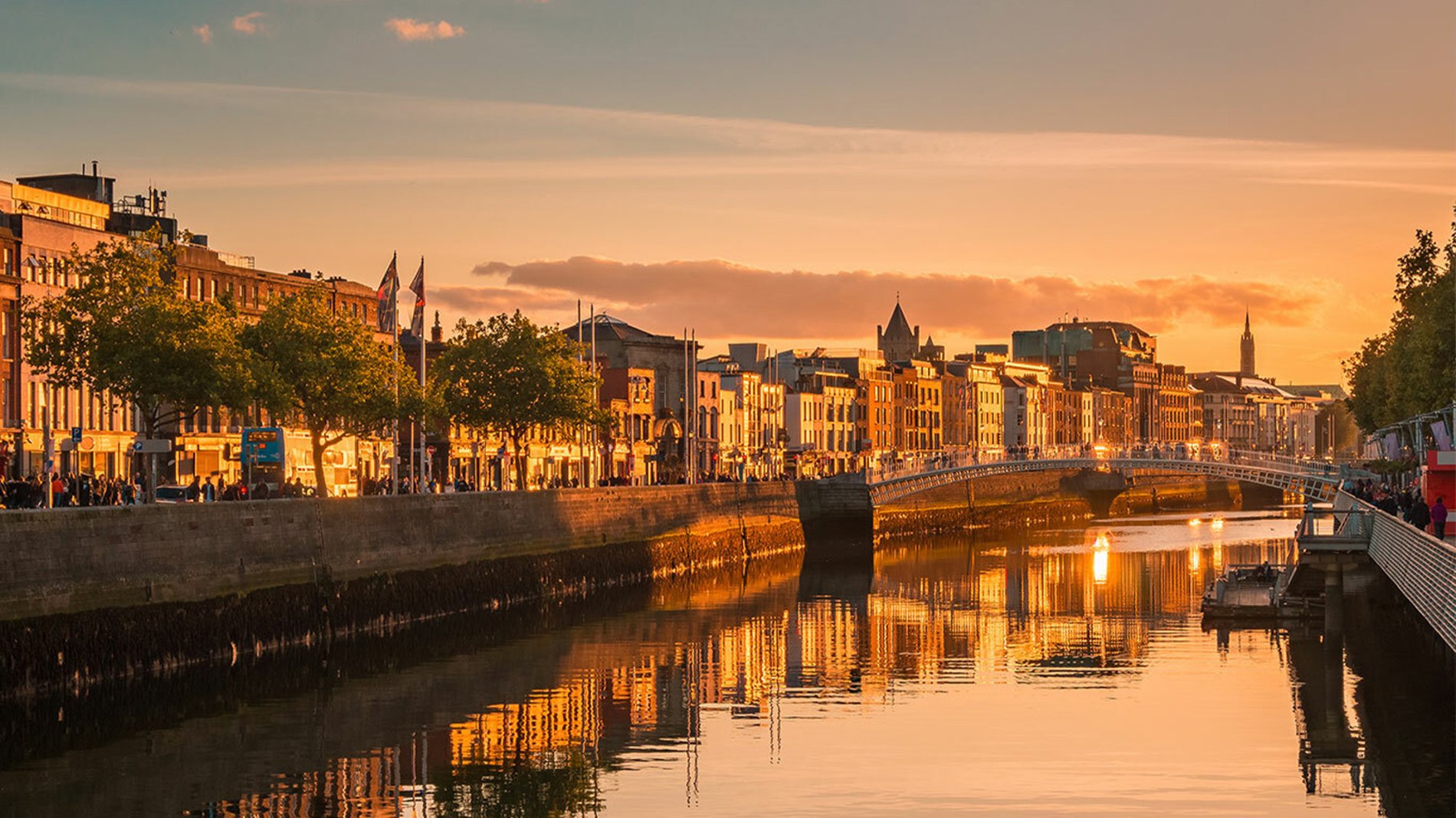 Dublin city guide: 10 things to see and do in Ireland's craicing capital
The home of Guinness and James Joyce, Ireland's capital continues to delight and inspire with its mix of history and cutting-edge culture
Dublin is unlikely to be the biggest capital city you'll visit, but what it lacks in size, it more than makes up in personality. That's why it's one of the world's favourite mini-break destinations.

Established by the Vikings in the ninth century, the city came under British rule until Ireland gained independence, after years of struggle, in 1921. You'll find echoes of this turbulent history all round Dublin (the main railway station is named after James Connolly, one of 14 republicans executed by the British army after the 1916 Easter Rising).
Whether you're visiting for the history or the craic, Dublin is packed with memorable sights, making it a veritable playground for tourists. The city has produced many great literary figures, including Nobel laureates WB Yeats, George Bernard Shaw and Samuel Beckett, it provided the setting for James Joyce's Ulysses, and it has inspired the likes of Roddy Doyle, John Banville and Maeve Binchy, to name but a few. The locals are justly proud of their heritage of famous writers, poets and musicians, and of the way the city continues to be a world-class centre for the arts.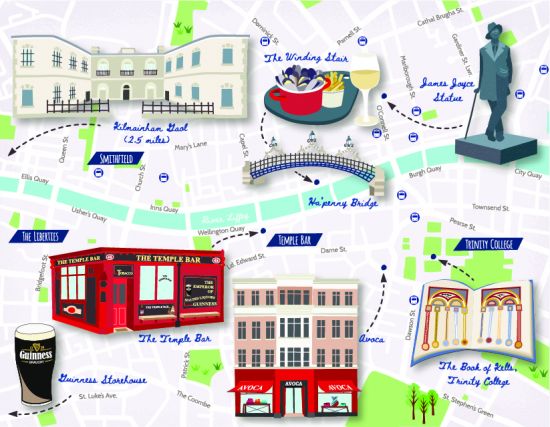 If you thirst for something other than culture, Dublin and Guinness go hand-in-hand, and if you've never tried it before, this is the place to get a taste for the black stuff.
For those who arrive on big ships, the heart of the city is an easy ten-minute transfer from the cruise terminal at Alexandra Quay (smaller vessels can sail right up the River Liffey). Then it's just a matter of where to head first…
Must see in Dublin
Temple Bar

Leopold Bloom, the hero of James Joyce's Ulysses, mused that it would be a 'good puzzle' to try crossing Dublin without passing a pub. The city offers more than 750 watering holes to visit, and the Temple Bar area is a great starting point for your own odyssey. You could easily lose a day among these narrow cobbled streets with their countless cultural attractions, and The Temple Bar pub itself is one of Dublin's most famous, with a legendary collection of whiskeys (and whiskies) from all over the world.
Kilmainham Gaol
If you fought for the cause of Irish independence, this forbidding stone citadel is w where you were likely to end up. In the 19th century it became a kind of purgatory before transportation to Australia, and its list of inmates, including Patrick Pearse and Eamon de Valera, reads like a Who's Who of Irish history. Perfectly preserved, it's now a museum.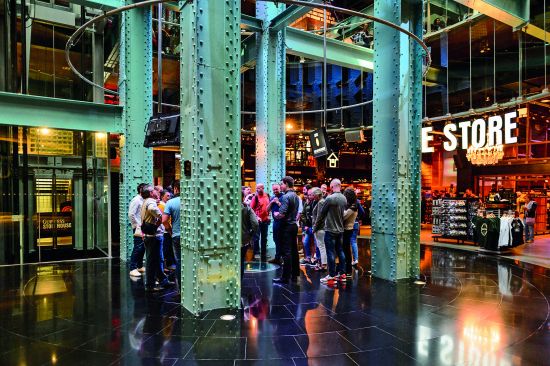 The Book of Kells
Housed in the beautiful Old Library building in Trinity College, the Book of Kells is Ireland's greatest cultural treasure. Hand-lettered and beautifully illuminated by Celtic monks around 800AD (it takes its name from the monastery of Kells in County Meath), the collection of manuscripts contains the four Gospels of the New Testament. Two volumes are displayed in glass cases, and the pages are turned regularly, in case you happen to be around for a few days and want to read what happened next…
The Guinness Storehouse
There's something special about taking a sip of the black stuff in the city of its birth (and yes, it does taste different here). In the Guinness Storehouse at the famous St James's Gate Brewery – Ireland's number-one tourist attraction – your visit begins at the bottom of the world's largest beer glass. You then drink in seven floors of interactive experiences before finishing with a 'pint of perfection'. Slainte!
Snap and go
Wilde about Oscar?
Dubliners love statues of their city's famous sons, so keep that selfie stick to hand. In Merrion Square Park, just round the corner from his childhood home, you'll find Oscar Wilde, dressed in a suitably flamboyant green smoking jacket and lounging on a granite boulder. And if you haven't time for the wonderful James Joyce museum (a 20-minute train ride away in Dun Laoghaire), strike a pose with the great man's likeness, leaning jauntily on his stick in North Earl Street.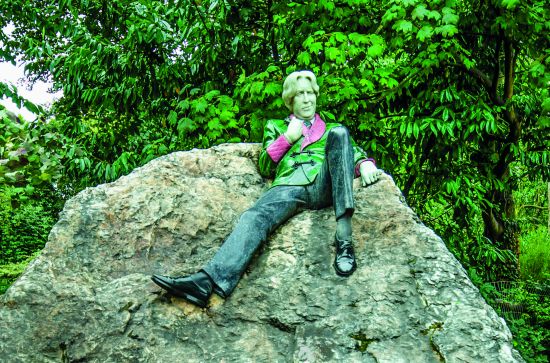 Ha'Penny Bridge
Wherever you go in central Dublin, you're never far from the Liffey. Near the end of its 78-mile journey from the Wicklow Mountains to Dublin Bay, Ireland's most famous river is crossed by 23 bridges, most famously the Ha'Penny Bridge, built in 1816 and originally costing half a penny to cross. For a modern contrast, visit the sleek Millennium Bridge in the north of the city.
Grab a bite
If you're looking for a true taste of Ireland, head to The Winding Stair on Lower Ormond Quay for traditional Dingle Bay crab, east coast cockles and seaweed boxty (potato pancakes). Elsewhere in the city you'll find five Michelin-star eateries (Restaurant Patrick Guilbaud has two), as well as impressive food markets for grab-and-go grazing.
Retail therapy
Love to shop? If big names are your bag, head to Grafton Street. For vintage boutiques, try Temple Bar, and for Irish crafts, head to Suffolk Street where you'll find Avoca, a seven-level department store with a food market, deli and coffee shop in the basement, should you need to refuel.