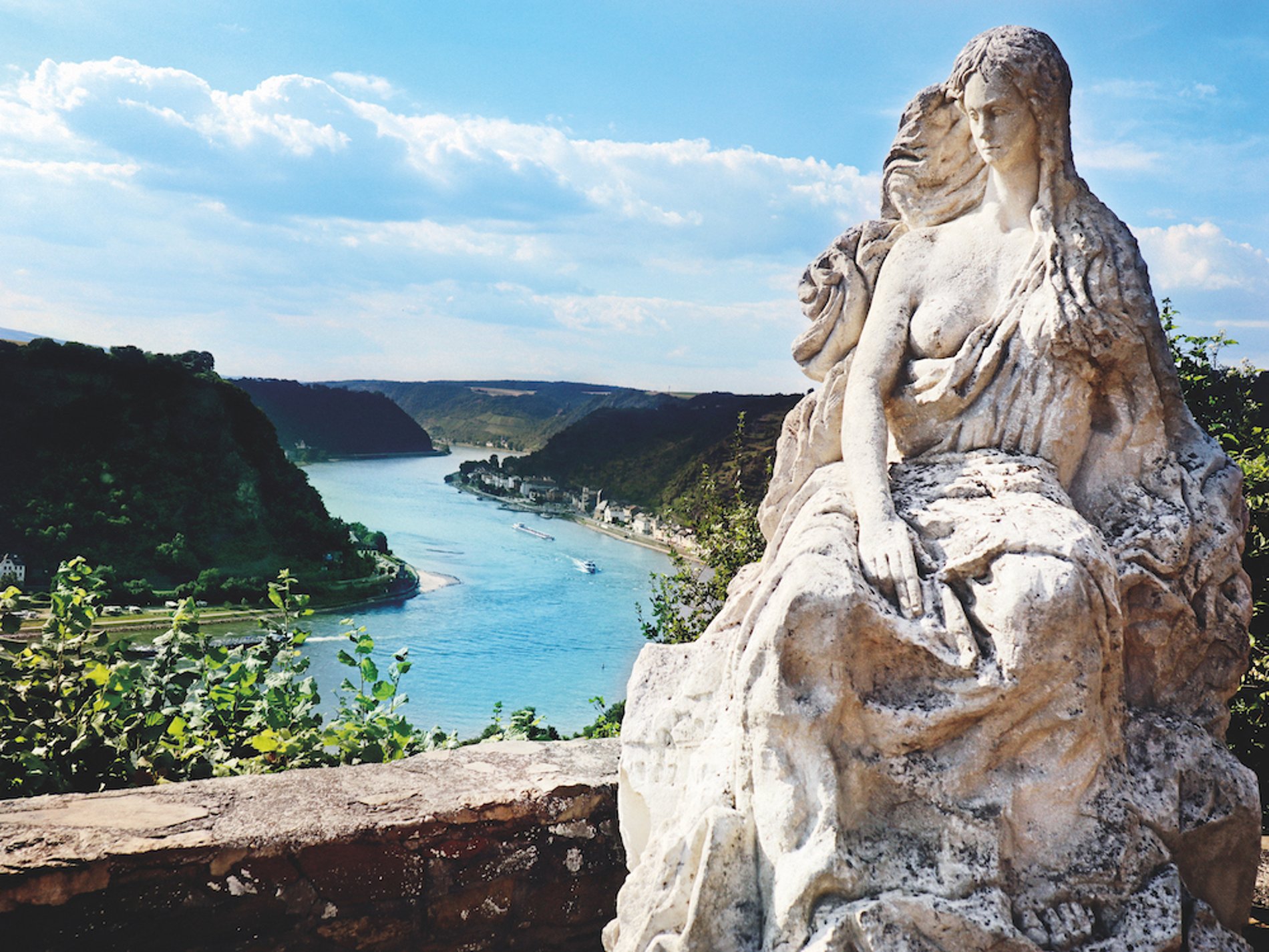 Nine Best European River Cruises for 2019 and 2020
From the Danube to the Rhone, we all love Europe's great waterways. Here are our pick of the best river cruises just waiting to be discovered
Welcome to the golden age of river cruising. Chosen by more UK holidaymakers than ever before – 210,400 annually, according to the latest figures, representing a 21 per cent rise on the previous year – a river voyage is a wonderful way to relax, watch the world drift by at a leisurely pace and explore the towns, cities and countryside of familiar and faraway places. Ships moor somewhere new each day, and within the space of a week you can visit up to four countries, with the bonus of only having to pack and unpack once.
With exciting new ships and itineraries for 2019 and 2020, there has never been a better time to explore the world's waterways. So where will your European river cruise take you? Take a look at our guide and get ready to explore new horizons.
Danube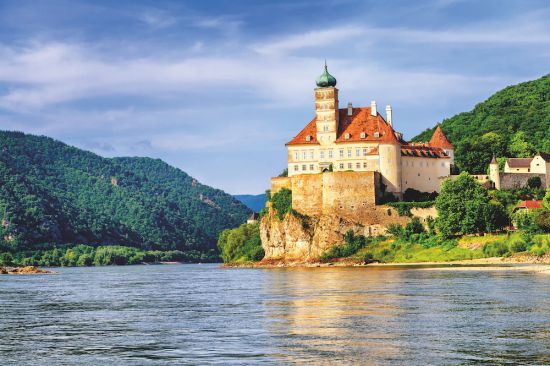 The inspiration behind the famous waltz by Johann Strauss, the 'Blue Danube' is Europe's second longest river, winding 1,771 miles through ten countries from Germany's Black Forest to the Black Sea. Passing through four capital cities – Vienna, Bratislava, Budapest and Belgrade – and glorious stretches of vineyard- clad countryside, it's easy to see why this has long been one of the most popular river cruise regions.
A cultural treat for anyone interested in history, architecture, regional food, wine and beer, the classic itinerary is a one-week sailing between the Hungarian capital Budapest and Passau, close to Germany's border with Austria.
Highlights include the UNESCO- listed Wachau Valley between the Austrian towns of Krems and Melk. The riverside scenery is simply stunning here, and shore excursions include the vast 18th-century Benedictine abbey perched on a rocky outcrop above Melk.
Austria's elegant capital, Vienna, is packed with grand buildings such as the Hofburg, one of the world's biggest palaces, from which the Habsburg dynasty ruled their European empire for more than
600 years. And starting or finishing your cruise in Budapest, you'll get to explore a city of two halves – leafy Buda, dominated by its castle, and bustling Pest, on the opposite bank of the Danube, with its impressive Heroes' Square.
Longer sailings into the remote Danube Delta traverse Serbia, Croatia, Bulgaria and Romania. This is a much quieter stretch of the Danube, renowned for its rich diversity of wildlife. Here you'll have the chance to see wild horses and Europe's largest population of white pelicans while taking exciting safari boat excursions into the heart of a protected nature reserve.
Get on Board
The River Cruise Line 7-night 'Cruise the Danube to Vienna & Budapest' voyage, round trip from Passau, departing 19 October 2019, from £949, rivercruiseline.co.uk, 01858 438 330
Crystal River Cruises 12-night 'Vienna Roundtrip' Christmas cruise via Budapest and Passau, departing 21 December 2019, from £3,768, crystalcruises.co.uk, 020 7399 7601
Douro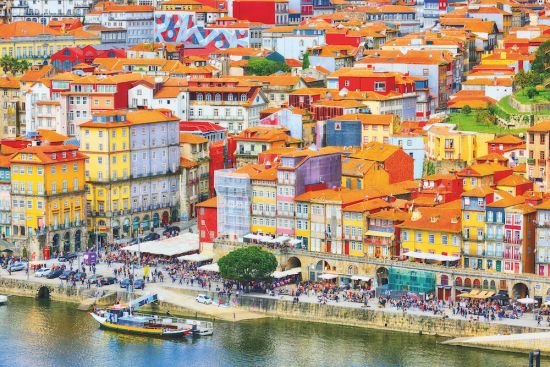 Christened the 'River of Gold' by the Romans, Portugal's Douro offers a modern-day voyage of discovery that reflects its maritime past.
Once a fast-flowing waterway where traditional flat-bottomed rabelo boats made perilous journeys to transport the local port wine, the Douro is now a tranquil river, tamed by a series of dams including the cavernous 115ft Carrapatelo lock, the deepest in Europe.
There is only one itinerary on the Douro; a 130-mile, seven-night sailing through rugged green countryside from the UNESCO World Heritage city of Porto, on the Atlantic coast, to Vega de Terron on the border with Spain.
Naturally you'll have plenty of opportunities to visit wine lodges for a sample of Portugal's most famous export, while other trips feature the Solar de Mateus manor house, famously depicted on the Mateus Rosé wine label. Just over the Spanish border, an architectural highlight is honey-coloured Salamanca, Spain's oldest university town, with a grand square and university building where it's fun trying to spot the tiny stone frog that's said to bring good luck to the students at exam time. Itineraries also allow plenty of time to enjoy historic Porto, where the Douro is spanned by the famous Dom Luis Bridge. A foodie hotspot, the city is also rich in culture, and you're likely to be treated to a performance of fado, Portugal's haunting traditional folk music.
Get on Board
Titan 7-night 'The Enchanting River Douro' cruise, round trip from Porto, departing 23 May 2020, from £1,999, titantravel.co.uk, 0800 988 5823
Viking River Cruises 9-night 'Portugal's River of Gold' cruise, from Lisbon to Porto, departing 3 April 2020, from £3,145, vikingrivercruises.co.uk
Elbe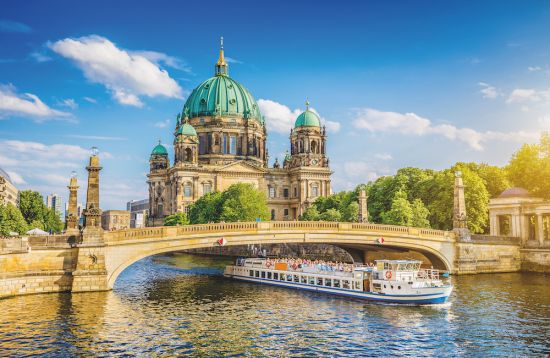 Rising in the Czech Republic and flowing for 680 miles through Germany to the North Sea at Hamburg, the Elbe curves between the show-stopping capitals of Prague and Berlin, taking in the dramatic craggy scenery of Saxon Switzerland – where hilltop Konigstein fortress is a highspot in more ways than one – and passing sleepy countryside and a string of culture-rich cities along the way.
Some cruises start or finish on the Vltava, a tributary of the Elbe running through the heart of Prague, while other itineraries offer coach tours to the city. Both options should provide you with ample time to stroll across statue- lined Charles Bridge, admire the 15th-century astronomical clock in Old Town Square that comes to life on the hour, and tour the imposing castle that overlooks the city and is said to be the world's largest ancient stronghold.
In Berlin, ships moor on Lake Tegel, a short distance from the cultural hub of Potsdamer Platz where you can see sections of the wall that once divided this great city.
Between the two capitals you'll get to admire the fine Gothic, Baroque and Renaissance buildings of Litomerice in the Czech Republic, and there should also be a chance to sample those famous Czech beers at a local microbrewery. In Germany you'll see Meissen, home of the world- famous fine porcelain, and Dresden, where the Frauenkirche cathedral, painstakingly rebuilt and finally reopened in 2005, is a poignant reminder of the Second World War bombing that reduced the city to rubble.
Get on Board
CroisiEurope 8-night 'Cruise on the Elbe and Vltava Rivers' voyage, from Berlin to Prague, departing 26 March 2020, from £1,953, croisieurope.co.uk, 020 8328 1281
Saga 12-night 'Grand Cruise of the Elbe' voyage, from Hamburg to Prague, departing 19 April 2020, from £2,299, travel.saga.co.uk, 0808 274 4108
Moselle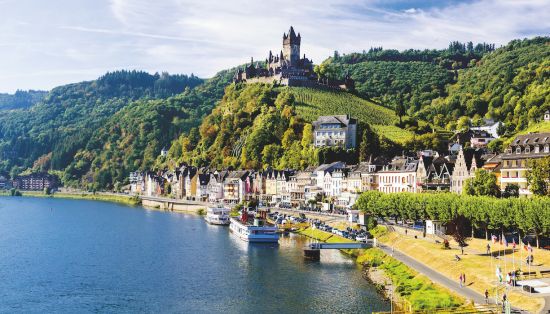 The town of Koblenz, guarded by the commanding 19th-century Ehrenbreitstein fortress, is situated at the confluence of the Rhine and one of its major tributaries, the Moselle.
The quieter and narrower of the two rivers, the Moselle snakes its way through Germany's most famous wine-growing regions, past emerald valleys, picture-postcard medieval towns, vineyards and castles, and forms the border between Germany and Luxembourg.
One of the prettiest places on the river is Cochem, which has a delightful Old Town, well stocked with half-timbered houses. All cruises also run trips up to Reichsburg Castle, which dates back more than 1,000 years and once served to collect tolls from passing ships.
Other ports of call include Bernkastel, known as the wine capital of the region, where the lofty ruins of Landshut Castle offer panoramic views of the valley and river below. Shore excursions always include a trip to a wine cellar for a tasting of the local Riesling, plus time to wander round the Old Town, where there's another fine collection of buildings dating back to the Middle Ages.
Longer cruises that venture further down the Moselle visit Trier, which was founded by the Roman emperor Augustus and is the oldest city in Germany. It also has the largest collection of Roman structures outside Rome itself, including the landmark Porta Nigra city gate close to the river.
Get on Board
Shearings 9-night 'Anniversary Waltz on the Rhine and Moselle' cruise, round trip from Cologne via Koblenz and Cochem, departing 9 June 2020, from £999, shearings.com, 01942 417782
Tauck 12-night 'The Rhine and Moselle' cruise, from Basel to Amsterdam via Cochem, Koblenz and Cologne, departing 17 April 2020, from £4,260, tauck.co.uk, 0800 810 8020
Rhine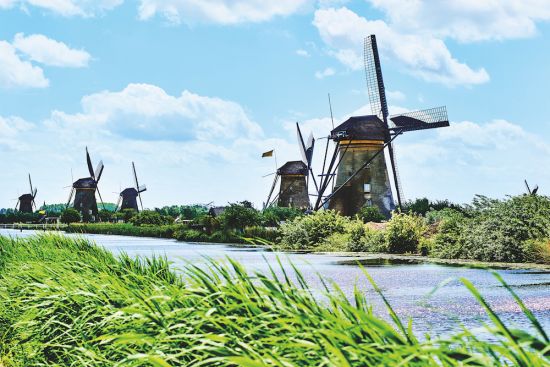 Starting in the Alps and winding its way through Switzerland, France, Germany and Holland, the Rhine takes in some of Europe's finest landscapes. Add in more castles than any other river, and a rich and colourful history dating back to Roman times, and it's no wonder the Rhine is the number- one river cruise destination.
When to go? Well, 'Rhine in Flames' is a spectacular summer festival celebrating the wine harvest, and several lines offer themed cruises to coincide with it. Alternatively, any sailing that includes Holland will be spectacular in spring, when the Dutch bulbfields are at their best.
The most popular itinerary, which is ideal for first-time river cruisers, is a seven-night sailing between Basel and Amsterdam. This includes the UNESCO-listed Middle Rhine Valley and quaint wine-making towns such as Rudesheim, along with the legendary 443ft Lorelei rock, where the haunting song of a beautiful siren was said to have lured sailors to their doom
Another top sight, situated outside Amsterdam, is Kinderdijk, home to a remarkable cluster of 19 historic windmills. Built in the 18th century to help drain this low-lying land, some of them are still in use and all are beautifully preserved. A guided tour provides an absorbing insight into the area's intricate flood-defence system.
Urban highlights include Cologne, where the 515ft twin spires of northern Europe's greatest Gothic cathedral stand out against the city skyline. Longer sailings also feature Strasbourg, the capital of Alsace, a region whose unique cultural heritage is epitomised by the Petite France quarter and its picturesque jumble of half-timbered buildings.
The longest itineraries make use of the Rhine-Main-Danube Canal, which connects all three rivers for a truly memorable two-week sailing that runs between Amsterdam and Budapest.
Book it
A-Rosa 4-night 'The Lower Rhine, Holland & the Bulbfields' cruise, from Amsterdam to Nijmegen, departing 12 March 2020, from £709, newmarket holidays.co.uk, 0330 029 8068
Fred Olsen River Cruises 10-night 'History of the Rhine & Main' cruise, from Amsterdam to Regensburg, departing 16 April 2020, from £1,899, fredolsencruises.com, 0800 084 1075
Rhône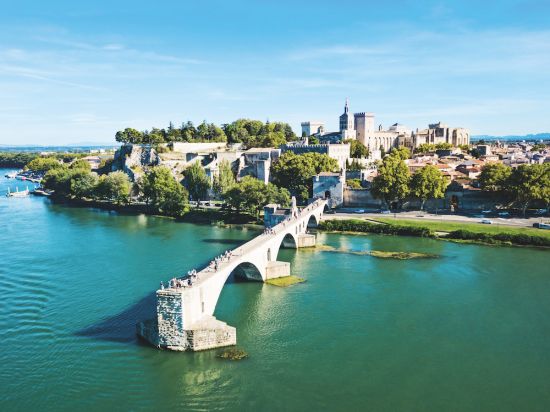 Originating in the Swiss Alps, the Rhône is navigable throughout its 190-mile journey from the French gastronomic capital of Lyon – where it joins the Saône – to the sea. River cruises take in ancient towns and cities encircled by medieval walls, scenes immortalised by Vincent Van Gogh, and natural marvels such as the Ardèche Gorge and Camargue National Park, with its wild horses and flocks of flamingos.
From 1309 to 1376 Avignon was a seat of papal power, and the UNESCO-listed Palace of the Popes is one of Europe's greatest medieval Gothic buildings. Another landmark is the 12th-century bridge over the Rhone – subject of the famous song Sur le Pont d'Avignon – of which four out of the original 22 stone arches still stand.
Attracted by the light and colours in this idyllic part of southern France, Van Gogh moved south to Arles in 1888. Although he lived there for little more than a year, this became one of the most productive periods of his career, producing masterpieces such as The Langlois Bridge at Arles, which is still instantly recognisable and has been renamed the Van Gogh bridge in the painter's honour. Arles is also renowned for its Roman ruins, including an amphitheatre where crowds of 20,000 once watched gladiatorial battles.
The pretty little town of Tournon is your starting point for visits to the Ardèche Gorge. Most excursions use the atmospheric Vivarais steam railway, which provides fantastic views of these spectacular 1,000ft limestone cliffs.
Get on Board
Riviera Travel 7-night 'Burgundy, the River Rhône & Provence' cruise, from Lyon to Avignon, departing 7 April 2020, from £1,149, rivieratravel.co.uk, 01283 888 551
Emerald Waterways 14-night 'Rhine & Rhône' cruise, from Amsterdam to Nice via Cologne, Black Forest, Lyon and Avignon, departing 5 September 2020, from £3,325, emerald waterways.co.uk, 0808 231 7716
Seine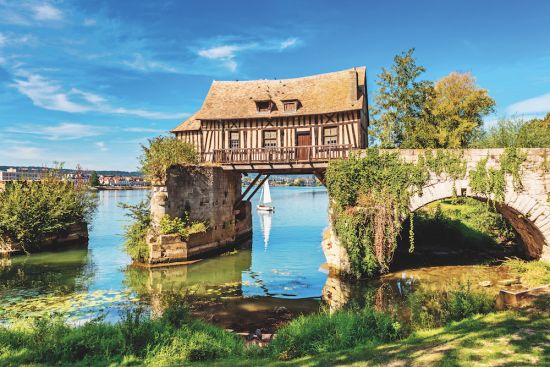 Rising in Burgundy and flowing into the English Channel at Le Havre, the Seine meanders through the heart of Paris. River ships spend at least one night docked in the French capital, but if you want to stay longer it's easy to add a pre or post-cruise city break extension.
Part of the fascination of the Seine is that it remains an important commercial waterway, navigable by oceangoing vessels as far as Rouen.
Once outside Paris, the many highlights include Vernon, a pretty medieval town with 12th-century half-timbered houses. Only a few miles away from here is Monet's house and garden at Giverny, where the great Impressionist painter created some of his most famous works, many of them featuring the Japanese bridge and lily ponds that are little changed today. All cruises will offer trips here, and Vernon is also the starting point for visits to Bizy Castle – known as Normandy's answer to Versailles, thanks to its grand courtyard and water garden.
Alongside Giverny, the town of Honfleur provided much of the inspiration for Monet's work, and this lovely fishing port is still a delight today, its harbour lined with cafes and restaurants.
Apart from Paris, the other major city on the Seine is picturesque Rouen. Here, the Notre Dame Cathedral is arguably the most beautiful of its type in France – a Gothic masterpiece that spans the 13th to 16th centuries and features some absolutely stunning stained glass. Visitors can also see the spot where Joan of Arc was burned at the stake in 1431.
Full-day excursions visit the D-Day landing beaches along the Normandy coastline, making Seine cruises ideal for anyone interested in wartime history.
Get on Board
Amadeus River Cruises 7-night 'Golf Cruise on the Seine' voyage, round trip from Paris, departing
11 September 2019, from £3,109 (includes four rounds of golf), fredrivercruises.co.uk, 0808 256 2302
APT 7-night 'Romantic Seine' cruise, round trip from Paris, departing 25 June 2020, from £3,395, aptouring.co.uk, 0800 012 6683
Saône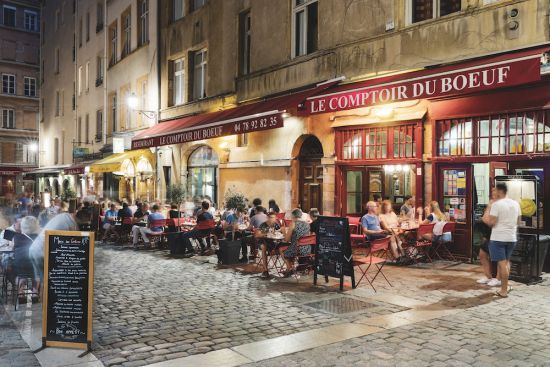 The River Saône is your gateway to the Burgundy wine region and the gastronomic treasures of southern France. Most itineraries begin or end in Chalon-sur-Saone and also include a few days' cruising on the Rhone, which runs downstream from Lyon.
Lyon has been a flourishing trading city since it was founded by the Romans, and today it is celebrated as the culinary capital of France. All cruises moor here, and you'll enjoy walking off those delicious calories with a stroll round Le Vieux Lyon, a UNESCO World Heritage site with one of Europe's greatest concentrations of Renaissance buildings.
The Saône meets the Rhone at La Confluence, an attractively revamped dock area that includes an interesting natural history museum housed in a futuristic building. Also look out for the traboules, a labyrinth of passageways built in the 15th century to allow the locals better access to their fresh water supplies.
Excursions are sure to feature Beaune, the historic centre of Burgundy wine production. The architectural highlight here is the 15th-century Hospices de Beaune, with its ornately tiled roof and barrel-vaulted rooms (look out for the ancient pharmacy with its intriguingly labelled potions such as 'Dragon's Blood').
All cruises make the most of this area's celebrated wine-growing prowess, with plenty of vineyard tours and tastings. Keen snappers will also want to visit the former Chalon-sur-Saone home, now a museum, of the inventor Nicéphore Niépce, who is credited with discovering photography in 1827.
Get on Board
Avalon Waterways 7-night 'Burgundy & Provence for Wine Lovers' cruise, from St Jean de Losne to Marseille via Macon, Lyon and Arles, departing 27 October 2020, from £1,972, avaloncruises.co.uk, 0330 058 8243
Scenic 10-night 'South of France' cruise, round trip from Lyon via Chalon, Tournon and Avignon, departing 7 May 2020, from £3,600, scenic.co.uk, 0808 149 9264
Volga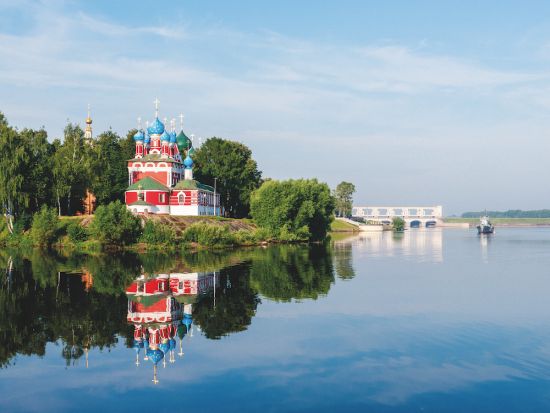 Moscow and St Petersburg are just 400 miles apart, a comparatively tiny distance in the 6.5 million square miles of the world's largest country. That makes river cruising a practical as well as delightful way to discover Russia's two greatest cities, along with the heartland of forested islands and remote villages that lies between them.
When it comes to cultural experiences, a Russian river cruise can rival anything Western Europe has to offer – but with much bigger ships. Unrestricted by low bridges and small locks, Russian vessels can accommodate up to 280 passengers, with bigger public areas and more facilities.
Ships sail along the Volga and smaller Neva and Svir rivers, and across Lake Ladoga, Europe's largest body of fresh water, which is so vast you'll think you're at sea.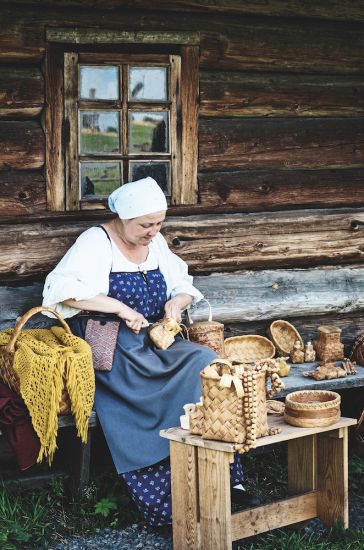 Most cruises sail the full route between Moscow and St Petersburg, allowing two or three days to explore each city. Moscow excursions include Red Square, with Lenin's tomb and the brightly coloured onion domes of St Basil's Cathedral, while in St Petersburg a canal tour provides a wonderful overview of this elegant city, followed by the highlights of the Hermitage Museum, one of the world's greatest art collections.
Itineraries will feature stops at Kizhi Island with its amazing 22-domed wooden church, a feat of carpentry that was built without using a single nail. You can also expect visits to the historically significant 'Golden Ring' cities of Yaroslavl and Uglich, which played a pivotal role in the founding of the Russian Orthodox Church. Longer cruises take in the riverside city of Volgograd, formerly Stalingrad, where Russian resistance turned the tide of the Second World War.
Get on Board
Vodohod 7-night 'Moscow to St Petersburg' cruise, departing 5 October 2019, from £2,754, bestrussiancruises.com
Volga Dream 11-night 'Grand Volga' cruise, from Moscow to Volgograd, departing 26 September 2019, from £3,145, fredrivercruises.co.uk, 0808 271 7417