Search for your ideal Cruise
Ocean cruising in Borneo
Home to one of the oldest rainforests in the world, Borneo is an island comprised of wildly varying scenery from swamps, rainforests and grasslands to arid savannas, complex cave systems and snowy mountain peaks. These diverse natural landscapes are bursting with exotic wildlife, including the famous Bornean Orangutan and the enigmatic slow loris. Borneo is split politically among three countries: Malaysia and Brunei in the north and Indonesia in the south. As a result, Borneo is comprised of a patchwork of cultures to experience on a Borneo cruise, populated by the Dayak ethnic groups. Sarawak and Sabah are inhabited mainly by Malays, while further inland you will come across the Iban, Dusun, Murut, Penan communities. There also exists a strong Chinese presence in Borneo, with many descendants of South Chinese immigrants living in Sarawak and West Kalimantan. Longhouse communities are also still present in Borneo, preserving the ancient customs and traditions of the Dayak groups.
Why choose Borneo cruises
Borneo is the third-largest island in the world, outlined by a spectacular coastline which makes it perfect for cruising. The island straddles the equator, resulting in its warm and tropical climate. Cruises to Borneo boast shores filled with tropical reefs, lively, vibrant villages inhabited by indigenous tribes and humid, tropical rainforests packed with exotic creatures that all characterise the beautiful island of Borneo.
find your perfect cruise
Find your ideal Southeast Asia cruise
Borneo cruises: Best Places to visit in Borneo
Kota Kinabalu, Sabah
The gorgeous gateway city into Malaysian Borneo, Kota Kinabalu is synonymous with cool craggy mountain tops, lively streets peppered with craft and seafood markets and sensational sunsets. Find yourself in food heaven along your Borneo cruise as you walk through the pasar malam night market on the town's waterfront where freshly-caught sea bream, lobster and shellfish is laid out and cooked in front of you. Real foodies should look out for a Sabah food tour, during which a local food connoisseur can show you where to find some of the best and most unusual local ingredients. Landscape fanatics will want to lose themselves the diverse ecosystem of the Mount Kinabalu Park Botanical Garden and experience the picturesque panoramic views of the city by trekking up to its soaring summit. Keen photographers will want to get their cameras ready for the beautiful Kota Kinabalu Mosque and train enthusiasts should jump aboard the new Borneo Railway which transports you along the bewitching coastline and through the shady jungle.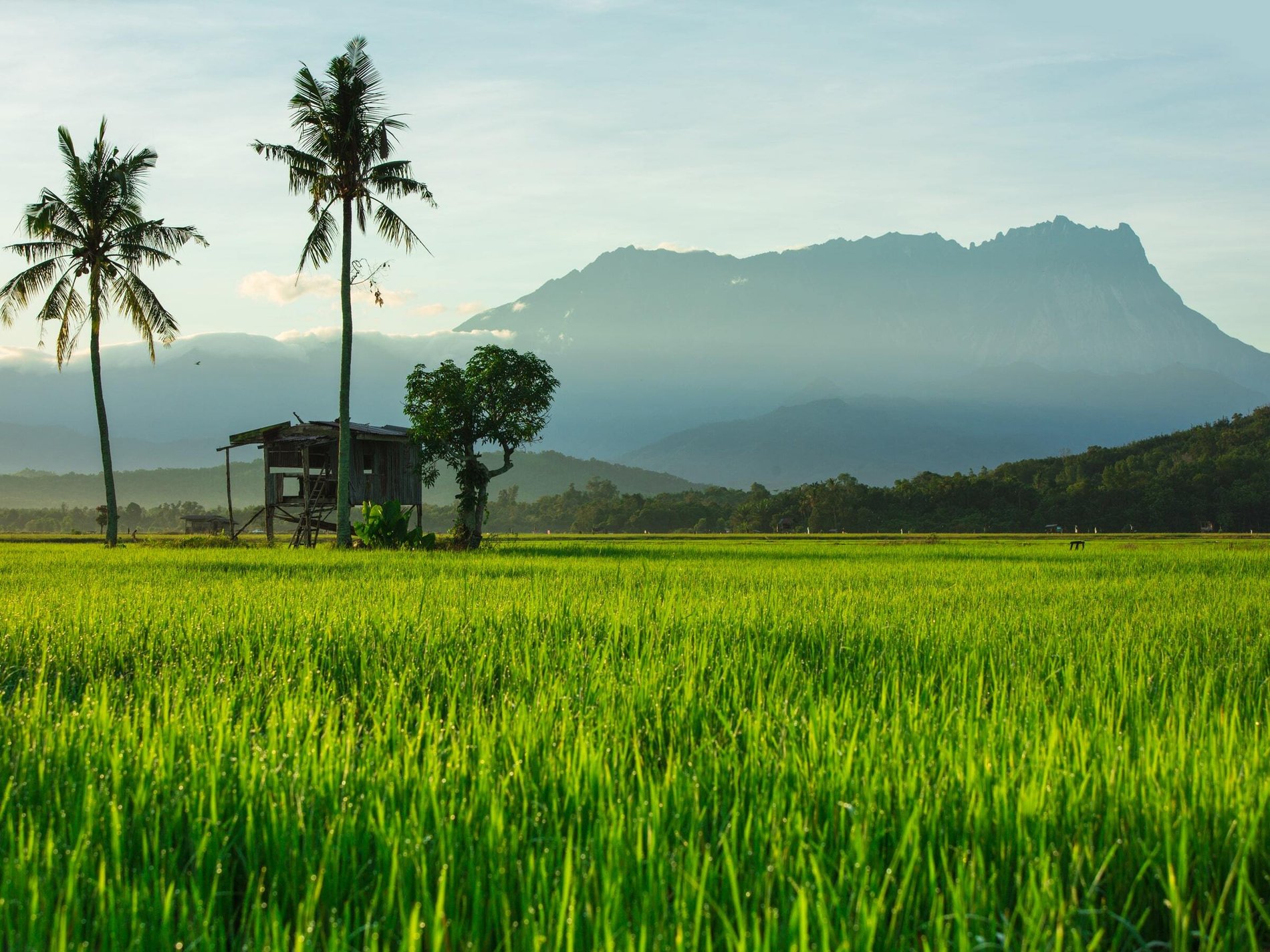 Sipidan Island and Pulau Tiga, Sabah
Pulau Tiga, or Three Islands, is as close as you can get to a desert island and was even once chosen as the location for the global hit TV series Survivor. This elusive island is the youngest in the South China Sea, formed from a volcanic eruption at the end of the 19th century. With pristine beaches, exhilarating jungle hikes and sticky mud baths that are impossible to resist, Pulau Tiga is paradise.
Snorkelling off the coast of Pulau Tiga will feel as though you're floating through a tropical aquarium full of lively sea life and colourful coral. On the shores groups of eagles and hornbills wander brazenly around the island.
The stunning Sipidan Island shares the spot at the top, for best marine life, with the Galapagos Islands and Truk in Micronesia. Avid divers won't believe their eyes as they swim through schools of tropical fish, hammerhead sharks, manta rays and whale sharks. Above the waters, too, you'll be able to spot some exquisite birdlife as Sea Eagles, starlings, sunbirds, and kingfishers grace the sunny skies above.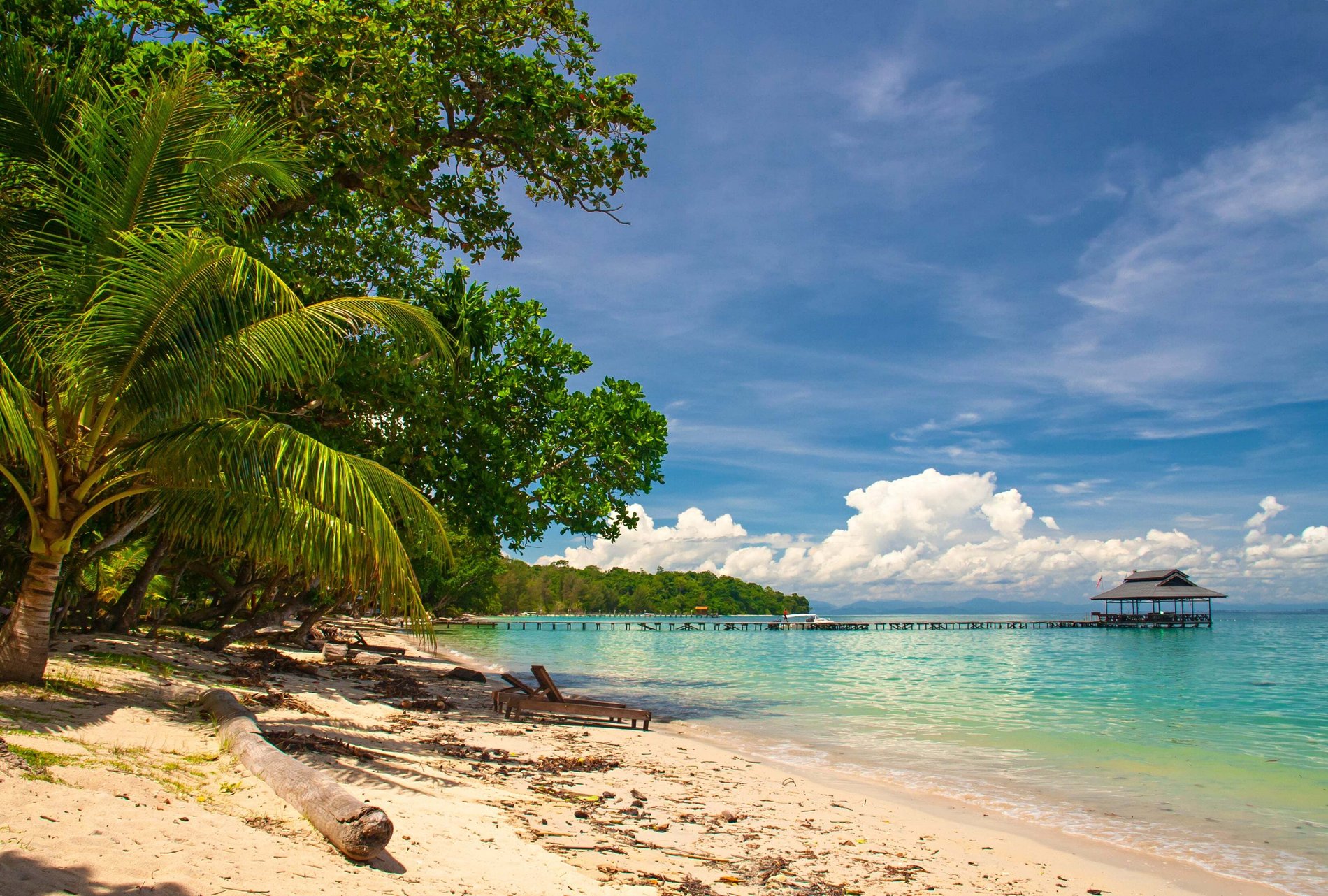 Sandakan, Sabah
The romantic Sandakan is blessed with awe-inspiring turquoise-blue bays and a rich cultural history. Once a British colonial port blown to pieces during in World War II, Sandakan has risen from the ashes to become a bustling, metropolitan centre. Immerse yourself in the town's history at Sandakan Memorial Park, a a former Japanese prisoner-of-war camp, and step back in time to the British colonial era at the English Tea House and Restaurant. Sandakan also boasts extraordinary natural wonders, such as the Gomantong Cave and the Kabili-Sepilok Forest Reserve. To satisfy your wildlife cravings, hop on a boat to Selingan Turtle Island, a protected conservation area with its own turtle hatchery. A far cry from the busy city centre is the Buli Sim Sim Water Village, famous for its rickety stilt houses and delicious seafood restaurants. Once you've filled up on succulent local snacks from the hawker stalls at the Sandakan Central Market, jump on a cruise down the Kinabatangan River, gliding gently through a diverse range of forest habitats hosting Proboscis monkeys, Borneo elephants, Grey-Tailed Racer Snakes, Hornbills, macaques and lizards.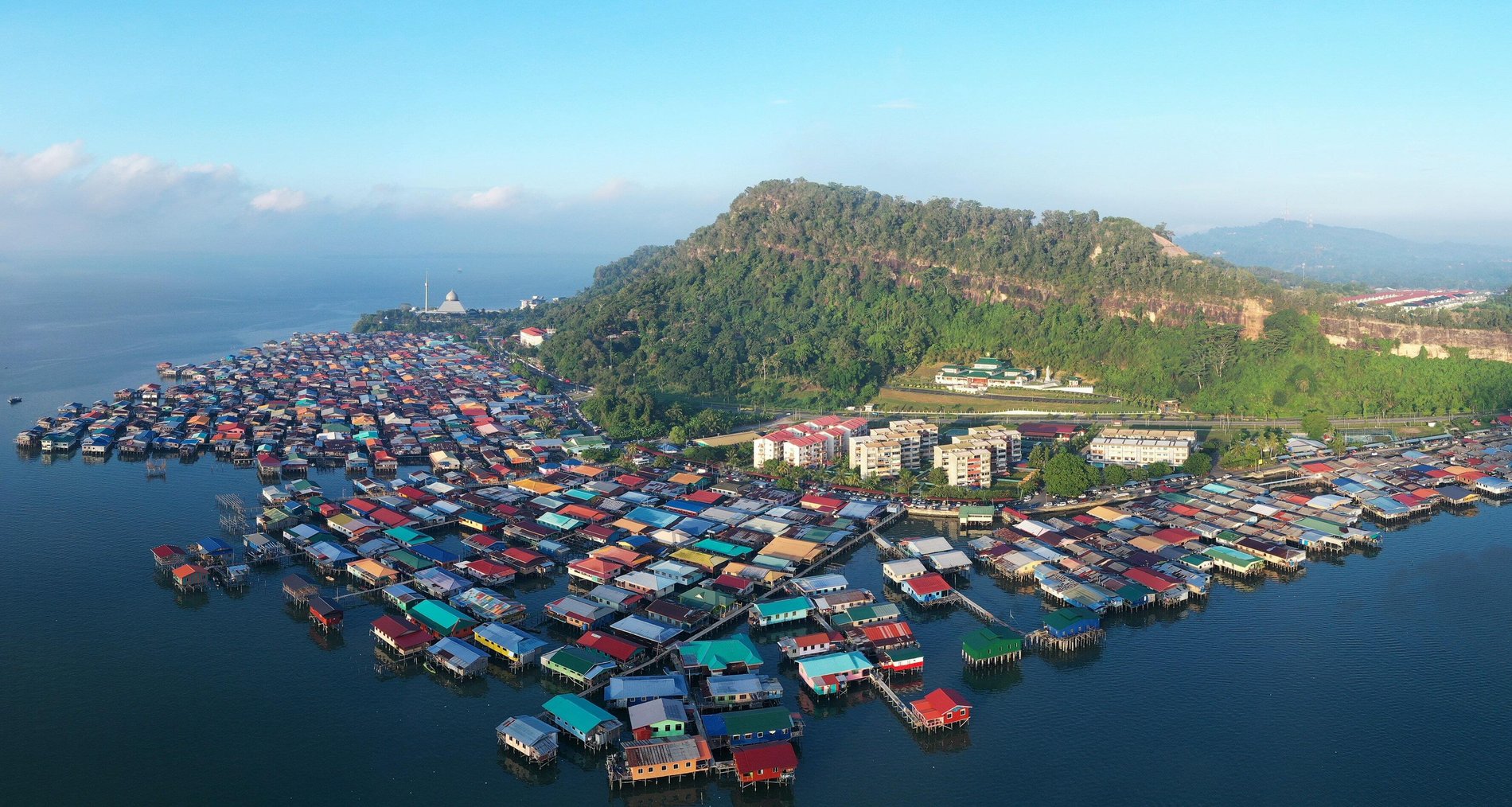 Bintulu, Sarawak
Renowned for shrimp paste and kite festivals, Bintulu is a laid-back coastal town with golden beaches and ornate religious sites. The town boasts its own mini zoo and botanical garden, where Greater Flamingos show off their bright feathers and sun bears laze around in the shade. Perfect your culinary skills at Jepak Village, where local people will teach you how to create the famous belacan paste – fermented shrimp. At the end of a long day of exploring, relax on Tanjung Batu Beach as you watch the sun go down and quench your thirst with a bowl of ABC – local shaven ice cream. You'll need to preserve some of your energy for the Bintulu Night Market, where you can feast your eyes and tastebuds on fresh, juicy durian and dabai fruits after a nice meal of Mee Tomato crispy noodles. If you happen to arrive in Bintulu during the last week of September, you will be fortunate enough to experience the Borneo International Kite Festival. Enthusiastic kite flyers from all over the world descend onto the town to show off their colourful kites in a magnificent display above the city.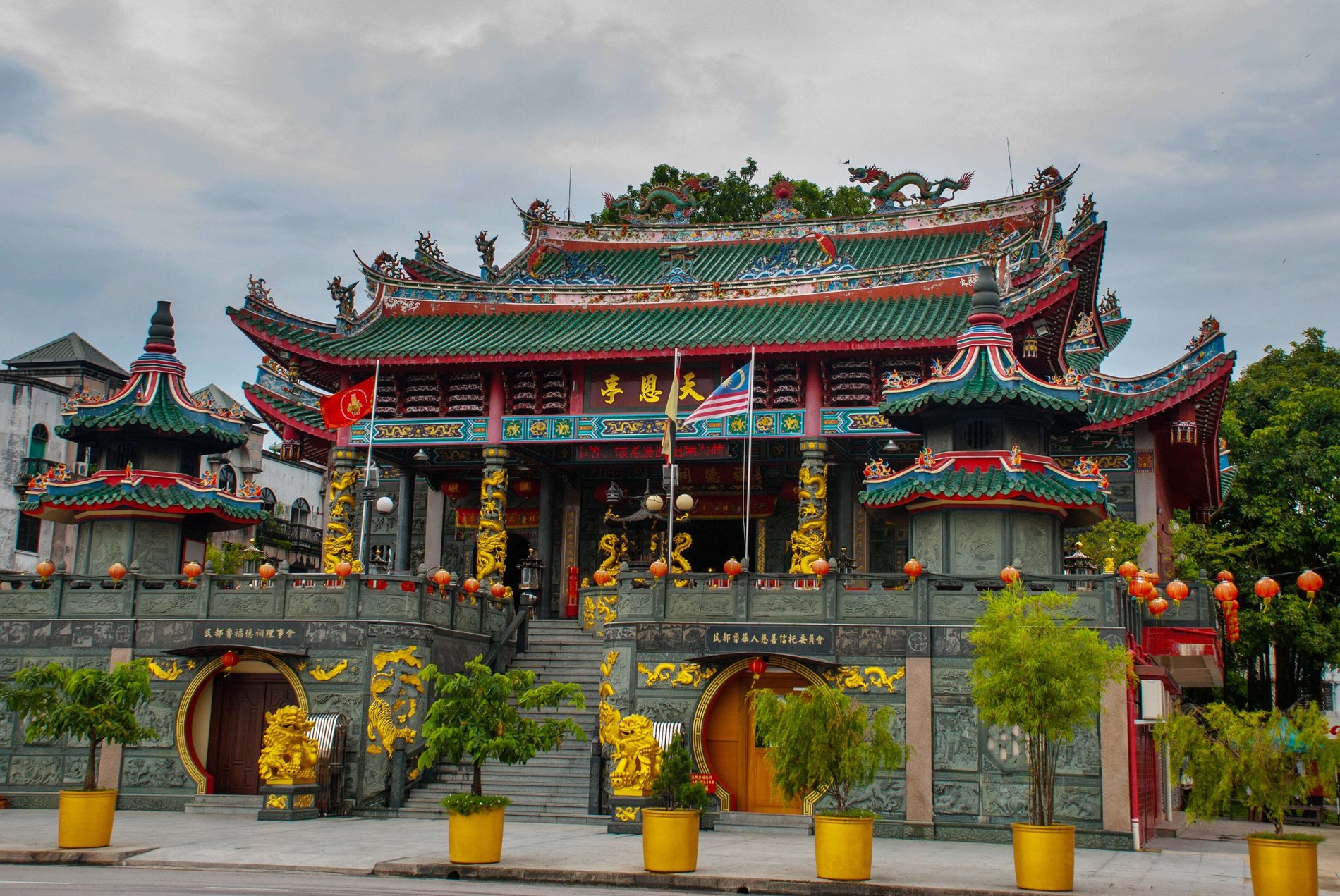 Kuching, Sarawak
Quirky Kuching is a cat-lover's paradise and one of the most unique cities in Asia. Peppered across Kuching are dozens of cat statues, and the furry felines feature in cafés, on manhole covers and even on the radio since Sarawak launched its first private station, Cats FM. Although they are a focal point, Kuching has much more to offer than just a shrine to cats. Wander along the pretty waterfront from where you will see amazing views of the Astana Palace and Fort Margherita. Culture fanatics will adore the opulent Kuching Mosque, decorated in pink and white paint with glittering golden domes. Lose yourself back in time while visiting the Sarawak Museum or the Old Courthouse, which is built in a classic Baroque style. Longhouses, some of the first residential dwellings built and lived in by indigenous people, are still present in parts of Borneo and Annah Rais just outside of Kuching is home to three longhouses called Kupo Terekan, Kupo Saba, and Kupo Sijo. Open to the public, have a look round these ancient buildings to learn about their history. Families still settle here and some even open up their homes for visitors to stay in.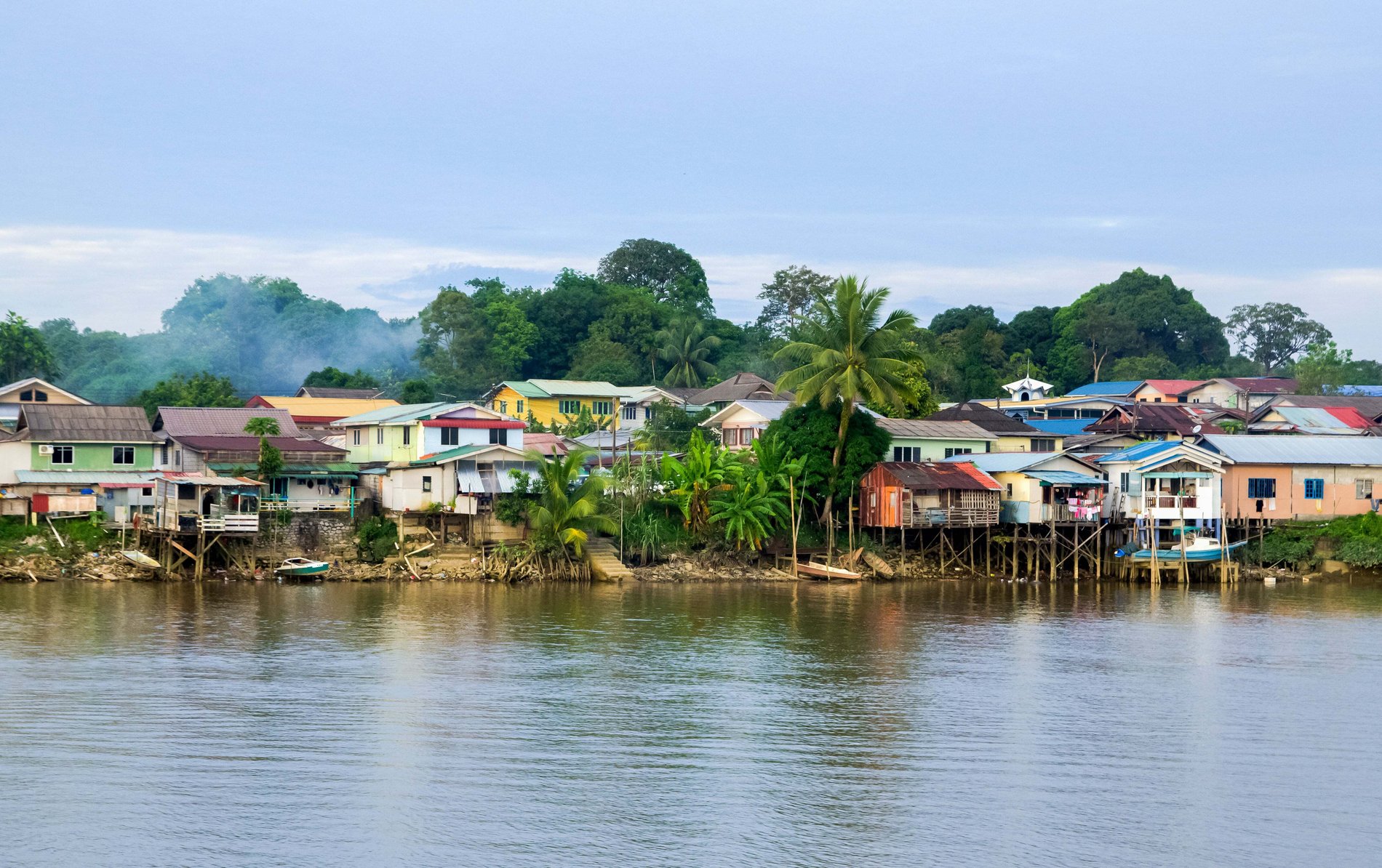 The wider Sarawak area
Bintulu and Kuching are the principal towns in Sarawak, but surrounding these cities are myriad of natural wonders. The ethereal Mount Santubong dominates the coastline near Kuching and its verdant hillsides are densely packed with steamy rainforests, while mystical mangroves line its base. If you look closely, you might catch a glimpse of an Irrawaddy dolphin drifting through the muddy waters surrounding Santubong. In close proximity to the town of Miri in Sarawak stand brooding caves - the largest and most accessible in Borneo. The hair-raising Niah Caves are open to the public and visitors can explore the hundreds of passageways that weave through the vast complex. There exist yet more unusual rock formations at Tusan Cliff Beach. Gaze down the coast to see a bizarre looking sandstone rock that takes the shape of a horse's head drinking from the sea.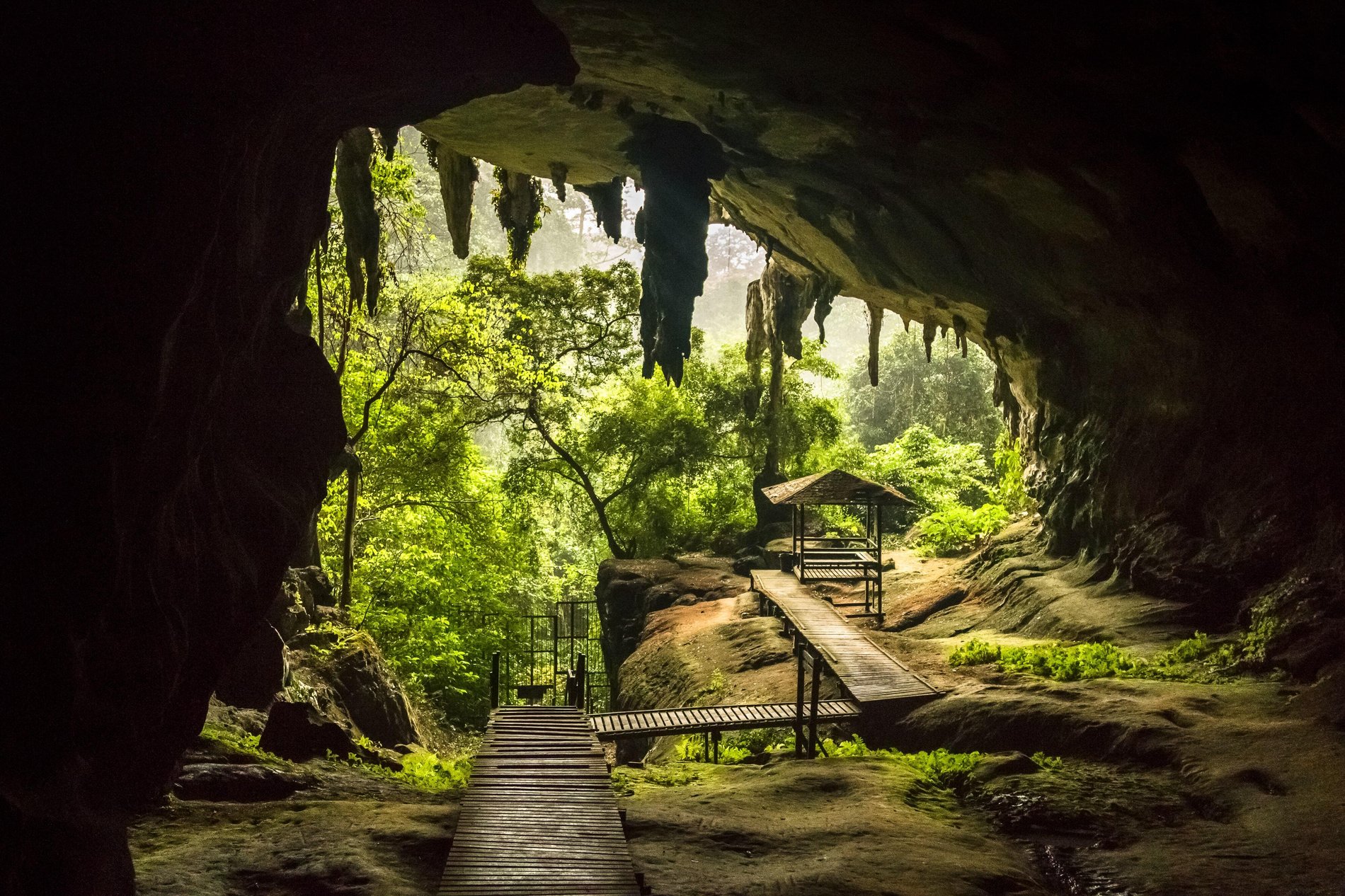 Iconic ports
Borneo cruises: Best things to do in Borneo
Visit an orangutan sanctuary
The Borneo Orangutan is an endangered species and a multitude of conservation centres have been set up throughout the island to protect them. Sepilok Orangutan Rehabilitation Centre is the largest and most famous, located near Sandakan in Sabah. Here, you'll feel your heart melt as you observe orangutan feeding time and watch the fuzzy ginger apes swing happily from tree to tree. Similar projects exist in Kuching, at the Semenggoh Wildlife Rehabilitation Centre and Kubah National Park, as well as in Kota Kinabulu at the Lok Kawi Wildlife Park.
Work your way through the jungle
The Borneo rainforest is estimated to be a staggering 130 million years old and is home to 750 species of tree. See this natural phenomenon for yourself by embarking on one of the many jungle trails available to tourists. Long Pasia village marks the beginning of the trail at the Sabah/ Sarawak border and the Sandakan-Ranau Historic Death March trail pays homage to the Australian and British solders forced to march to death through lowland jungle and fragrant swamps by the Japanese in World War Two. It is worth noting that visitors should be accompanied by professional guides at all times on this route. Almost completely cloaked by misty clouds, Danum Valley in Sabah is another spectacular jungle route and one of the most diverse areas in the world. Along this trail you may well encounter Orangutans, Civet Cats, Sun Bears, Clouded Leopards and Pygmy Elephants.
Go to a national park
Malaysian Borneo has an abundance of national parks that feature humid jungles, craggy caves and funky wildlife. Bako National Park is the oldest in Sarawak and is home to the unique-looking pendulous-nosed proboscis monkey, as well as the hairy bearded pig. If you're seeking a wonderous world of waterfalls, take a trip to the Kubah National Park which has more than 5,500 acres land filled with thundering waterfalls, limpid streams and fresh, warm rock pools for bathing in. For an entirely different experience, explore Gunung Mulu National Park in Sarawak, where limestone caves are dispersed between patches of thick flora, and millions of bats circle the skies above.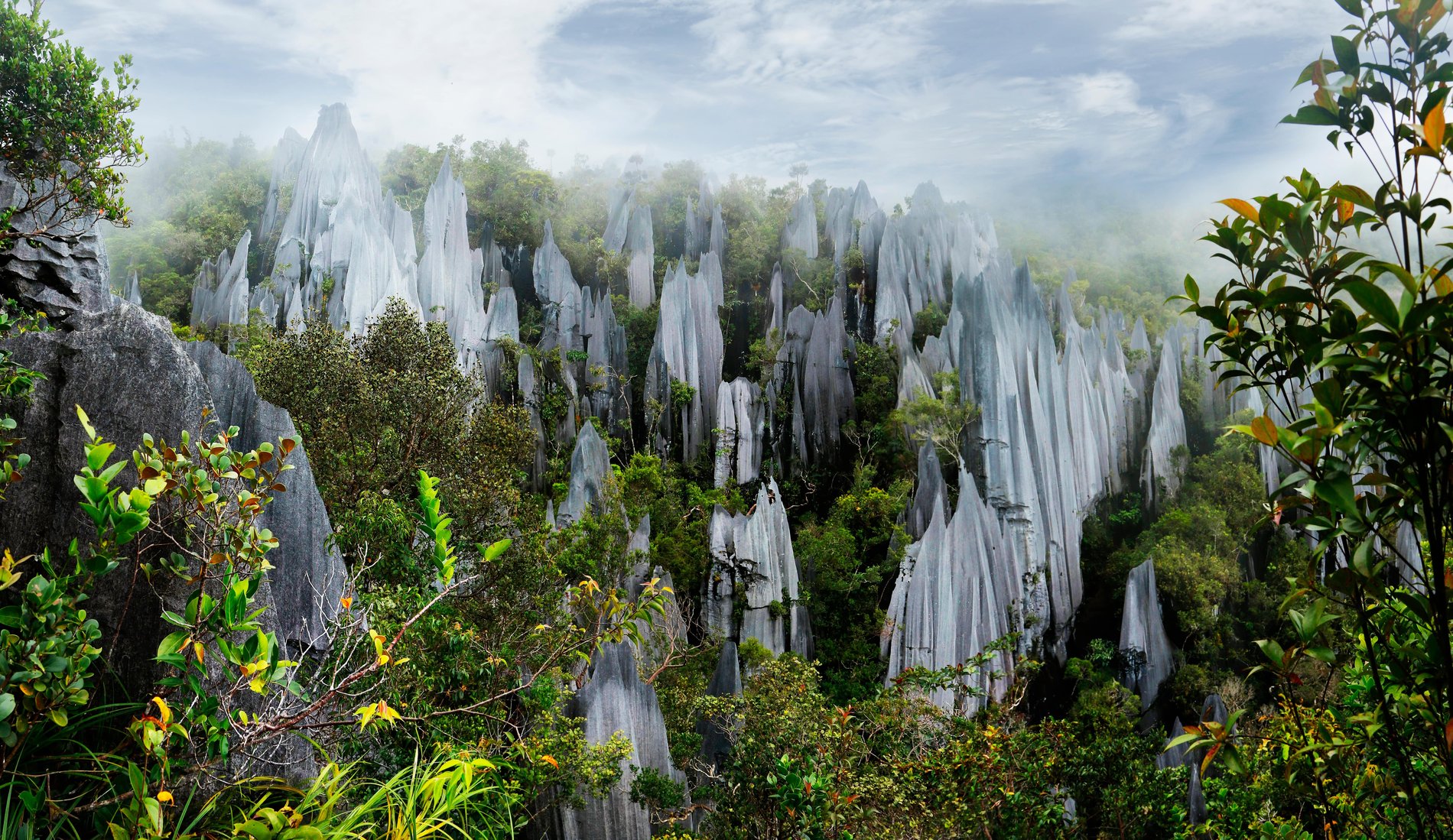 Visit a cultural village
Cultural villages allow travellers to immerse themselves in the traditional lifestyles of ethnic communities along a cruise in Borneo. In Sabah, you can visit or stay at the Mari Mari Cultural Village, which was built in ancient times and is home to traditional Bajau, Dusun, Rungus, Murut, and the Lundayes tribe houses. Monsopiad Cultural Village near Kota Kinabalu is an unusually-themed village, which has its own 'House of Skulls' said to be the heads of robbers killed by the Monsopiad protector of the village. Tambatuon is more of an eco-village, where tourists can sleep in wooden cabins against the backdrop of the Kinabalu Mountain.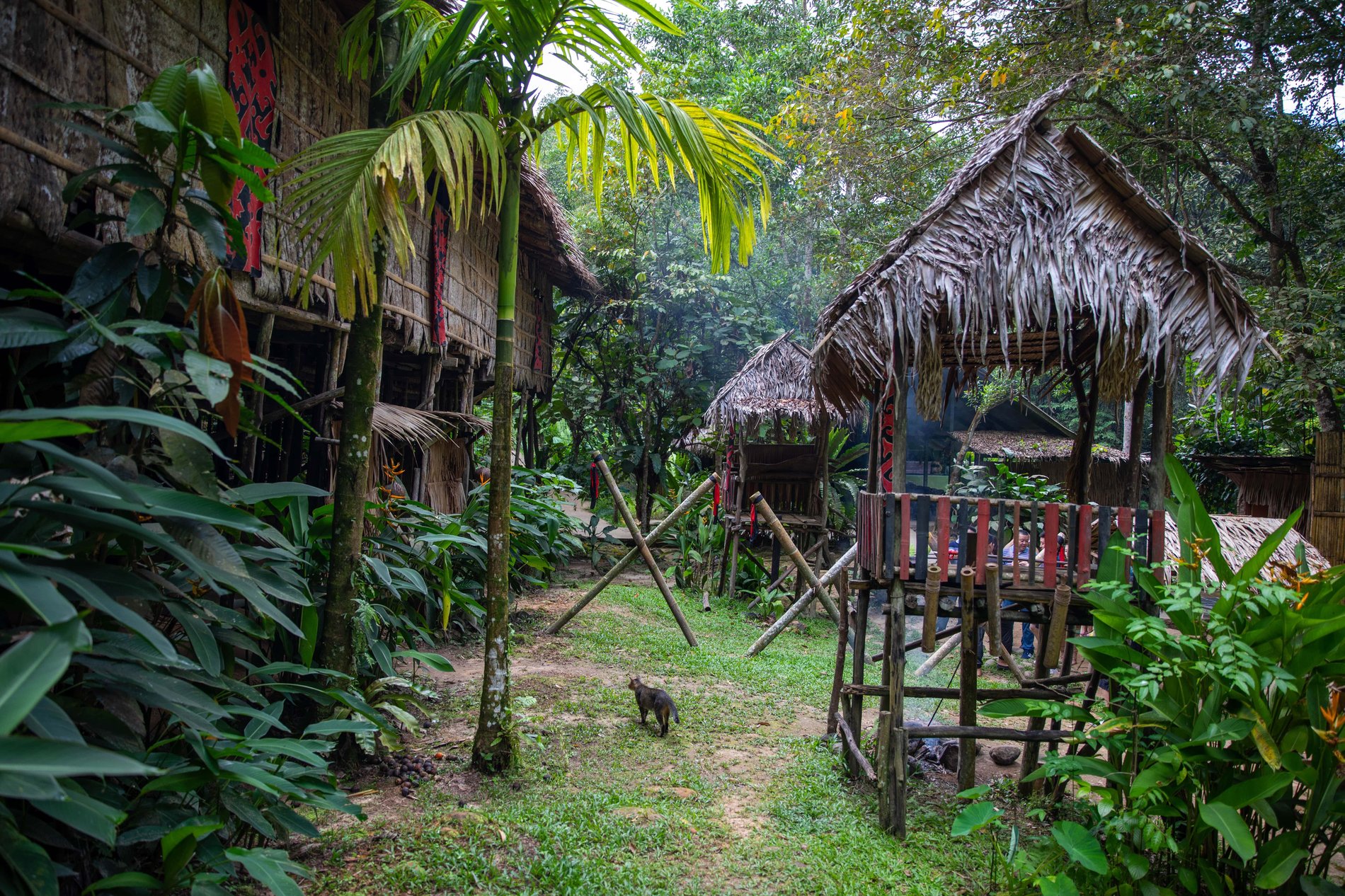 Try the local cuisine
With a cuisine as mixed as its heritage, cruises to Borneo are home to some culinary delights. Staple dishes include grilled seafood, fried rice, noodles and local fruit. Sabah is generally known as the best area for experiencing traditional Borneo food and there you will find hinava – fresh, fileted mackeral served with chili, ginger, diced red onions and grated bambangan seed, pinasakan sada – basung fish grilled with the tangy takob akob fruit, char siew fan – sweet and sour slow roasted pork and a variety of clay pot soups varying from seafood broths to thick vegetable mixes.