Search for your ideal Cruise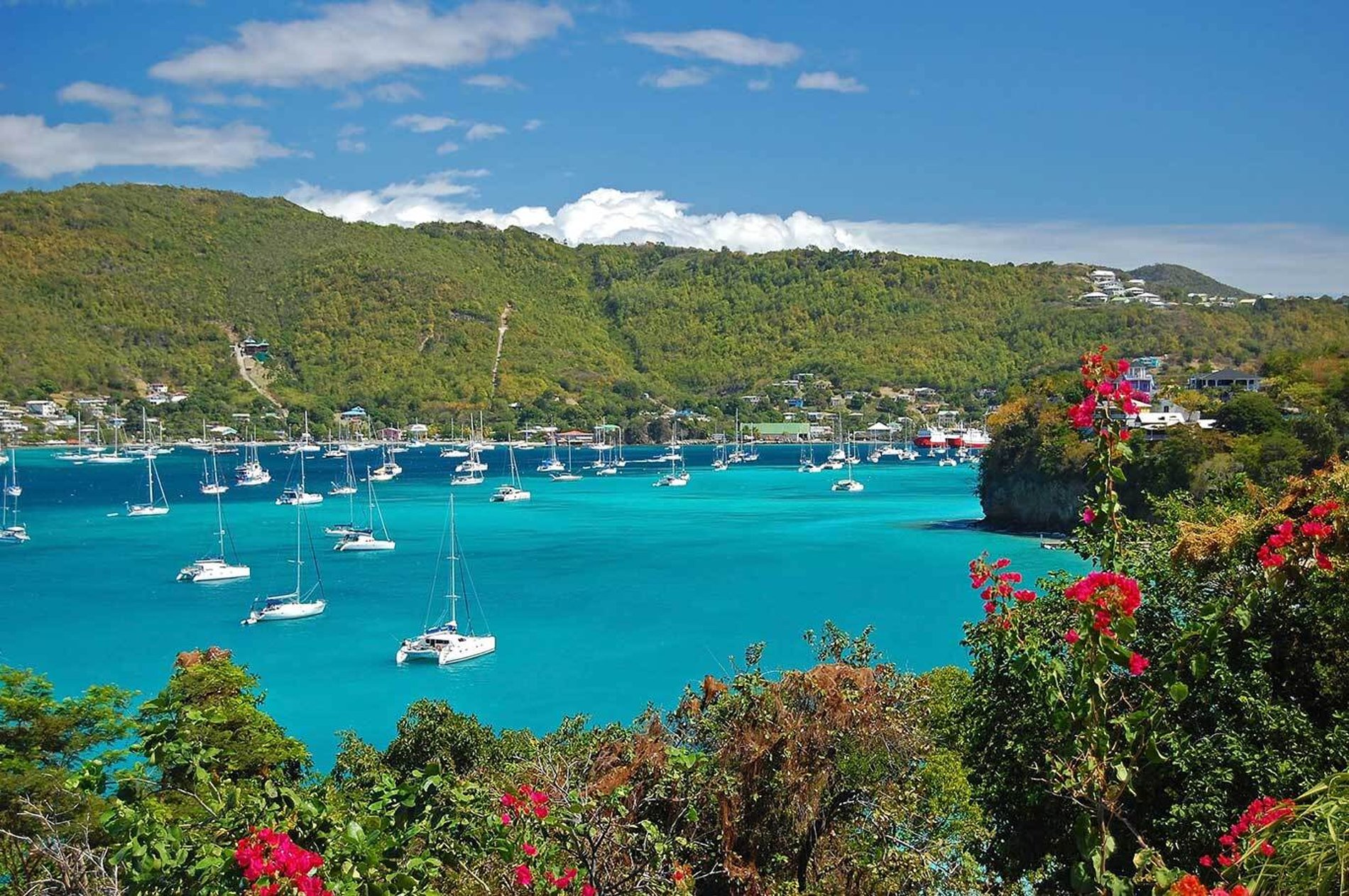 Seabourn Unveils New Ultra-Luxury Caribbean 2022/23 Programme with Direct Flights from UK Included
Seabourn has just released its 2022/2023 Caribbean programme, which includes a series of seven to 14-night itineraries roundtrip from Barbados, and, for the first time, air fare included in the price. What's not to love?
A winter sun break – there's not much that can compare. You can leave the rainy British weather behind, escape the grey clouds and emerge into a bright new world.
And, while there is much to be enjoyed from exploring closer to home, there's no arguing that after a year of staying local, you – and many others – are probably itching to spread your wings once more.
Seabourn has the ideal solution – a Caribbean cruise from Barbados. The luxury line's 2022/2023 Caribbean programme includes a series of seven to 14-night itineraries roundtrip from Bridgetown, Barbados, taking place on the all-inclusive, all-veranda suite Seabourn Ovation.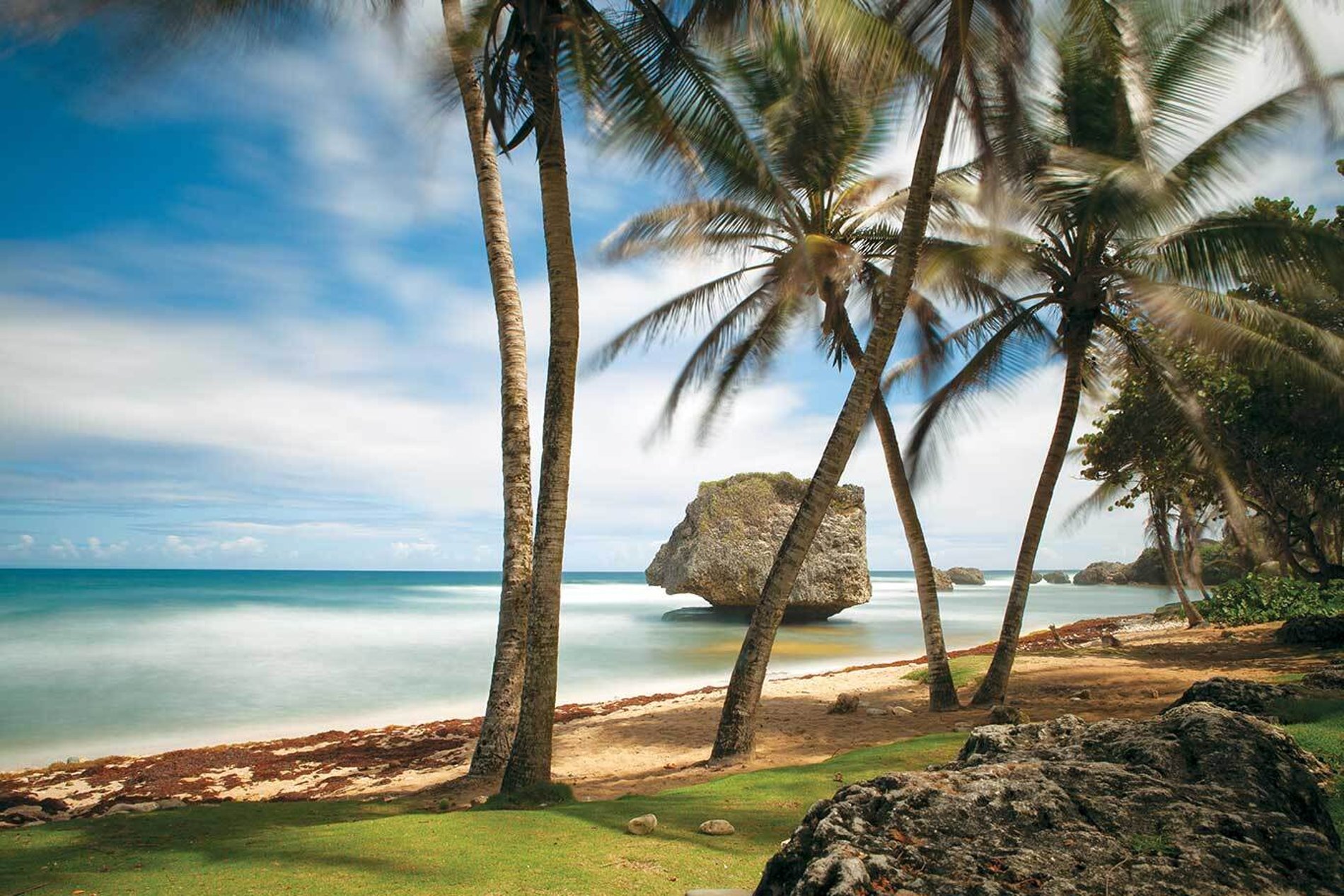 It's not only the destination that appeals, but also the ease of travel, as you can fly direct to the island from a number of UK airports. For the first time ever, Seabourn is including airfare in the pricing, guaranteeing a fly/cruise price, right now, for December 2022 until April 2023.
Flights are available from London and regional airports, with prices (including transfers between Bridgetown airport and the ship) starting from £3,599 per person, including economy class air, with the option to upgrade to business class for £999pp each way.
If you book and pay in full by 30 June 2021, you will also benefit from a 10 per cent saving on the cruise fare.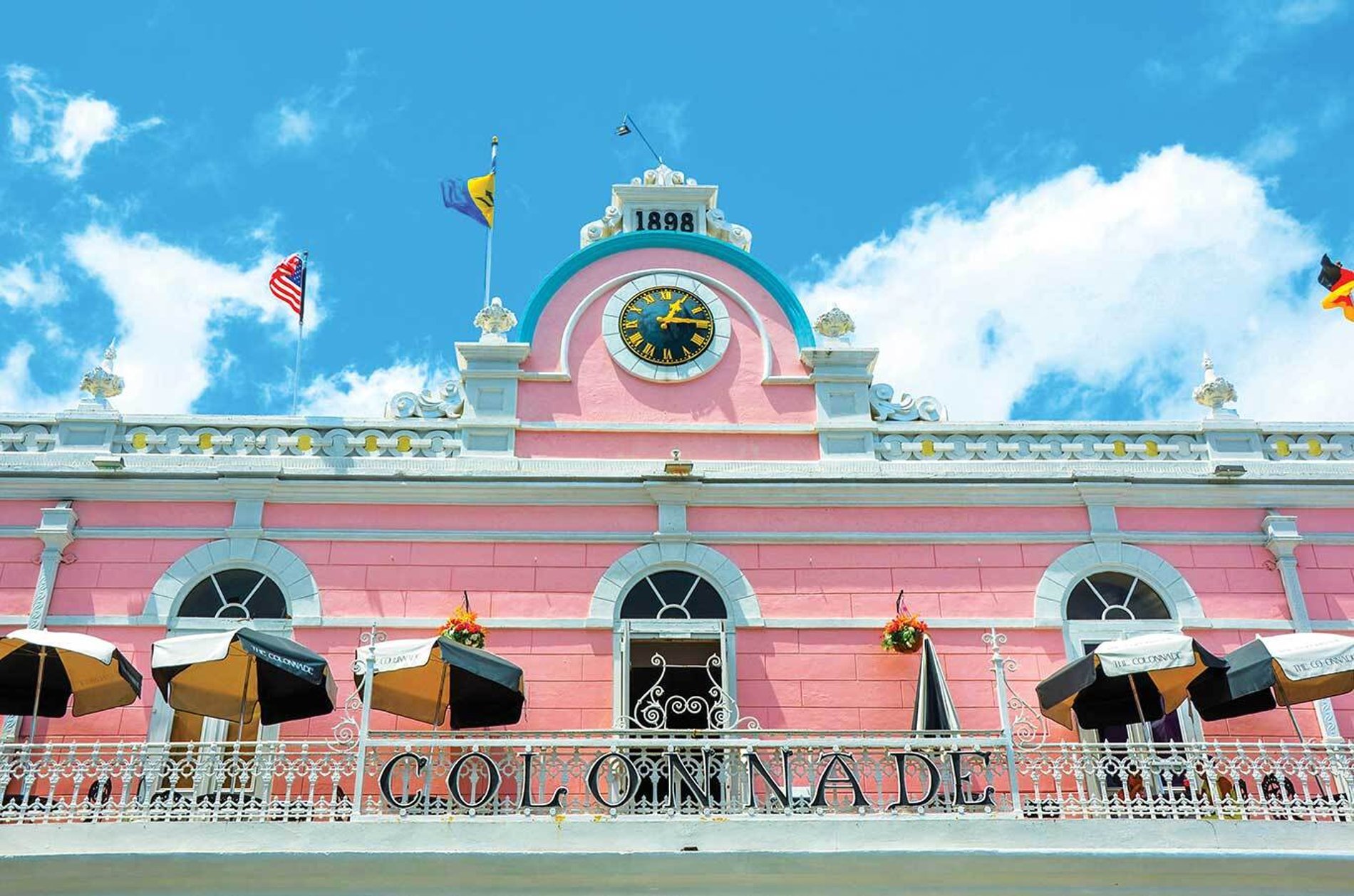 Stroll through history with Seabourn
Why not extend your Seabourn Caribbean cruise with a stay in Barbados, and a chance to explore Bridgetown, a Unesco World Heritage Site?
With 400 years of British heritage on display, there is plenty for history lovers to take in and a stroll through the town will immerse you in the past. There's the statue of Admiral Nelson, past the Parliament Buildings, St Michael's Cathedral, St Mary's Church, Jubilee Gardens and also Chamberlain Bridge – named after Joseph Chamberlain, a former British Secretary of State for the Colonies.
Then, take another stroll, this time a picturesque seaside boardwalk to one of the many shoreline cafes and restaurants. After that, you'll want to pick a spot on one of Bridgetown's serene beaches or sample the drink in a rum distillery.
Aside from the ease of travelling to Barbados from the UK, starting a cruise here also means you will be able to really immerse yourself in the region and explore smaller ports during your holiday.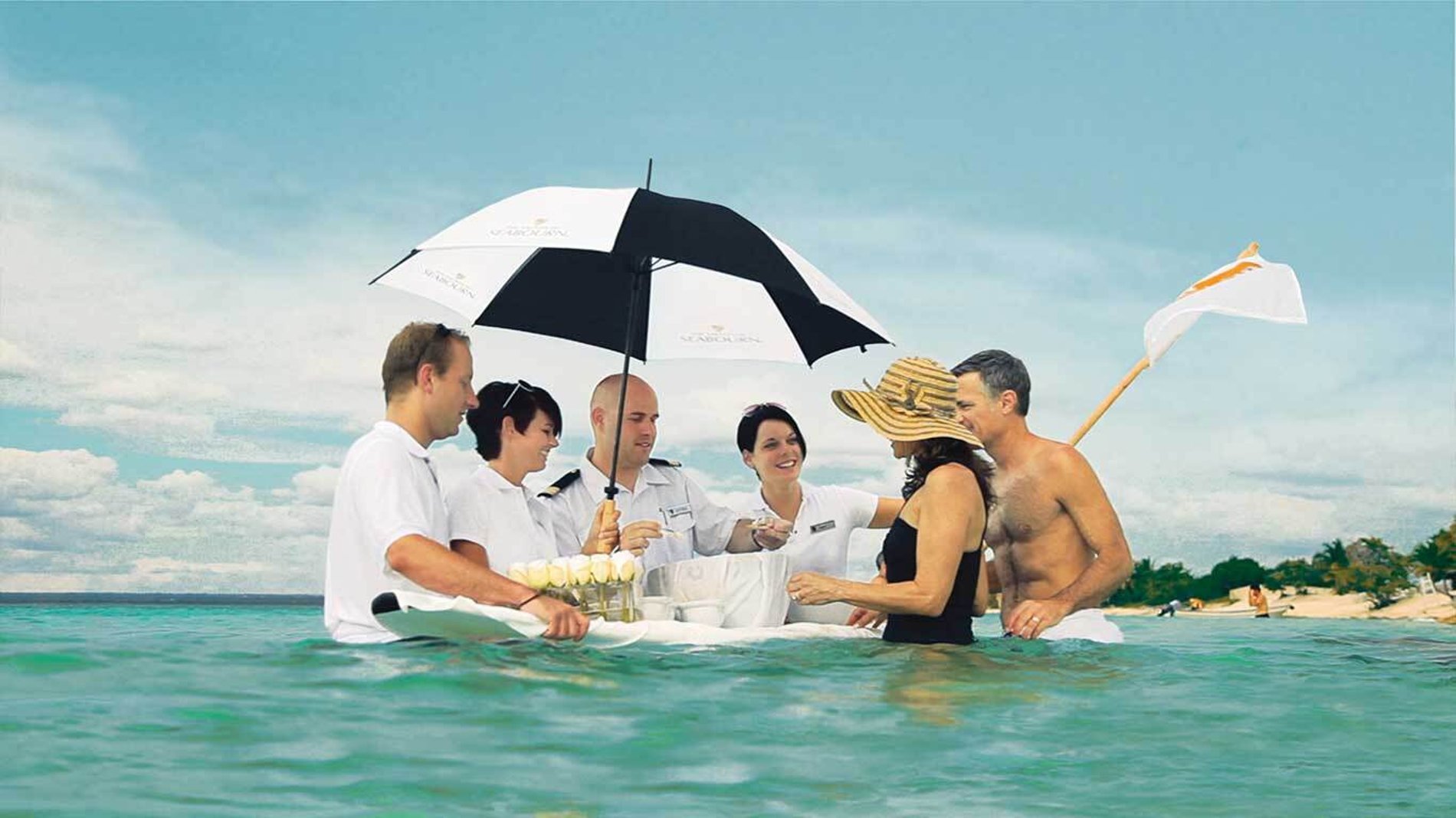 Spice it up with calls into smaller ports
For example, the week-long 'Caribbean Spice Islands' voyage, departing 10 December 2022, takes you to Rodney Bay (St Lucia), quieter than the main port of Castries, and gateway to Soufriere volcano, vistas of the iconic Pitons and maybe a chance to snorkel at Pigeon island.
Then it's Roseau, a deeply forested island with thermal springs, botanical gardens and waterfalls, followed by Carambola beach, which features the quite brilliant sight of Seabourn crew members wading through the water to deliver trays of champagne and caviar.
The final call in the seven-night cruise is Grenada, known as the 'Spice Island' because of the spices – think nutmeg, cinnamon, mace, turmeric and ginger – that it exports worldwide.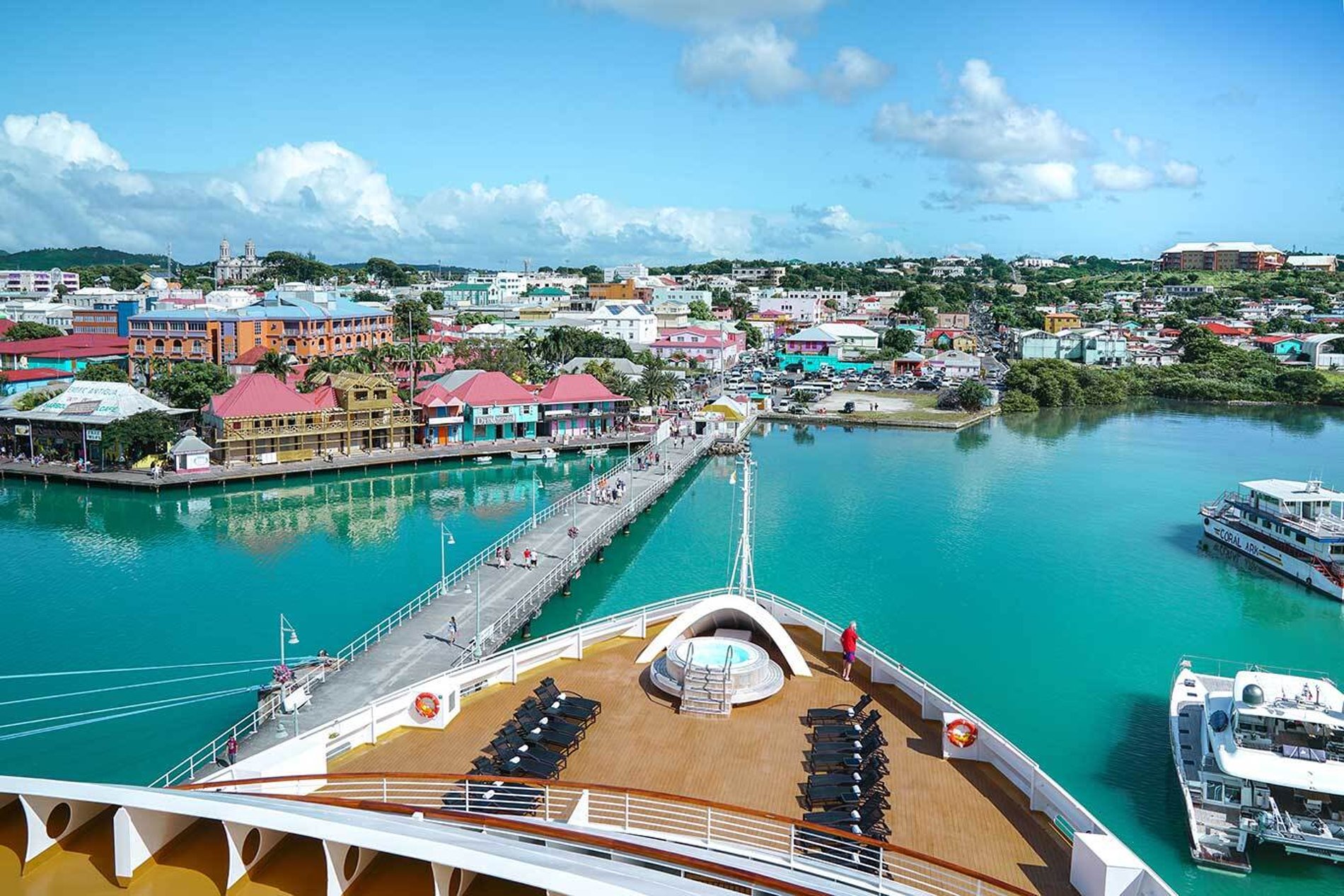 A longer itinerary – the 14-night 'Exotic Caribbean In Depth' voyage – will call at beautiful Bequia; St John's Antigua – home of the British fleet during the time of Admiral Nelson; and St Maarten, an island under two flags, with both French and Dutch experiences – such as bouillabaisse, a classic French fish soup, at Marigot, or shopping for Dutch porcelain at Philipsburg.
You will also experience the classic Caribbean yacht harbour at Soper's Hole in tiny Tortola, which was once a notorious den for pirates, and call into Gustavia on St Bart's.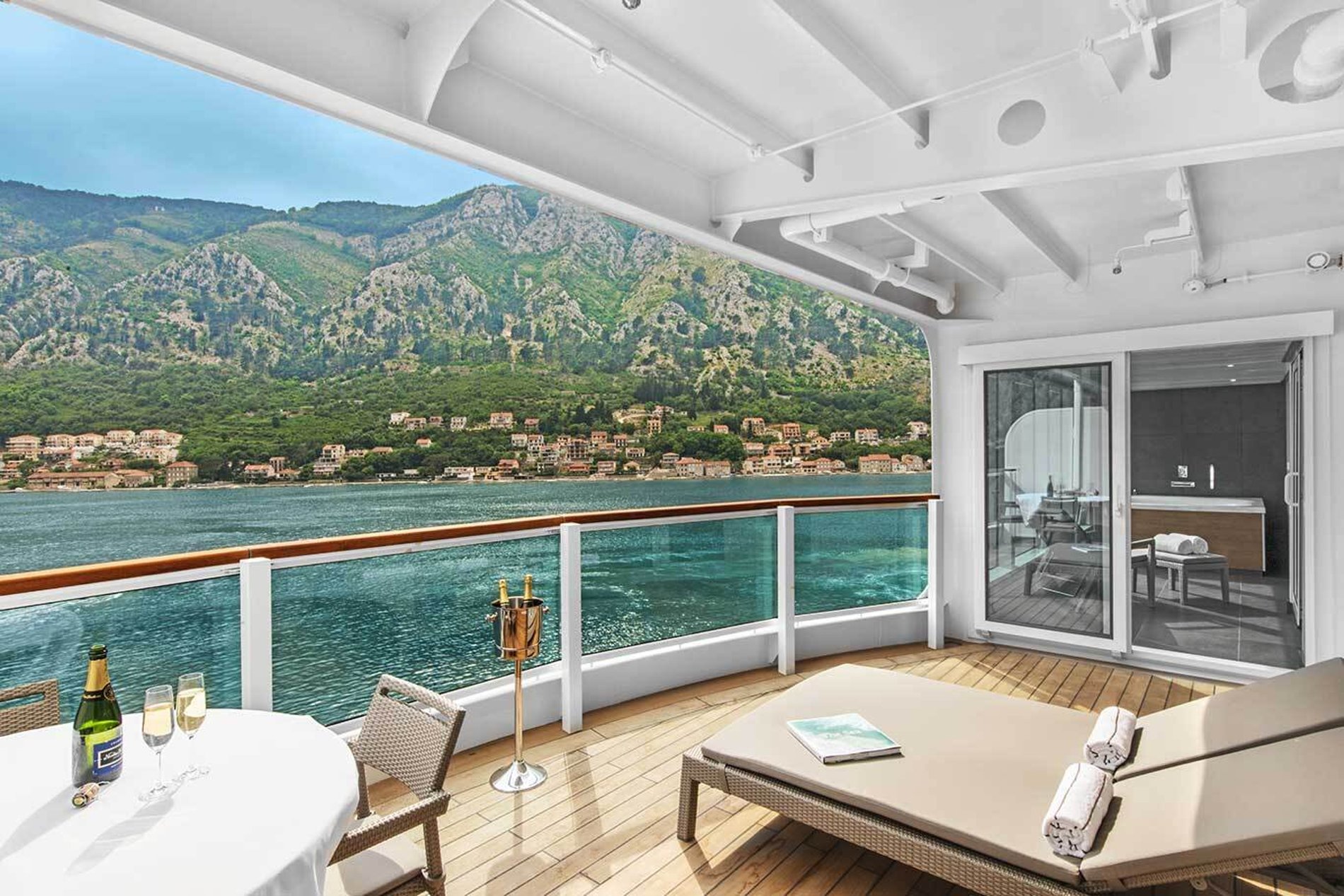 Here is a selection of the amazing cruises to choose from...
7-Night Caribbean Spice Islands
Seabourn Ovation
10th December 2022
Bridgetown (Barbados), Rodney Bay (St. Lucia), Roseau (Dominica), Point-a-Pitre (Guadeloupe), Carambola Beach (St. Kitts & Nevis), Trois Ilets (Martinique), Saint Georges (Grenada), Bridgetown (Barbados)
All inclusions as specified
From ONLY £3,599 per person INCLUDING FLIGHTS (or £2999 per person cruise only)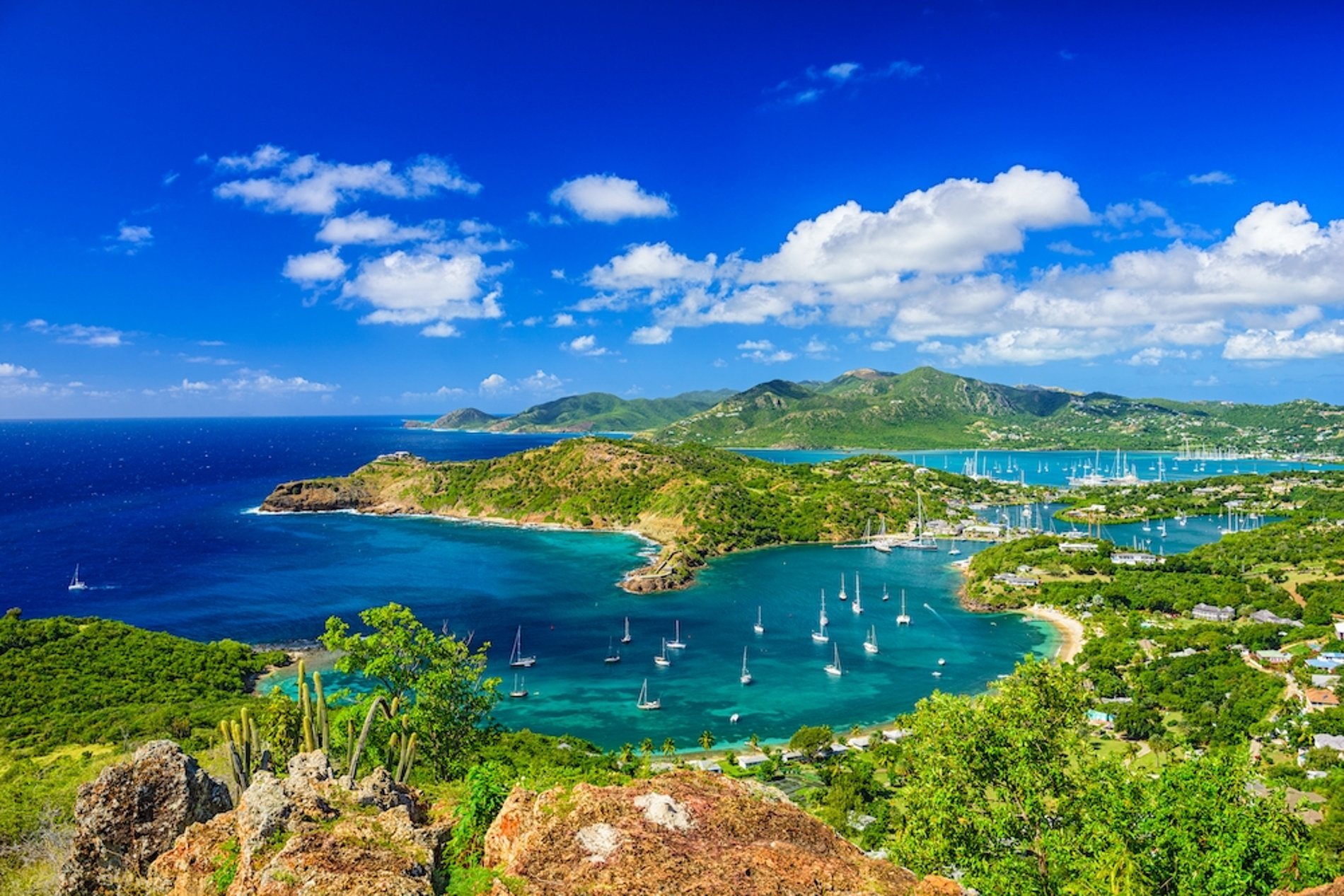 14-Night Exotic Caribbean In Depth
Seabourn Ovation
7th January 2023
Bridgetown (Barbados), Port Elizabeth (Bequia), Trois Ilets (Martinique), Basse-Terre (Guadeloupe), Charlestown (Nevis, St. Kitts & Nevis), St. Johns (Antigua), Carambola Beach (St. Kitts & Nevis), Philipsburg (Sint Maarten), Sopers Hole (Frenchman's Cay, BVI), Basseterre (St. Kitts & Nevis), Gustavia (St. Barts), Terre de Haut (Guadeloupe), Rodney Bay (St. Lucia), Saline Bay (St. Vincent & The Grenadines), Bridgetown (Barbados).
All inclusions as specified
From ONLY £6,599 per person INCLUDING FLIGHTS (or £5,999 per person cruise only)
11-Night Gems of the Leeward Islands
Seabourn Sojourn
18th November 2022 for 11 Nights
Miami, Florida (USA), San Juan (Puerto Rico), Gustavia (St. Barts), Terre de Haut (Guadeloupe), St. Johns (Antigua), Carambola Beach (St. Kitts & Nevis), Great Harbour (Jost van Dyke, BVI), Miami, Florida (USA)
All inclusions as specified
From ONLY £4,599 per person INCLUDING FLIGHTS (or £3,999 per person cruise only)
To see the full range of cruises click HERE.
Book Your Seabourn Cruise NOW to get the best savings

All cruises booked from 1st April will include flights from UK Airports and Complimentary Wi-Fi
Book and Pay for your cruise by 30th June 2021 and save 10% on selected sailings.
Cruising on Seabourn Ovation
Seabourn Ovation – christened in 2018 in Valletta by actress and singer Elaine Paige – is the epitome of luxury cruising.
The interiors, designed by design guru Adam D. Tihany, feature a modern twist and innovations consistent with Seabourn's reputation for understated elegance.
You can also expect the highest level of personal service, with nearly one staff member for each guest. All suites also have a private veranda, while Penthouse and Premium Suites offer a separate sleeping area and even more spacious and luxurious amenities.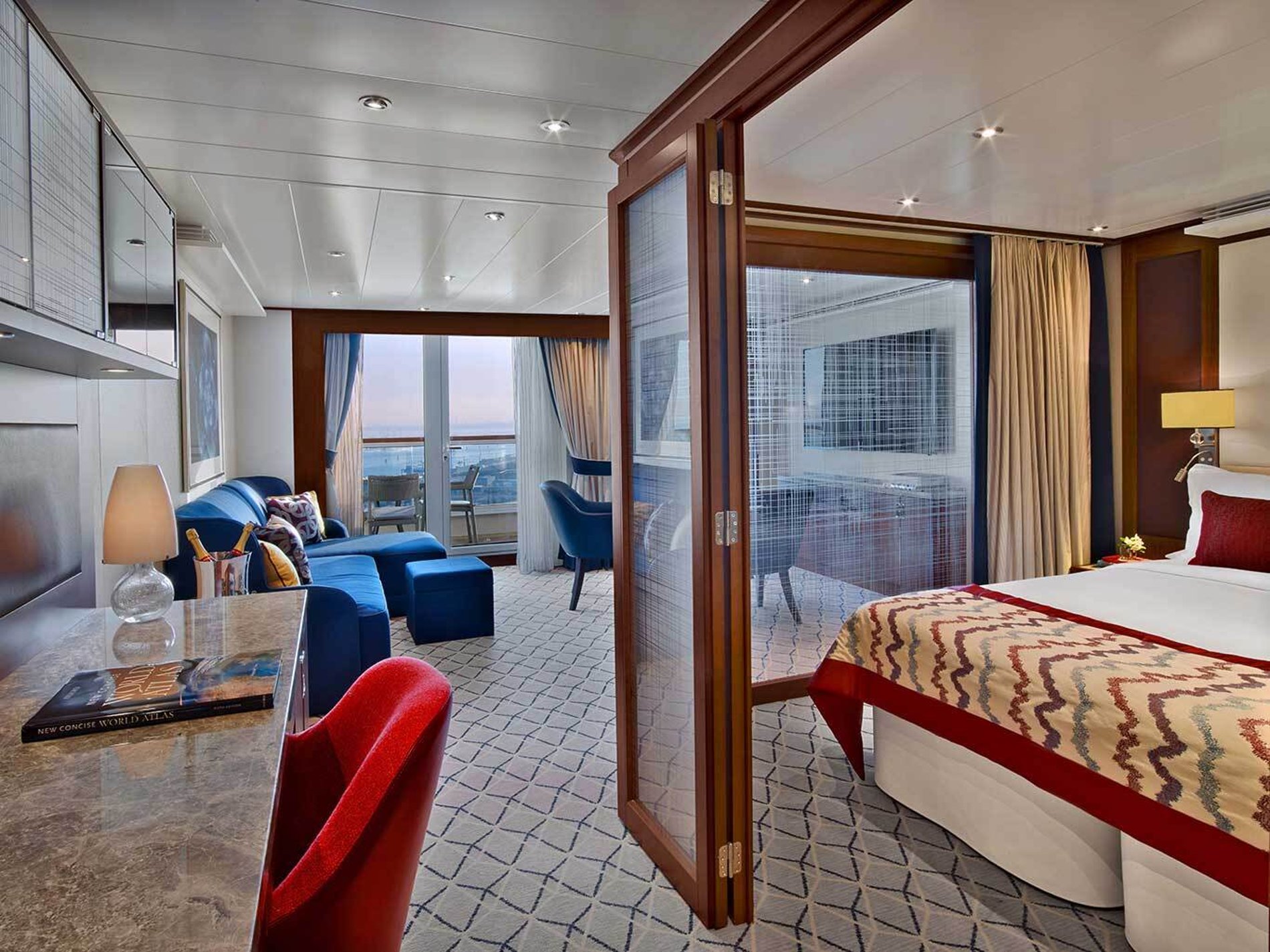 The onboard experience is further elevated by the cruise line's unique partnerships, such as the much-acclaimed 'Evening with Tim Rice' event – created exclusively for Seabourn – which includes a concert-style presentation showcasing some of the musical theatre lyricist's most loved work.
There's also the luxurious Spa and Wellness with Dr. Andrew Weil, offering a holistic spa and wellness experience that integrates physical, social, environmental and spiritual wellbeing. And let's not forget The Grill by Thomas Keller, a unique culinary experience reminiscent of the classic American restaurants from the 1950s and '60s.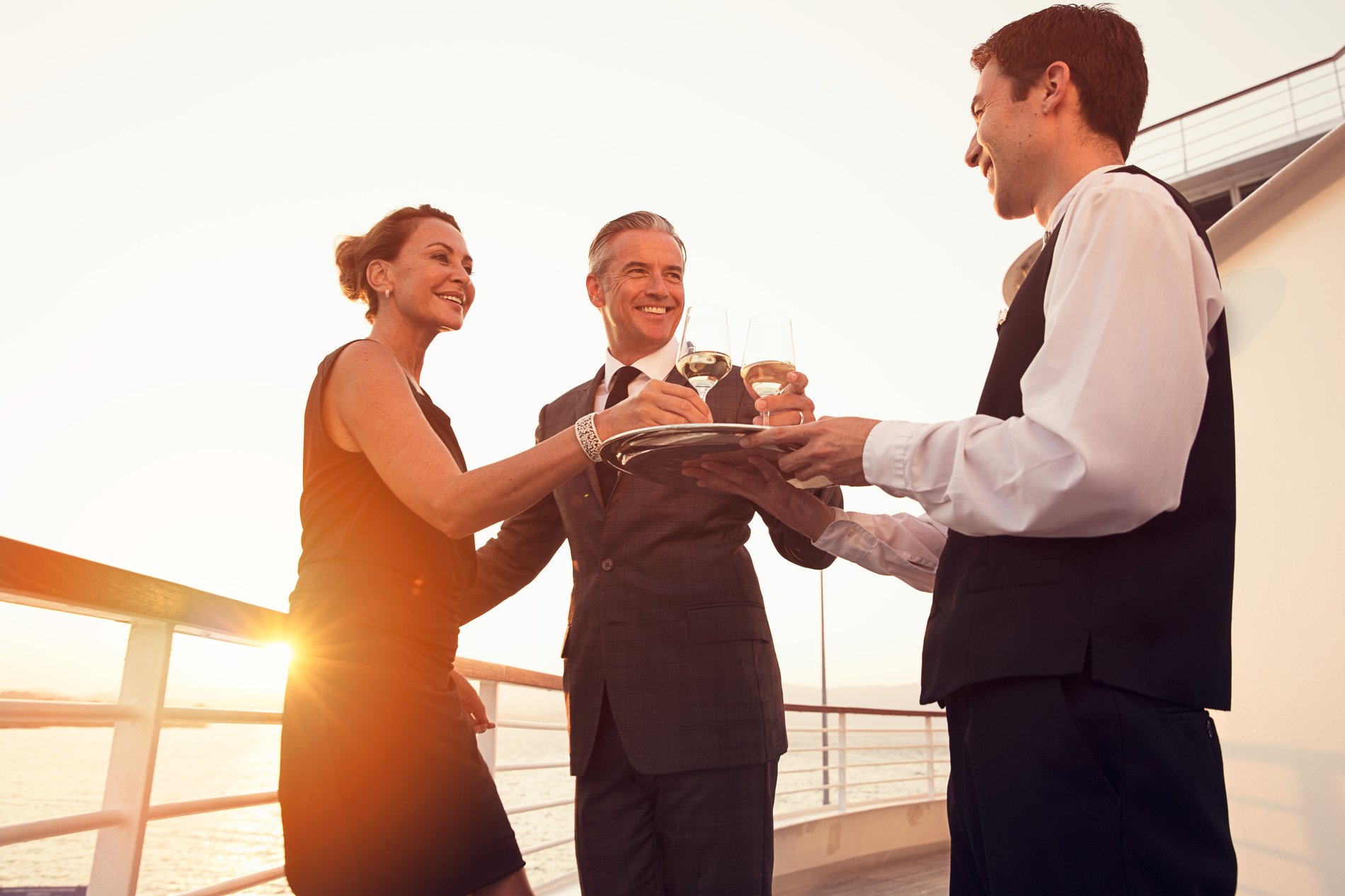 Seabourn's Ultra-Luxury 2022-3 Caribbean programme, including flights from the UK, is on sale from 31 March 2021.
Visit seabourn.com for more information or call 0344 338 8615 for reservations.