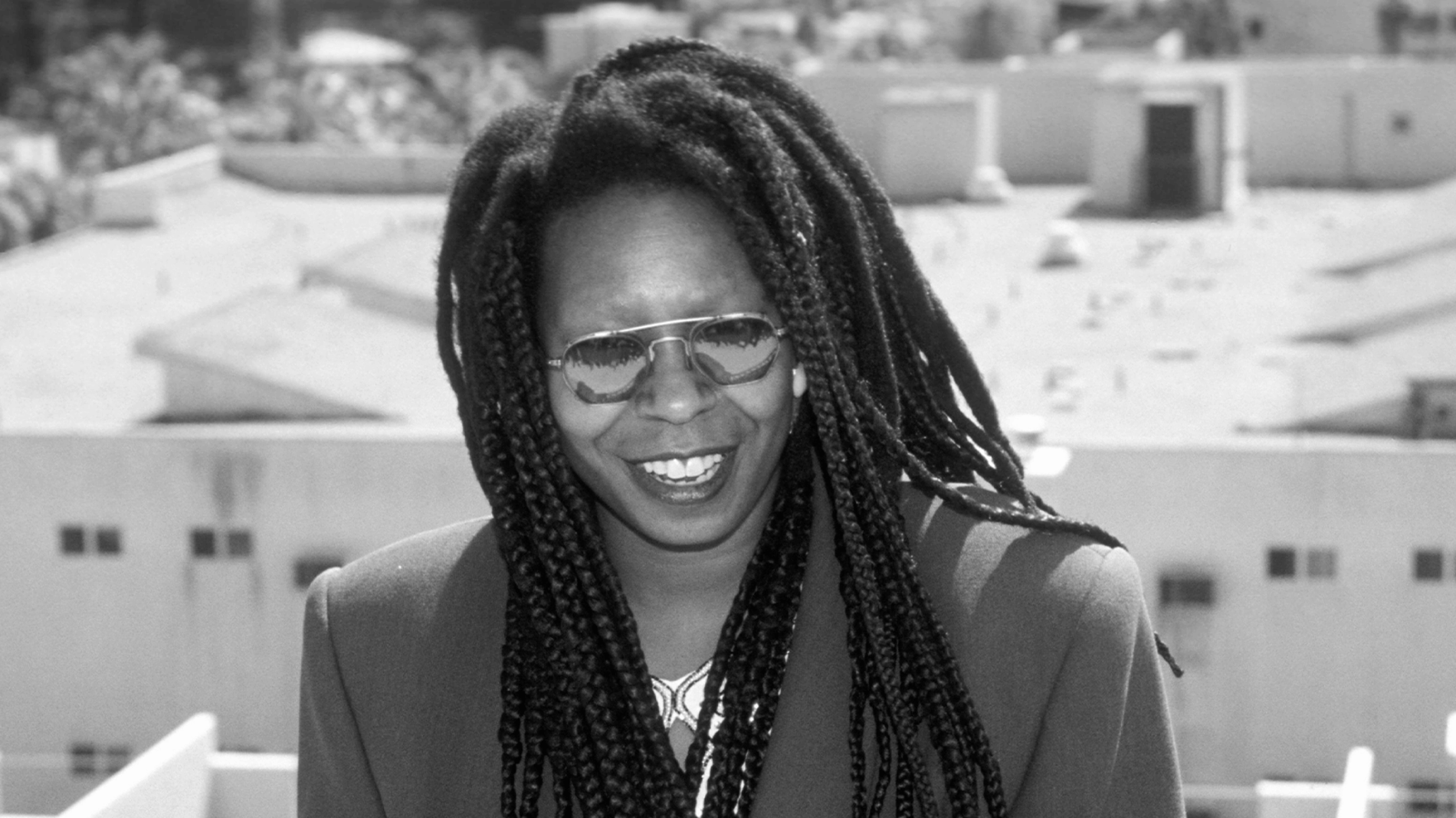 Godmother profile: Whoopi Goldberg
Coming to prominence as a talented comedian and actor, Whoopi Goldberg has more personality than the rest of Hollywood put together. Is it any surprise that the cruise industry sought her as a godmother?
Caryn Elaine Johnson, born in Manhattan on November 13, 1955, worked as a bricklayer and a bank teller while moonlighting at a funeral parlour – but not before she dropped out of high school and found herself with a viscous addiction to cocaine.

As it would later transpire, Caryn struggled with dyslexia during an era where conditional support remained dangerously thin on the ground. She married her drug counsellor, until the marriage collapsed into divorce.

To say that times were tough remains an understatement, especially when enduring the mental anguish of witnessing PSA Flight 182 fall from the sky as a fireball, directly onto the San Diego neighbourhood of North Park, killing 144 people, while working as a waitress in the 'Big Kitchen' café.

Yet, on the flip side of the coin, this is also the woman who introduced Billy Connolly to mainstream American audiences, survived a fierce tag-team effort from pneumonia and sepsis, proudly shouldered duties as an advocate for human rights, dated a future 007 icon and became the first woman to solo-host Hollywood's prestigious Oscar ceremony.

The name Caryn Johnson may not resonate as a household name, but her stage name boasts global recognition and mass appeal to cinema-goers. This is Whoopi Goldberg – the legendary comedian, actor, producer, activist and all-round tour de force.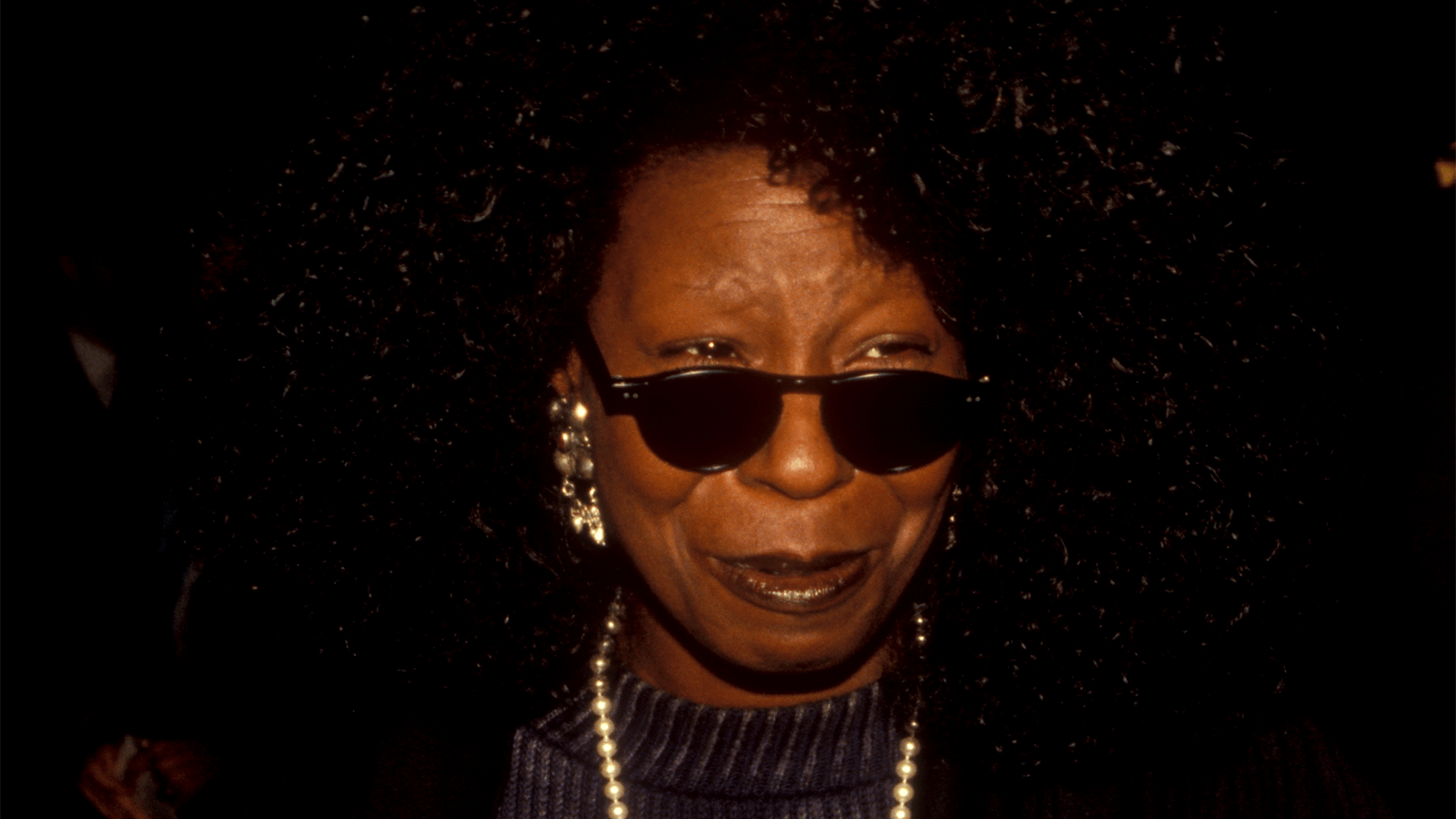 Coming to prominence through her endearing one-woman comedy show, Goldberg transferred her talents to Broadway, where awards came thick and fast – including a Grammy Award for Best comedy album.

Although having dabbled in film production throughout this time, it wasn't until she bagged the role of Celie, a mistreated woman in the Deep South of historical Americana, in Steven Spielberg's period drama The Color Purple (1985) that recognition came knocking. Courtesy of her efforts, she won a Golden Globe for Best Actress and an Oscar nomination.

Mainstream successes, such as Ghost (1990), Sister Act (1992) and Soapdish (1991), subsequently became peppered between more infamous productions – the gloriously crap Theodore Rex (1995) almost finished the career of anyone involved – but Whoopi never failed to hit the high note. She created more than just a personality. Goldberg created a cinematic fashion trend that shows little sign of letting up.

It's no small wonder that she remains in demand across all industries, and the cruise world sought the Hollywood legend as godmother to their freshly revived Viking Serenade back in 1990. The Royal Caribbean ship was deemed both beautiful and exciting, much like her multi-talented godmother.

Viking Serenade left the fleet in 2002, but Jumpin Jack Flash wasn't without a ship for long. Whoopi was asked to return as godmother to Serenade of the Seas, the first Royal Caribbean ship to sail an inaugural season from New York City.

Just like fellow godmother Audrey Hepburn, Goldberg reigns supreme as an EGOT (winner of the Grammy, the Academy Award (Oscar), the Golden Globe, the Emmy and the Tony), but whereas Hepburn stole the show with grace and dignity, Goldberg added a spice of humour to proceedings – enquiring if accepting godmother status meant she'd have to "put the ship through college."


A rough start for a strong lady

Caryn Elaine Johnson was born the daughter of nurse Emma Johnson and Baptist clergyman Robert James Johnson Jr, with a childhood spent in New York's Chelsea-Elliot public housing project. Both Caryn and her brother Clyde (1949-2015) were raised singly by their mother, whom was described as a "stern, strong and wise woman."

While attending the local Catholic school – St Columba's – Caryn found studies difficult and, after migrating to Washington Irving High School, dropped out of the education system altogether.
The subsequent years were both testing and destructive. As she told British publication The Telegraph in 2009:
"I was young, homeless and addicted to heroin. I'd dropped out of high school and into drugs. Simple as that. I was a child of the sixties so I ingested as many mind-altering substances as I could. It was a rite of passage. And when I got clean I was convinced I wanted to be an actor."
Goldberg has since opened up about her experiences with unsafe abortion during this stretch of her life. In an essay for the book compilation The Choices We Made, regarding self-administered abortion, she explained: "I found out I was pregnant when I was 14. I didn't get a period. I talked to nobody. I panicked. I sat in hot baths. I drank these strange concoctions girls told me about... I got violently ill."

Following a hardened upbringing that supplied more ordeal than most endure in their lifetime, she moved to California in 1974. It was here that she aided the San Diego Repertory Company, a comedy troupe and performing arts company, under her new name of 'Whoopi Cushion'.
"When you're performing on stage, you never really have time to go into the bathroom and close the door. So if you get a little gassy, you've got to let it go. So people used to say to me, 'You're like a whoopee cushion.' And that's where the name came from."
She later expanded on the tale: "My mother did not name me Whoopi, but Goldberg is my name – it's part of my family, part of my heritage, just like being black."

Not long after this, Whoopi sought help for her heroin dependence while making Los Angeles her home, meeting drug councillor Alvin Martin in the process. The pair married in 1973, when Goldberg was 18 years old, with their daughter – Alex Martin – born the same year.

Although Goldberg's career was just taking off, family life quickly became a struggle. Alex would later open up about hardships at that time, claiming that they all shared a one-room space and slept together in the same bed. Goldberg and Martin divorced after six years of marriage in 1979.

Just prior to that, on September 25, 1978, PSA Flight 182 collided with a private Cessna 172 aircraft and spiralled downward. The resulting fireball and impact killed everyone onboard, alongside several people on the ground. Goldberg witnessed the disaster and developed a hardened case of post-traumatic stress disorder, alongside an intense fear of flying.

She would subsequently choose to use the bus as transport – even when later traversing the country between film studios as a Hollywood A-lister.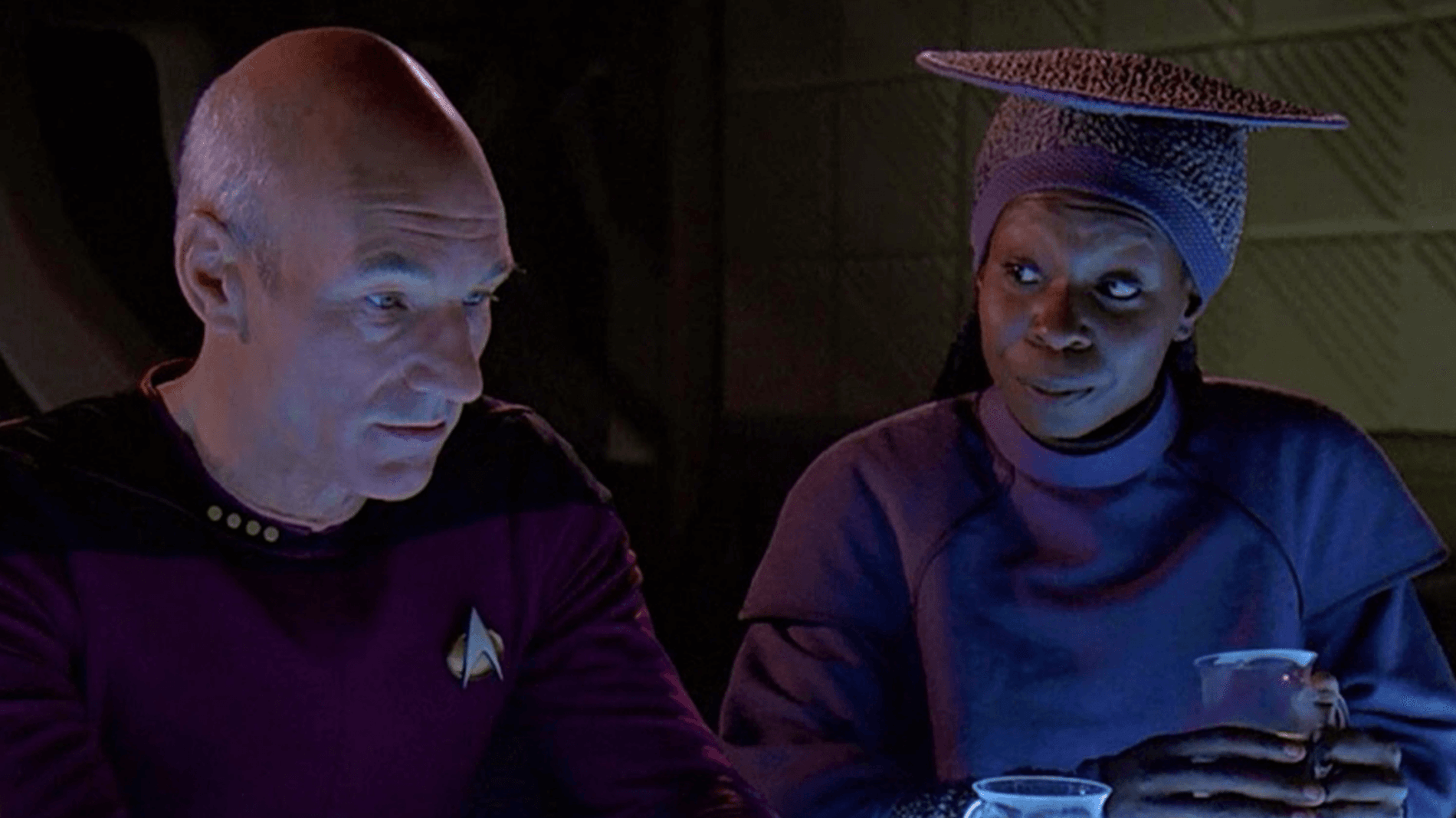 Whoopi Goldberg: Inspired by Star Trek

According to anecdotes told by Nichelle Nichols – the actress who portrayed Nyota Uhura during the original series of Star Trek – in the 1997 documentary Trekkies, a pre-teen Goldberg watched Star Trek and bellowed "Momma! There's a black lady on television and she ain't no maid!"

From that moment on, Goldberg developed a lifelong Star Trek fandom; leading to intense personal lobbying for a place in the cast of Star Trek: The Next Generation. Taking on the recurring role of Guinan alongside Patrick Stewart's ground-breaking portrayal of Jean Luc Picard, it was a dream come true.

Yet, it had been hard work to reach that point. To keep her family afloat during the 1970s when crafting her stand-up career, Whoopi took work as a waitress before taking employment as a bank teller, and then as a mortuary cosmetologist and also a bricklayer.

While this employment kept the bills paid and food on the table, her passion for performance led to an avant-garde theatre group; the Blake Street Hawkeyes. It was here that she also gave acting classes, teaching the likes of Courtney Love, and dating a pre-007 Timothy Dalton following her divorce.

Things took off with her one-woman stand-up routine, Spook Show, which gained enough popularity to garnish a stint on Broadway. Her comedic and sassy persona quickly caught the attention of Steven Spielberg, who felt she held potential as a dramatic actor.
After performing a 'Black E.T' sketch for a private audience, including Spielberg and Michael Jackson, she landed the impactful part of Celie in 1985's The Color Purple; an African-American mother who births two children born of rape by her abusive father.

Her efforts gained a plethora of recognition and awards, amplified with an Oscar for Best Supporting Actress following her eccentric portrayal of Oda Mae Brown in cult classic Ghost (1990). As often transpires in Hollywood, Whoopi Goldberg was not the original choice for the role – producers were instead hell-bent on casting either Tina Turner or Oprah Winfrey.

However, leading man Patrick Swayze was a big fan of Whoopi's work, and convinced them otherwise – creating the platform that pushed Goldberg into global stardom. Considering herself to be a 'functioning drug addict', Whoopi reportedly smoked marijuana before accepting the Academy Awards' Best Supporting Actress Oscar for her work. I mean, how much more Hollywood can you get?
Interestingly, in one segment of the film, Oda Mae Brown hands money to nuns on the street. Some would say this was foreshadowing the next big project that would cement Goldberg in place as an icon – the feel good comedy of the decade.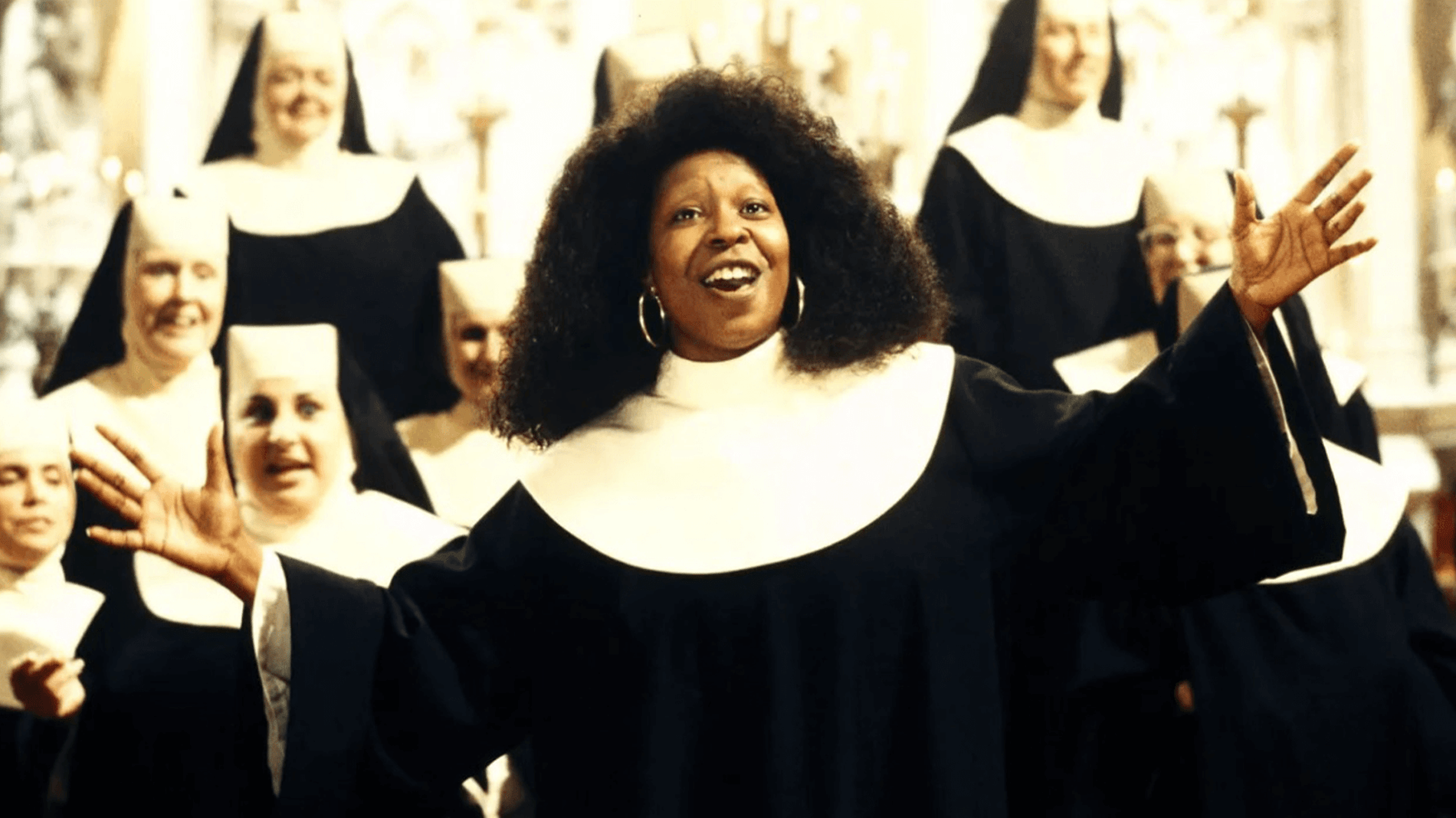 Sister Act: Old habits die hard

May 29, 1992, unleashed a cultural phenomenon upon the public. As the first showings of director Emile Ardolino's Sister Act lit up the screen, feverish word spread about Whoopi's feel-good starring vehicle. Her performance as Deloris Van Cartier (alias Sister Mary Clarence) propelled Goldberg straight onto the cultural map.

Screenwriter Paul Rudnick pitched the movie to producer Scott Rudin with the concept of employing Bette Midler in the lead role. Midler turned down the opportunity and Whoopi eventually signed on – after a huge number of screenwriters, including Carrie Fisher, rewrote the script to suit Goldberg's persona.

Filming took place between September 23 and December 20, 1991, where Goldberg struck a close bond with fellow actress Maggie Smith – so much so, Whoopi recently broadcast a public plea to base production of the upcoming Sister Act 3 around Smith's ability to travel.

Executives certainly prayed for positive reviews and healthy profit with the original Sister Act, but they were absolutely blown away by box-office receipts. A hastily-produced sequel, Sister Act 2: Back in the Habit (1993), didn't quite hit the same chord as its predecessor, but it did make for a new record; her estimated US$7-12 million pay deal made Whoopi the highest paid female actor at the time.

While ultimately idolised as Sister Act's Deloris Van Cartier, other headline cinematic roles included Jumpin' Jack Flash (1986), Clara's Heart (1988), Ghosts of Mississippi (1996), and Till (2022), not to mention voice roles in The Lion King (1994) and Toy Story 3 (2010).

Not every project brought positive accolades, with questionable ventures such as Superbabies: Baby Geniuses II (2004) and the infamous Theodore Rex (1995) effectively de-railing Goldberg's spotless track record. The story behind the latter created the foundation for potential insanity, with lawsuits forcing Goldberg to take part in the only production she's ever regretted.

One project she certainly doesn't regret remains Star Trek. Patrick Stewart invited Goldberg to reprise her role as Guinan during the second season of Star Trek: Picard to great public fanfare. She immediately accepted his offer without missing a beat.

Further to that, she was gifted the opportunity to work alongside Jennifer Saunders and Joanna Lumley during a very special episode of Absolutely Fabulous, simply entitled 'Gay'.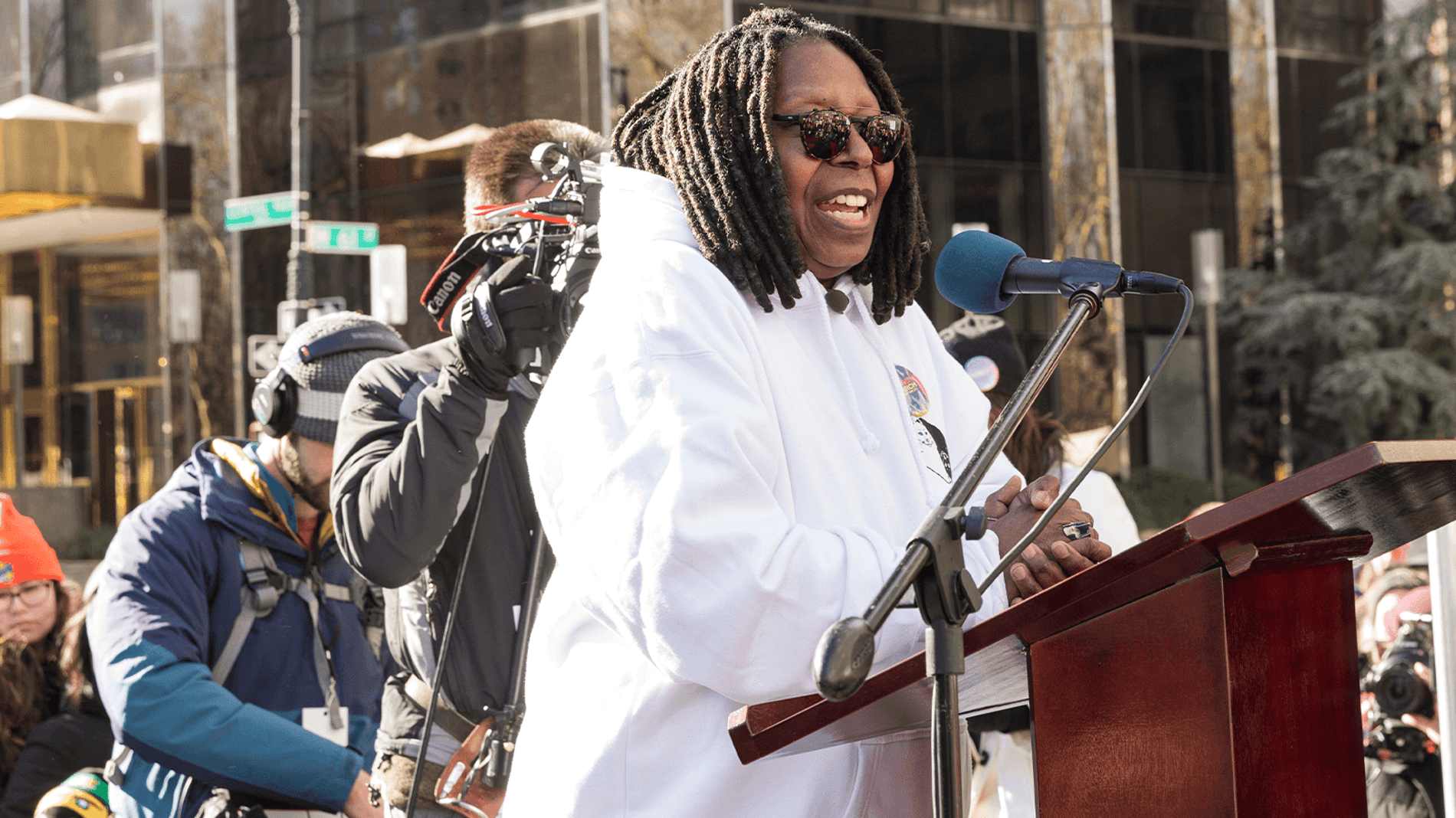 A true humanitarian amid controversy

Goldberg has been associated with the American Comic Relief for decades. She appeared during the 20th-anniversary event in 2006 to advocate for human rights, amid her other commitments, and raise funds for worthy causes.

That's not her only claim in that department though. She moderated panels at the United Nations on armed conflict, terrorism, children's rights, and reconciliation during 2009.

Whoopi then joined pop star Cyndi Lauper in April 2010 at the launch of Lauper's Give a Damn campaign, designed to bring awareness to the discrimination of LGBT communities. Goldberg first got involved with AIDS activism and gay rights during the 1987 March on Washington.

Other ventures have found positions on the Board of Selectors of Jefferson Awards for Public Service and the National Council Advisory Board of the National Museum of American Illustration. She's also been a speaker during various charitable and awareness events, including the Women's March in New York City, while also raising money for the ASPCA (American Society for the Prevention of Cruelty to Animals).

Her activism and opinions has often brought controversy to proceedings, however. During an episode of The View – a weekday talk show hosted by Goldberg and daily guests – she stated that she remains a member of the National Rifle Association (NRA), much to the chagrin of America's keyboard warriors . But that's small fry compared to events of January 2022.

Throughout the January 31 broadcast of The View, Goldberg created an explosive media backlash after stating that the Holocaust was not based on race, but on "man's inhumanity to man". She told her co-hosts: "This is white people doing it to white people, so y'all going to fight among yourselves."
Naturally, the internet caught fire on this matter, and she issued an apology later that day, but not before she's maintained the Nazi's issue with ethnicity over race on a subsequent talk show with Stephen Colbert. She had to issue a second apology on air the next day, following which she was given a two-week suspension from the programme.

Add this to the criticism faced after initially defending Roman Polanski and Bill Cosby regarding their rape convictions, alongside entering the 'Mel Gibson is racist' debate, and proclaiming that American footballer Michael Vick's association with inhumane dog fighting came from his "cultural upbringing", and the newspapers had a field day.

Yet, most of these controversies weren't raised until more information was published, or the truth came out – which usually occurred after Whoopi made her comments. She was speaking her mind at the time with information she had.

And that's the thing about Whoopi Goldberg. She fights for what's right, and will defend those who have yet to enjoy the privilege of being proven guilty during a fair trial. She doesn't suffer fools, nor does she rescind from the spotlight when she's gotten things wrong.

Instead – she stands by her guns and admits wrongdoing when necessary. She rescues the abandoned, shares love with the abused, and provides a voice for those who don't have one. The fact that Goldberg just happens to be Hollywood royalty – even presenting the Oscars while in white face as Queen Elizabeth – comes from hard work and dedication. She has not been handed anything on a plate. There's no silver suppository here.

And that's exactly why the cruise industry had to have her. As a beacon of success and personal strength, they don't come with much more gravitas than classy ol' Whoopi.

Follow us on socials